Do you love Warhammer 40,000, the grimdark sci-fi setting where humanity is on the verge of annihilation? Do you admire the Space Marines, the genetically enhanced super-soldiers who fight for the Emperor and the Imperium? Do you want to sound like one of them, with a voice that inspires awe and terror?
In this article, we will show you the top 3 Space Marine voice changers. And we will also introduce some information about Space Marine and Warhammer 40,000 Universe.
What is Space Marine?
Space Marine is a term that refers to a type of fictional soldier in science fiction, especially in the Warhammer 40,000 universe. They are one of the most popular and iconic elements of the Warhammer 40,000 franchise.
Space Marines are known for their loyalty, courage, skill, and brutality. Space Marines are genetically enhanced, heavily armored, and armed warriors who fight for the Imperium of Man, a vast interstellar empire that is constantly under threat from various enemies.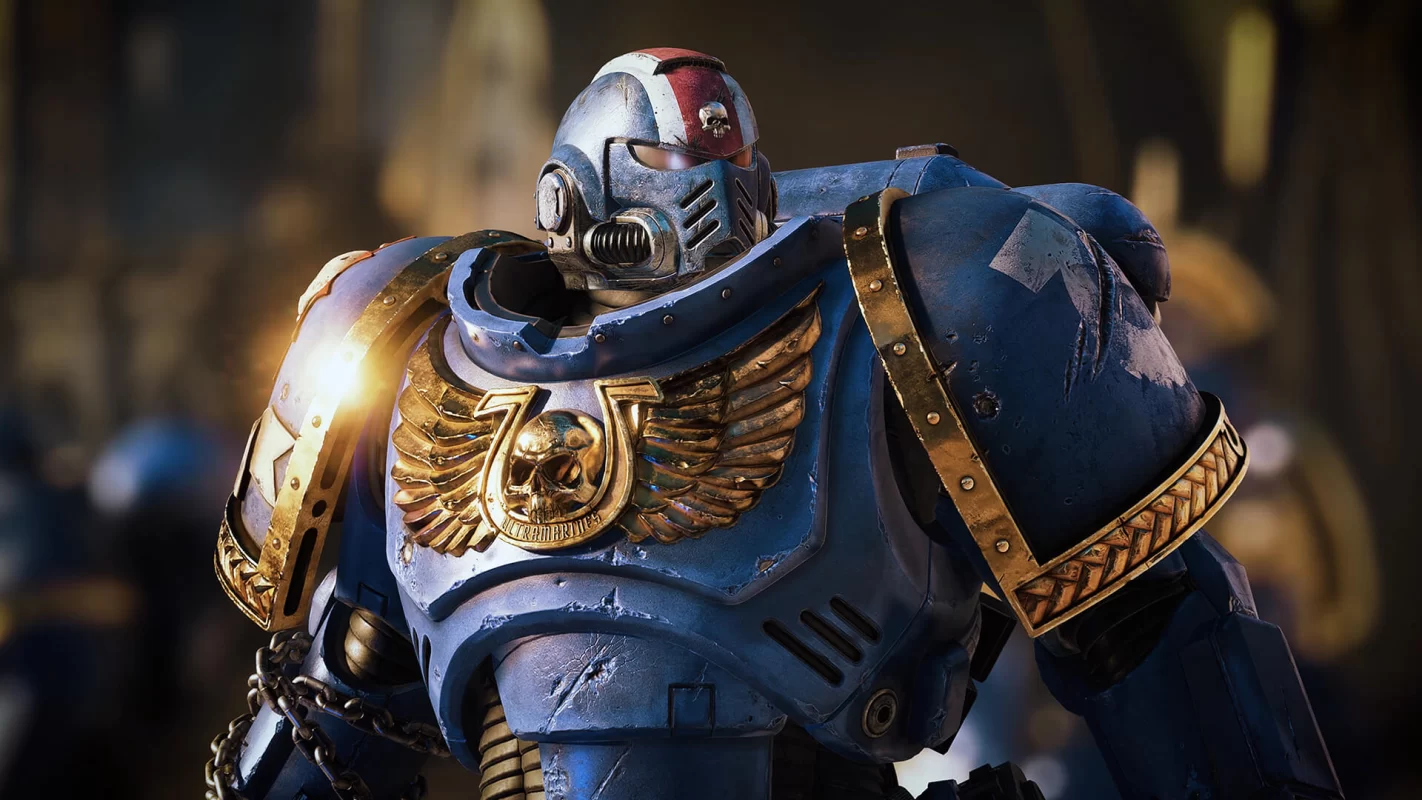 Top 3 Space Marine Voice Changers
To help you find the best Space Marine voice changer, we have compiled a list of the top 3 options that you can try out.
FineShare FineVoice
Do you want to make awesome voiceovers for your content, games, or stories with Warhammer 40k Space Marine voice? If you are a fan of Warhammer 40k or other space-themed games, you can use FineShare FineVoice to change your voice like a Space Marine. This amazing real-time Space Marine voice changer is super easy to use, fast, and secure.
With FineVoice, you can change your voice to any celebrity, cartoon character, or movie role you want. You can sound like a fearless Space Marine, a brave Batman, a cute Chipmunk, a spooky ghost, or anything else you can imagine.
You can use FineVoice to create your own Warhammer 40k Space Marine podcast, video, audiobook, or any other audio project like a pro. You can apply the Space Marine voice effect to your voice and use it in Discord, Zoom, Google Meet, Skype, etc. You can also use it in games, such as CS: GO, PUBG, League of Legends, and more. All in all, it's a must-have voice assistant that is suitable for all kinds of scenarios.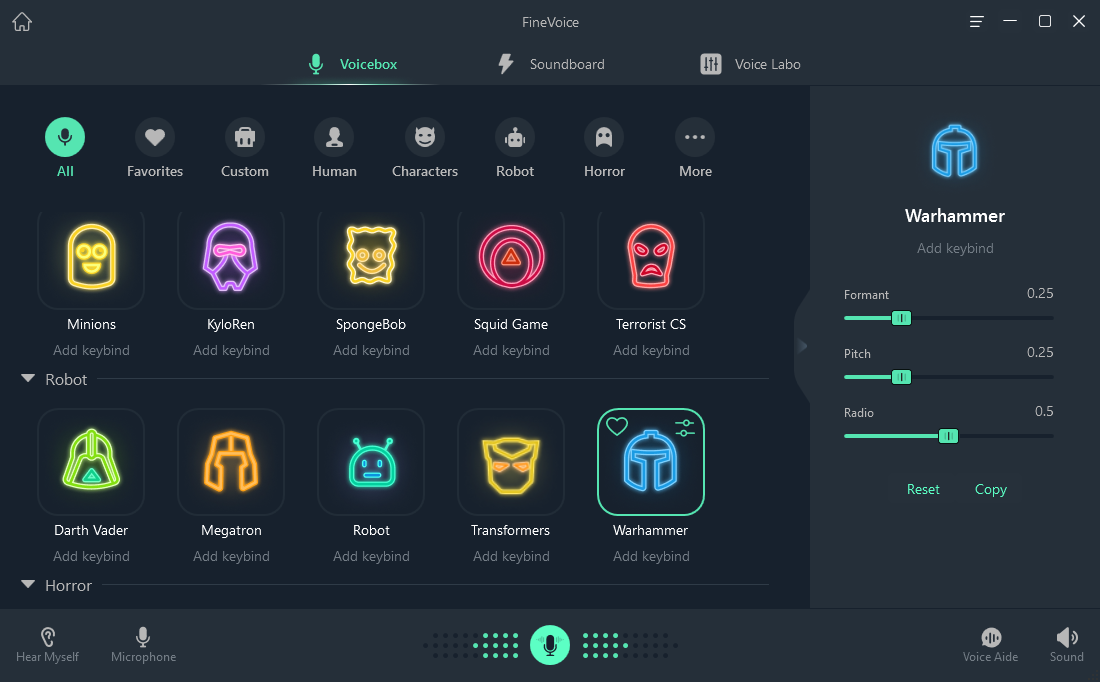 Don't miss this opportunity to make your voice sound amazing and professional with FineVoice. Download it now and enjoy the magic of Warhammer Space Marine voice changer!
Pros:
Easy to use
Real-time Space Marine voice changer
Provide various voice effects and sound effects
Record high-quality audio with the Space Marine voice
Support multiple languages
Fast and accurate automatic transcription
Realistic Space Marine AI voice generator
Change the voice of your audio file
Work with many applications or game
Cons:
WooTechy SoundBot is another great option for changing your voice into a Space Marine. You can use it to sound like a Space Marine, a powerful and heroic warrior from the Warhammer 40k universe, or any other character you like. It's compatible with various programs such as Fortnite, Overwatch, Discord, Skype, Twitch, and more.
WooTechy SoundBot has over 500+ voice effects for you to choose from, including male to female, female to male, anime, Ghostface, musical, environmental, games, robots, and more. As a result, you can easily find a voice filter that matches your Space Marine character. It provides many free-to-use voice filters for every user each day. So you can try different voice effects without paying anything.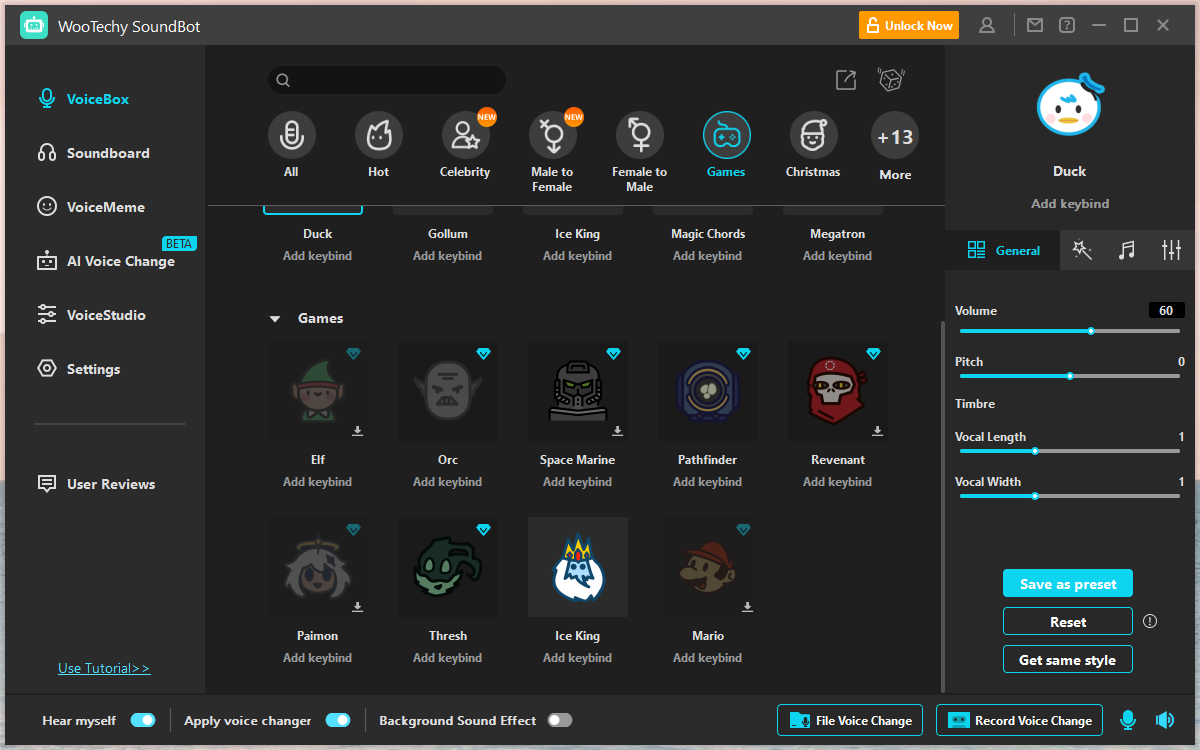 Pros:
Interesting and engaging
Wide Voice Filter Choices
Offer many free-to-use voices each day
Speak naturally and hear your voice modification instantly
Customize voice with many audio effects in the VoiceStudio feature
Cons:
It doesn't support Mac OS or mobile devices
May not always recognize your voice correctly
Sometimes it will appear low sound, noise, and echo
Murf AI Voice Changer
Murf AI Voice Changer is the ultimate Warhammer Space Marine voice changer for making realistic and expressive voiceovers from text or audio. You can pick from over 120 voices in 20 languages, including celebrities, cartoons, anime, animals, robots, and more. Additionally, it's simple to adjust between accents and languages.
With Murf AI Voice Changer, you can sync your voice with video or image. You can also add background sounds, such as gunfire, explosions, or radio chatter, to create a realistic atmosphere.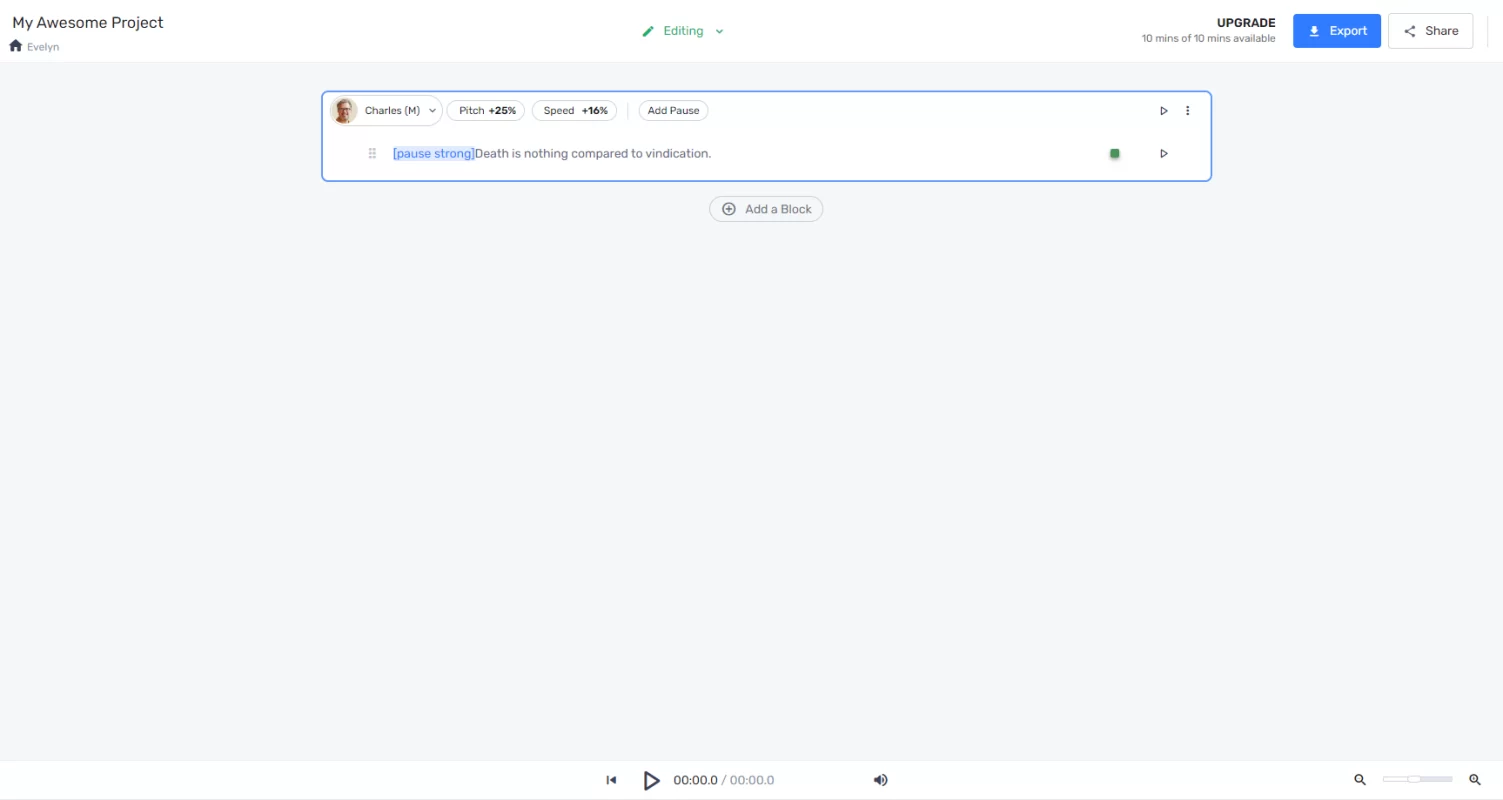 Pros:
Over 120 voices in 20 languages
Tweak your voice with effects, such as pitch, speed, reverb, and echo
Sync your voice with a video or image
Mix multiple voices for different characters or scenarios
Remove filler words, noise, and errors from your voice recording
Use the API to integrate Murf AI Voice Changer with your applications
Cons:
May encounter some errors or glitches
You need to pay a monthly subscription fee to access all the features and voices
Limited amount of voice generation time (VGT) per month
Conclusion
With these Space Marine voice changers mentioned in the article, you can impress your friends and enemies alike. You can compare and select from a variety of their features and benefits. You can use these voice changers for various purposes, such as cosplaying, gaming, chatting, streaming, or pranking.
So what are you waiting for? Download your favorite voice changer today and start having fun with your voice! For the Emperor!
FAQs about Space Marine
How Tall is a Space Marine?
A Space Marine in the Warhammer 40,000 universe is typically depicted as standing around 7 to 8 feet tall, making them significantly larger than an average human. This imposing height adds to their intimidating presence on the battlefield and emphasizes their superhuman nature.
How Long a Space Marine Can Live?
Due to their genetic enhancements, rigorous training, and advanced medical technology, Space Marines can live for several centuries. The average lifespan of a space marine is somewhere between 300-400 years old, but some can live longer or shorter depending on their circumstances.
When is Space Marine 2 Coming Out?
According to the most recent teaser displayed at The Game Awards on December 8, 2022, the Space Marine 2 release date has not yet been confirmed but is anticipated to occur in 2023.