Are you a Star Wars fan who wants to sound like a Stormtrooper, the loyal and fearsome soldier of the Galactic Empire? Stormtroopers have a unique voice that is robotic, distorted, and intimidating. They also have a specific way of talking that reflects their discipline and obedience to the Empire. But did you know that you can sound like a stormtrooper too?
In this article, we explore the top 3 Stormtrooper voice changers available in the market today.
What is a Stormtrooper?
A Stormtrooper is a fictional character and a prominent military unit in the Star Wars franchise. They are soldiers who serve as the primary ground forces of the Galactic Empire and later the First Order. Stormtroopers are known for their distinct white armor and helmets, which have become iconic symbols of the Star Wars universe.
The Stormtroopers have become one of the most recognizable and enduring symbols of the Star Wars franchise, representing the military might and oppressive regime of the Galactic Empire and the First Order. Throughout the Star Wars saga, various specialized units of Stormtroopers have been introduced, each with unique armor designs and roles. These include Scout Troopers, Snowtroopers, Death Troopers, and more.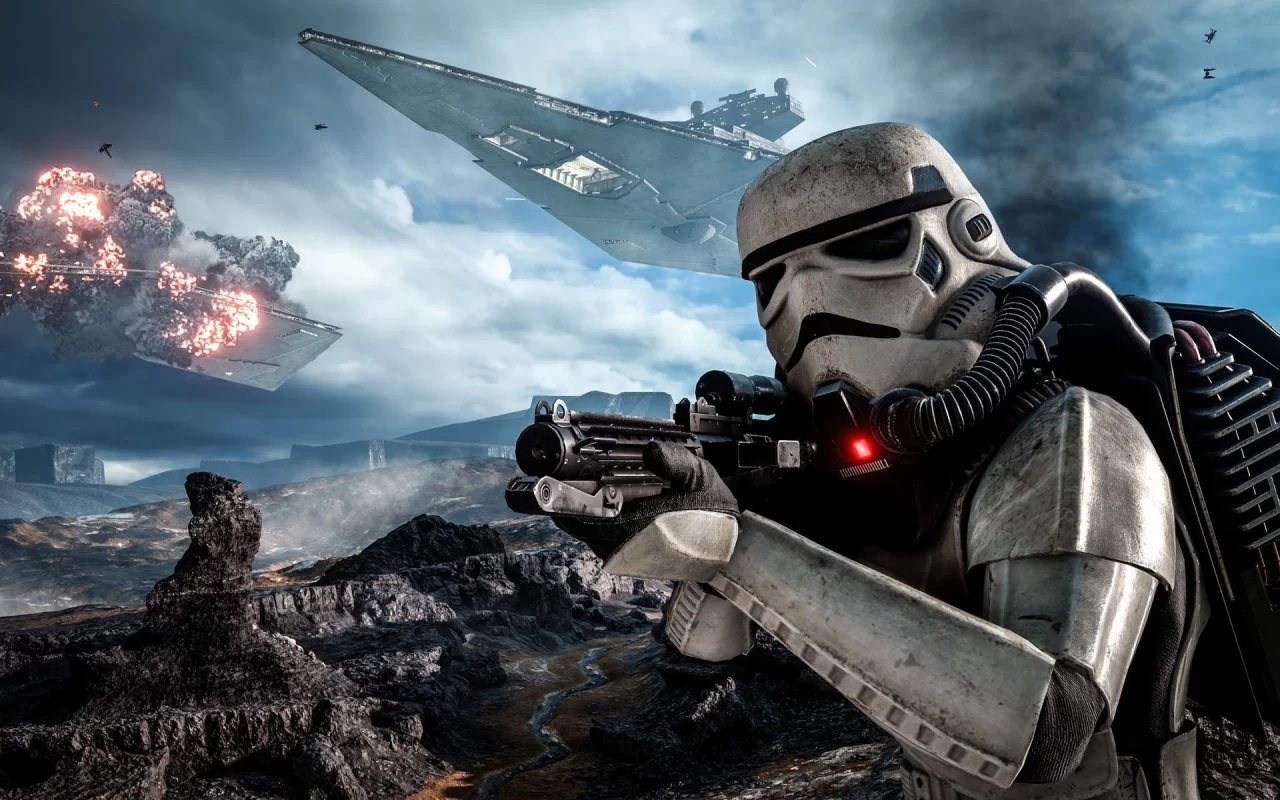 3 Best Stormtrooper Voice Changers
FineShare FineVoice
Immerse yourself in the world of Star Wars and unleash your inner Stormtrooper with FineShare FineVoice! This incredible Stormtrooper voice changer software is your ultimate tool to change your voice into that of a fearsome soldier of the Galactic Empire.
FineVoice voice changer feature is easy to use, fun, and creative. With it, you can sound like your favorite cartoon character Chipmunk, or a cool robot Optimus Prime. You can also sound like a celebrity Kevin Costner or an exotic alien Yoda. You can also choose from the voice of a creepy monster, such as Darth Vader, Pennywise, or Smaug.
Don't miss out on the excitement and fun! Experience the thrill of sounding like a Stormtrooper with FineVoice. Download it now and embark on an epic Star Wars adventure of your creation!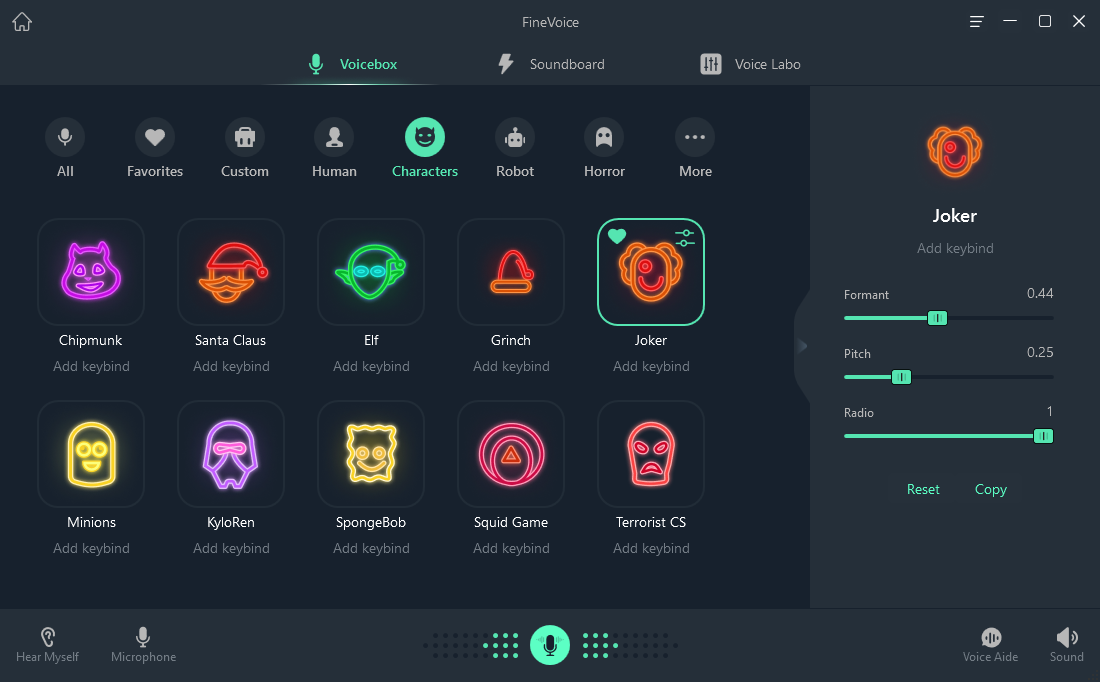 Highlights:
Over 30+ awesome voice effects, such as child, female, robot, Batman, Chipmunk, and more
Create your unique voice effects with the Voice Labo feature
Turn your text into speech in a flash with over 220 AI realistic voices
Support many languages and produces human-like voiceovers for your video
Convert your important recordings like lectures and meetings into text to study and work smarter
It can extract audio from video in a breeze
Record audio in a cinch and make it sound more professional
Step into the shoes of a Stormtrooper with the incredible Voxal Voice Changer. This powerful Stormtrooper voice changer can let you effortlessly transform your voice, immersing yourself in the might of the Empire.
Compatible with both Windows and Mac operating systems, Voxal offers a range of customization options, including pitch adjustment and modulation effects. With Voxal, you can immerse yourself in the role of a Stormtrooper and bring the might of the Empire to life. Whether you're a cosplayer, fan filmmaker, or simply want to have fun, the Voxal Voice Changer is a top choice for creating the perfect Stormtrooper voice.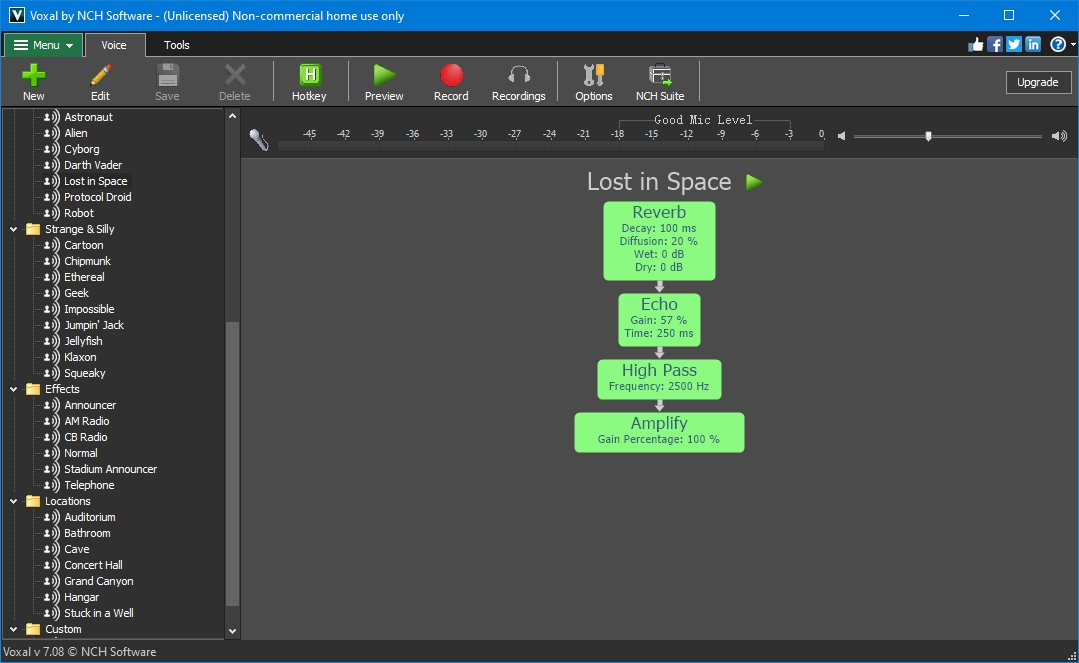 Highlights:
It has a simple interface
Change your voice while you talk or record
Work with many apps and devices, like CS: GO, Rainbow Six Siege, Steam games, Skype, TeamSpeak, Discord, and more
A lot of voice effects and options, like a robot, girl, boy, alien, atmospheric, echo, flanger, pitch change, and more
Use a few system resources
Clownfish Voice Changer
If you are a fan of Star Wars and want to sound like a Stormtrooper, you can try Clownfish Voice Changer. As one of the best Stormtrooper Voice Changers, it has a simple and intuitive interface that lets you choose from different voice effects, such as alien, robot, Space Marine, Mario, Taylor Swift, or custom pitch.
You can use Clownfish Voice Changer to spice up your games, chats, streams, or calls. You can also add sound effects, music, or text-to-speech to your voice. Clownfish Voice Changer is easy to use, fun, and realistic. It can help you create amazing voice effects for different purposes and occasions.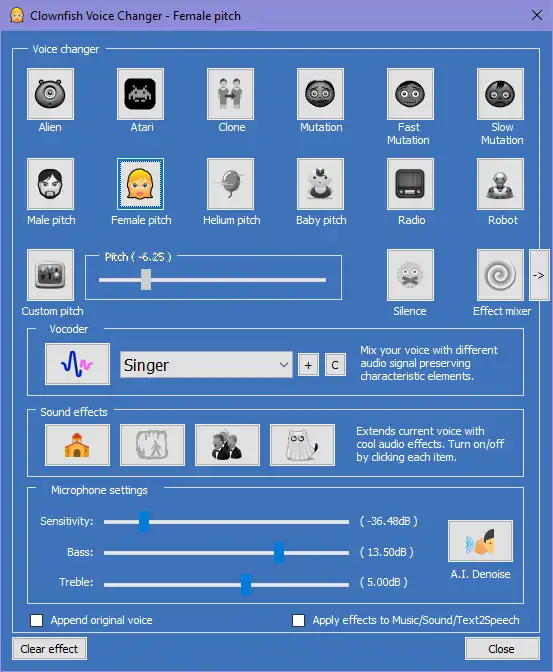 Highlights:
Provide a lot of voice presets that you can use or modify your voice before you record it or share it
Make your voice pitch by changing the frequency and tone of your voice
Let you play music from your mic with playlist and audio controls
Support for VST plugins
You can use it with Steam, Skype, Hangouts, ooVoo, Viber, Ekiga, Jitsi, Ventrilo, Mumble, and more.
Conclusion
We hope you enjoyed this article and learned about the 3 best stormtrooper voice changers. These voice changers are easy to use, fun, and realistic. They can help you create a stormtrooper voice effect that will impress your friends, family, or fellow fans.
Whether you want to use them for gaming, streaming, or cosplay, these voice changers can help you sound like a true stormtrooper. Try FineVoice out and have fun!
And may the Force be with you always!
FAQs about Stormtrooper
What is the Origin of the Name Stormtrooper?
The word Stormtrooper is derived from the German term Stoßtruppe, which was used to refer to shock troops during both World Wars I and II. The soldiers attempting to sneak into enemy trenches were the stormtroopers. They suffered a lot of losses because they were in the thick of the fight and risked their lives.
What is Stormtrooper Armor Made of?
Stormtrooper armor is made of a fictional material known as plastoid composite. Plastoid is a durable and lightweight material that protects against both physical and energy-based attacks. It is designed to withstand blaster fire and other threats encountered on the battlefield.
Why do Stormtroopers Wear White Armor?
The white armor worn by Stormtroopers serves as a form of protective gear and uniformity within the Empire. It provides limited protection against physical and energy-based attacks and also creates a sense of fear and intimidation among the Empire's enemies.