Tiko uses a squeaky voice changer and gets success on YouTube. Are you interested in what voice changers he uses? Read this post to get Tiko voice changer to create a Tiko voice in real-time.
Who Is Tiko?
Jayden (born: Sept. 15, 2005) is better known as Tiko on the internet. He gets more than 6 million subscribers on YouTube. Tiko is one of the most popular YouTubers known for his fish persona.
And the squeaky baby voice matches well with his fishy identity. He leads Fishy and dealt with various conflicts Army in Fortnite. These videos have led to a surge in followers of his channel.
Besides game videos, he uploads content like Roblox, and Omegle and makes songs as well. The most popular of his songs is Fishy On Me, which got more than 100 million views.
Although sometimes he uploads videos without the squeaker voice changer, his videos with the funny voice get more likes. His fishy videos make so many people fall in love with the squeaky baby voice.
Do you want Tiko's voice? Does Tiko use a voice changer? How to get Tiko voice changer? Read on, this post will answer all these questions.
How to Get Tiko Voice Changer?
First, we want to tell you that Tiko uses a voice changer. And once he uploaded a video showing us what is voice changer he uses and how to make the squeaky voice.
What Voice Changer Does Tiko Use?
The voice changer Tiko uses is Clownfish Voice Changer. It is a real-time voice changer for Windows users. Clownfish offers 12 preset voice effects like a robot, radio, and male and female pitch.
Clownfish works on the system level. So, after you set it up correctly, it will change the voice coming from your microphone on every platform capturing voice. Tiko uses Clownfish to make those funny fishy videos and got likes and subscribers.
You may think Tiko uses the baby pitch voice, but the voice effect he uses is the custom pitch.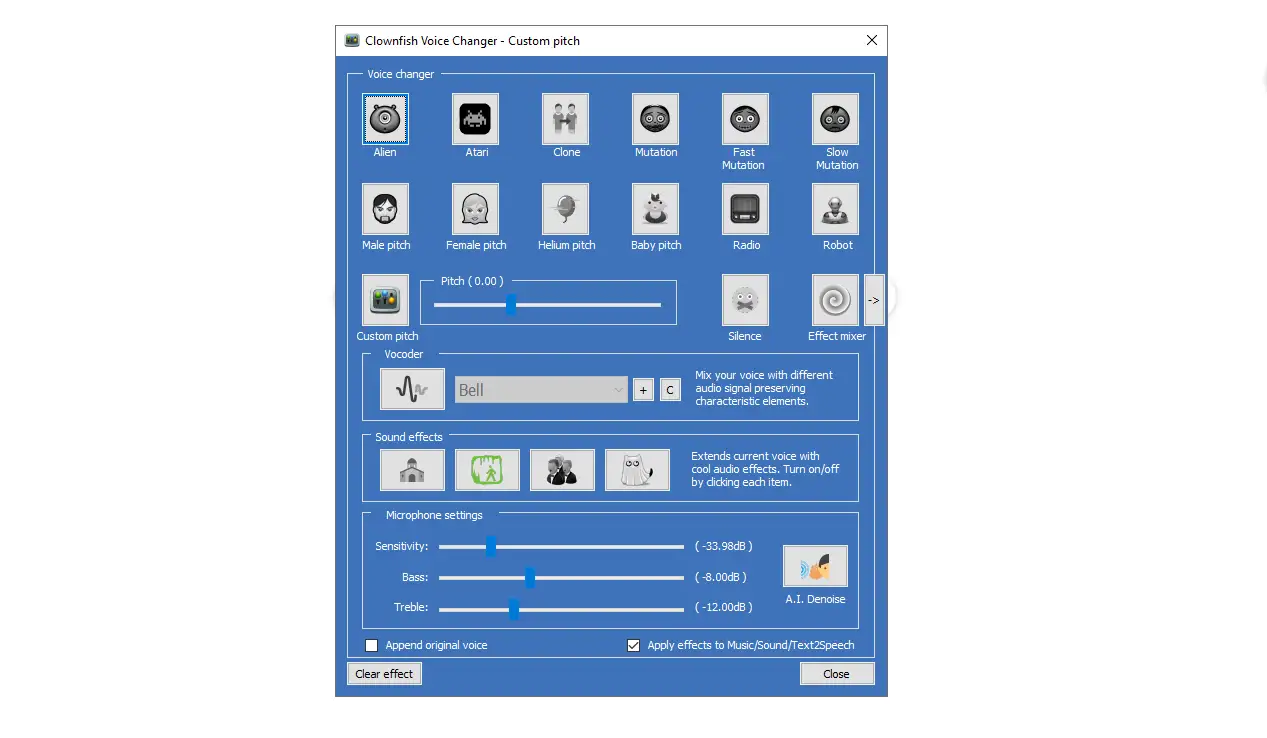 How to Get Tiko Voice in Clownfish Voice Changer?
Now, let's look at how to get Tiko's voice changer in Clownfish Voice Changer.
Step 1: Download and install Clownfish Voice Changer.
Step 2: Launch the Clownfish Voice Changer program and you can find it in the Windows tray bar.
Step 3: Right-click on the icon to open the main control menu. Turn on Hear microphone. Find and open the Setup menu, and click System Integration.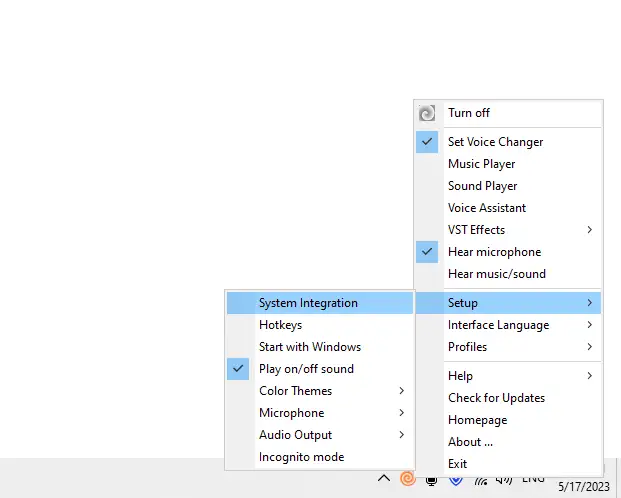 Step 4: View the microphone list, and install the voice changer on the microphone you want to use.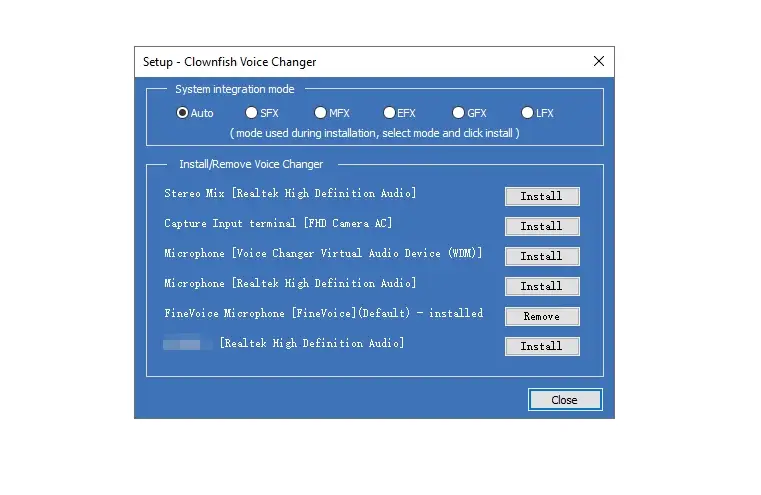 Step 5: Click Set Voice Changer on the Clownfish Voice Changer main control menu. And click the Custom Pitch on the window. You can move the indicator left or right to make it sound like Tiko because each person has a lower or higher voice pitch.
Step 6: Right-click the Clownfish Voice Changer icon in the system tray bar again and click Turn on to enable the voice changer.
Step 7: Now speak into your microphone on any voice platform and you can hear Tiko's voice coming from your mouth. That's amazing! Pretend to be Tiko and make prank videos.
Related article: How to Use Clownfish Soundboard & Tips for Not Working.
3 Best Tiko Voice Changer Alternatives for Tiko Voice
You already know what voice changer Tiko uses and how to get a Tiko voice changer. But what if Clownfish not working? You can get Tiko's voice in other voice changers.
Let's learn about the 3 best Tiko voice changer alternatives. Two of them are for Windows PC, and one is for both Windows and macOS computers.
#1. FineShare FineVoice [Windows]
The first one we want to recommend to you is FineShare FineVoice. It's a real-time voice changer working on every voice-capturing platform, such as Zoom, Skype, Discord, and more. It makes you sound professional and make your videos, meetings, or streams more attractive.
There are funny voice effects like Minions voice and scary voice effects like Ghostface in FineVoice. In addition to these, it has the voices of many celebrities and movie characters, such as Batman, Spiderman, Venom, etc.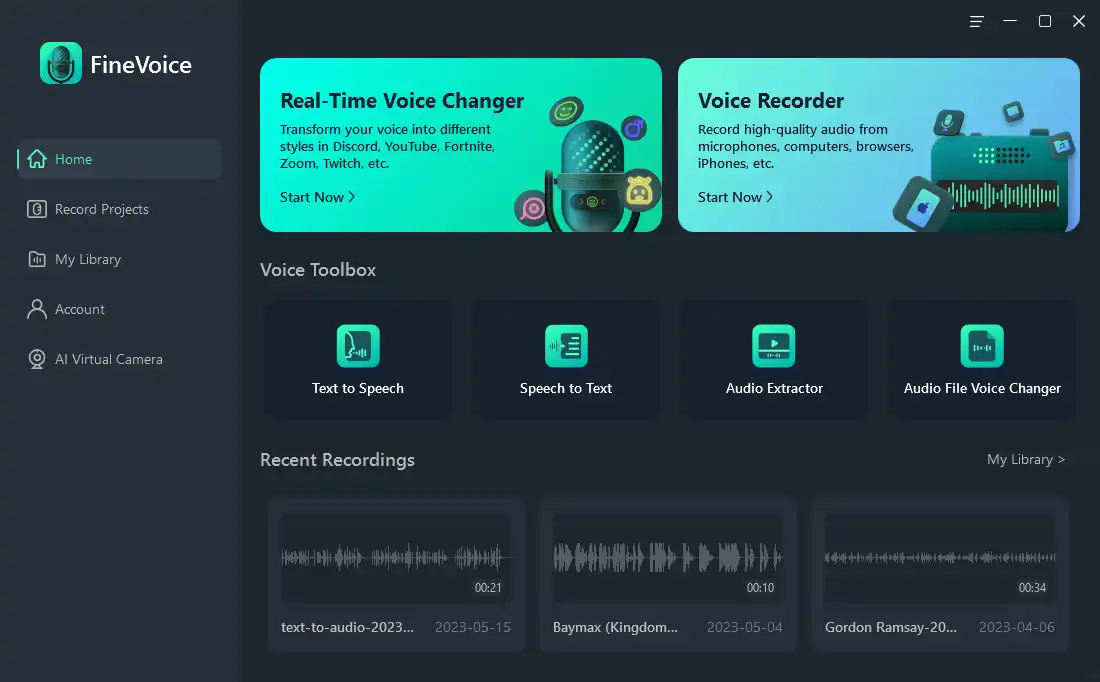 Features:
Real-time voice changer
Provide 30+ voice effects and 200+ sound effects
Enable you to create any custom voices
High-quality multi-track voice recorder
Audio extractor to extract the audio from video files.
Generate audio in 40 languages around the world.
Transcribe interviews, meeting recordings, and any other audio in 16 languages.
Make your audio sound attractive and engaging with 30+ preset voice effects.
How to Create Tiko Voice with FineVoice?
Step 1: Install and launch FineVoice.
Step 2: Follow the setup instruction to set your microphone as the input audio device and your headphones/speaker as the output audio device.
Step 3: Click Real-Time Voice Changer on the main interface. And switch to the Voice Labo tab. Then you should turn on Hear Myself at the left bottom of the interface.
Step 4: Click Add audio effects to select audio effects from the list. You can adjust each audio effect with the parameters. The one you must select is Pitch. Speak to your microphone and adjust the pitch to the point that makes you sound more like Tiko.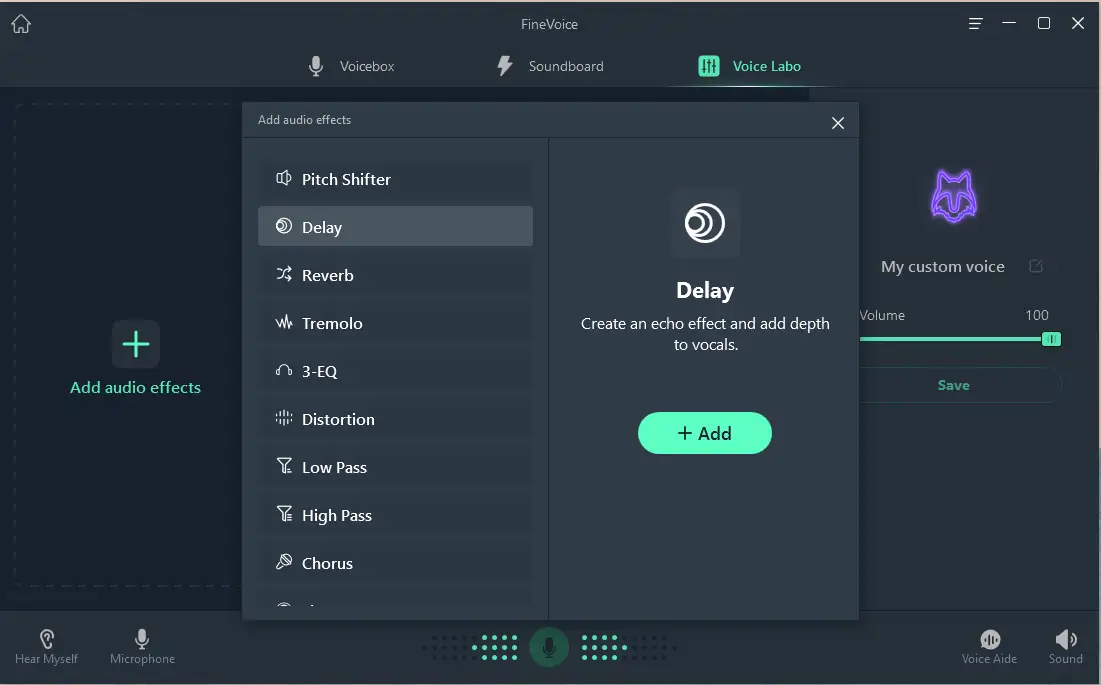 Step 5: Name the voice effect and save it to the Voicebox. You can access it in the Voicebox – Custom category in the future.
Step 6: Open the game or live streaming platform you use. And select FineShare FineVoice as the input audio device in the audio/voice settings. Enjoy Tiko's voice with friends.
If you are looking for a Tiko voice changer alternative, you might want to check out FineShare Online Voice Changer.
It is a free and easy-to-use web app that lets you change your voice into robot, Darth Vader, chipmunk, baby, and more.
It works with any microphone and browser. Whether you want to prank your friends, make funny videos, or just have fun with your voice, FineShare Online Voice Changer is a great tool to try.
#2. Voxal Voice Changer [MacOS & Windows]
If you are looking for a voice changer for Tiko's squeaky voice on Macbook, Voxal Voice Changer is the best choice. The software offers free and paid versions for different usage. You can download a free one for home use only.

Features:
9 human voices to turn your voice into different gender at different ages.
12 fantasy voice effects for character voices from fantasy works such as Frankenstein and Dracula.
7 sci-fi voice effects offer voices like Darth Vader.
9 strange & silly voices like Chipmunk's voice to make you sound funny.
Other location effects or device effects make your voice echoic and ethereal.
How to Use this Tiko Voice Changer?
Step 1: Install and launch Voxal Voice Changer from the official website.
Step 2: Click Options on the top of the screen to select your preferred microphone and speakers.
Step 3: Select the Squeaky in the Strange & Silly category on the left-hand side of the interface.
Step 4: Double-click the audio effects to adjust the voice. Click Preview on the top toolbar, and speak into your microphone to hear if the applied effect is satisfying.
Step 5: Open other applications you want to speak with the effects and enjoy with Tiko's voice.
#3. Voicemod [Windows]
Voicemod is another voice changer to get Tiko voice on a Windows PC. The software has been developed for several years and it has deep experience in voice changing.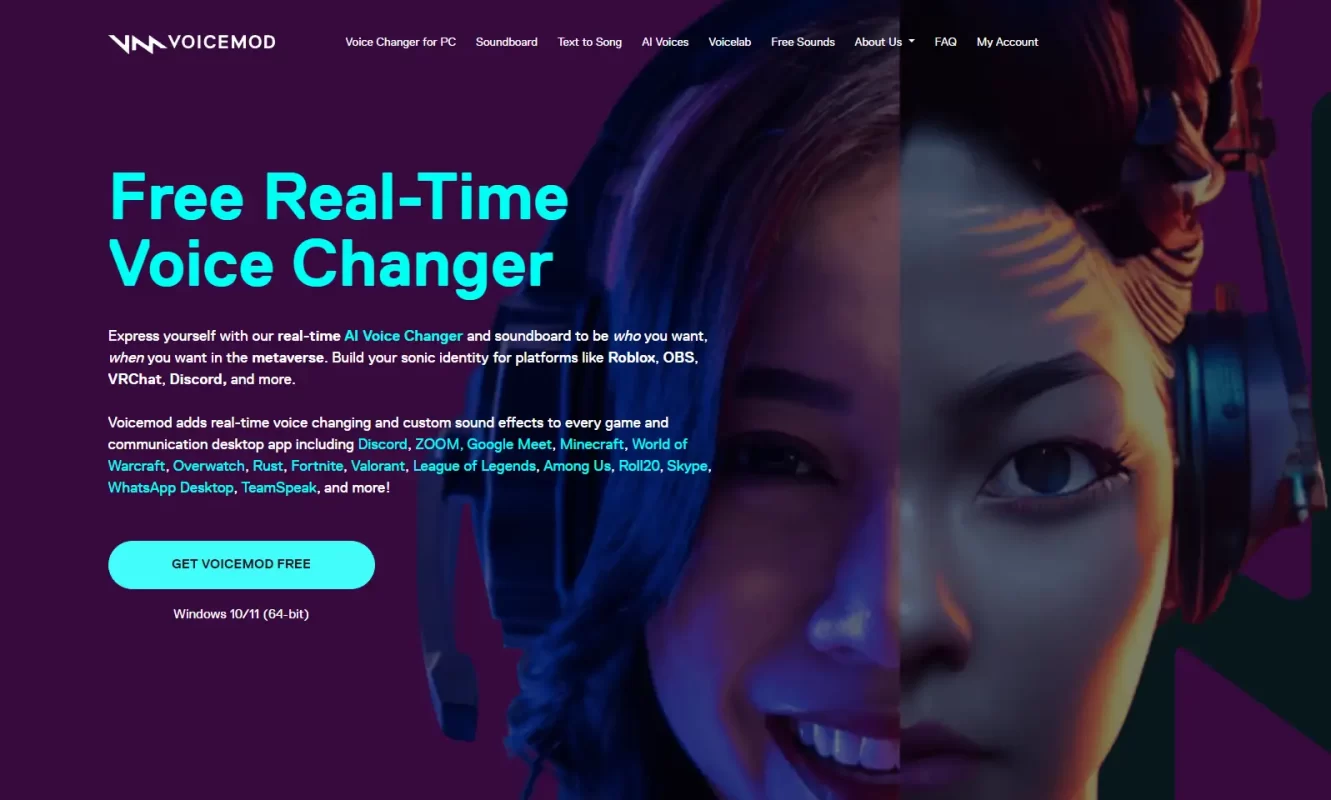 Features:
Voicebox with 100+ voice effects.
Soundboard feature for hundreds of sound clips.
Paid Voicelab for voice customization.
How to Get Tiko's Voice in Voicemod?
Step 1: Download Voicemod on your Windows computer.
Step 2: Open Voicemod and enable Hear Myself and Voice Changer at the bottom of the interface.
Step 3: Select Voicebox at the left menu and choose Baby voice.
Step 4: Speak with this Tiko voice on other audio platforms.
Read also: How to Use Voicemod Soundboard? Complete Guide 2022.
3 Best Online Tiko Soundboards for Tiko Quotes
You got everything on how to get Tiko voice. But you may just want some Tiko quotes to play in live streaming or want to have fun with Tiko sound clips.
Let's take a look at the 3 best online Tiko soundboards. Mark the websites and access them whenever you want.
#1. 101 Soundboard
You cannot miss 101 Soundboard if you want to play Tiko sound clips while streaming. This Tiko Soundboard offers his quotes in videos and sound clips of his song "Fishy On Me".
While you are streaming, you can play them with hotkeys. And you can download any sound clips to add them to your videos.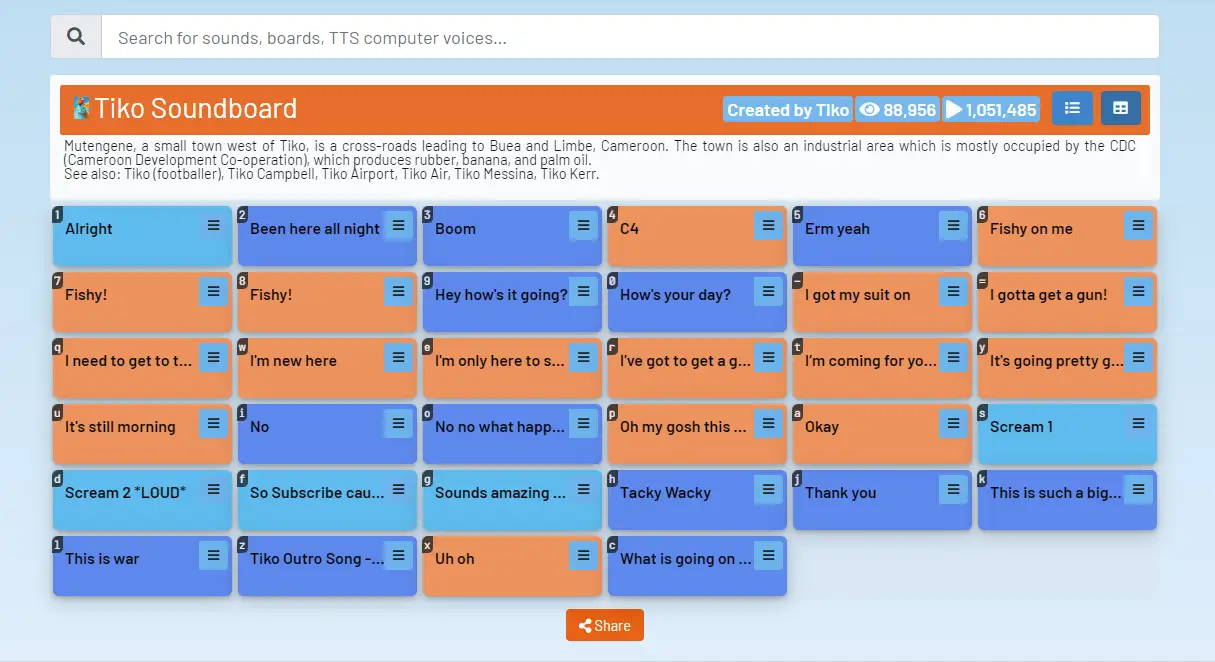 #2. Jayuzumi
Jayuzumi is a website working on publishing soundboards for 10 years. You can find 30 Tiko quotes on Jayuzumi, and each of them can be downloaded in MP3 format.
And there are other YouTubers and streamers' soundboards you can find on Jayuzumi like Corpse Husband, Dr DisRespect, and Trymacs.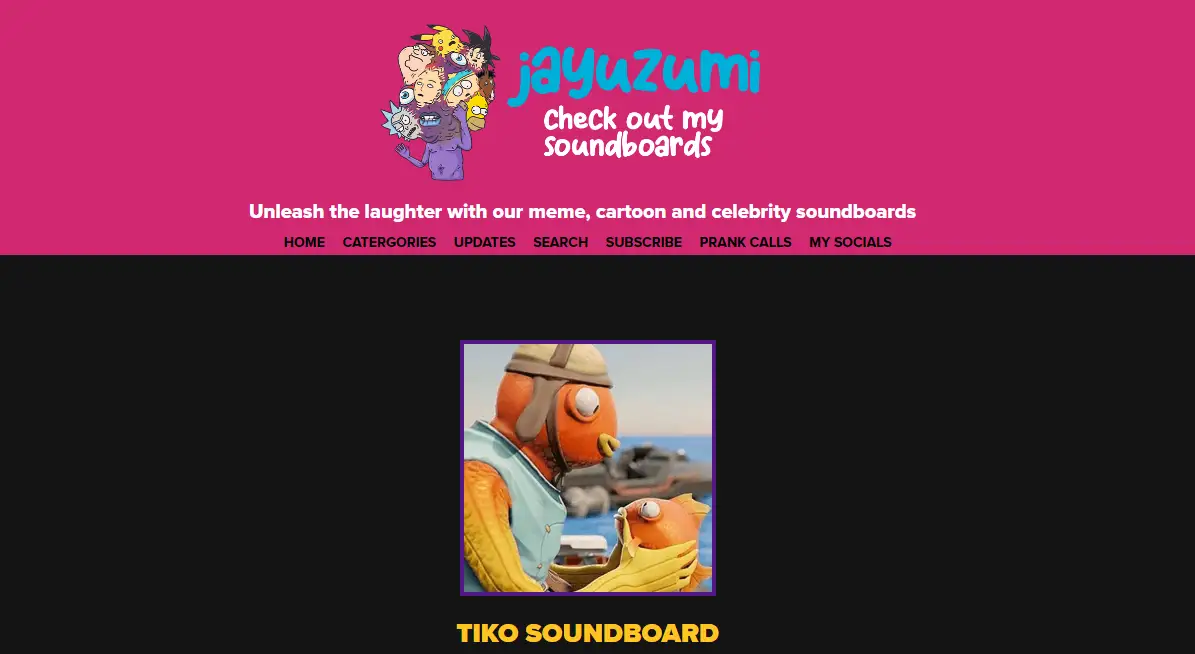 #3. Peal.io
The last soundboard website for Tiko quotes is Peal.io. It is a library of sound clips organized by soundboards. Peal.io offers common Tiko quotes on Tiko Sound Soundboard.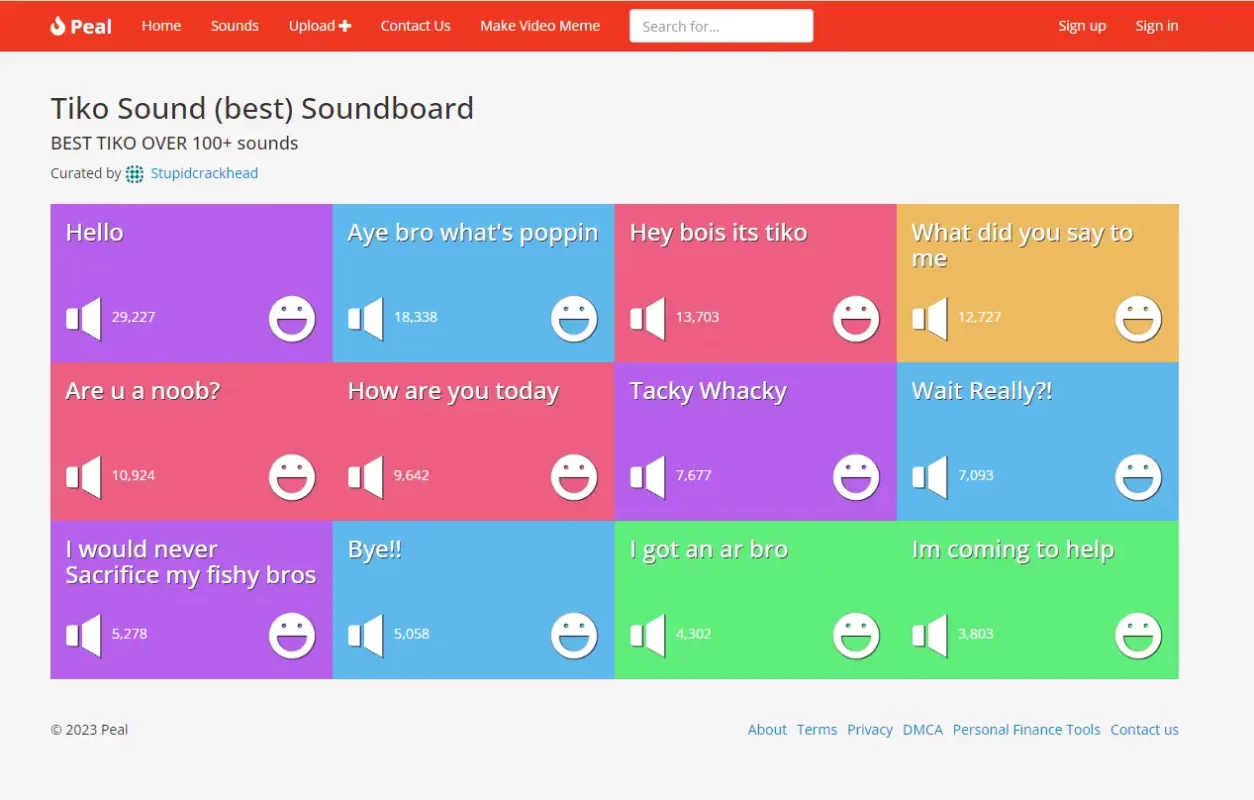 Conclusion
Wish we have answered all your questions about the Tiko voice changer. Tiko uses Clownfish Voice Changer to get the squeaky voice. And in this post, we provided you a guide on how to use Clownfish to create a Tiko voice.
Remember if Clownfish failed, you can create Tiko's voice with the 3 best voice changers. And mark the 3 soundboard websites for the best Tiko quotes.