Have you ever watched Transformers films when you were a kid? Are you a big fan of Transformers? Have you fantasized that one day your car will become a Transformer?
Transformers is an icon of American pop. It has gained popularity among countless teenagers around the world. Being an adult, you may know that your car can't be a transformer.
But getting their voice is nothing impossible.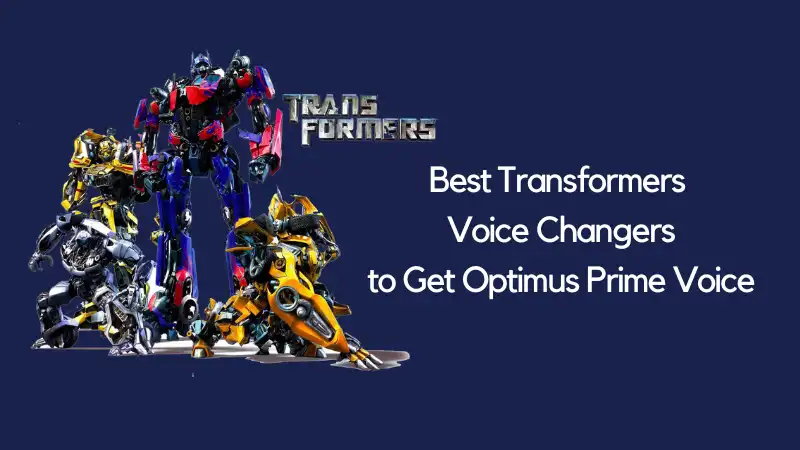 Do you want the robotic voices of the Transformers? This post will give you the 3 best Transformers Voice Changers. Use them for your games, voiceovers, streams, and voice chats.
Part 1. Who Is the Voice of Optimus Prime?
Optimus Prime is the most popular character in Transformers. He is the leader of Autobots. He is upright, strong, kind, and philanthropic.
Is there anyone who doesn't know who voices Optimus Prime? The voice actor is Peter Cullen. He voices Optimus Prime for over 30 years. He gives the soul to Optimus Prime.
Do you want to have this magnetic voice?
Part 2. What Is a Transformers Voice Changer?
With the advancement of technology, you can have the voice of Optimus Prime. You may have heard that you can wear a Transformers helmet with a voice change device. Speak into the voice changer and you will hear Optimus Prime say anything.
But, is there any need to buy a Transformers helmet? Not anymore. Download voice changer software to your computer. With it, Optimus Prime's voice is not unreachable.
Part 3. 3 Best Real-Time Transformers Voice Changers
#1. FineVoice
Are you looking for a transformers voice changer? Here highly recommend FineVoice to you. FineVoice is one of the best Transformers real-time voice changers in the market. But, one weakness of FineVoice is that it can only work on Windows systems.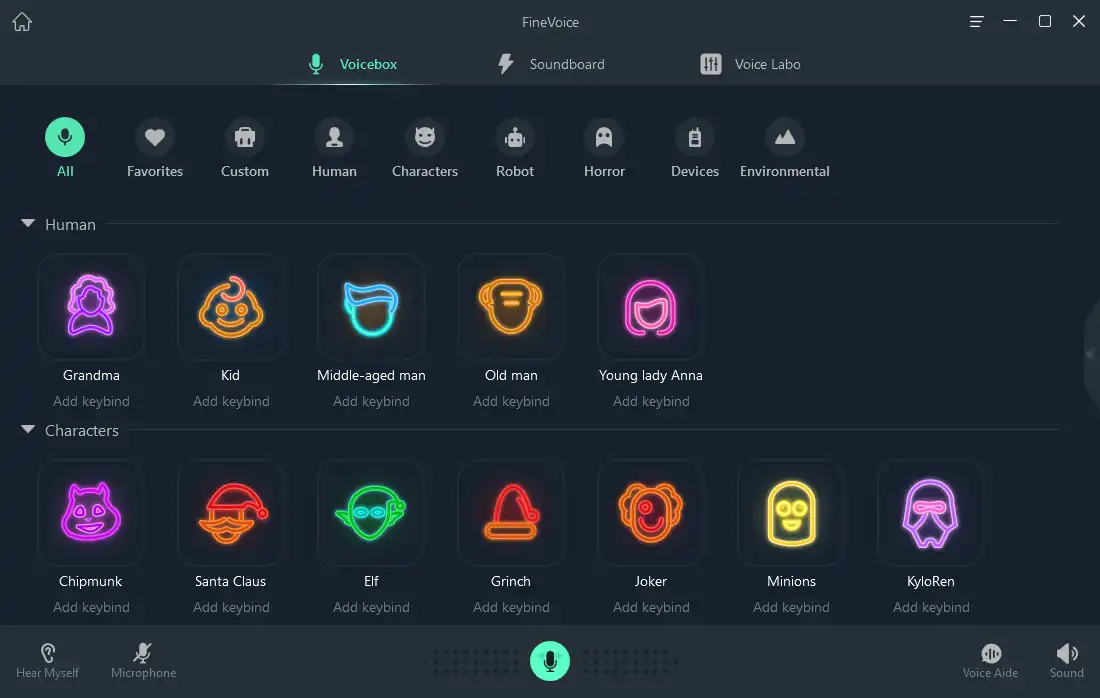 Features:
FineVoice is compatible with all voice chat platforms like Discord, Zoom, and Twitch. And you can use it in common multiplayer video games such as CSGO, LOL, and Fortnite.
FineVoice offers 30+ voice effects. You can find the preset Transformers voice effect and 4 more robotic voice effects. FineVoice let you adjust them with audio effects to make them sound like Transformers.
There is a Voice Labo feature. You can use it to create the voice of your favorite characters in Transformers. Use 25+ audio effects to make them sound like Bumblebee, Decepticons, or Megatron.
Step 1. Download and install the FineVoice desktop program.
Step 2. Launch FineVoice and click the Real-Time Voice Changer button on the Home window.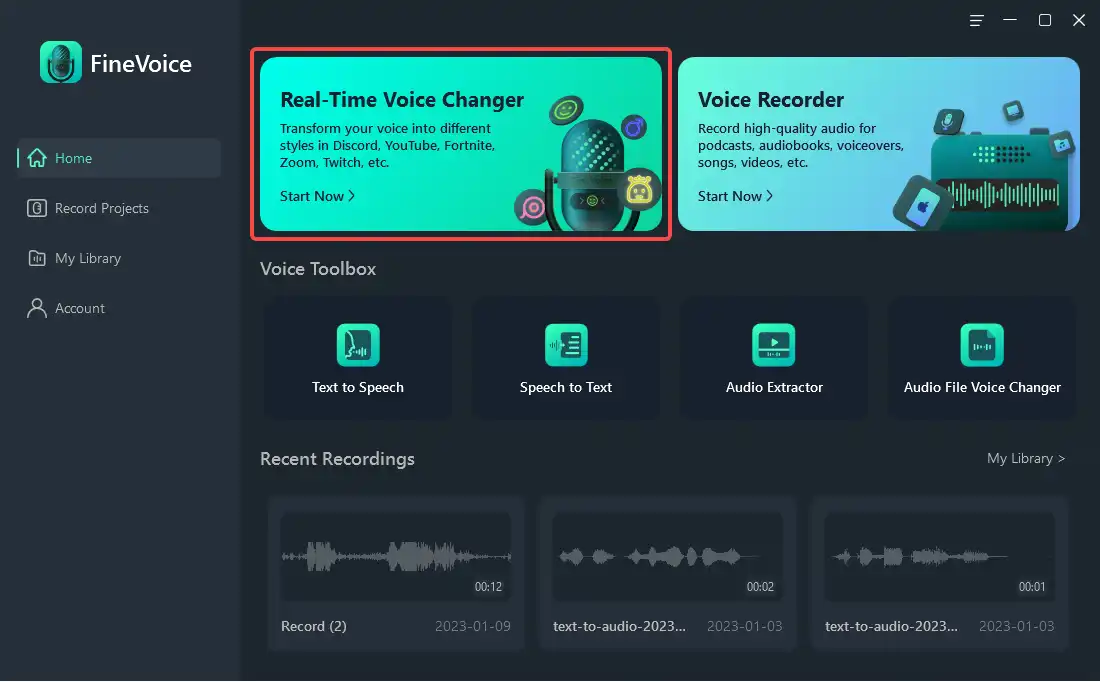 Step 3. You need to select your microphone and headphones to hear your voice captured by FineVoice.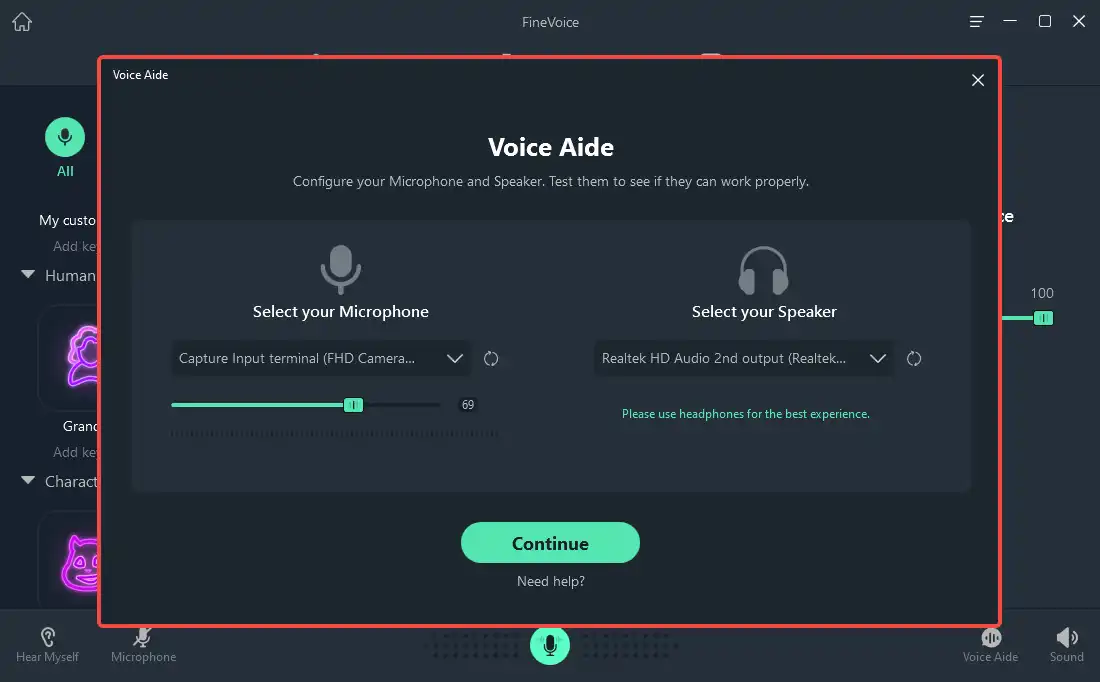 Step 4. Under the Voicebox tab, scroll down to find the Transformers voice effect in the Robot category.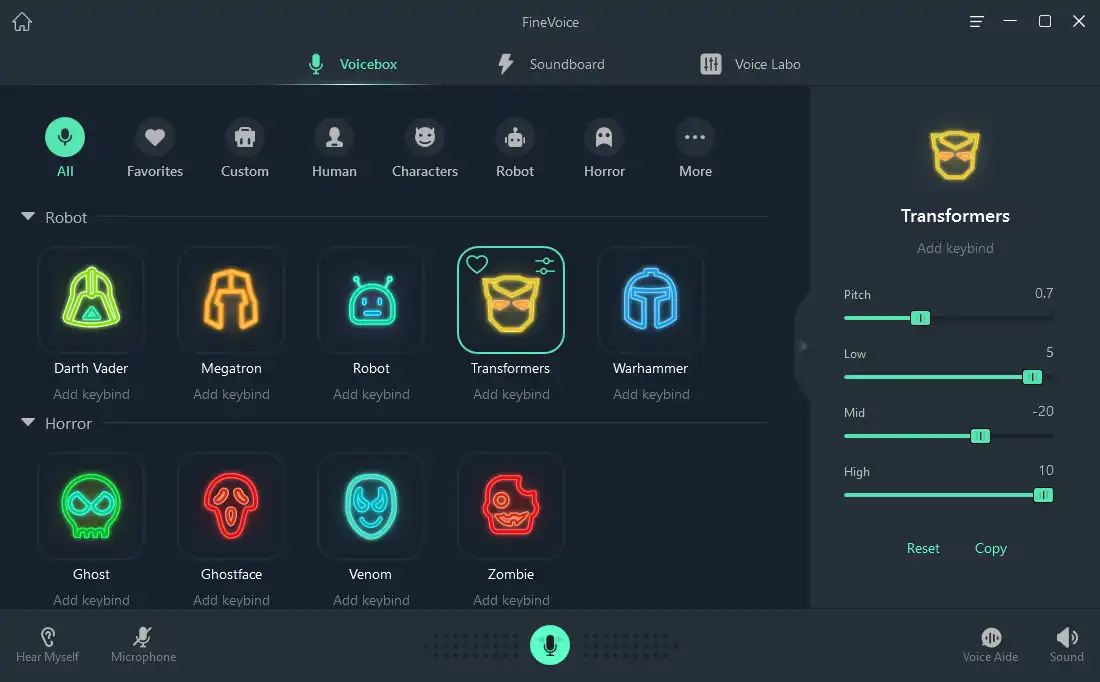 Step 5. Open any voice-capturing software and select FineVoice Virtual Microphone as the input audio device. Have fun with Transformers voice.
#2. Voxal Voice Changer
Get a voice changer on your MacBook. Voxal Voice Changer is a Transformers voice changer software for macOS and Windows users. For home use, you can download the limited free version.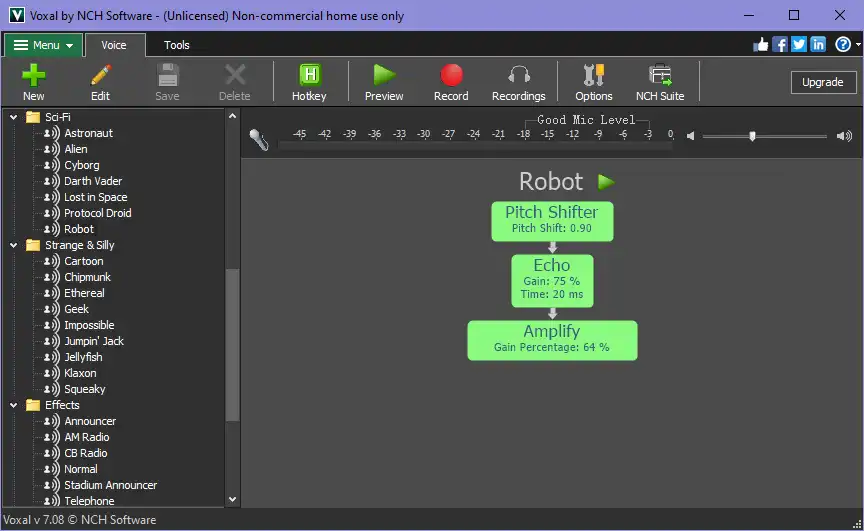 Features:
This voice changer offers voice effects suitable for every content creator. Get male, female, and baby pitches for streamers. And you can find the voice of characters like Darth Vader.
Click on a voice effect and you can customize it. Voxal Voice Changer gives you more than 15 audio effects. With them, you can change the robot's voice to anything you want. Whether the voice of Optimus Prime or Bumblebee.
You can use Voxal Voice Changer as a real-time voice changer for TeamSpeak, Skype, Steam, and Twitch. And this software is a voice recorder, too. Use it to record anything with a funny voice.
#3. Clownfish Voice Changer
Want a system-level voice changer? Get this one. Clownfish Voice Changer is a real-time voice changer installed on the system level. So you don't need to select it as an input audio device in every voice chat platform.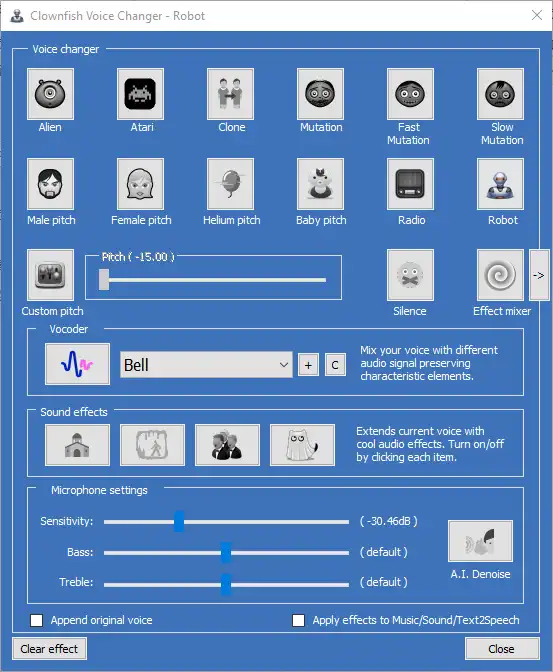 Features:
Clownfish is small and has low CPU usage. It works on almost every Windows system. And you can use it with Hangouts, ooVoo, Viber, Ekiga, and other audio capture applications.
Clownfish offers 12 voice effects including Alien, Atari, Radio, and Robot. Select several voice effects and mix them to make it sound like a Transformer.
This voice changer allows you to adjust the microphone settings. Change the sensibility, bass, and tremble and reduce background noise. Get the best audio quality when you are streaming on Windows.
Conclusion
Want to get the voice of Optimus Prime? Want to use a Transformers voice changer to get more audience in your Discord streams? Want to use the mechanic voice to prank your friends and make them jump scared?
In this post, we have introduced the 3 best Transformers voice changers to you. Take away the Optimus Prime voice changer you love and have fun.
Try FineVoice for Free
Powerful real-time voice changer for tuning your voice in gaming, streaming, and chatting. It comes with various voice & sound effects and supports creating custom voice. Get it for free.