Iriun webcam is a well-liked webcam app that allows you to use your phone's camera as a wireless webcam. It's cross-platform and supports Windows, Mac, and Linux.
However, its operation interface is too archaic and the functional boards are not easily distinguishable. This may take too much time to find the function that you want. So is there a better alternative to the Iriun webcam?
There are many alternatives to Iriun Webcam on the market, such as FineCam, which is easy to use and free. Other alternatives like DroidCam, iVCam, YouCam, and AlterCam are also suitable replacements.
5 Alternatives to Iriun Webcam
1. FineCam
The first one I mention is FineCam, which is the greatest webcam alternative for the Iriun webcam.
FineCam is a 4K webcam software. It allows you to zoom in or out, switch between landscape and portrait modes, and capture moments from a variety of perspectives to get the best images.
The most crucial aspect is that FineCam offers thousands of free background images, allowing you to search for and remove the virtual background according to your preferences. Now, you can start a meeting anytime, anywhere, and don't need to show your work and home environment.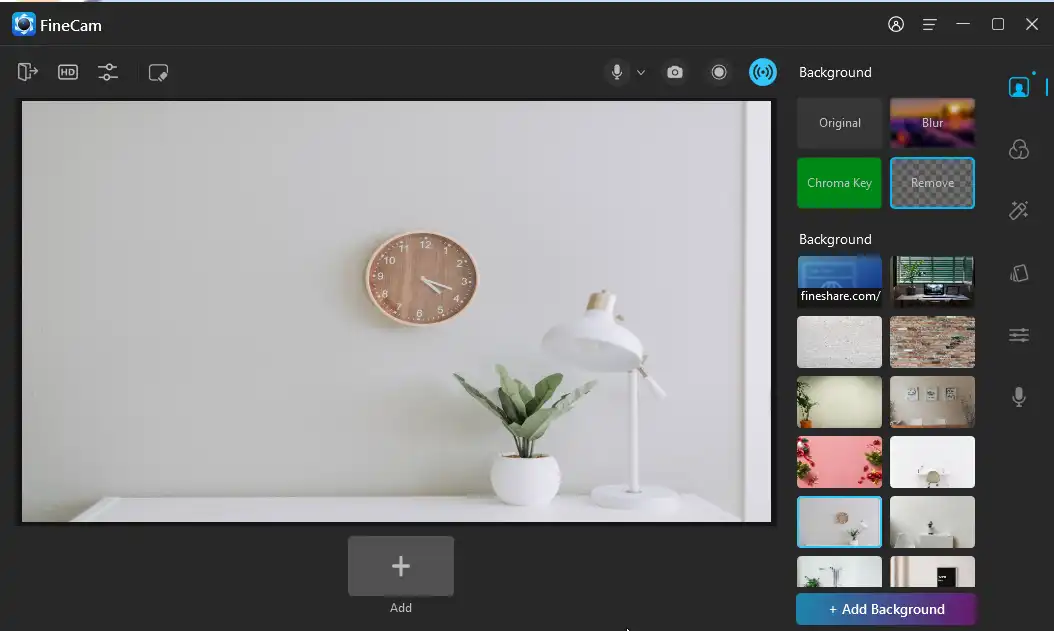 Do you want to maintain your flawless appearance during a meeting or live broadcast? With a wide variety of filters and effects available in FineCam, users may easily change the exposure, sharpness, and saturation to suit their needs.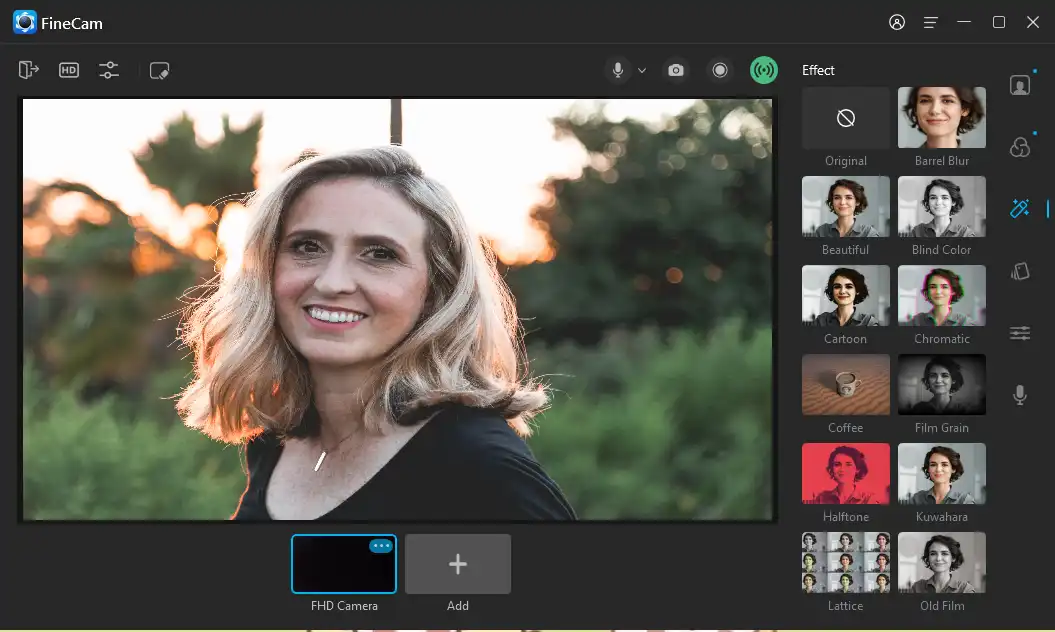 Features:
Background Removal
Cinematic Filters and Effects
Webcam Overlay
Chroma Key
Built-in Branding Themes
Moreover, you can customize your brand logos or select from pre-made themes. Get FineCam for free.
2. DroidCam
Another excellent Iriun webcam alternative is DroidCam.
The biggest advantage of DroidCam is that it can convert your phone into a camera. It has a simple interface and delivers HD video quality. It's easy to use and compatible with both ios and Android phones. In addition,droidCam is tiny enough not to occupy any phone capacity.
The software is compatible with both IOS and Android phones and is tiny enough not to occupy any phone capacity. You will also enjoy the software most pleasantly because you won't be harassed by any advertisements.
It offers outstanding resolution, autofocus, and a flash for the camera.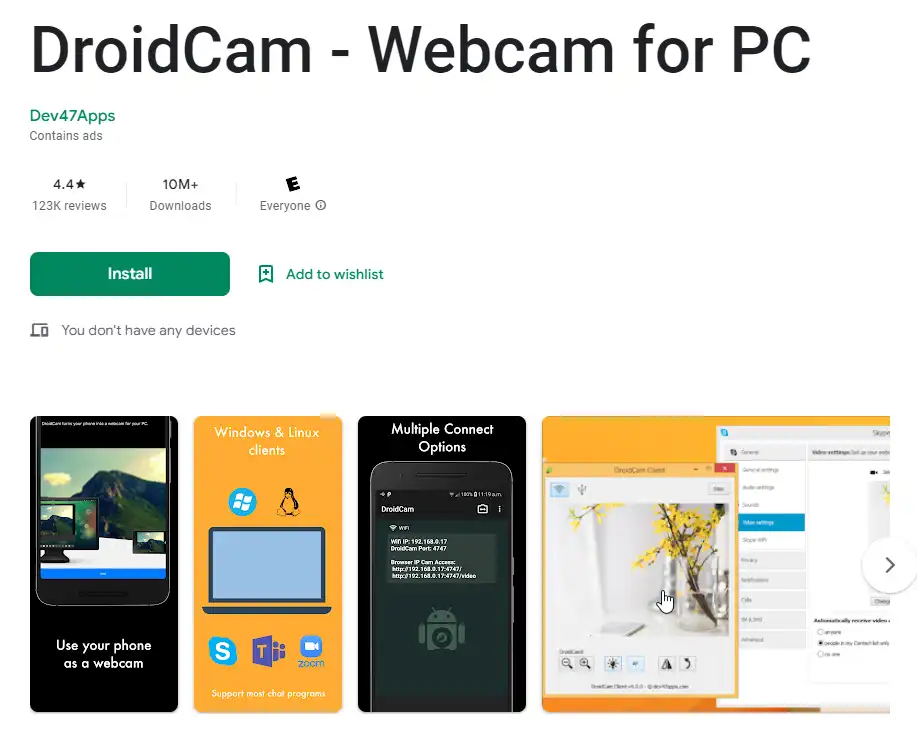 Features:
Remote Control
Surveillance
Exposure, White Balance, Sharpness
Ultra-wide Angle Lens
3. iVCam
iVCam is a great Iriun webcam alternative for mac and it is free. You can use their phones and iPads as HD cameras on your computers. And connect multiple cell phones at the same time on one computer.
It can enhance the visual effect and video clarity for you through the high resolution of cell phones and iPads. Compared with the Iriun webcam, iVCam can provide more free features. For instance, it can automatically block advertisements while you are live streaming, improving the smoothness and interface cleanliness.
To improve the sound quality of the video, iVCam supports using the phone as a high-quality wireless microphone instead of the one that comes with the computer.
The software has on-demand switching capabilities for front and rear cameras in real-time as well as for portrait, landscape, and night modes. These features greatly enhance the security of iVCam and significantly protect your privacy.
Features:
Landscape, Portrait, Night Mode
Support for iPad and Phone Cameras
Front and Rear Camera Switching
Real-Time Monitoring
4. YouCam
YouCam is another alternative to the Iriun webcam. It can work with popular platforms such as Facebook, Zoom, and Google Meet. And it can also be a great method to show a live video studio with a camera. It is very popular with media people, businesses, and individual users.
To achieve a nice video effect, YouCam can automatically identify your face. You can apply as many makeups, filters, and various stickers as you want during the movie. These emoticons and makeups are the most popular ones currently.
During a video conference, YouCam gives you the option to blur and change the background image at any time. No matter where you are, you may have absolute privacy.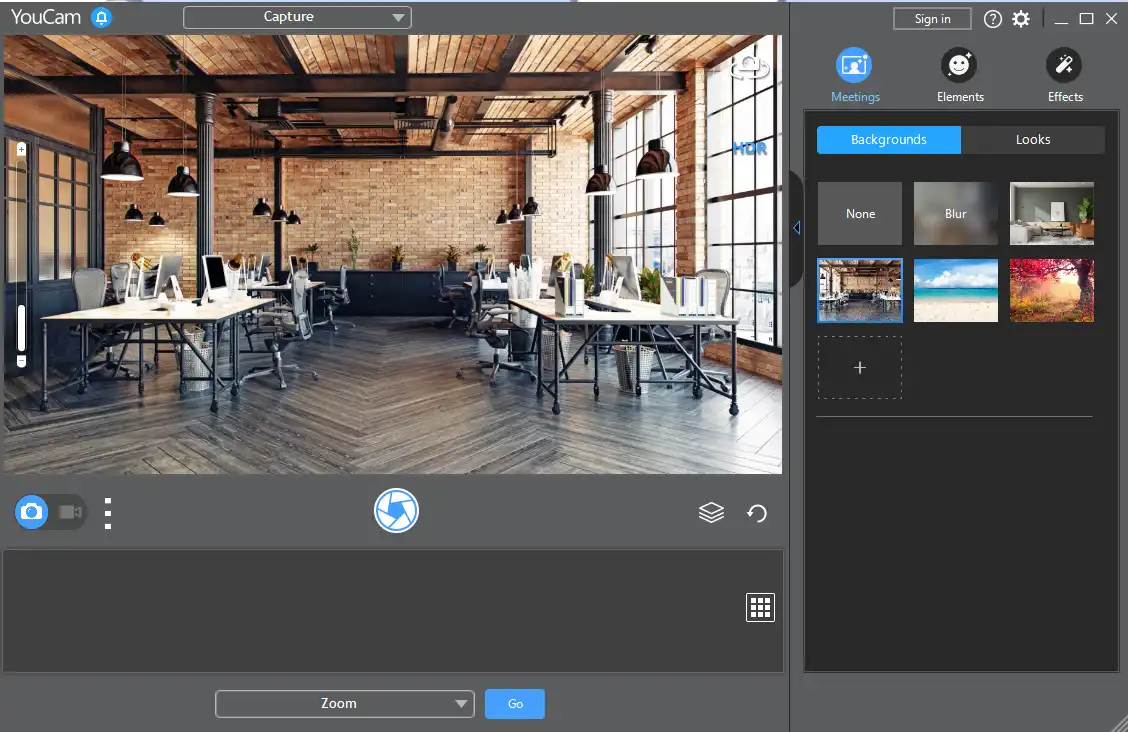 Compared to standard webcams, YouCam can significantly cut power consumption and GPU/CPU utilization. For business and media users, YouCam can add your unique headlines or photographs to Facebook or YouTube at the same time, which is not only easy for you to operate and more efficient. Some users may put channel logos and sponsors on display, and even sprinkle in some advertisements.
5. AlterCam
Another widely known webcam software that works across various platforms is called AlterCam.
This Iriun webcam alternative is also incredibly adaptable, enabling you to use the webcam in a variety of ways on multiple platforms. It offers up to 50 webcam live effects and can split webcam videos into multiple programs.
AlterCam can be used not only as a webcam but also as video editing software. This implies that you can share their screen with Altercam or play pre-recorded videos directly.
The ability to alter the sound in real time is AlterCam's greatest advantage.
You can choose to adjust all or a portion of their sound with a single click when using it. This will allow you to have more fun during the live broadcast and attract more viewers. Moreover, it can convert voice to text, which is very popular with some corporate employees.
Features:
Virtual Background
Real-Time Sound Alter
Desktop Broadcasting
Voice-To-Text Interchange
Conclusion
After reading thus far, you can select the best camera for yourself from the 5 listed cameras above. Most of these cameras can replace video backgrounds, add filters, etc. It may take some attentive readings to find their distinctive highlights.
For instance, why was FineCam placed in the top spot? What distinguishes the remaining four cameras from the rest software? These are all things that readers need to think about to discover.
Download it now and try it out!