Do you love listening to music while doing yoga? Are you bored of listening to the same old songs while doing yoga? Do you want to spice up your yoga playlist with some new and exciting tunes?
In this article, we'll explore the 20 best cover songs for yoga that can elevate your yoga practice and help you connect with your inner self on a whole new level.
Let's get started!
How Do You Choose the Best Cover Songs for Yoga?
The right cover songs can enhance your Yoga experience, harmonizing with the flow of your practice and creating a sense of connection. Here's a guide to help you choose the best cover songs for yoga.
The lyrics of the cover songs should resonate with the themes you're exploring during your yoga practice. Consider songs with positive, introspective, or spiritual themes that enhance your connection to your practice and yourself.
The rhythm of the cover songs should flow seamlessly with your yoga sequence. Imagine each poses transitioning harmoniously as the music plays. This musical flow enhances the organic unity between your movements and the sound.
Cover songs strike a balance between familiarity and innovation. Look for songs that are recognizable to you and your potential audience, as this familiarity can create a comfortable atmosphere. Simultaneously, the cover's unique interpretation should introduce a fresh perspective to the practice.
Consider the intention behind your yoga practice. Are you seeking relaxation, empowerment, introspection, or energy? Your choice of cover songs should mirror this intention, allowing the music to amplify the emotions and sensations you wish to evoke during your practice.
Choose cover songs that evoke emotions that resonate with the desired emotional state of your practice. Whether it's joy, peace, empowerment, or release, the cover's emotional essence should amplify the feelings you aim to experience.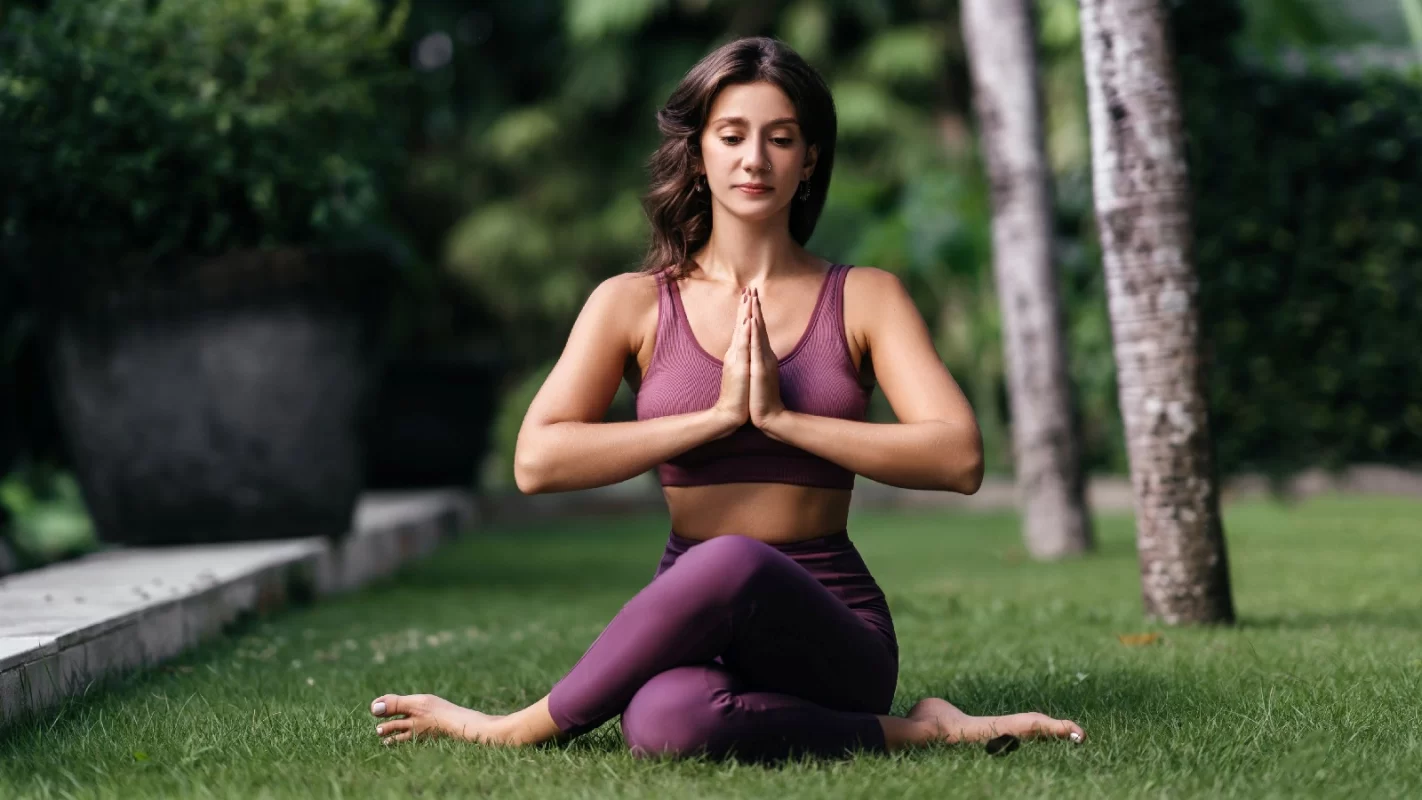 Do you wish you could hear your favorite songs in different voices? Then you will love FineShare Singify! You can create amazing AI song covers that will surprise and delight you and your friends. Imagine hearing Adele singing Hallelujah, Ed Sheeran singing Imagine, Taylor Swift singing Let It Be, or Eminem singing Don't Worry Be Happy.
Pop Cover Songs for Yoga: Spice Up Your Yoga Playlist with Catchy Hits
Pop songs for yoga can help you enjoy the rhythm, melody, and lyrics of the songs. And it can also help you add some variety and freshness to your yoga playlist. Here are the 5 best pop cover songs for yoga and yoga playlist
Can't Help Falling in Love – Ingrid Michaelson (Cover of Elvis Presley)
Ingrid Michaelson's cover of this classic love song adds a touch of modern indie-pop to your practice. Her sweet vocals and acoustic arrangement create a serene and heartfelt atmosphere.
Hallelujah – Pentatonix (Cover of Leonard Cohen)
Pentatonix's cappella rendition of "Hallelujah" infuses this iconic song with modern vocal harmonies. Let their captivating voices guide you through a practice of reflection and grace.
Shake It Off – Us The Duo (Cover of Taylor Swift)
Us The Duo's acoustic cover of "Shake It Off" brings a lighthearted and carefree vibe to your practice. Embrace the playful energy of this cover as you flow through your sequences.
All About That Bass – Postmodern Jukebox ft. Kate Davis (Cover of Meghan Trainor)
Postmodern Jukebox's jazzy cover transforms "All About That Bass" into a fun and upbeat experience. This cover adds a touch of retro charm to your yoga playlist.
Uptown Funk – Against The Current ft. Set It Off (Cover of Mark Ronson ft. Bruno Mars)
Against The Current's pop-punk cover of "Uptown Funk" injects a burst of high energy into your practice. Let this cover's infectious rhythm energize your flow.
Modern Cover Songs for Yoga: Discover New Sounds, Styles, and Genres for Your Yoga Practice
Modern songs for yoga can help you explore new sounds, styles, and genres of music. And it can also help you connect with the current trends and culture of music. Here are the 5 best modern cover yoga music.
Chandelier – Sia (Piano Version by Peter Gergely)
Peter Gergely's piano cover of "Chandelier" offers a minimalist and contemplative take on the hit song. Let the delicate piano notes guide you through a practice of grace and vulnerability.
Shape of My Heart – Noah Kahan (Cover of Sting)
Noah Kahan's acoustic cover of "Shape of My Heart" adds a modern indie-folk flavor to the classic. The gentle vocals and soothing melody create a space for reflection and presence.
Ho Hey – Lennon & Maisy (Cover of The Lumineers)
Lennon & Maisy's folk-pop rendition of "Ho Hey" infuses the song with youthful energy. Let this cover's harmonious vocals and acoustic charm guide you through an uplifting practice.
Havana – Madilyn Bailey (Cover of Camila Cabello)
Madilyn Bailey's acoustic cover of "Havana" brings a touch of acoustic pop to the Latin-infused hit. Let the cover's playful and soulful vocals transport you to a place of rhythm and flow.
Fast Car – Boyce Avenue ft. Kina Grannis (Cover of Tracy Chapman)
Boyce Avenue and Kina Grannis' collaboration on "Fast Car" offers a harmonious blend of voices and acoustic artistry. This cover's soothing melodies and introspective lyrics create a space for introspection.
Upbeat Cover Songs for Yoga: Rock Your Yoga with Fun and Energy
Upbeat yoga music can help you boost your mood, motivation, and performance. And it can also make your practice more enjoyable and playful. Here are the 5 best upbeat cover songs for yoga that you can add to your playlist.
Don't Stop Believin' – Vitamin String Quartet (Cover of Journey)
Transform your practice with the soaring melodies of Vitamin String Quartet's rendition. This orchestral version infuses the resilience of "Don't Stop Believin'" into each pose, making your practice a journey of determination and positivity.
Can't Hold Us – Macklemore & Ryan Lewis (feat. Ray Dalton)
This is an upbeat hip-hop song that was released in 2011. The song is about overcoming obstacles and pursuing your goals with passion and determination. This song is ideal for a dynamic and vigorous yoga practice or as a pump-up song for power poses.
Take On Me – Reel Big Fish (Cover of a-ha)
Add a playful twist to your practice with Reel Big Fish's ska-punk take on "Take On Me." The infectious rhythm invites you to move with exuberance, making your practice a dynamic and joyful journey.
Valerie – Amy Winehouse (Cover of The Zutons)
Amy Winehouse's soulful rendition of "Valerie" becomes your practice's soundtrack of empowerment. Let her expressive voice guide you through energetic sequences, infusing each movement with a touch of sass and confidence.
Happy – Walk off the Earth (Cover of Pharrell Williams)
Experience pure happiness with Walk off the Earth's inventive cover. This rendition injects vibrant energy into your practice, encouraging you to sway, stretch, and dance your way through each sequence.
Inspirational Yoga Cover Songs: Feel the Soul of Yoga with Gratitude, Love, Courage, and Confidence
Inspirational yoga songs can help you express gratitude, love, courage, and confidence. And it can also help you connect with yourself and your yoga philosophy. Here are the 5 best inspirational yoga songs that you can add to your playlist.
Imagine – Jack Johnson (Cover of John Lennon)
Let Jack Johnson's heartfelt version of "Imagine" guide you into a practice of gratitude and unity. His soothing voice and acoustic melodies create a space where you can reflect on the world's potential for peace and harmony.
I Will Always Love You – Whitney Houston (Cover of Dolly Parton)
Let Whitney Houston's powerful voice envelop you in a blanket of self-love and compassion. Her rendition of "I Will Always Love You" becomes an anthem of love and affirmation as you flow through your practice.
What a Wonderful World – Israel Kamakawiwo'ole (Cover of Louis Armstrong)
Immerse yourself in the soulful rendition of "What a Wonderful World" by Israel Kamakawiwo'ole. This cover transports you to a place of immense gratitude, reminding you of the beauty that surrounds you.
Halo – Ane Brun (Cover of Beyoncé)
Ane Brun's rendition of "Halo" infuses your practice with ethereal energy, embracing both vulnerability and resilience. Let the cover's soothing vocals guide you toward a place of inner serenity.
You Raise Me Up – Jai McDowall & KHS COVER (Cover of Josh Groban)
The song is about finding strength and support in someone or something higher than yourself. As you flow through your practice, the emotional resonance will uplift your spirit and nourish your soul, fostering a sense of empowerment and connection with each breath.
Conclusion
Integrating cover songs into your yoga practice can infuse it with a sense of familiarity while also offering a fresh perspective. These musical renditions tap into the powerful emotional language of music and seamlessly blend with the transformative journey of yoga.
So, the next time you unroll your yoga mat, consider incorporating these enchanting cover songs to elevate your practice to new heights.
FAQs about Cover Songs for Yoga
What Are Cover Songs for Yoga?
Cover songs for yoga are reimagined versions of popular songs, adapted to create a harmonious ambiance during yoga practice. They infuse familiarity and innovation into your sessions.
Why Use Cover Songs for Yoga?
Cover songs for yoga can have many benefits, such as:
They can add variety and interest to the yoga playlist, and prevent boredom and repetition.
They can match the tempo and intensity of the yoga flow, and help the students synchronize their breath and movement.
They can evoke different emotions and sensations, and enhance the yoga experience.
They can stimulate the brain and memory, improving cognitive function.
They can foster a sense of connection and community, and encourage singing and sharing.
What Types of Yoga Benefit From Cover Songs?
You can choose various yoga cover songs. Upbeat covers work well for dynamic practices, while soulful covers suit restorative and yin practices and pop-infused covers add a contemporary twist.