Disney songs are some of the most beloved and memorable tunes in the history of animation. They have the power to make us laugh, cry, sing along, and feel inspired.
Whether you are a fan of classics like The Lion King and Beauty and the Beast, or modern hits like Frozen and Moana, you probably have a favorite Disney song that you can't get enough of.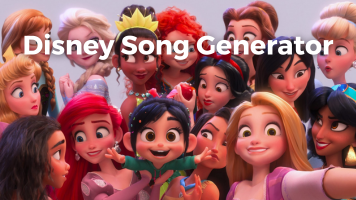 You may want to generate Disney songs in a matter of minutes.
In this blog post, we will introduce you to the 3 best Disney song generators that you can use online for free.
3 Awesome Disney Song Generators for All Your Needs
If you want to create your own Disney songs, you don't need to be a professional musician or songwriter. You just need to have a computer, an internet connection, and some creativity.
Here are the 3 best Disney song generators that you can use online for free, and how to use them:
#1. FineShare Singify – Best Disney Song Cover Generator
If you want to cover an existing Disney song with your voice, then FineShare Singify is the best tool for you.
FineShare Singify is a great tool for anyone who loves to sing and have fun with Disney songs. You can use it to make fake AI covers, express your emotions, or just have a good time.
Singify unleash your creativity. You can select from rappers like Ice Spice, Eminem, and Kanye West, singers like Taylor Swift, Billie Eilish, and Jennie, and characters like Hatsune Miku, Plankton, and Peter Griffin.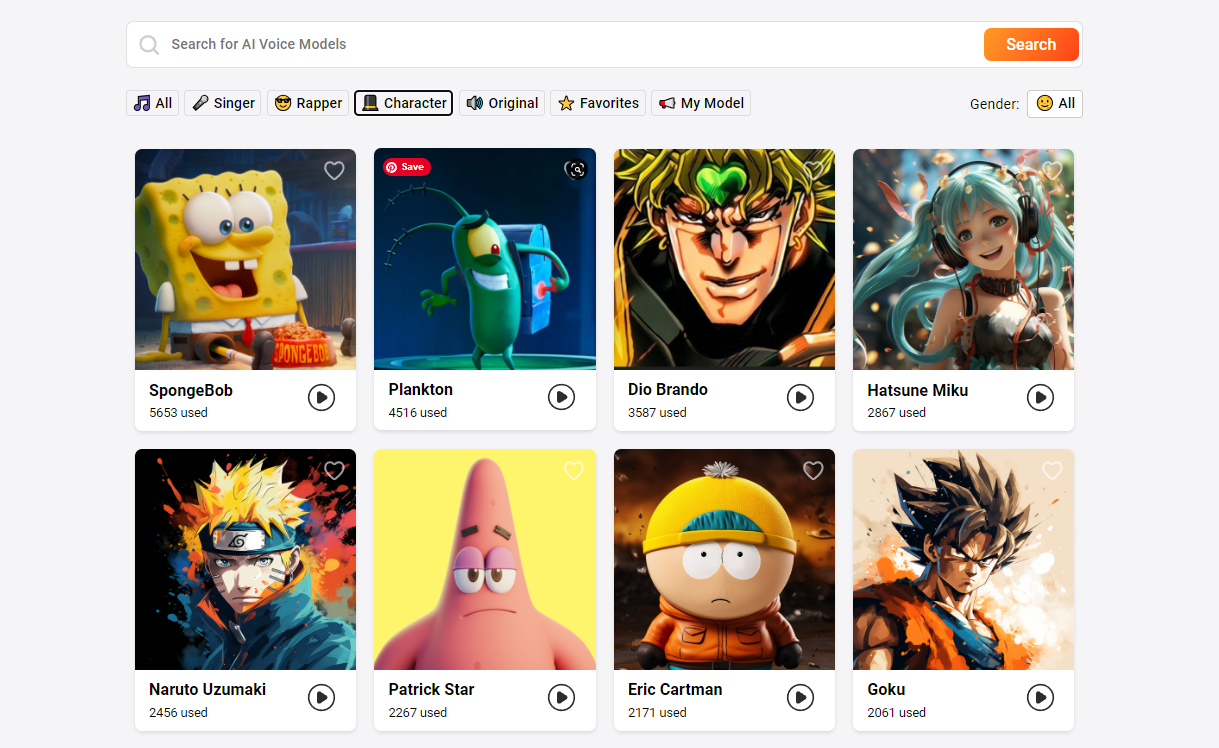 Key Features:
110+ AI voice models from characters and celebrities
Exclusive and ever-expanding voice library
You can request for new voice models or upload your custom ones
Find and download AI covers made by other users
Multiple Disney songs creation at the same time
Cover Disney songs by uploading, recording, or searching for the original YouTube video within the app
Cloud saving all your covers. Share or manage them in My Covers
How to make your AI Disney cover songs with the singing voice generator for free:
Step 1. Visit FineShare Singify and find the voice model you want to use.
Step 2. Click on the model and input the audio. Search for the song from YouTube, record your song from your microphone, or upload a local audio file.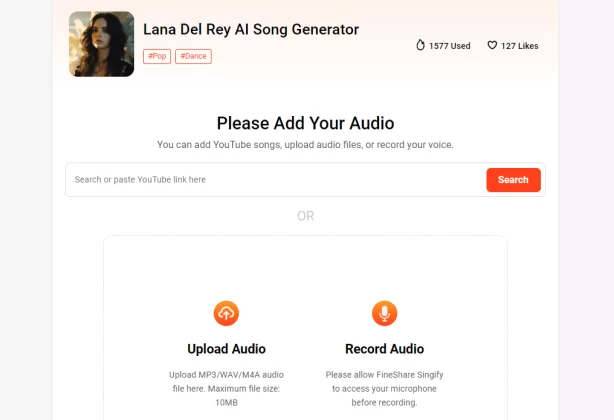 Step 3. Click on Continue or Make AI Cover to start the cover creation process.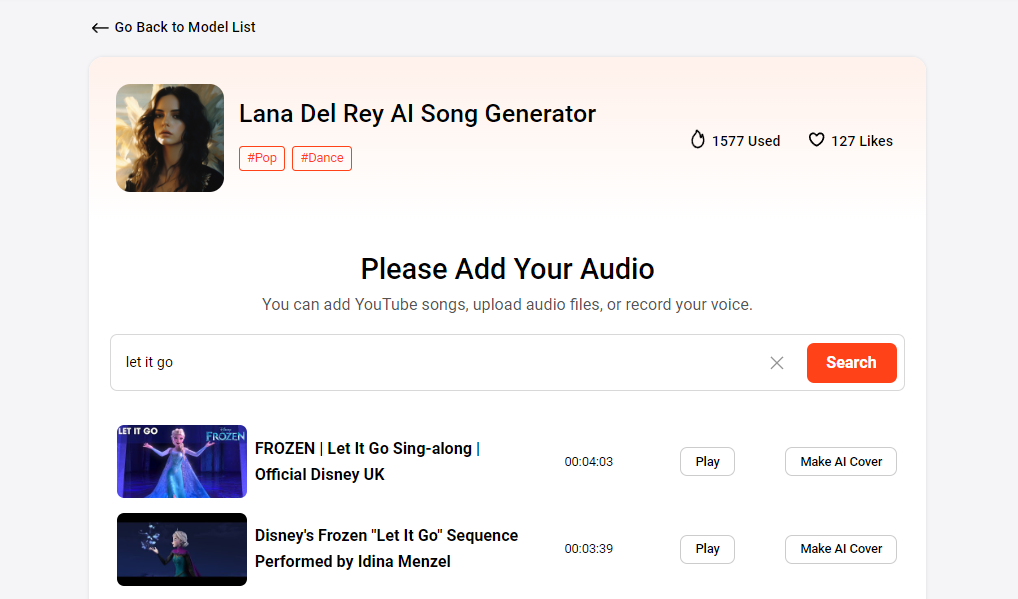 Step 4. Check the status on the My Covers page, you can go back to submit more AI cover requests.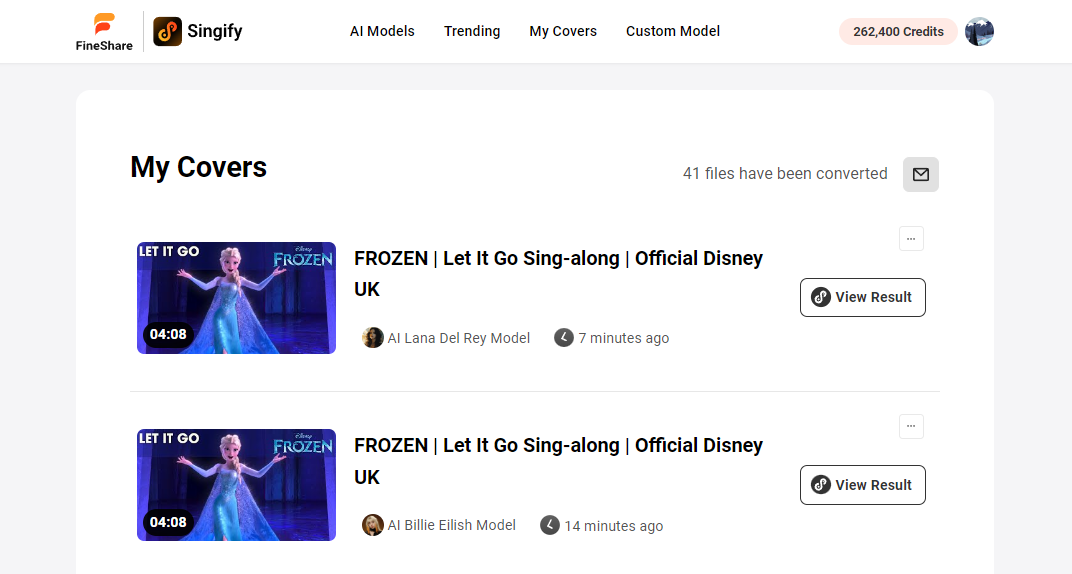 Step 5. Have fun with your Disney song covers.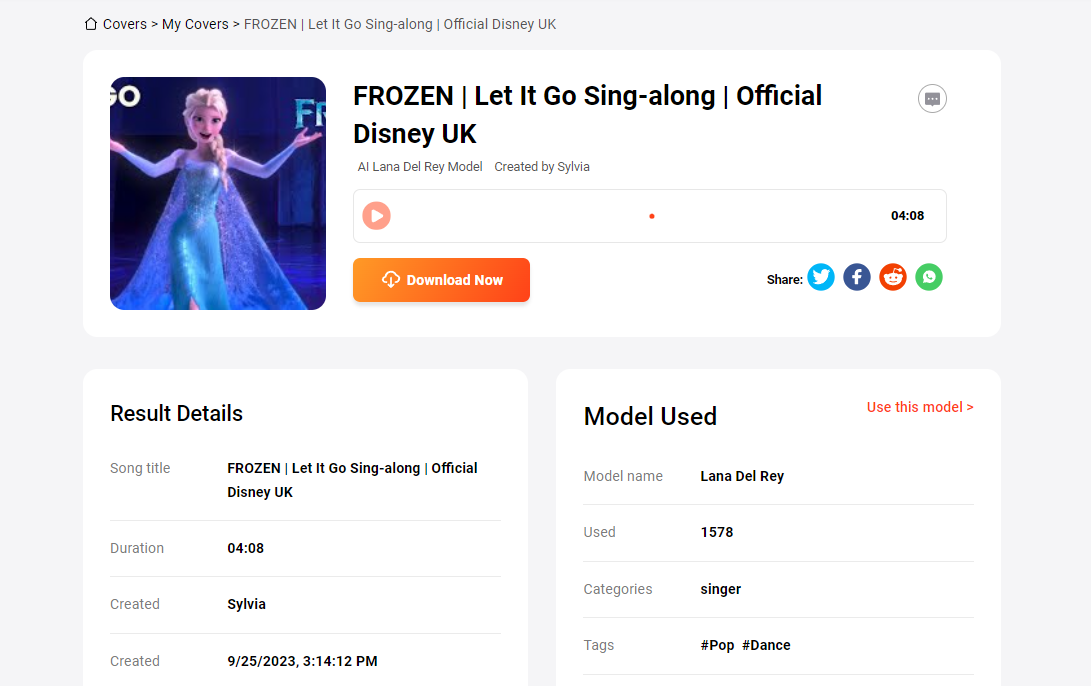 #2. Best Random Tools- Random Best Disney Songs
If you want to discover some random Disney songs that you might have missed or forgotten, then Best Random Tools is the best tool for you.
Best Random Tools is a website that provides various random generators for different purposes, such as names, numbers, colors, words, and more. You can find random generators like Best Songs By Disney Villains, Random Disney Villains, and Pop Song Generator.
One of the generators that they offer is the Random Best Disney Songs generator, which can display the rank, title, singer, and movie of a Disney song.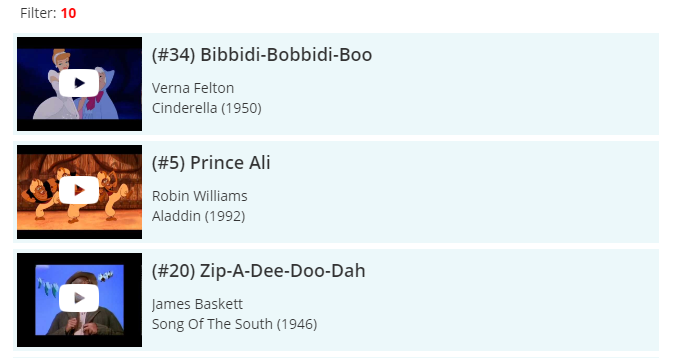 Pros:
Find the best Disney songs with rankings
Display all Disney songs by rank
No need to go to YouTube to watch the videos
Cons:
Lots of Ads
Only about 80 songs are included
Let me show you how to generate random Disney songs:
Step 1. Click the link for Random Best Disney Songs.
Step 2. You will see a list of 6 random Disney songs by default, along with their rank, title, singer, and movie.
Step 3. You can customize the Disney song generator by selecting how many songs you want to generate and what range the songs will choose from.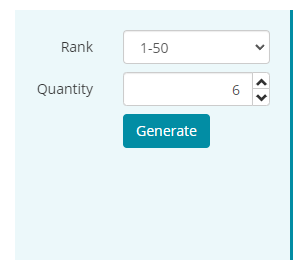 Step 4. You can click on the play button of the song to watch the YouTube video, or click on New Random Display to reshuffle.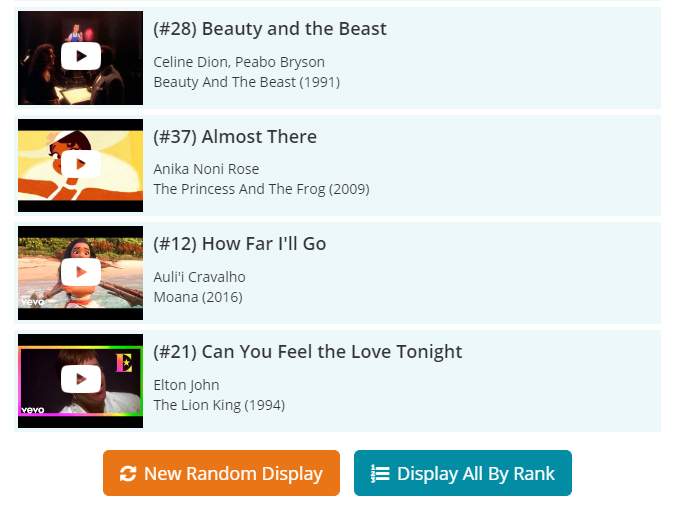 #3. Freshbots – Best Disney AI Song Lyrics Generator
If you want to generate new Disney song lyrics based on a theme, character, or genre, then Freshbots is the best tool for you.
Freshbots is a website that uses artificial intelligence to generate lyrics for various types of songs, such as pop, rock, rap, country, and more. It can create original lyrics for a Disney song based on your input.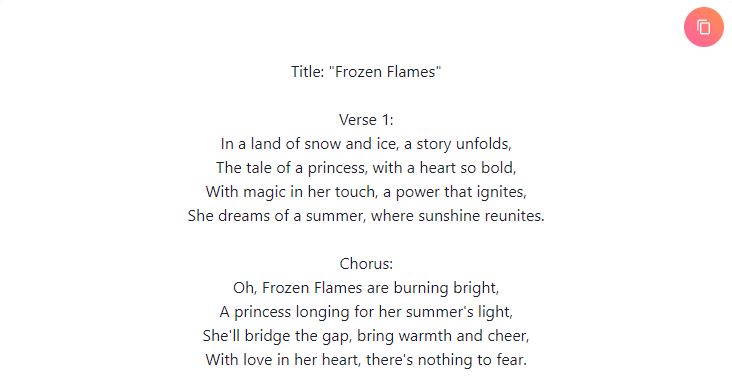 Pros:
Generates original lyrics based on your input
Produces coherent, creative, and catchy lyrics
Cons:
You just need to follow these simple steps to generate Disney song lyrics with Freshbots:
Step 1. Go to Freshbots.
Step 2. You will see 4 tabs where you can enter some information about the song that you want to generate, such as the topic, keywords, emotion, and style.
Step 3. You can also choose from the sample topics and styles, or type text to customize yours.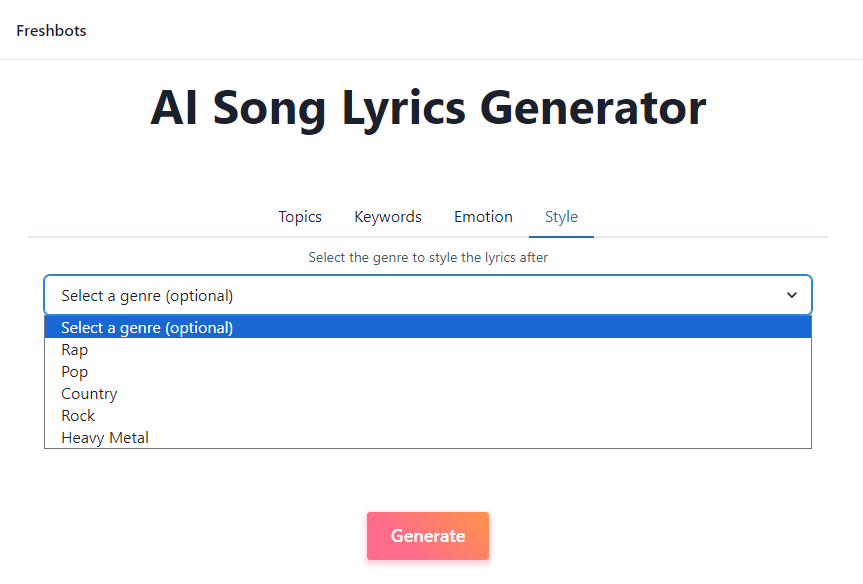 Step 4. When you are done, click on the Generate button and wait for the AI to create your song.
Step 5. You will see the lyrics of your song, along with the title and the whole lyrics of your Disney song.
Step 6. You can create your Disney song with the AI-generated lyrics, or copy and paste the lyrics to the AI music video generator to create your Disney song video.
10 Most Popular Disney Songs of All Time
There are hundreds of Disney songs to choose from, but some of them stand out as the most popular and iconic ones.
Remember Me from Coco (2017)
We Don't Talk About Bruno from Encanto (2022)
How Far I'll Go from Moana (2017)
Circle Of Life from

The Lion King

(1994)
Beauty And The Beast from Beauty And The Beast (1998)
A Whole New World from Aladdin (1992)
Dream is A Wish Your Heart Makes from Cinderella (1950)
Let It Go from Frozen (2013)
When You Wish Upon A Star from

Pinocchio

(1940)
You've Got a Friend in Me from Toy Story (1995)
These are just some of the many amazing Disney songs that have captured our hearts and minds over the years.
Conclusion
With these 3 best Disney song generators, you can create your own Disney songs in a matter of minutes. Whether you want to cover, discover, or generate Disney songs, you will find a tool that suits your needs and preferences.
FAQs
#1. Is there a Disney movie generator?
Yes, you can use online free tools like Generator Land to generate random Disney movie names. You can randomly choose what Disney movie to spend your time with.
#2. Can I generate a Disney song challenge list to have fun with friends?
Yes, tools like DeviantArt give you main popular songs from Disney animated movies. You can take the challenge list and have fun with your friends in singing, drawing, or cosplaying.
#3. Can I find a free Disney song generator?
Yes, the tools mentioned above are all free to use, and you don't need to download or install anything. Visit FineShare Singify and create your Disney AI song covers in minutes.