Do you have a song that you want to turn into a music video, but you don't have the time, skills, or budget to do it? Or maybe you are just curious about how artificial intelligence can create amazing visuals from sound and text.
Either way, you are in the right place.
In this post, we will show you the 3 best AI music video generators to create stunning music videos for your songs in minutes.
What Is an AI Music Video Generator?
An AI music video generator is a tool that uses artificial intelligence to generate visuals from audio, text, or both.
You can use it to create music videos for your songs or just to experiment with different styles and themes.
Some of the benefits of using an AI music video generator are:
You can save time and money by creating music videos without hiring professionals or buying expensive equipment.
You can unleash your creativity and explore new possibilities of digital art and entertainment.
You can customize your music videos according to your preferences and needs.
You can share your music videos with your fans, friends, or family, or use them for marketing purposes.
What Are the Best AI Music Video Generators for 2023?
There are different AI music video generators available online, but they all have their strengths and weaknesses.
To help you choose the best one for your needs, we have compared the top 3 AI music video generators for 2023 based on their features, prices, and quality.
#1. Kaiber
Kaiber is the best AI music video generator we've found for 2023. Kaiber uses a powerful AI engine to create stunning visuals that match your song and style. Watch this archived Linkin Park song called Lost created with Kaiber.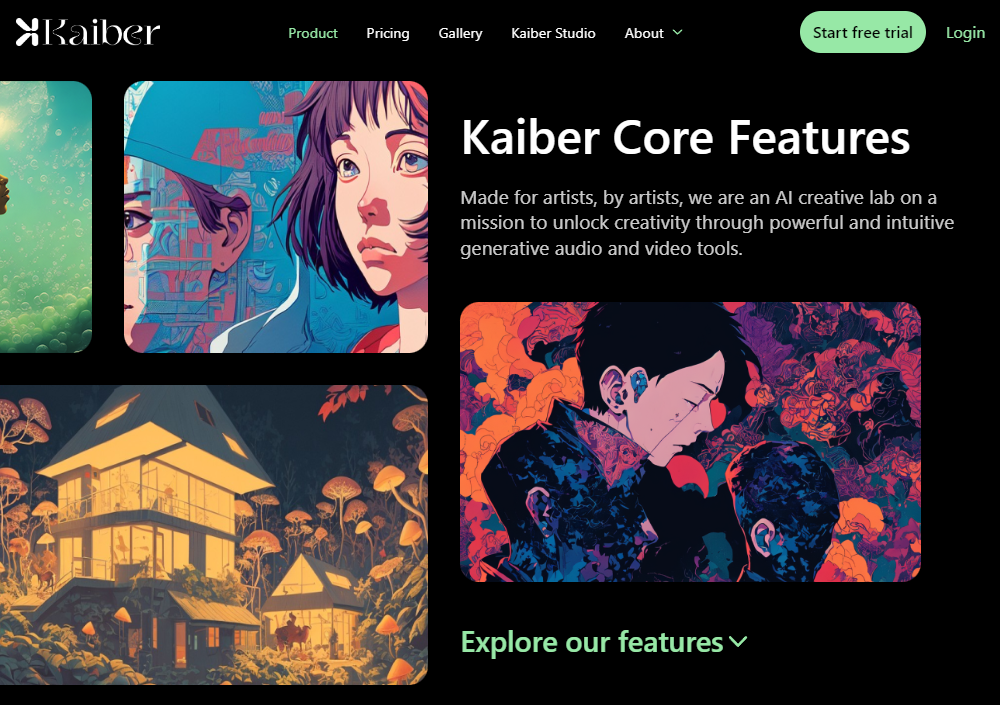 Price: Starting from $10/month with a free trial
Key Features of Kaiber:
Video-to-video transformation
Image-to-video generation
Supports up to 1090& 4K videos
A large and diverse gallery of songs and genres to choose from
Select a genre and a mood, and generate your music video in minutes
Create realistic and immersive visuals that suit your song and style
😃 Pros:
User-friendly and intuitive interface
Easy to use with a 7-day free trial
Supports any aspect ratio for videos
😞 Cons:
Limited length of videos based on your plan
Expensive for premium features and quality
#2. Neural Frames
Neural Frames is a very interesting and impressive AI animation generator that can create videos from text prompts. It's a great tool for digital artists, music video creators, and anyone who wants to experiment with AI generated music videos.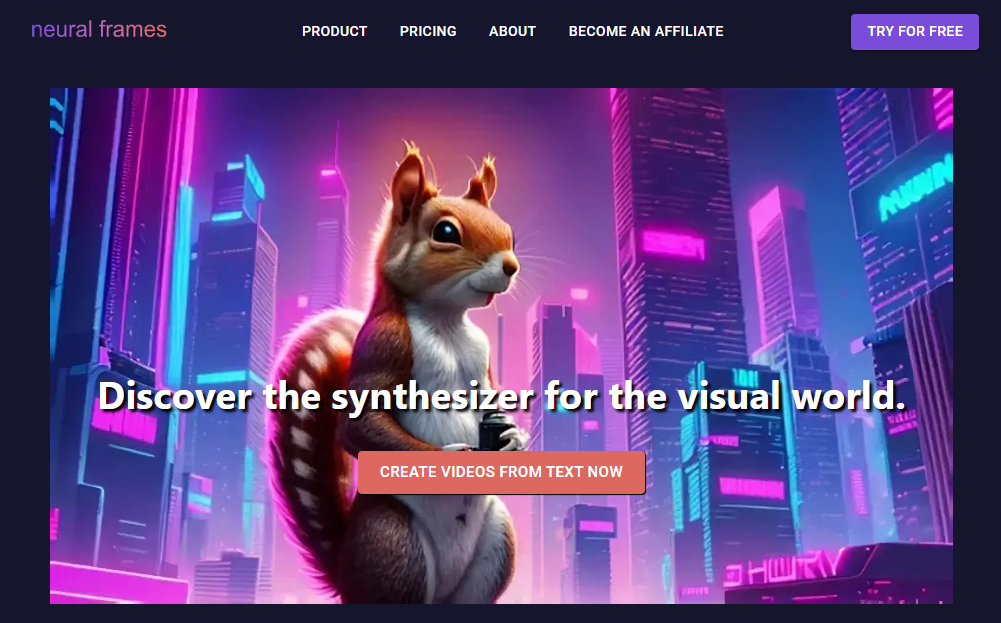 Price: Starting from $19/month with a free trial
Key Features of Neural Frames:
Offers 6 state-of-the-art neural network models
Allows you to train any custom AI models
Generate music video in minutes from text
Provides a prompt assistant to enhance your prompts with AI
Upload or generate an image with a prompt for the starting frame
A video editor to render your clip and make a better effect
😃 Pros:
Supports different genres, moods, colors, and effects
Supports high quality and resolution up to 1080P/4K
Easy to download or share your videos online
😞 Cons:
Challenging to use for beginners
Requires some skill in writing effective text prompts
Created visuals are may not coherent or consistent
#3. Synthesia
Synthesia is an AI music video generator that can create videos from text and voice. Synthesia uses a cutting-edge AI engine that can generate realistic and expressive avatars that can speak any language and deliver any message.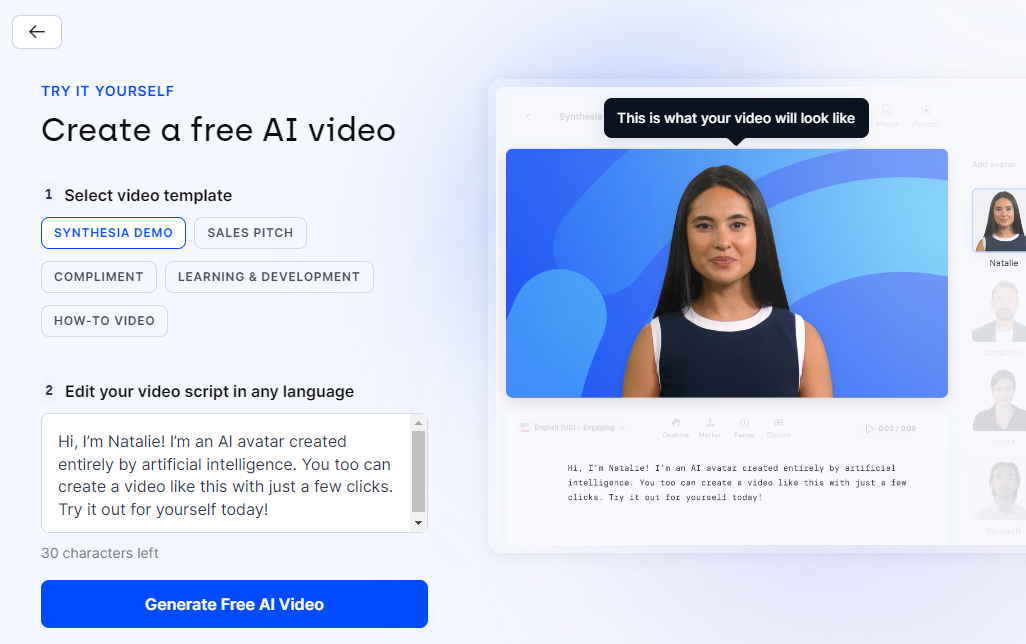 Price: Starting from $22.5/month
Key Features of Synthesia:
140+ stock AI avatars to use
Supports 120+ languages and voices
Multiple-scene video creation
Upload your video script and an AI script assistant available
Edit your music video with different backgrounds, logos, and subtitles
😃 Pros:
Online AI video generator requires no installation
Various options and flexibility to make videos
Fast to generate the visuals and the voiceovers
😞 Cons:
No free trial
Can only create videos with avatars
Generate avatars are may not natural
Expensive for music video creation
If you want to make your AI music, not just cover existing songs, you can also use FineShare Singify to do that. FineShare Singify is not only an AI song cover generator, but also an AI music creation platform. You can use it to create original songs with AI vocals in just a few steps.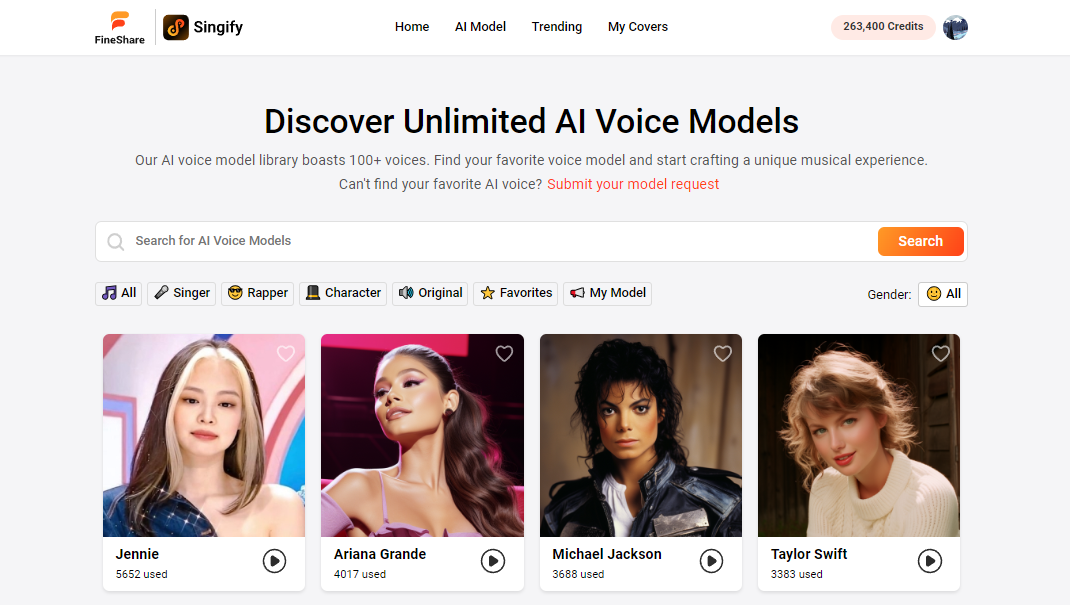 Highlights:
Easy to access and free to use
110+ AI voice models of celebrities from singers and rappers to politicians actors, and characters from anime, cartoons, and movies
Submit your model request to get whatever AI voices you want
Compatible with Chrome, Firefox, Safari, and other mainstream web browsers on all your devices
Record your microphone voice, transform your audio file, or cover your favorite songs on YouTube
Fast generation speed and save all your requests in My Covers
Here is how to make AI music using FineShare Singify:
Step 1. Click here to visit the AI singing voice generator.
Step 2. Explore the expanding AI voice model library and click on the image of what you want to make AI music with.
Step 3. Input your audio. To make your original music, you can upload audio files, record your voice, or add your YouTube songs by searching or pasting YouTube links.
Step 4. Submit the generation request. Check the process status on the My Covers page. You can submit multiple requests at the same time.
Step 5. Download or share the AI music. Or make your music video using the AI video generator from the music mentioned above.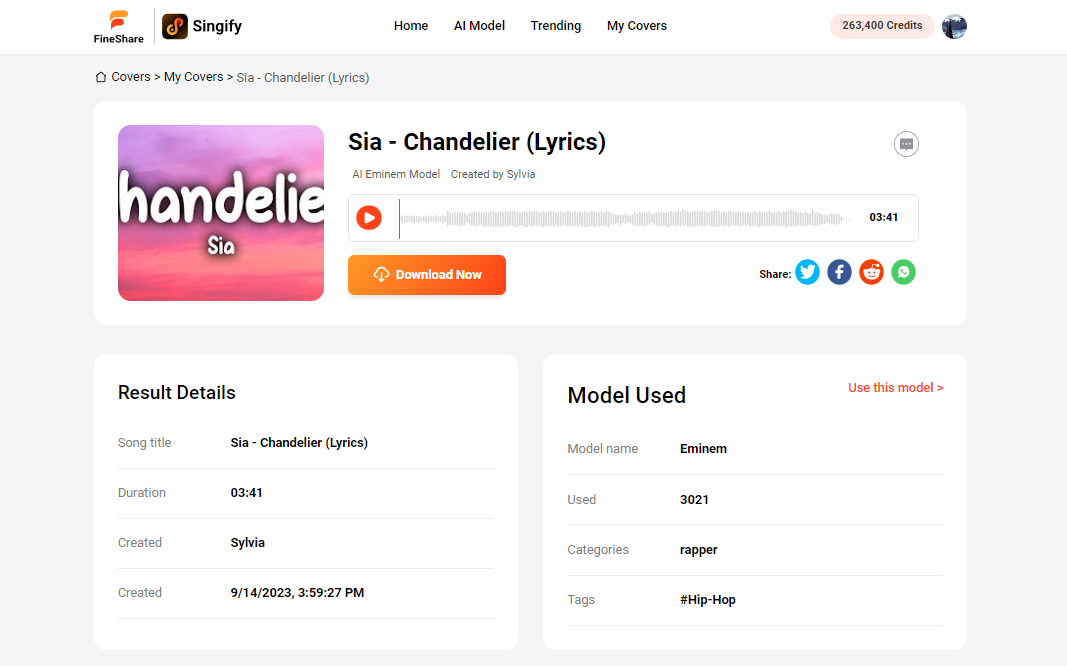 Conclusion
AI music video generators are a great way to create stunning music videos for your songs, or just to have fun with artificial intelligence.
You can use them to save time and money, unleash your creativity, customize your music videos, and share them with your audience. Try them out today and see what you can create!
FAQs about Music Video Generator AI
#1. Can I create a music video with AI?
Yes, you can create a music video with AI using an online AI music video generator such as Kaiber and other music video generators powered by AI.
#2. Is there an AI generator for music?
Yes, there are AI generators for music that can create music from text, audio, or both. Some of the AI generators for music are FineShare Singify, Amper Music, and Jukebox.
#3. How to use an AI music video generator from lyrics?
To use an AI music video generator from lyrics, you need to find a tool that can generate visuals from text, such as Neural Frames or Nova A.I.. You can write your lyrics or choose one from the library to make your music videos.