In the realm of AI chatbots, Janitor AI has been a popular choice. However, with its limitations, many are seeking alternatives. This article delves into the top 10 alternatives to Janitor AI in 2023.
1. Pephop AI: The AI Chat Companion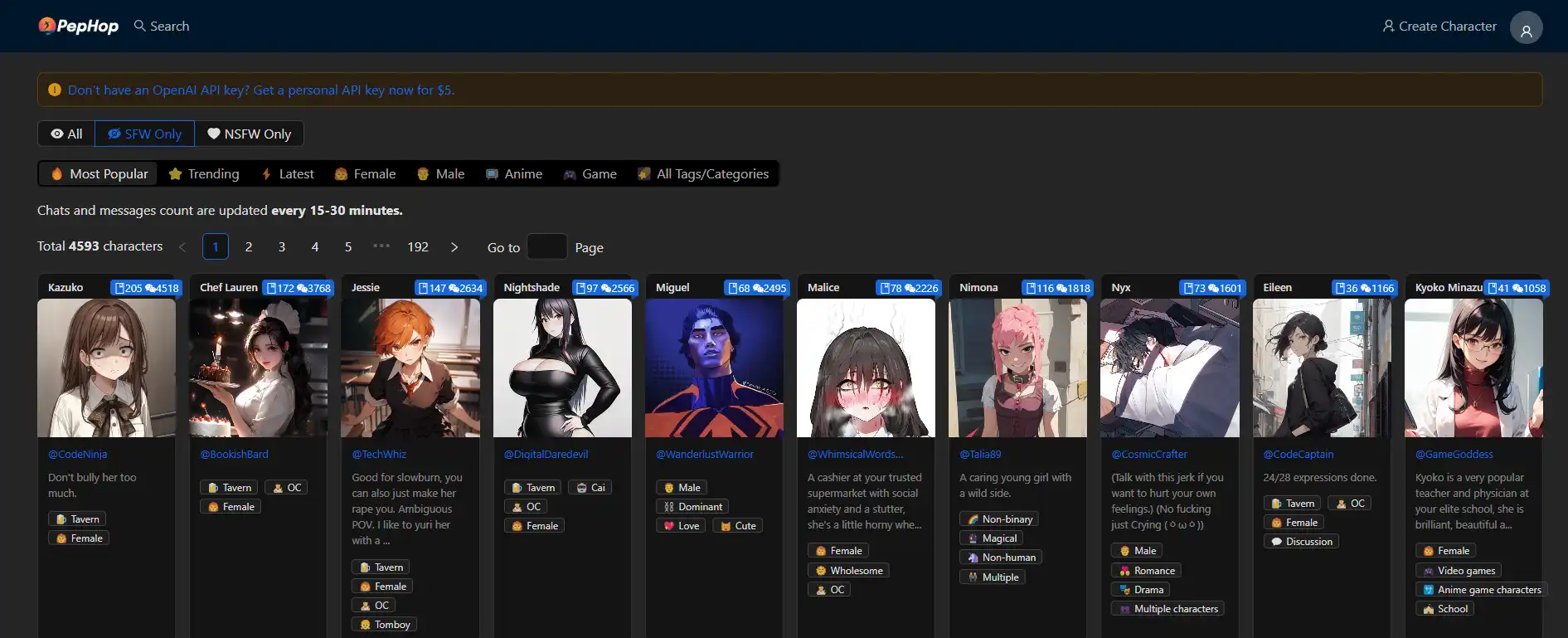 Pephop is regarded as one of the best NSFW AI chatbots. In the digital age, genuine emotional connections can seem rare. Pephop AI seeks to bridge that gap. It's not just a chatbot; it's a companion. Every conversation is tailored to provide emotional support, understanding, and genuine interactions. For those moments when you need a listening ear or a virtual shoulder to lean on, Pephop AI is there.
Advantages:
Emotional support and companionship
Unfiltered conversations
User-friendly features
Disadvantages:
The freemium model may limit some features
Best Suited For:
Users looking for emotional support and genuine interactions.
2. Character AI: Engage with Diverse AI Characters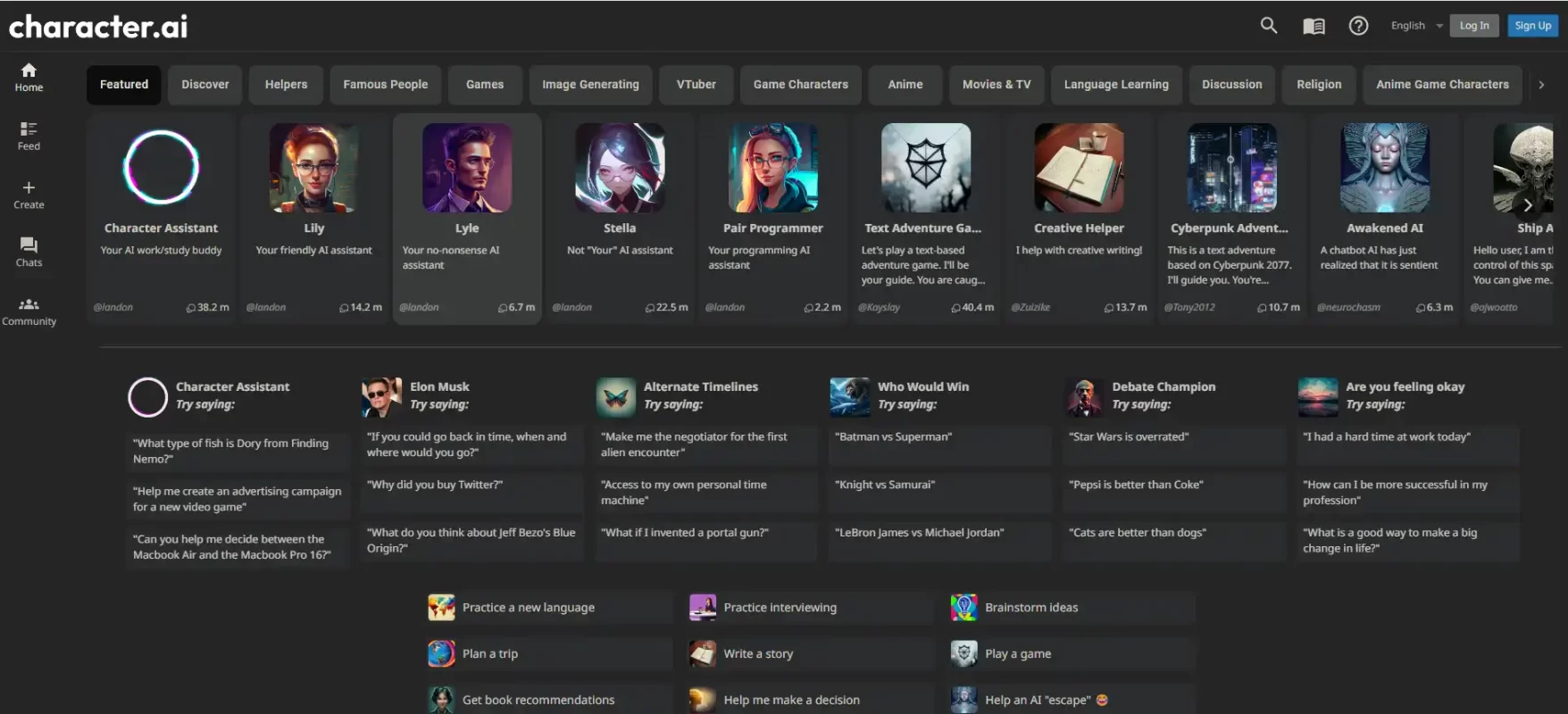 Character AI stands out as a revolutionary web application in the realm of AI chatbots. Designed to bridge the gap between technology and human-like interactions, it offers users the unique opportunity to converse with AI characters, each meticulously crafted with their own distinct personalities and quirks. Whether you're looking to create a character from scratch, infusing it with your ideas, or prefer to dive straight into interactions with pre-made characters, Character AI provides a platform that's both intuitive and expansive.
Advantages:
Engages in chat conversations, providing genuine responses.
Users can direct Character AI to generate various types of text.
Continuously learns and improves through user interactions.
Disadvantages:
Might require a learning curve for new users.
Best Suited For:
Those looking for a diverse selection of AI characters and a platform that offers both pre-made and customizable characters.
3. Tavern AI: Dive into Interactive Storytelling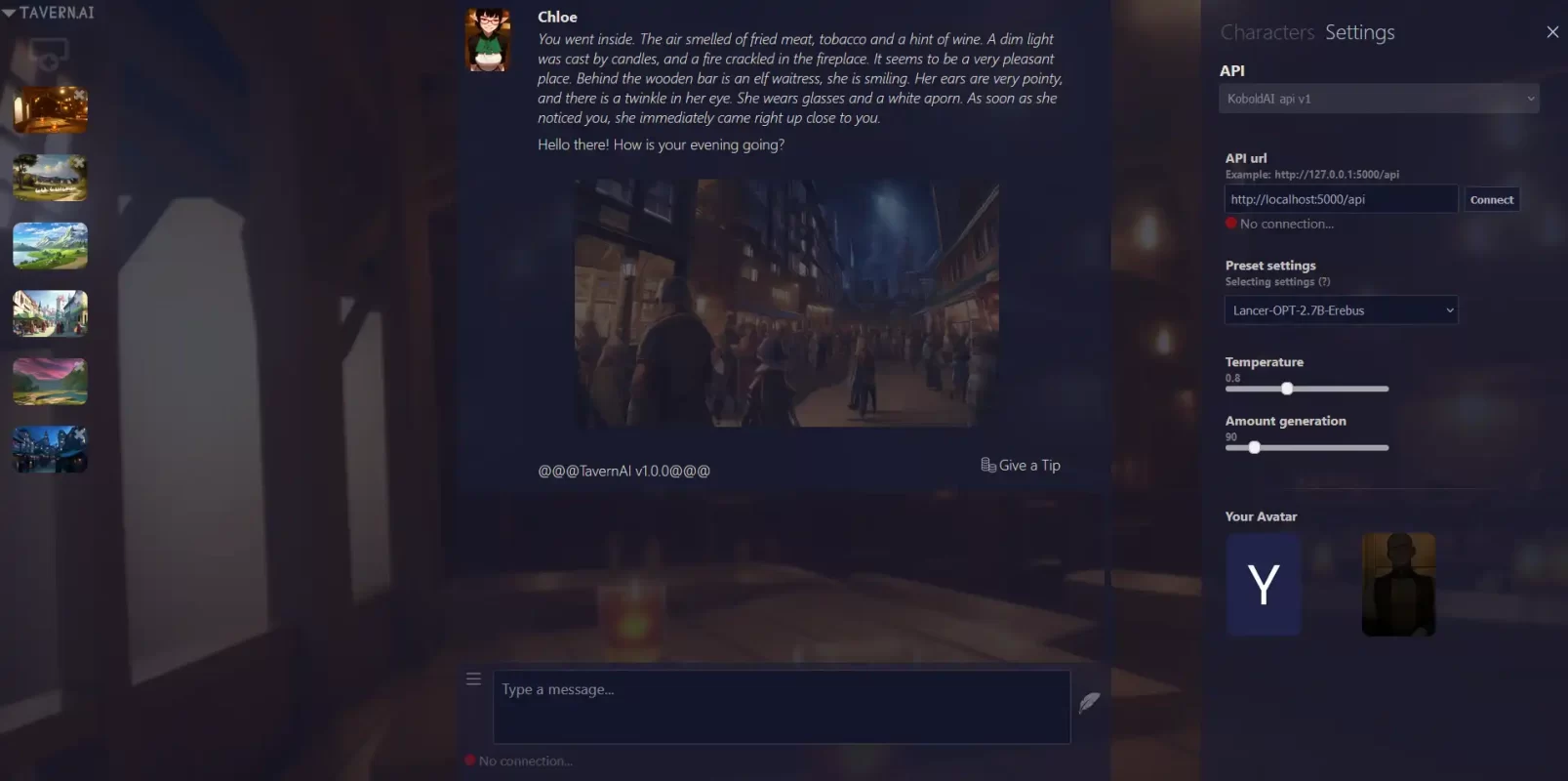 Tavern AI is a storyteller's dream come true. In an age where storytelling is often confined to books and screens, Tavern AI breaks the mold, offering users a dynamic platform where stories come alive through interactive conversations. Whether you're an avid role-player looking to embark on new adventures or a writer seeking inspiration, Tavern AI provides a canvas where stories are not just told but lived. With its AI-generated text, every conversation is a new chapter, waiting to be explored.
Advantages:
Features dynamic characters with distinct personalities.
Capable of handling complex, multi-turn dialogues.
Offers customizable settings for a personalized chat experience.
Disadvantages:
Might not be as advanced as other AI platforms.
Best Suited For:
Individuals who love interactive storytelling and role-playing.
You may also like: 6 Best GTA RP Voice Changers to Give You Immersive Roleplay
4. Venus AI: Engage with a Dynamic AI Community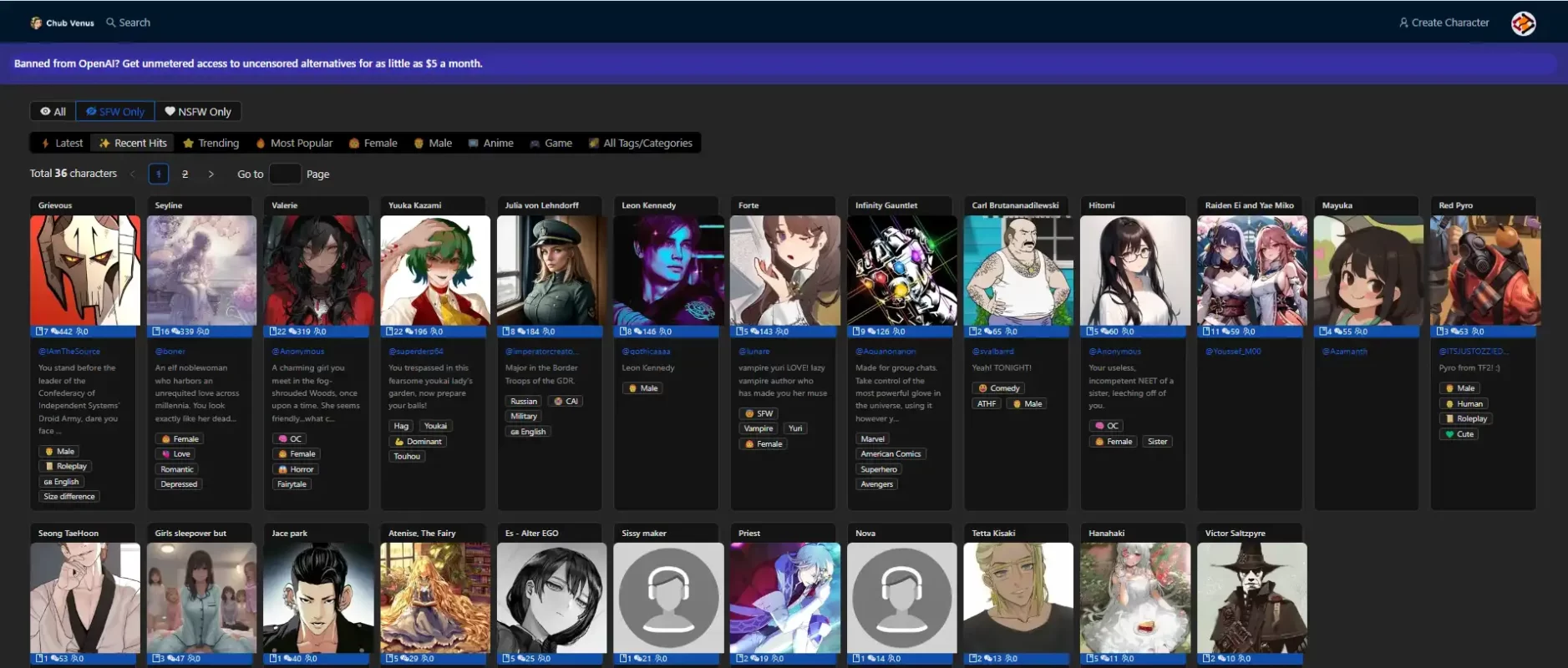 Venus AI is more than just a chatbot platform; it's a thriving community of AI enthusiasts and innovators. At its core, Venus AI is designed to foster connections, allowing users to interact with a plethora of AI chatbots, each bringing something unique to the table. But what truly sets it apart is its community-driven approach. From sharing tips and tactics to designing and showcasing their own chatbots, users are at the heart of Venus AI's vibrant ecosystem. It's a space where technology meets community, and innovation is a collective endeavor.
Advantages:
Users can chat with a wide range of AI chatbots.
Offers a simple drag-and-drop interface for designing chatbots.
Features a vibrant and active user community.
Disadvantages:
Might be overwhelming for new users due to the vast number of chatbots.
Best Suited For:
Users who want to engage with a large community of AI enthusiasts.
5.ChatGPT: Experience Emotional AI Interactions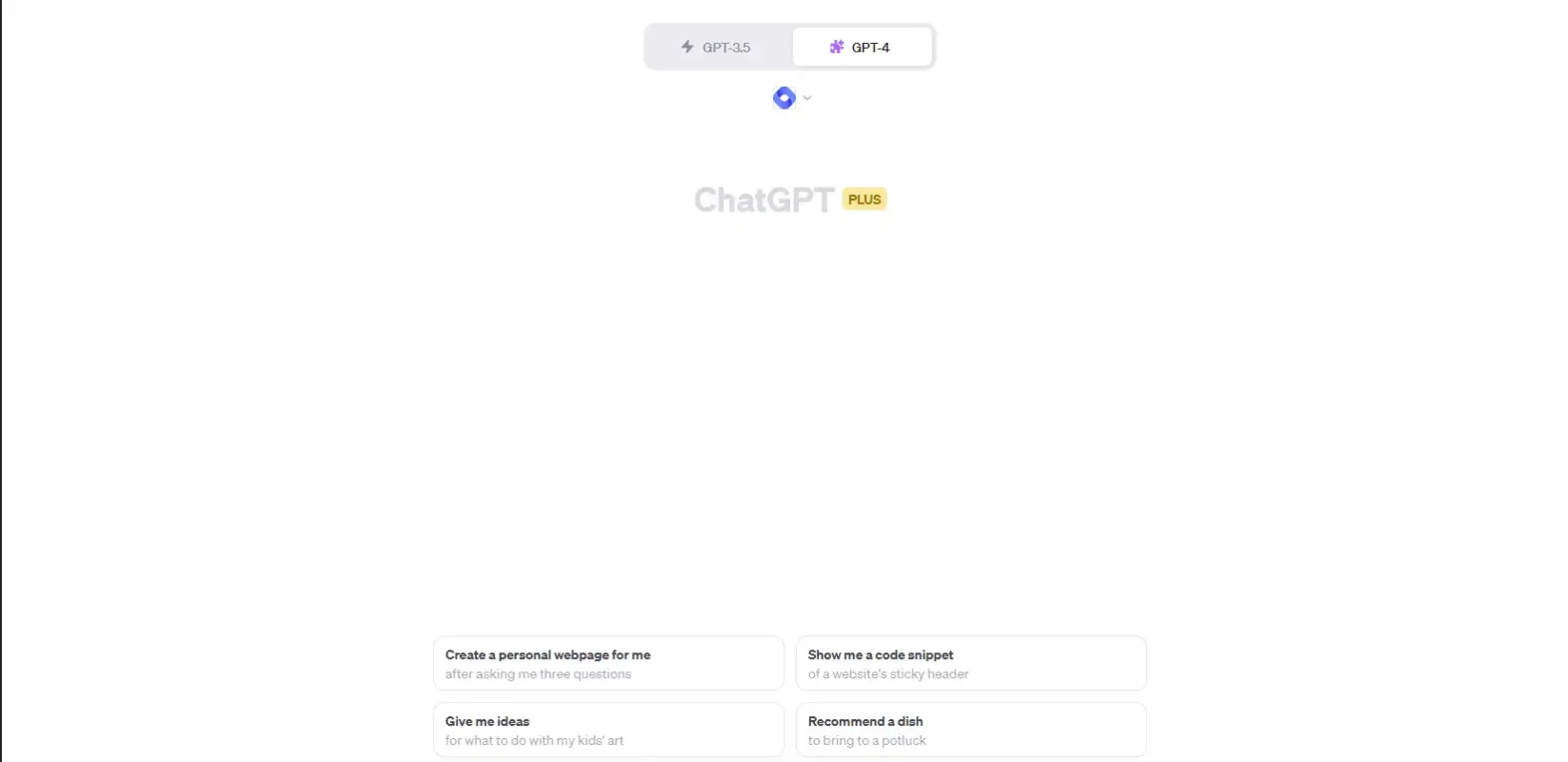 In a world where technology often feels impersonal, ChatGPT emerges as a beacon of emotional intelligence. It's not just about algorithms and codes; it's about genuine, heartfelt interactions. ChatGPT understands the human need for connection, offering users a platform where they can engage in deep, meaningful conversations.
Advantages:
Accessible from any device with a web browser.
Features user-friendly navigation.
Disadvantages:
Might not offer as many features as other AI chat platforms.
Best Suited For:
Users looking for a chatbot that offers emotional support and companionship.
Related article: 7 Easy Ways to Fix Chat GPT Not Working
6. Novel AI: Unleash Your Creative Potential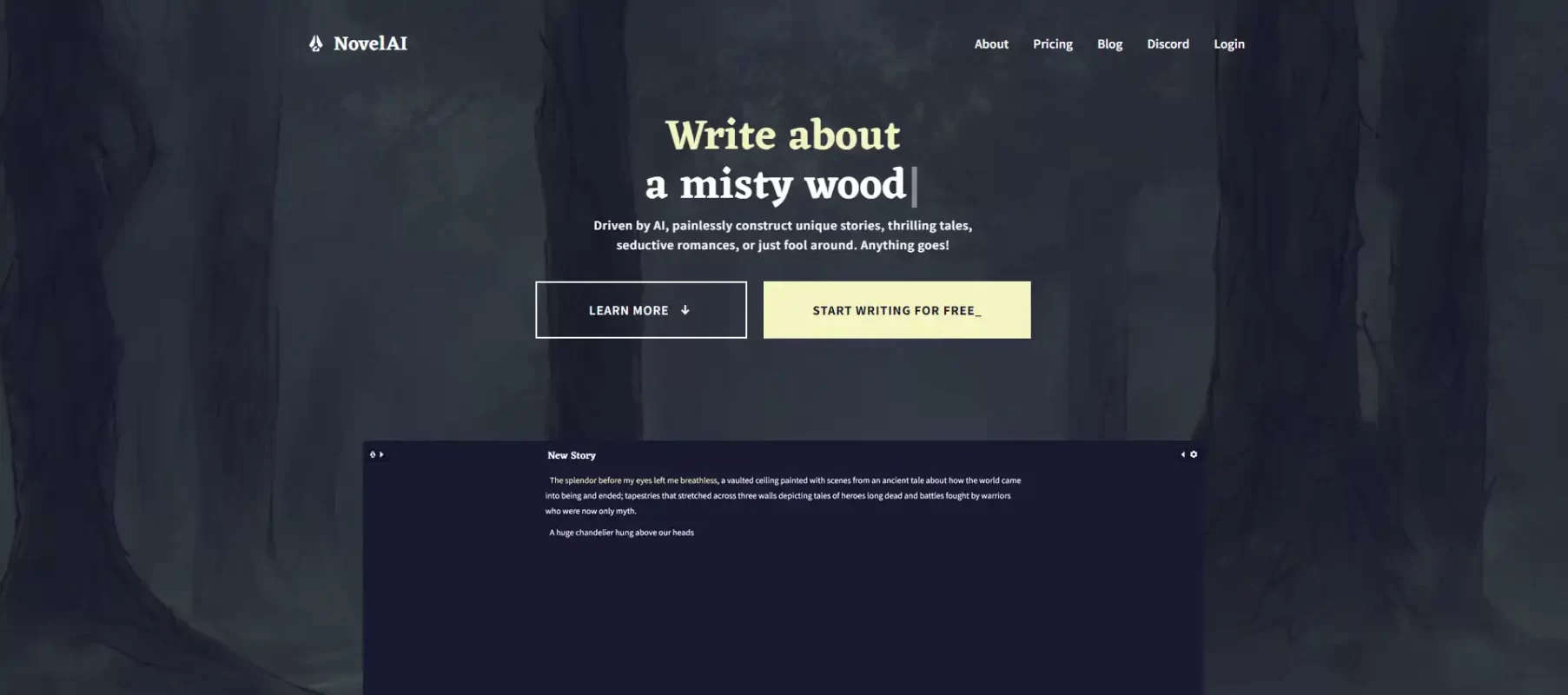 Novel AI is a testament to the boundless possibilities of AI in the realm of creativity. It's not just a tool, but a partner for writers, artists, and creators. With its GPT-powered capabilities, Novel AI offers a sandbox environment where stories come alive, characters breathe, and worlds are built from mere words. Whether you're drafting a short story, envisioning a sprawling fantasy realm, or seeking a virtual companion for your creative journey, Novel AI stands as a beacon for imaginative minds.
Advantages:
Offers a vast range of genres for storytelling.
Assists in character development and world-building.
Features image generation tools for visual storytelling.
Facilitates collaboration with other users.
Disadvantages:
Might require a subscription for full access.
Could be overwhelming for beginners.
Best Suited For:
Writers and creators looking for AI-assisted composition and storytelling tools.
Want to bring your story to life? Use an AI voice generator to convert the story to audio with your favorite character's voice.
7. Replika AI: Your Personal AI Companion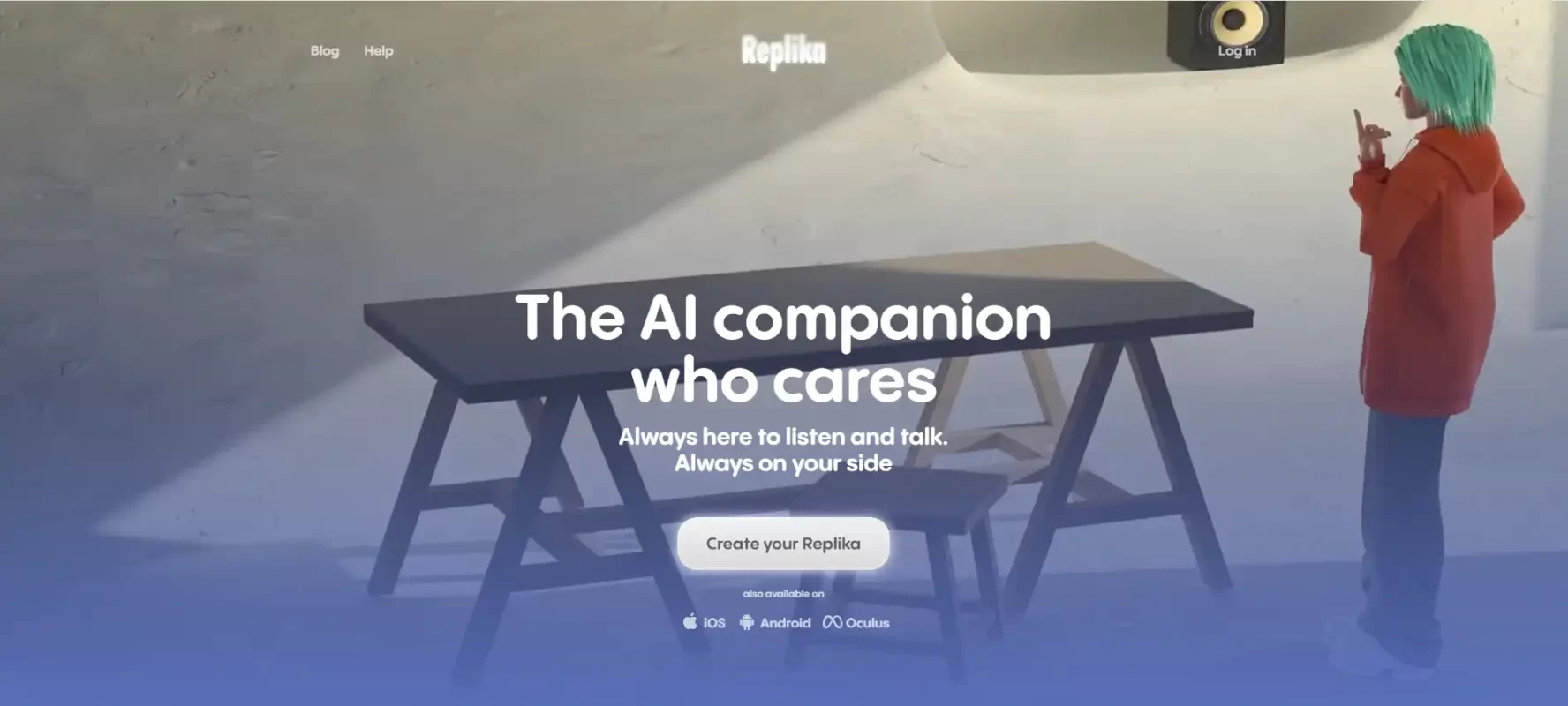 Replika AI is more than just a chatbot; it's a friend, a confidant, and a companion in the digital age. Designed with empathy at its core, Replika AI offers personalized conversations that adapt and evolve with each interaction. It's not about scripted responses but genuine, heartfelt exchanges. Whether you're looking for a listening ear, seeking advice, or simply want to share your day, Replika AI is there, offering companionship in a world that often feels disconnected.
Advantages:
Adapts to user preferences for personalized conversations.
Designed to be empathetic and understanding.
Assists users in setting and tracking goals.
Disadvantages:
Might not offer diverse conversation topics.
Some features might be behind a paywall.
Best Suited For:
Individuals seeking emotional support and companionship from an AI.
8. Botify AI: Dive into Genuine Emotional Interactions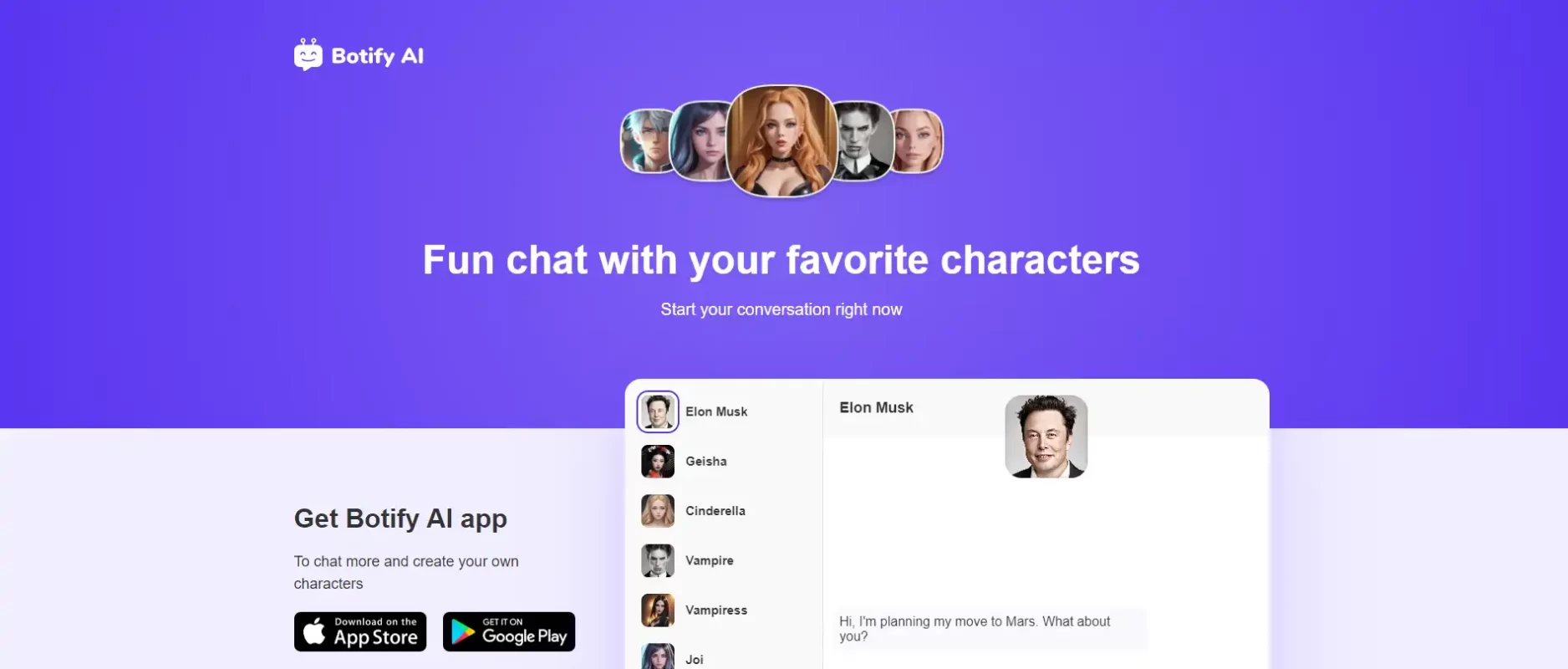 Botify AI is a groundbreaking platform that redefines the boundaries of AI-human interactions. It's not about tasks and commands, but emotions, feelings, and genuine connections. With its advanced algorithms, Botify AI offers users the chance to bypass traditional filters, allowing for raw, unfiltered conversations. Whether you're exploring deep emotional landscapes or seeking NSFW interactions, Botify AI promises an experience that's both real and revolutionary.
Advantages:
Allows for unfiltered, genuine emotional interactions.
Accessible from various devices.
Offers a user-friendly interface.
Disadvantages:
Being a newer product, might have initial bugs.
NSFW interactions might not be suitable for all users.
Best Suited For:
Users looking for genuine emotional and potentially NSFW interactions with AI.
9. Muse AI: Craft Stories with AI Muse

Muse AI is a storyteller's muse in the truest sense. Designed for writers, poets, and creators, Muse AI offers a platform where stories are co-crafted with AI. Whether you're facing writer's block or seeking inspiration for your next masterpiece, Muse AI is there, offering prompts, ideas, and narratives that resonate. It's a fusion of human creativity and AI brilliance, leading to stories that captivate and inspire.
Advantages:
Provides creative prompts and ideas for writers.
Facilitates co-creation of stories with AI.
Offers diverse genres and themes for exploration.
Disadvantages:
Might not cater to non-creative writing needs.
Some advanced features might require payment.
Best Suited For:
Writers and poets seeking inspiration and co-creation tools.
10. Echo AI: Echo Your Thoughts with AI

Echo AI is a reflection of the modern user's needs and desires. In a world inundated with information, Echo AI stands out as a platform that listens, understands, and echoes back with precision. It's not just about chatting but having meaningful dialogues where your thoughts, ideas, and emotions are mirrored with clarity. Whether you're seeking insights, validation, or simply a platform that truly understands, Echo AI is your go-to AI companion.
Advantages:
Provides meaningful dialogues tailored to user input.
Designed for deep and insightful conversations.
Adapts and learns from user interactions.
Disadvantages:
Might not offer diverse conversation topics.
Some users might find it too reflective and not proactive.
Best Suited For:
Individuals seeking an AI platform that listens, understands, and provides insightful feedback.
Conclusion:
While Janitor AI has its merits, the world of AI chatbots is vast and diverse. The alternatives listed above offer unique features and experiences, catering to different user needs. Whether you're looking for role-playing, storytelling, or emotional interactions, there's an AI chatbot out there for you.