The ability of e2eSoft iVCam to turn your phone into a webcam has made it a famous application. The stable quality of iVCam videos and presentations compared to other traditional webcams in the market has made it one of the best choices for turning your phone into a webcam.
As much as the iVCam application has been used widely, it is not compatible with Mac computers. And after a trial period, you will only be able to use 640 x 480 low-quality video, and some features will be limited. For this reason, you may need to look for an iVCam alternative that will offer you features and flexibility just like iVCam.
Top 5 Free iVCam Alternative Apps
Let us look at the top five free iVCam alternative applications you can use for iOS, and some of them even support recording up to 1080p video for free.
1. FineCam Webcam
If you want to find an iVCam alternative, FineCam is absolutely the one you should consider. Apart from turning your iPhone or Android phone into an up-to-1080p HD webcam through Wi-Fi or USB, this app also enables you to adjust webcam color, brightness, background, and more to let everything look best on the webcam. The advantage of FineCam is that it can be used on almost all popular video platforms like Microsoft Teams, Zoom, YouTube, and other streaming applications.
Besides, FineCam comes with filters and effects that you can modify to create a suitable vibe that your audience like. And it helps you create multiple scenes for cases like online teaching and presentation.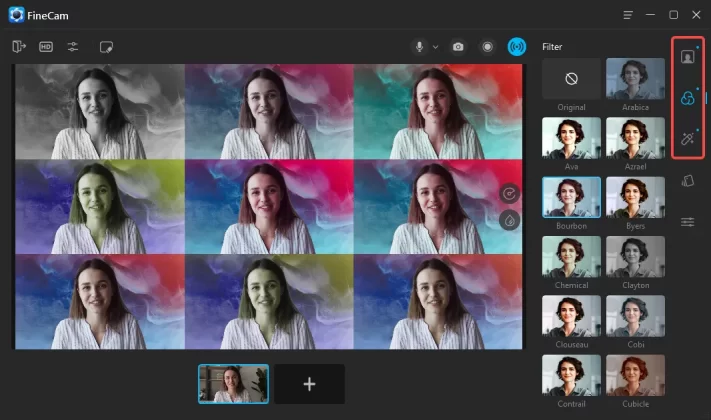 To start using FineCam, download it on your computer and iPhone/Android phone, install it, and connect your iPhone/Android phone to your computer via a USB or Wi-Fi.
[Video Tutorial] Use iPhone as HD Webcam using FineCam
2. Camo – Webcam for Mac and PC
Camo is an easy-to-set-up application. Whether you are a Mac or PC user, the app is compatible with both of them. However, you can only use iOS devices like iPhones and iPad. Apple has invested heavily in their camera, and Camo allows you to get the best Webcam via your phone and make you stand out during your next meeting or presentation.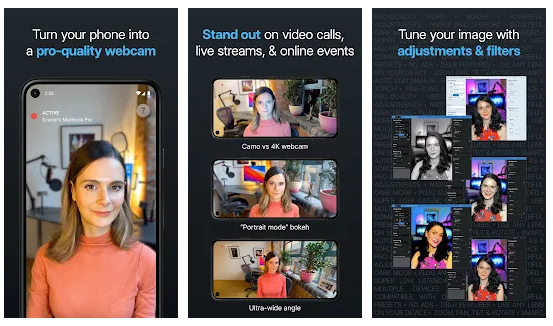 Moreover, Camo has various camera settings features that enable you to change different things like the language you want, the quality of the videos, and more.
3. EpocCam Webcam for Mac and PC
The modern application has grown famous for its ability to turn your phone into a Webcam quickly. The free edition of this is easy to use and supports up to 480p video. If you are looking for an app that will make your presentation more professional, EpocCam is one of the best. Moreover, the application has a manual focus that you can play with to get the best look you desire.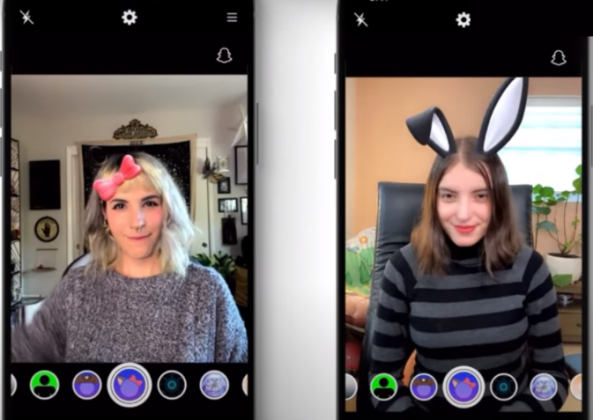 EpocCam lets you get a camera feed through various connections like Wi-Fi or USB. The application allows you to replace any background via creating a virtual green screen. Additionally, the app will enable you to add your phone as a webcam source for various streaming apps like Zoom. So, if the mentioned features are what you are looking for, EpocCam is the best iVCam alternative.
4. DroidCam Webcam & OBS Camera
With DroidCam, you can transform your smartphone into a wireless camera for your Windows. All famous streaming applications like Zoom and others are compatible with the DroidCam software. Moreover, the app allows you to continue using your phone on other applications while acting as a Webcam on your computer.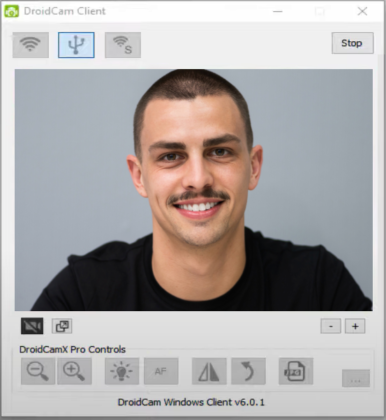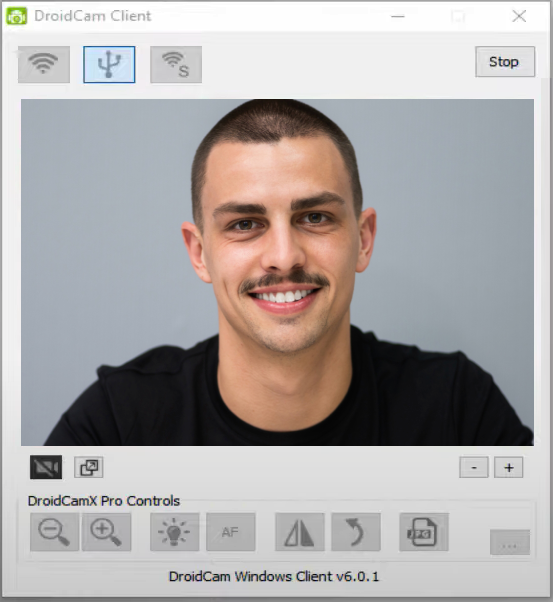 It doesn't matter if you don't have an iPhone because the software is compatible with iOS and Android, and you can use it as an IP camera on the internet without installing it. Additionally, videos offered by the software are of high quality, with a maximum of 720p. The various top features of DroidCam have made it a better iVCam alternative.
5. Iriun Webcam for PC and Mac
The software has been designed to enable Android users to use their phone's camera wirelessly on a PC or Mac. To start using Iriun, you need to install the required driver, and you can use your phone camera as a webcam on various platforms like Skype, Zoom, and others. The maximum resolution supported depends on the phone.
You can connect your devices wirelessly or with a cable. To use it, download the drivers from the official website, start the application on your computer, then follow the instructions on your phone's screen after connecting it to the computer and finish the connection process.
Conclusion
This guide has highlighted the top five alternatives for iVCam. In case you want a free and reliable application that will make your following meeting professional through high-quality videos, check the iVCam alternatives described in this guide.
Look Superb in All Videos
FineCam is an AI-powered virtual camera for Windows and Mac. It makes you look better in Zoom, Teams, YouTube, makes video production easier, and tunrs your phone into an HD webcam. Get it for free.