Manually transcribing audio files to text files is a time-consuming task. To solve this, you can use audio to text converter that can greatly save you time.
In this post, we will tell you the most important factors you should consider when choosing a transcribe tool and offers you the 3 best audio to text converters online and on desktop.
What Makes a Good Audio to Text Converter
If you want a simple way to take notes during online classes or meetings or get a transcript of your conversations, lectures, and interviews, the audio to text converter online can be seen as the best solution. It is also a good way to enhance the quality of your written files.
You can download and save texts from songs, videos, speeches, and other audio files quickly and easily with audio transcription software.
Whether you choose online audio to text converter or desktop audio to text converter, the following factors should be taken into consideration.
1. Speed
A good audio to text converter can help you address the problem quickly. Speed is the most important factor that you should consider. If it can do the conversion quickly, then it will help you a lot.
2. Accuracy
Accuracy is another important factor. It is the standard that we judge the quality of conversion. A perfect text is not necessary to modify.
3. Security and Privacy
Any individual texts, audio, or other files should be protected. Any person or company does have not the right to steal your information.
Other factors are also important. If an audio to text converter is a popular, famous, well-trusted source and you can find complete information, you have chosen the right one.
2. Audio to Text Converters Online
Podcastle
Podcastle is an online tool that can automatically and quickly convert audio to text. It is very simple and easy to use. You can upload your text in many formats such as AIFF, AAC, FLAC, OGG, WMA, ALAC, and PCM.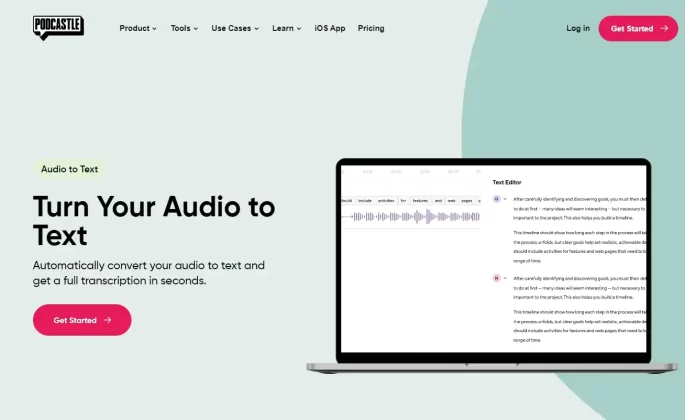 Main features:
Supports multiple audio formats.
Background noise removal.
Podcast recording.
How to convert audio to text?
Step 1. Log into your Podcastle account and start a new project.
Step 2. Click Drag and Drop here or choose file and choose a file from local documents.
Step 3. Click the audio and choose Transcribe, and choose number of specker and language.
Step 4. Choose the export transcribing format.
Virtualspeech.com
Virtualspeech is a fast and accurate tool that can easily transcribe audio to text. This tool is free to convert audio/MP3 to text online in under 1 minute and change a modest price for each minute of extra audio.
Note: After conversion, the text will be emailed to you quickly.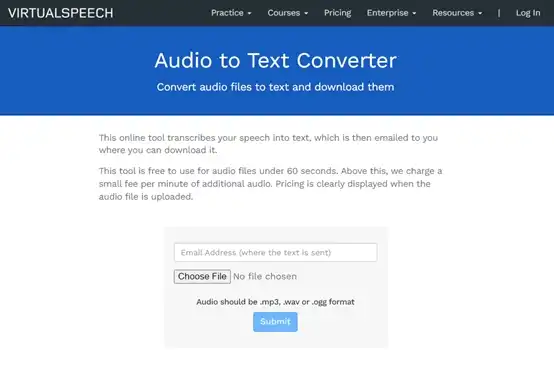 Main features:
It will email files after finishing the conversion.
It supports MP3, WAV, or OGG format.
It's only free for audio for 1 minute.
The website is secured with a strong SSL.
How to transcribe audio to text with Virtualspeech?
Step 1. Open Virtualspeech on your web browser.
Step 2. Enter your email, and click Choose File to choose the file you want to use.
Step 3. Click Submit, and you can download the file after the conversion is finished.
The Best Desktop Audio to Text Converter: FineVoice
FineVoice is a desktop audio/MP3 to text converter that converts audio to text in one click. It uses automatic speech recognition technology and can transcribe meetings, lectures, interviews, and so on within minutes.
FineVoice can also be used as a text to speech converter, real-time voice changer, and voice recorder.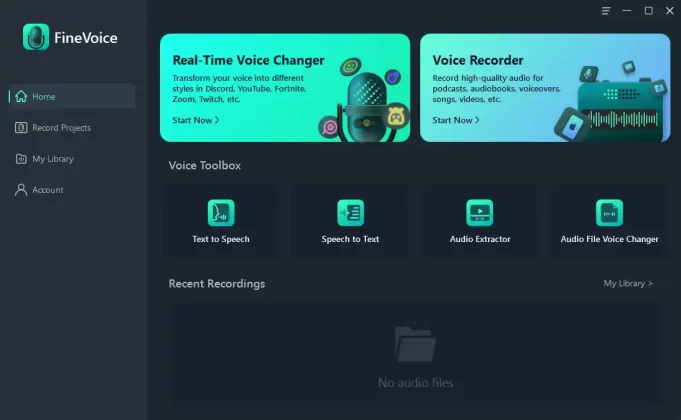 Main features:
Transcribe your audio to text in a few minutes with one click.
It can recognize speech in more than 10 languages automatically.
You can import audio files in MP3, AAC, AC3, AMR, MP2, and WAV.
You can output files in TEXT, JSON, SRT, and VTT.
Supports punctuation checker.
Let's see how to convert audio to text with FineVoice.
Step 1. Download and launch FineVoice.
Step 2. Open FineVoice and click Speech to Text.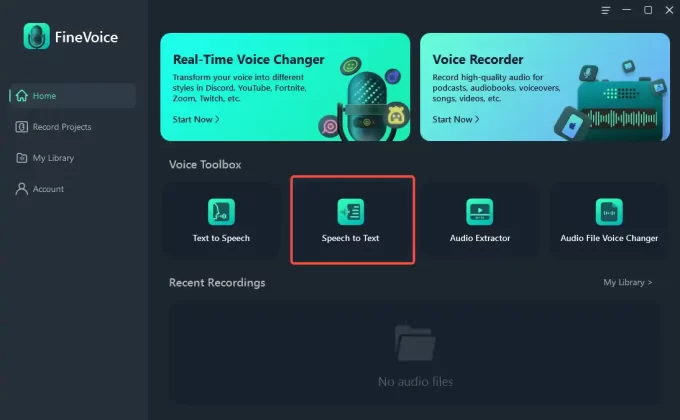 Step 3. Upload the audio file from the local document.
Step 4. Choose the file's source language and Output Format.
Step 5. Click Convert Now.
Conclusion
This article has mentioned the 3 best audio to text converters online and desktop. With them, you can complete your task rapidly and save time and effort. Now, choose the one that suits you and have a try.