Do you know Bonzi Buddy? Have you ever used it? Do you miss the Bonzi Buddy text-to-speech? This article is going to teach you how to get Bonzi Buddy text-to-speech with the best voice generators in 2023.
PART 1. What Is Bonzi Buddy?
Back in 1999, Bonzi Buddy (BonziBUDDY) was designed by Joe and Jay Bonzi. It was a freeware desktop virtual assistant. It sings and chats and tells jokes, and does other things as user instructions.
In 2000, Bonzi Buddy featured it as a purple gorilla.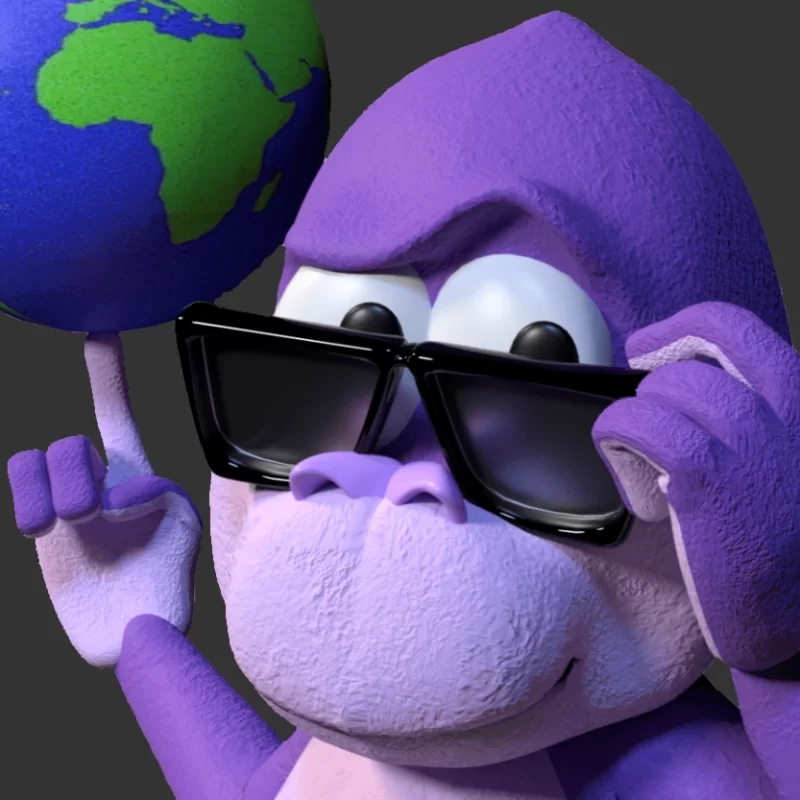 Bonzi Buddy has a text-to-speech feature, too. The voice is called Sydney and the voice is from an old Microsoft Speech API 4.0 package released in 1998.
Unfortunately, because it was described as malware, spyware, and adware, Bonzi Software Inc. discontinued it in 2004 and shut down Bonzi's website.
PART 2. FineVoice – Best Desktop Bonzi Buddy Text to Speech Alternative
FineVoice is a one-stop digital voice solution for content creators. The software works great on Windows PC. Besides the real-time voice changer, it provides a powerful voice toolbox. You can find a voice generator, audio extractor, audio file voice changer, and a speech-to-text tool.
The voice generator allows you to generate realistic and character voices.
In addition to the lifelike 220+ voices in 40+ languages and its customizable settings, you can generate speeches for entertainment and games with hundreds of funny voices like Stephen Hawking and Duke Nukem's voices.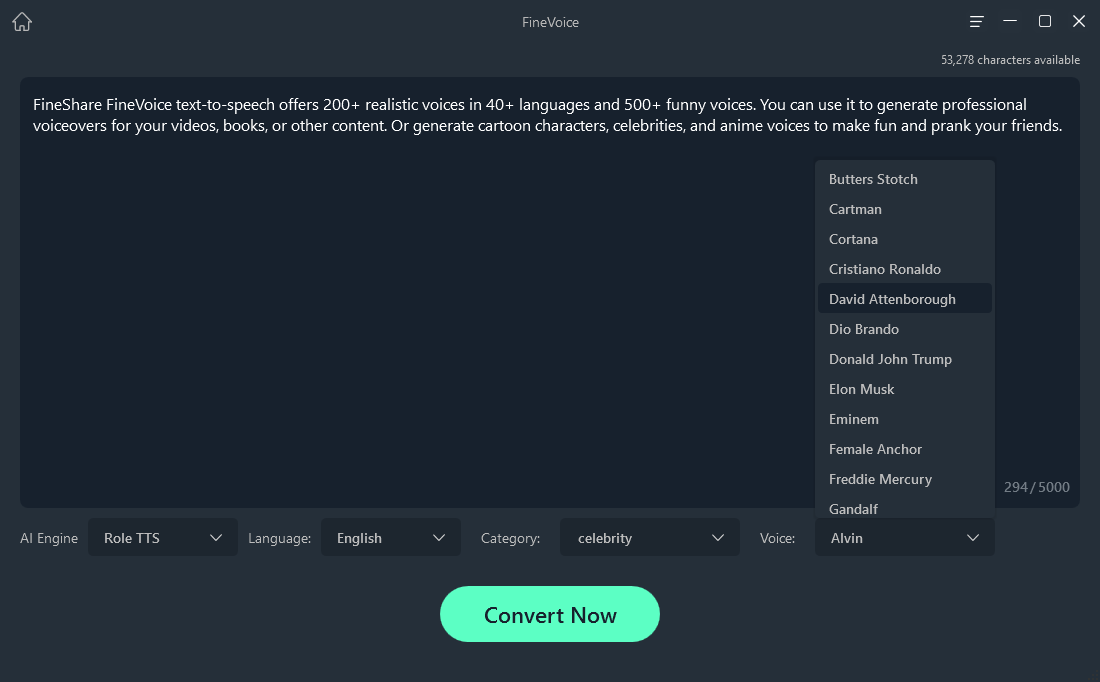 Let's take a close look at how to use FineVoice to generate speech with Bonzi Buddy's voice.
Step 1. Install FineVoice and go to Text to Speech.
Step 2. Input text and select Bonzi Buddy voice at the bottom box.
Step 3. Click Convert Now to generate the speech.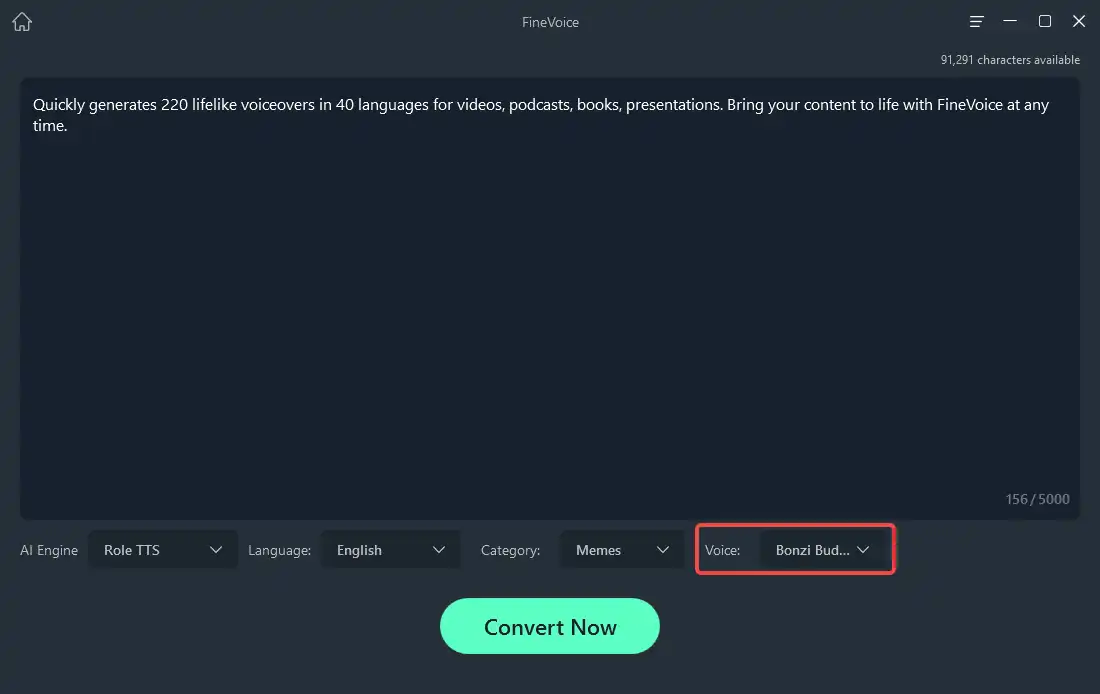 PART 3. 3 Best Bonzi Buddy Text to Speech Alternative Websites
Now you know how to get Bonzi Buddy text-to-speech for free. There are also some online solutions for Bonzi Buddy text-to-speech. We will introduce the 3 best websites separately in this part.
#1. Online Microsoft Sam TTS Generator
Microsoft Sam TTS Generator is an online interface part of Microsoft Speech API 4.0, which means it can generate speech with the official Bonzi Buddy voice. This is the official Bonzi Buddy.com where you can access the best Bonzi Buddy online voice.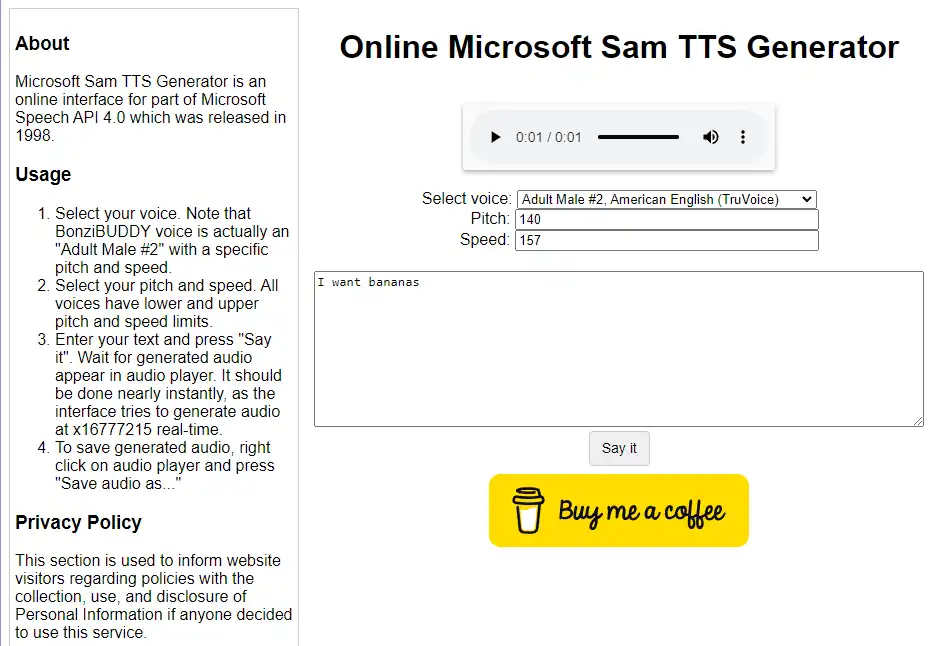 BonziBUDDY voice is actually "Adult Male#2, American English (TruVoice) ".
How to use this online Bonzi Buddy voice generator?
Step 1. Visit https://www.tetyys.com/SAPI4/.
Step 2. Select the voice with the preset pitch and speed.
Step 3. Click the Say it button to get the Bonzi Buddy text to speech.
Besides playing audio, you can download the unpressed audio file (WAV) by clicking the three-dots icon.
#2. FakeYou
FakeYou is a website specializing in text-to-speech. There are 2700+ voices from movies, TV shows, and game characters.
And if you are looking for language text-to-speech tools like Spanish and German, it's a great online solution.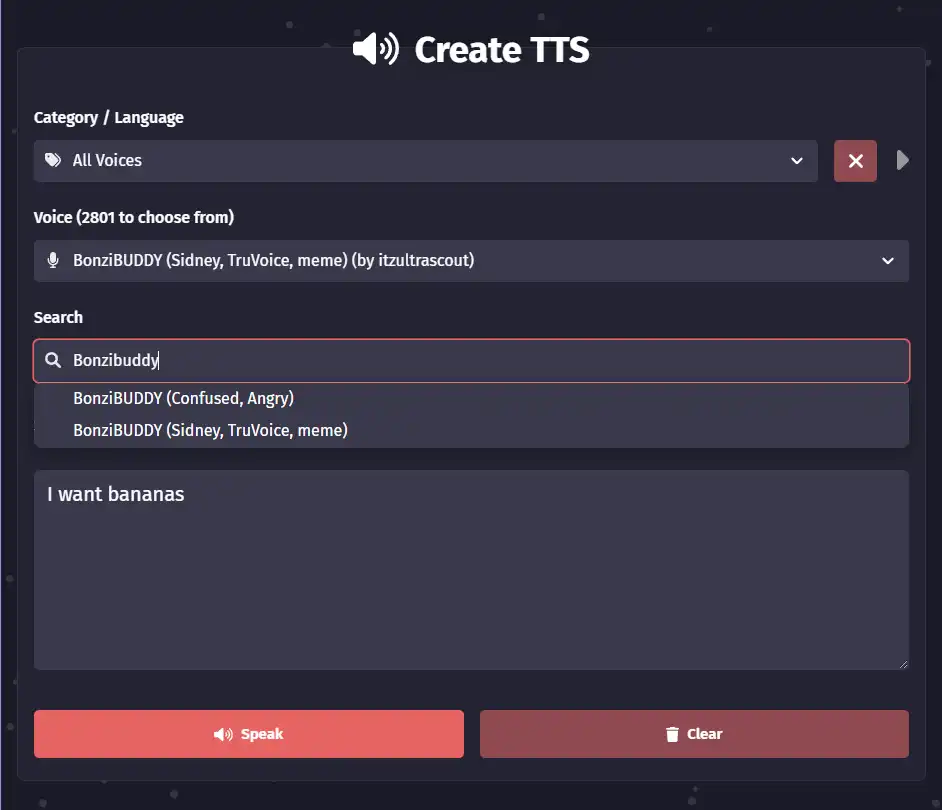 How to get Bonzi Buddy voice text to speech online with FakeYou?
Step 1. Open FakeYou (https://fakeyou.com/)
Step 2. Type BonziBUDDY in the Search box.
Step 3. Input text and press Speak to start converting.
That's how to do Bonzi Buddy text-to-speech on fakeyou.com.
If you're not sure how to do this, click to check FakeYou Text to Speech: The Best How to Use Guide and Alternatives
#3. Uberduck
The last Bonzi Buddy text-to-speech online solution we want to introduce is Uberduck. You can find a more comprehensive and diverse range of voices on the website.
There are dozens of meme voices on Uberduck. SpongeBob's voice and our protagonist today is in the Memes category as well.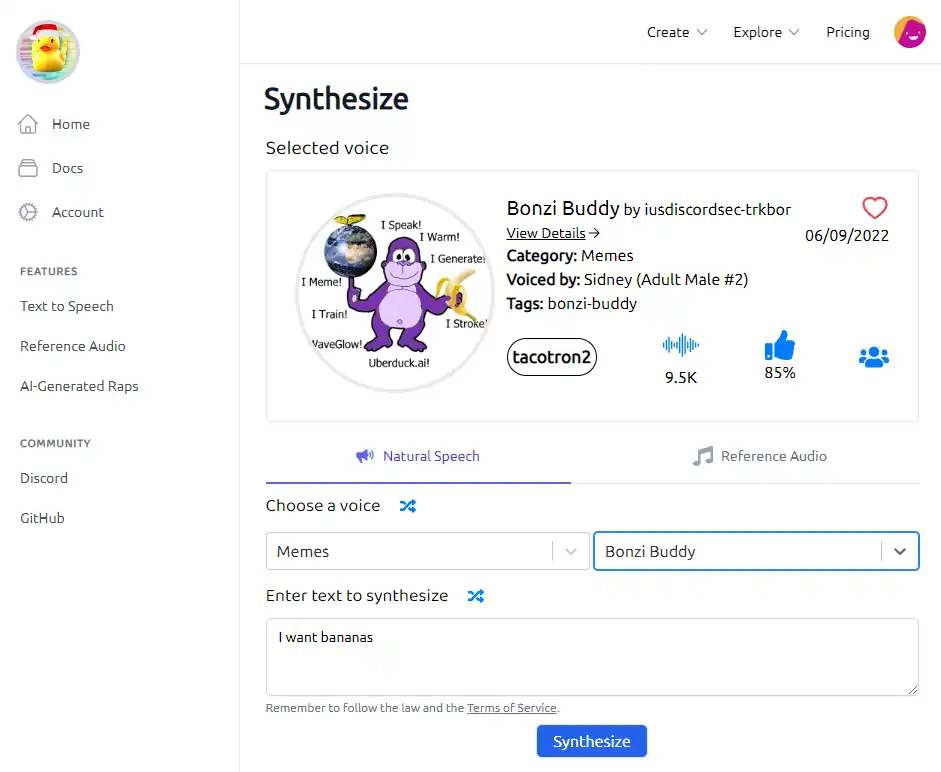 How to use Bonzi Buddy text-to-speech voice on Uberduck?
Step 1. Visit the Uberduck website (https://app.uberduck.ai/speak#mode=tts-basic).
Step 2. Type Bonzi Buddy in the right box under Choose a voice.
Step 3. Enter text to Synthesize audio with Bonzi Buddy's voice.
Conclusion
Although due to its notoriety, Bonjibdi said goodbye to customers very early, you can get Bonzi Buddy text to speech in 4 ways. We hope this article can help you. Have fun with his voice.
Try FineVoice for Free
Powerful text-to-speech tool with 220+ lifelike voices in 40 languages to get professional voiceovers. And get speeches with hundreds of character and celebrities voices for entertainment.