Imagine if you could turn your text into speech that sounds just like a human. Imagine if you could learn Chinese, create amazing videos, or connect with more people through your content. Sounds amazing, right?
Chinese is a difficult language to master, with its different tones, dialects, and characters. Well, you can do all that with a Chinese text to speech tool. Are you ready to discover 5 awesome Chinese accent voice generators?
Best Chinese Text to Speech Desktop Application
FineShare FineVoice
For those seeking the best Chinese text to speech tool, FineShare FineVoice is a top contender. It's an all-in-one AI Chinese voice generator that can easily generate Chinese speech from text. It has more than 220 realistic voices in 40 languages. With FineVoice, you can apply more than 5,000 cartoon character voices and your favorite celebrity voices to your videos, podcasts, audiobooks, lectures, and more.
More importantly, FineVoice can also change your voice in real-time, record your voice in high quality, transcribe your Zoom meeting, and more.
Ready to take your content to new heights? Download FineVoice now and experience a professional-grade Chinese accent text-to-speech tool.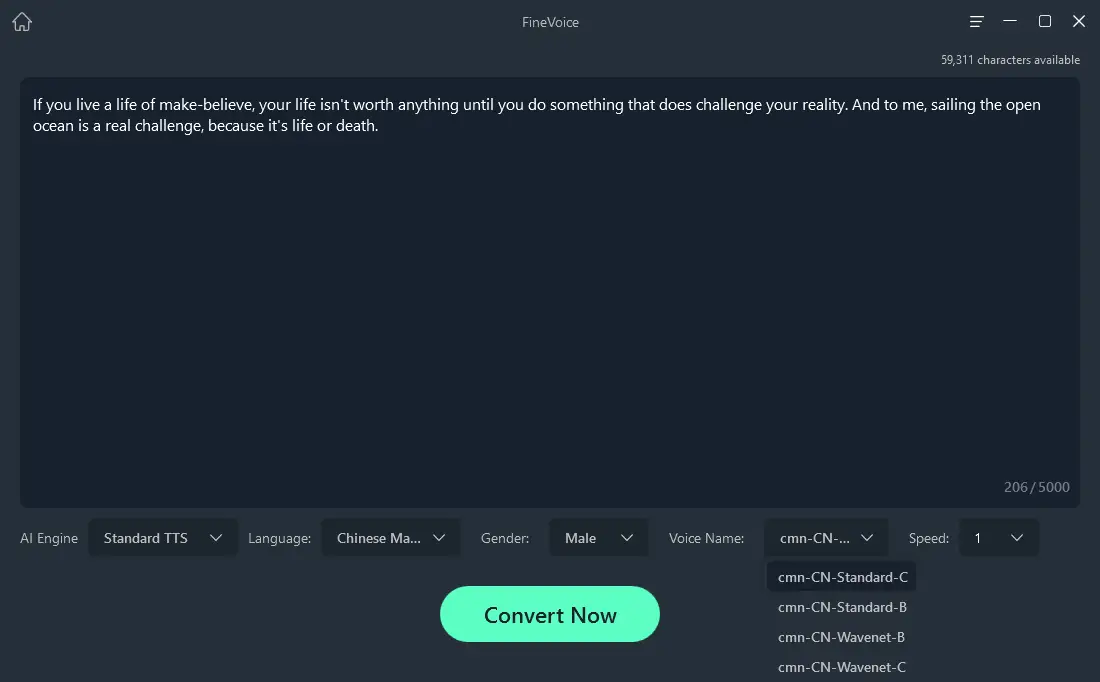 Features:
Easy to use
Realistic and natural-sounding voices
Generate 200+ lifelike voiceovers in 40 languages
Offer numerous cartoons, anime, and movies character's voices
Support various file types and formats
Choose the speed you like
4 Best Chinese Text to Speech Online Websites
Narakeet
When it comes to text to speech Chinese online tools, Narakeet takes center stage. You can use Narakeet to create voiceovers and narrated videos for social media platforms like YouTube, Instagram, LinkedIn, Facebook, or Twitter.
Narakeet supports 90 languages and 600 voices, including 30 Mandarin Chinese voices and many more in other regional Chinese variants. You can choose from different genders, ages, and accents for each language. You can also adjust the voice speed, volume, and tone to suit your needs.
You can upload Word documents, PDFs, webpages, or PowerPoint presentations. You can also type or paste your text directly into the online editor. Then Narakeet will turn your script into a Chinese voice automatically.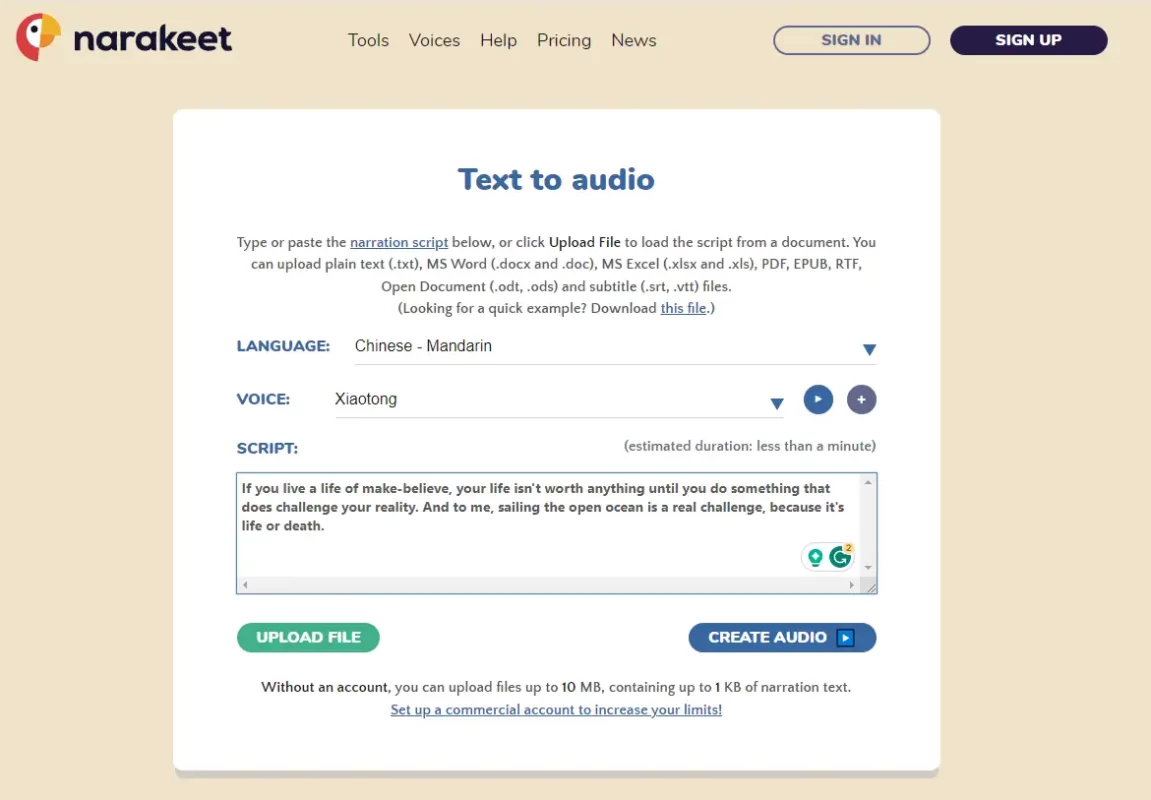 Features:
Support multiple languages
Provides a flexible scripting
Support various output formats
Allow you to transform your written scripts into captivating animated videos
Add dynamic expressions to the voiceovers
Related article: Top 8 Japanese Text to Speech Tools: Free and Efficient [2023].
Micmonster
If you are looking for a high-quality and versatile Chinese text to speech service, you may want to check out Micmonster. It has an intuitive and user-friendly interface, making it easy for both beginners and experienced users.
Micmonster supports over 140 languages and over 500 voices, including Mandarin Chinese, Cantonese Chinese, Taiwanese Mandarin, and other regional Chinese variants. You can convert text into natural-sounding speech and download it as MP3. You can also upload subtitles or captions in SRT or VTT formats and convert them into audio.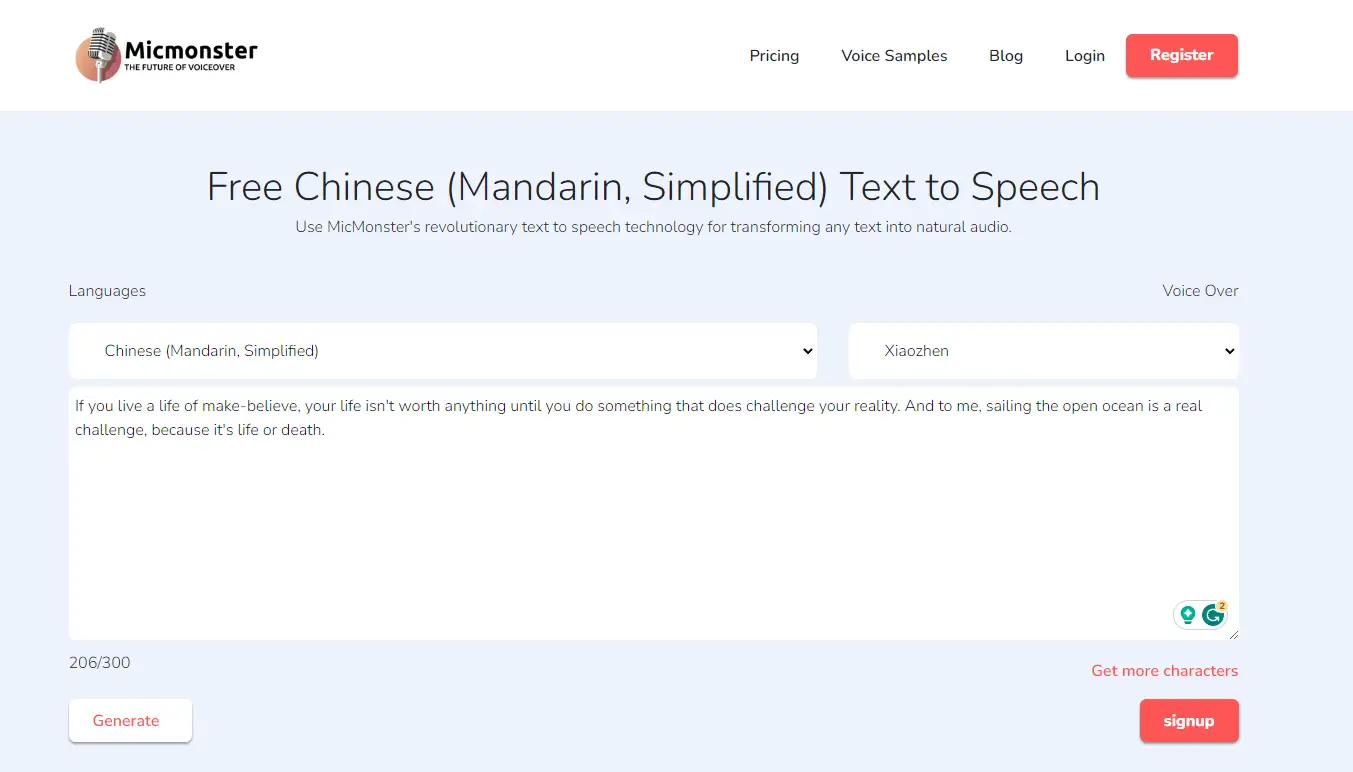 Features:
User-Friendly Interface
Versatile Chinese accent Text to speech tool
Offer extensive natural and character-based voices
Support more than 140 languages
Can create up to 10 minutes of audio per month for free
Don't miss: 5 Best French Text to Speech Solutions for Your Next Project.
TTSMP3 is also an impressive online Chinese voice generator. It's popular with content creators, educators, and businesses with high-quality, natural-sounding voices.
TTSMP3 supports multiple languages, including Mandarin Chinese, French, Spanish, and so on. With TTSMP3, you can customize voice parameters such as pitch, speed, and volume. You can also add emphasis, control pauses, and adjust pronunciation for improved clarity and natural flow.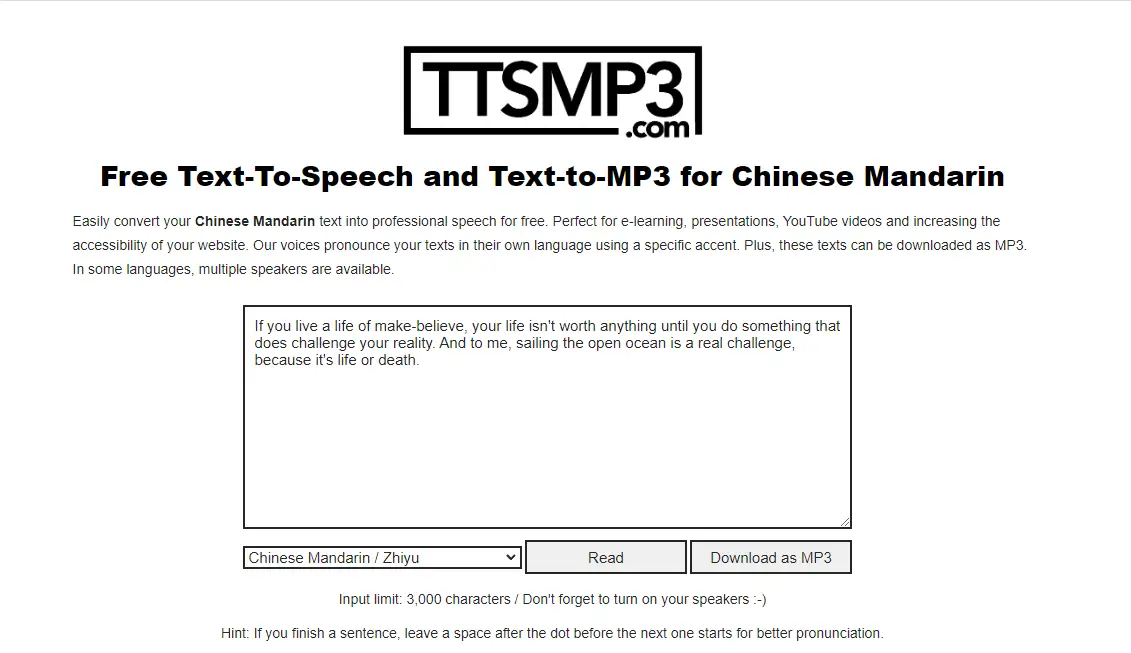 Features:
Free and easy to use
Support 28 languages and multiple accents
Offer various features to customize your speech
Provide 3,000 characters per input and 6,000 characters per week
Multiple output formats
Veed.IO is the ultimate Chinese Text to Speech online platform that can bring a whole new level of creativity and versatility to your multimedia projects. You can work with many popular platforms such as YouTube, Vimeo, Dropbox, etc. And you can import and export your projects effortlessly.
Veed.IO has a vast audio library, so you can add a wide range of royalty-free music tracks and sound effects. In addition, it can elevate your videos with stunning visual effects. From text animations and transitions to overlays and filters, you can enhance visual aesthetics and add a professional touch to your projects.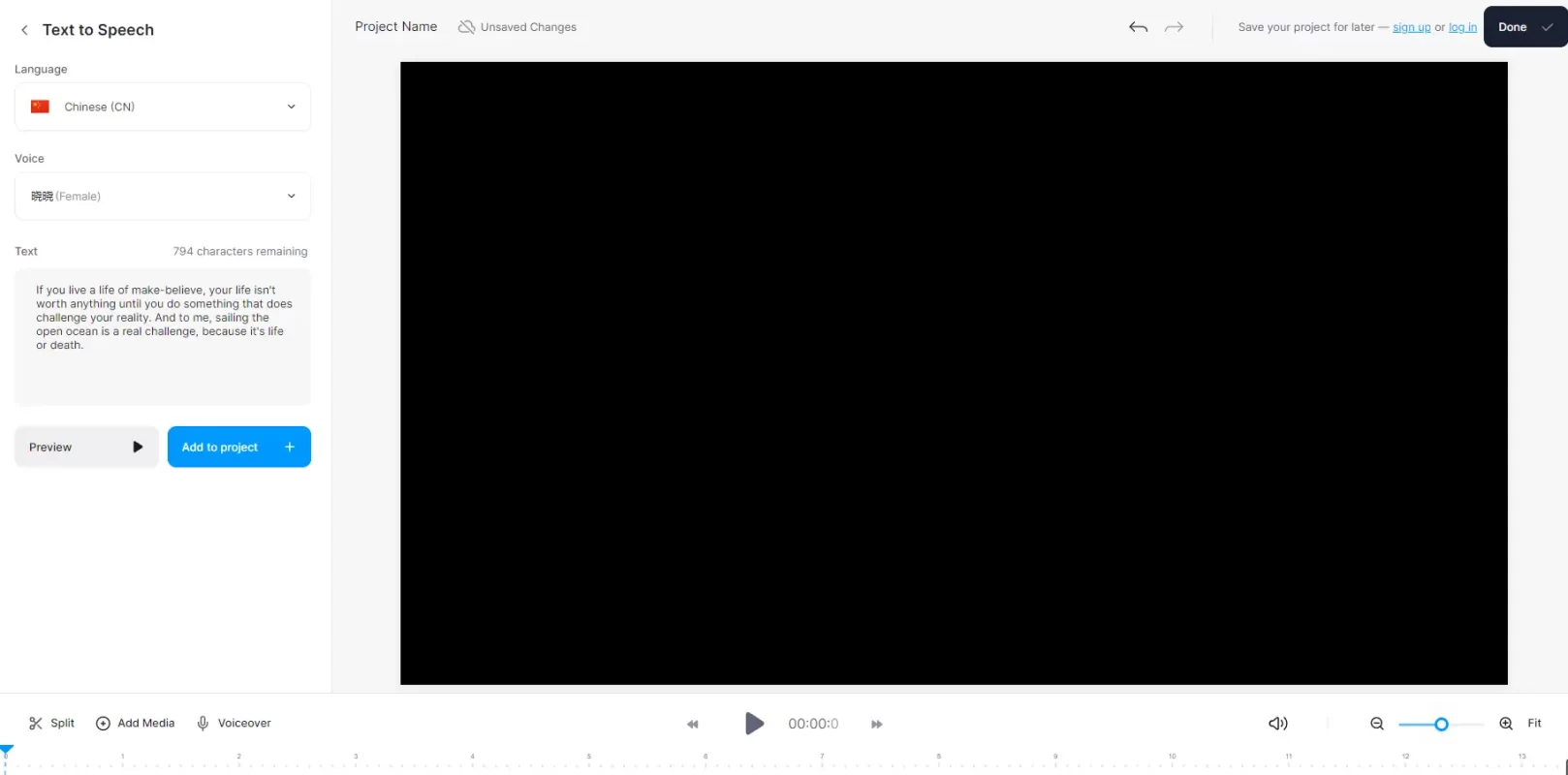 Features:
Easy to navigate
Cost-effective
Allow for easy collaboration with team members or clients
Support many platforms
Produce high-quality audio
Offer various tools for video editing
Conclusion
Chinese Text to Speech is a great tool for creating engaging and accessible content in Mandarin or Cantonese. You can find a suitable option among the 5 awesome platforms we reviewed in this article.
Don't wait any longer and start creating amazing audio content with FineVoice Chinese voice generator today!
FAQs about Chinese
How Many People Speak Chinese?
According to Ethnologue, Chinese is used by approximately 1.5 billion people around the world, which is almost one-fifth of the world population, including people in China (Hong Kong, Macau, and Taiwan included), Chinese people in Singapore, Malaysia, Indonesia, Thailand, Vietnam, Cambodia, and Myanmar, as well as Chinese communities all over the world.
What are the Major Dialects of Chinese?
The major dialects of Chinese include Mandarin, Cantonese, Wu, Min, Hakka, and others. Mandarin is the most widely spoken dialect and serves as the official language of China.
How Many Characters Are There in the Chinese Writing System?
The Chinese writing system consists of thousands of characters. The exact number can vary depending on the classification, but it is estimated to be over 50,000 characters. However, a basic understanding of around 3,000 characters is typically sufficient for everyday communication.