Do you want to generate text to speech in a French accent? Luckily, with a French text-to-speech generator, turn your French text into a natural and vivid speech. This article introduces you to 5 French text to speech generators that you shouldn't miss. Learn more below.
5 French Accent Text to Speech Generators
#1. FineVoice
FineVoice works to provide a one-stop voice solution for users. It has the best French text to speech voices. It's a great voice generator working on Windows 10/11 and also supports other languages such as English, German, Japanese, Spanish, Swedish, and more. 
FineVoice helps you quickly convert any content of audio files such as novels, articles, presentations, and more. It's easy to use and very convenient for everyone.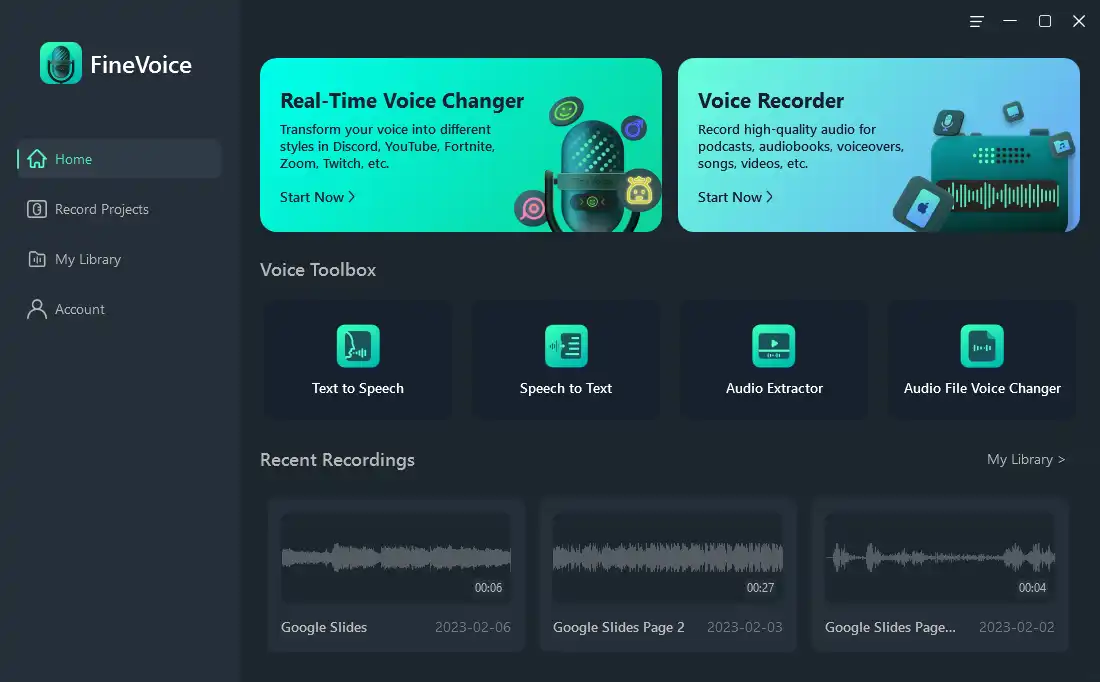 Main features:
It can generate 200+ lifelike voiceovers in 40 languages including French.
It offers numerous role voices from movies, cartoons, anime and celebrities voices.
All languages are available in male and female voices.
It offers different voiceover potions such as young ladies, kids, old man, and more.
It offers a speech-to-text tool.
Choose the speech rate to speed up or slow down the voice as you like.
It's also a real-time voice changer, video recorder, audio extractor, and audio file voice changer.
Related article: 3 Speech to Text Converters Online and Desktop
#2. Narakeet
Narakeet is another online text to speech French generator. It provides vivid and realistic voices powered by AI technology and helps you create a voice in minutes.
Narakeet supports different accents and dialects; for example, it has 24 French text to speech male and female voices.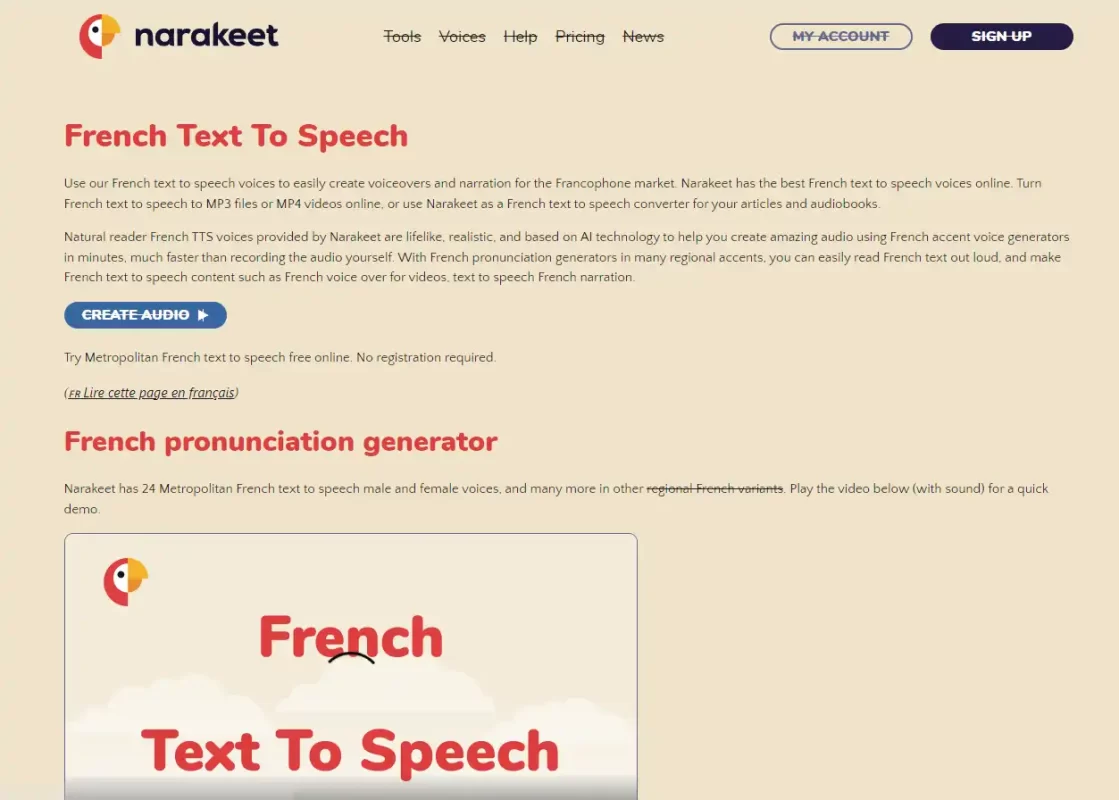 Main features:
It supports 80 languages and 500+ text to speech voices.
Turn text to speech in MP3, WAV, and M4A.
Add pauses to voiceovers, estimate the duration of text to speech, and control voice speed and volume.
It supports TXT and DOCX files.
#3. Play. ht
Play. ht is an online voice generator that can turn French text into natural-sounding voices (standard voices) and neural voices based on AI (realistic voices). Many voice styles are supported by Play. ht, you can choose a newscaster, cheerful and conversational.
Play. ht has a clean and easy-to-use interface and is trusted by thousands of users and teams of all sizes.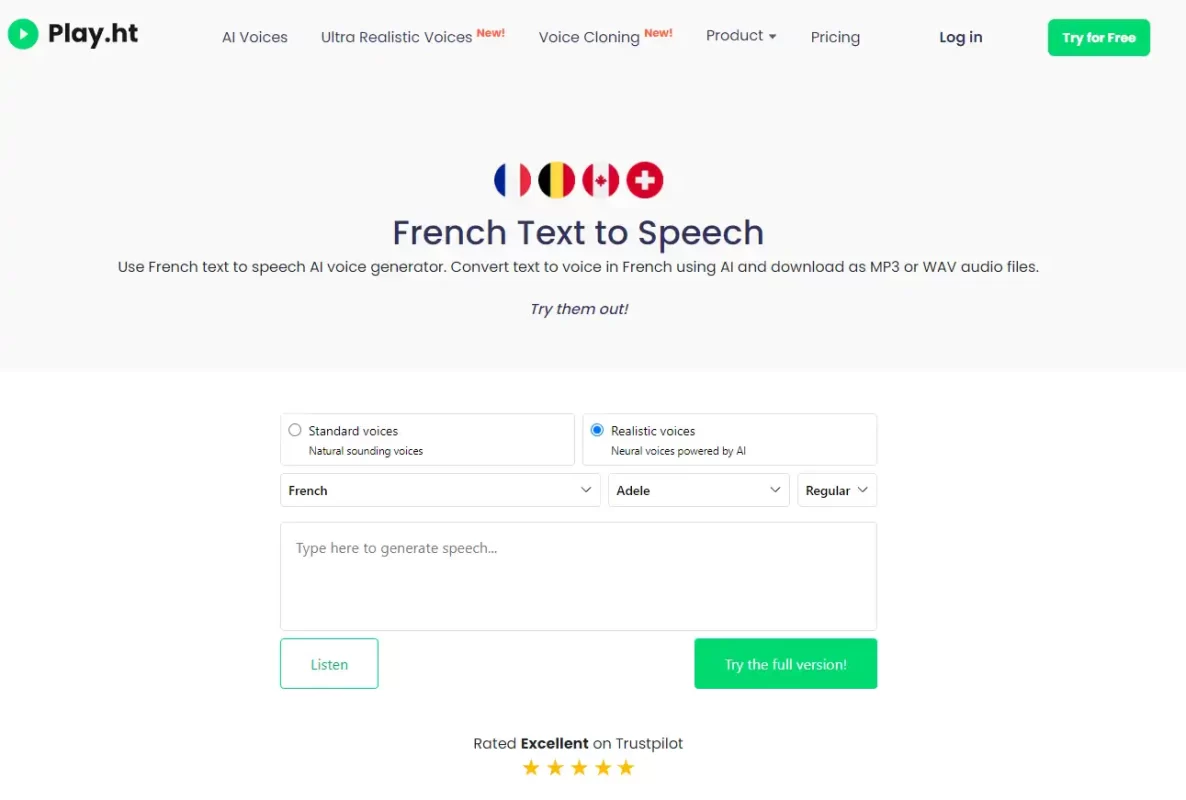 Main features:
It has 54 text to speech French accents.
It supports over 140 languages and accents.
Up to 1,000 characters of voices for text to speech French are available for your selection.
Download audio files in MP3 or WAV format.
#4. TTSFree.com
TTSFree.com is a free tool that can convert the input text into audio in French and you can save the audio files as MP3 in natural voices.
The application uses artificial intelligence and machine learning so that users can create a voice that sounds human. It allows you to create audio for free or commercial purposes.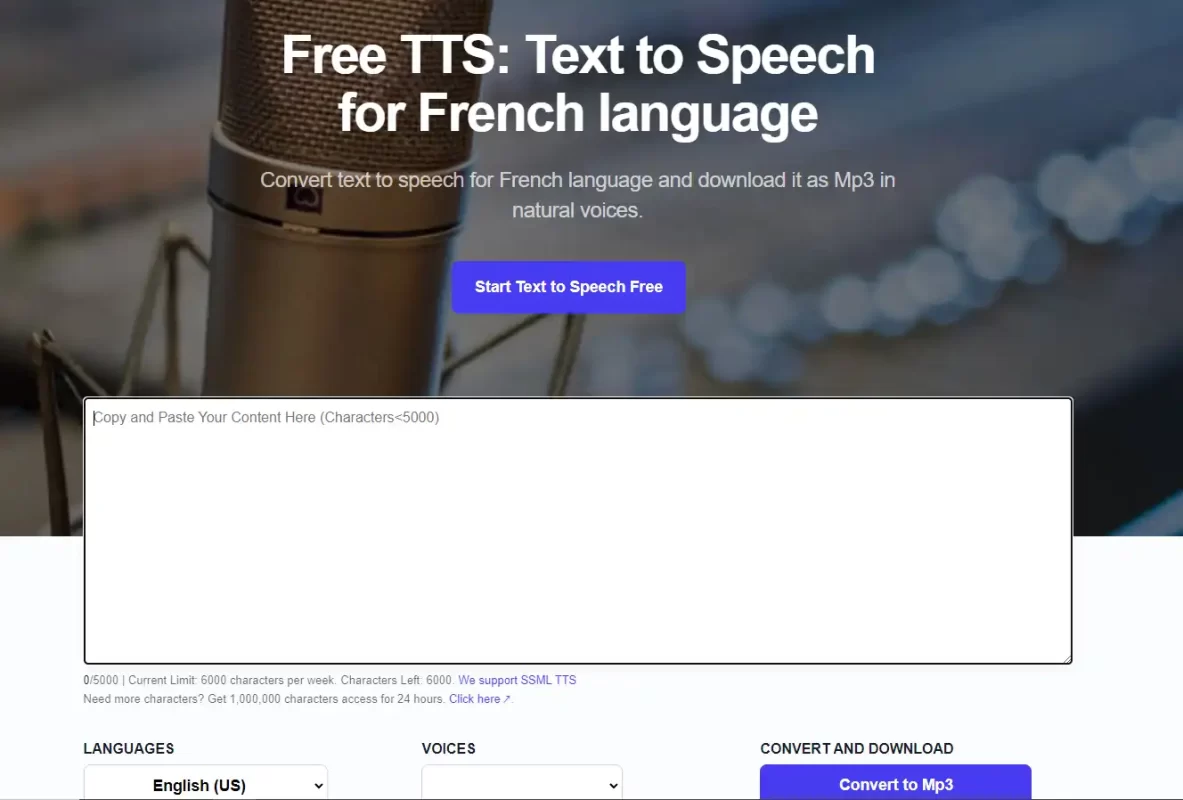 Main Features:
It supports 30+ languages and 10+ voices.
Allows you to customize your audio.
Weekly limit of 6,000 characters currently.
Customize sounds, voice speed, pitch, and volume.
#5. Imstrabslator
Imstrabslator is an online tool that combines a translator, a dictionary, and TTS. It can translate text, phrases, and webpages between 100+ languages.
You can have various choices of languages and dialects. The text to speech feature supports 14 languages and 23 males and females.
It can read any text aloud in a natural-sounding human voice for a few minutes.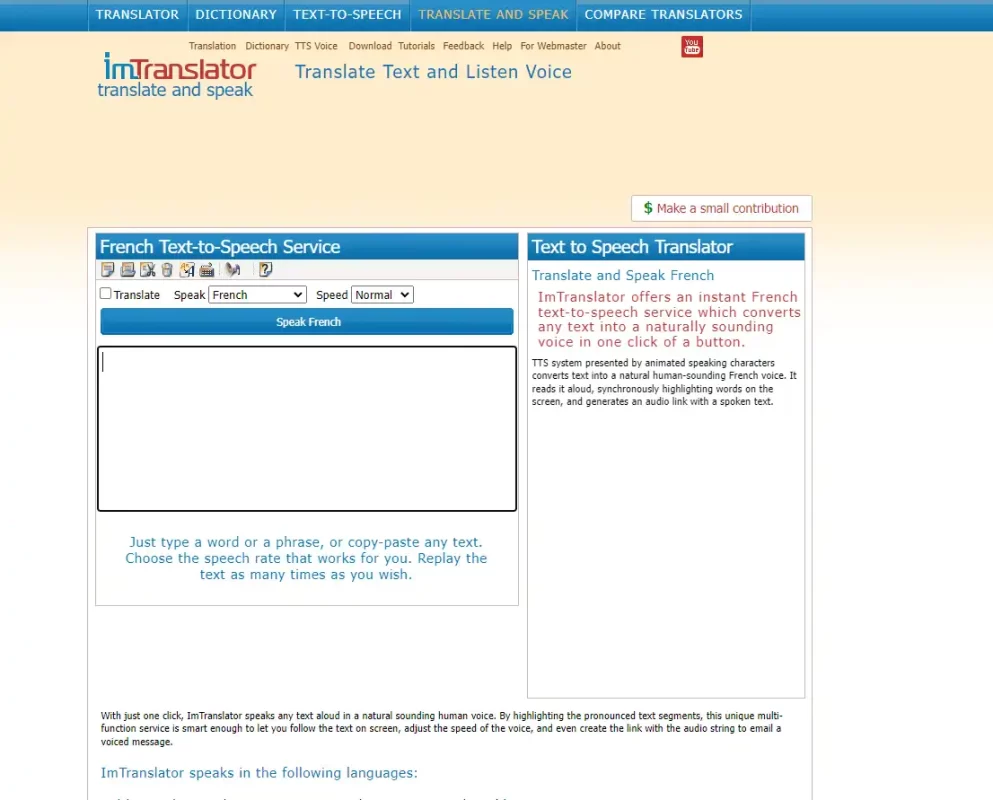 Main features:
It only supports converting the input text into audio for French FR (female).
It can remember the paused position and adjust the voice speed
Adjust the speed rate.
Replay the audio as many times as you can.
Conclusion
We've mentioned 5 French text to speech generators that can help you get a natural and vivid French accent. If you ask us which one is the best French accent tool, we recommend FineVoice, which has versatile features and great competition.
Get Free French Text to Speech
Powerful text-to-speech tool with 220+ lifelike voices in 40 languages to get professional voiceovers. And get speeches with hundreds of character and celebrities voices for entertainment.