People may want to use a French voice for various purposes like learning French or making a video related to France. Luckily, with a French text-to-speech tool, you will be able to convert text into a natural and vivid French voice easily. This article introduces you to the 5 best French text-to-speech tools that you shouldn't miss, and they are free to use.
5 Best French Text to Speech Voice Generators
#1. FineVoice
FineVoice works to provide an all-in-one voice solution for users, it has the best quality of French text-to-speech voices, and the intuitive interface is perfect for beginners to handle.
FineVoice may not be as convenient as the online convert platforms, but it provides more options for text-to-speech. You can choose the voice gender, voice variants, and voice speed to get the perfect French voice you want.
Moreover, your privacy will be safer with a desktop application since an online French text to speech platform may leak your information. And the online tools based on webpages are not available on platforms like Discord.
Currently, FineVoice is available on Windows 10/11 and it's free to use. Download now and have a try!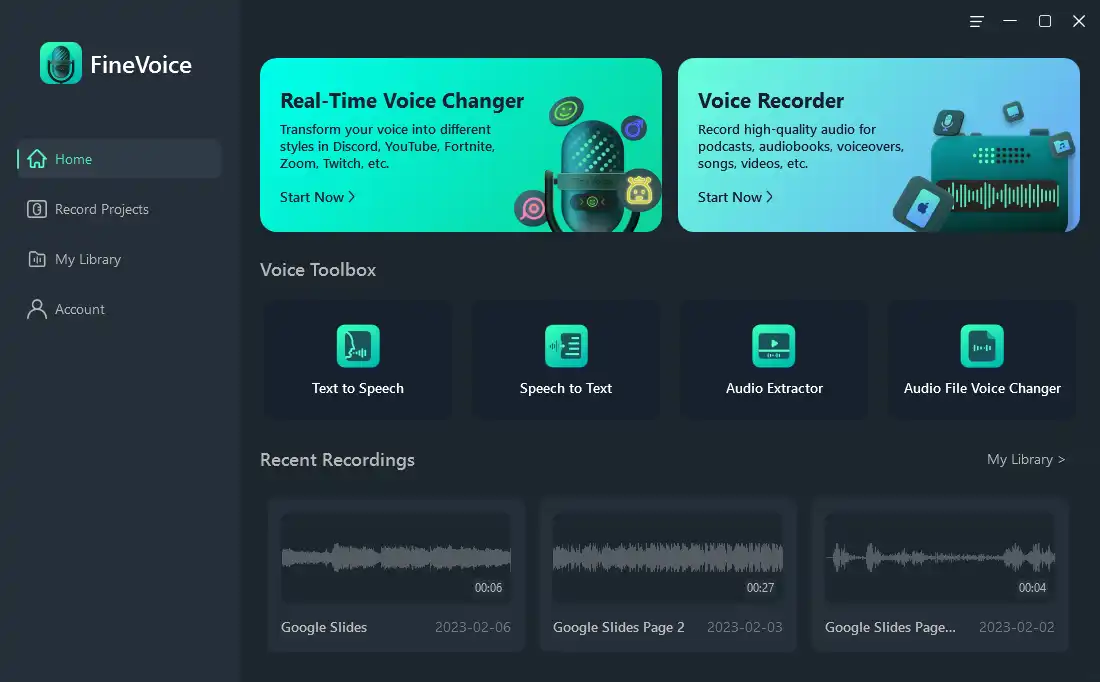 Main features:
It can generate 200+ lifelike voiceovers in 40 languages including French.
It offers numerous role voices from movies, cartoons, anime and celebrities voices.
All languages are available in male and female voices.
It offers different voiceover such as young ladies, kids, old man, and more.
Choose the speech rate to speed up or slow down the voice as you like.
#2. Narakeet
Narakeet is an online French accent generator. It provides vivid and realistic voices powered by AI technology and helps you create a voice in minutes.
Narakeet supports different accents and dialects, there are 24 French text-to-speech divided into male and female voices.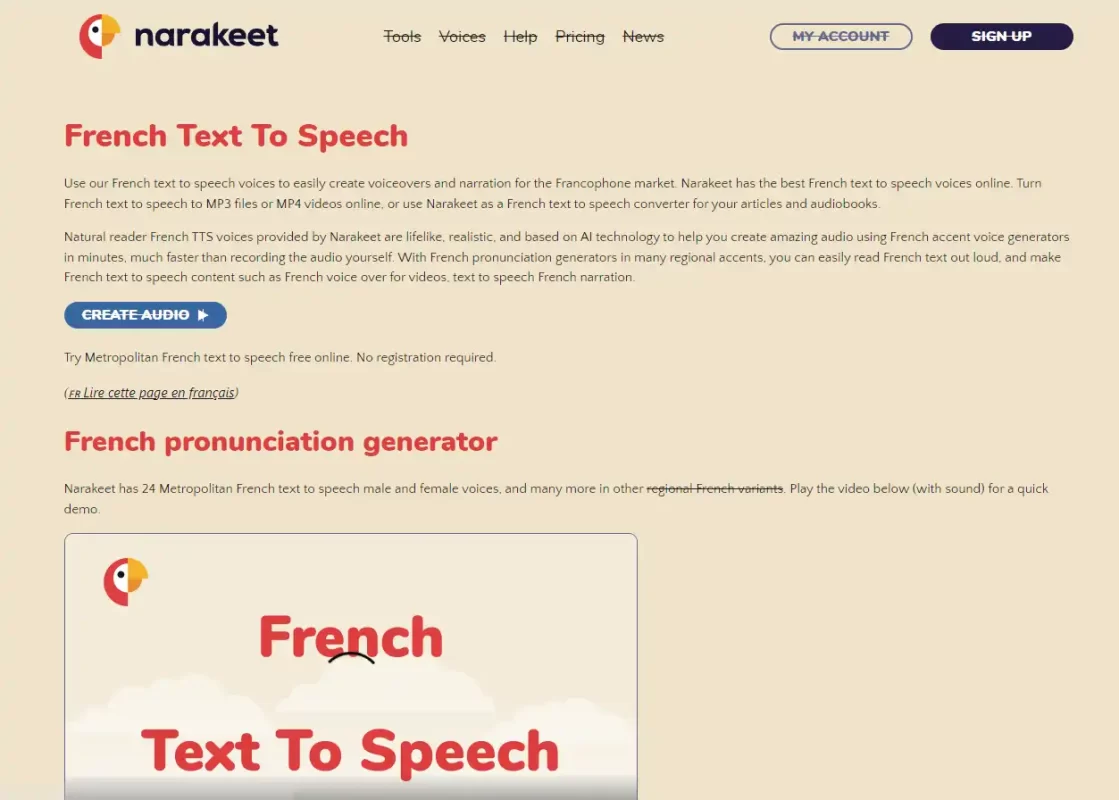 Main features:
It supports 80 languages and 500+ text to speech voices.
Turn text to speech in MP3, WAV, and M4A.
Add pauses to voiceovers, estimate the duration of text to speech, and control voice speed and volume.
It supports TXT and DOCX files.
#3. Play. ht
Play. ht is an online voice generator that can turn text into natural-sounding voices (standard voices) and neural voices based on AI (realistic voices). Many voice styles are integrated with Play. ht, including French accent text to speech. You can choose a newscaster's voice to talk in a cheerful and conversational French voice. Or maybe you want to try other languages like a Spanish voice generator? Play. ht has you covered.
This French accent generator also has a clean and easy-to-use interface, so even if you have no experience with using text to speech French before, you will get to know ho.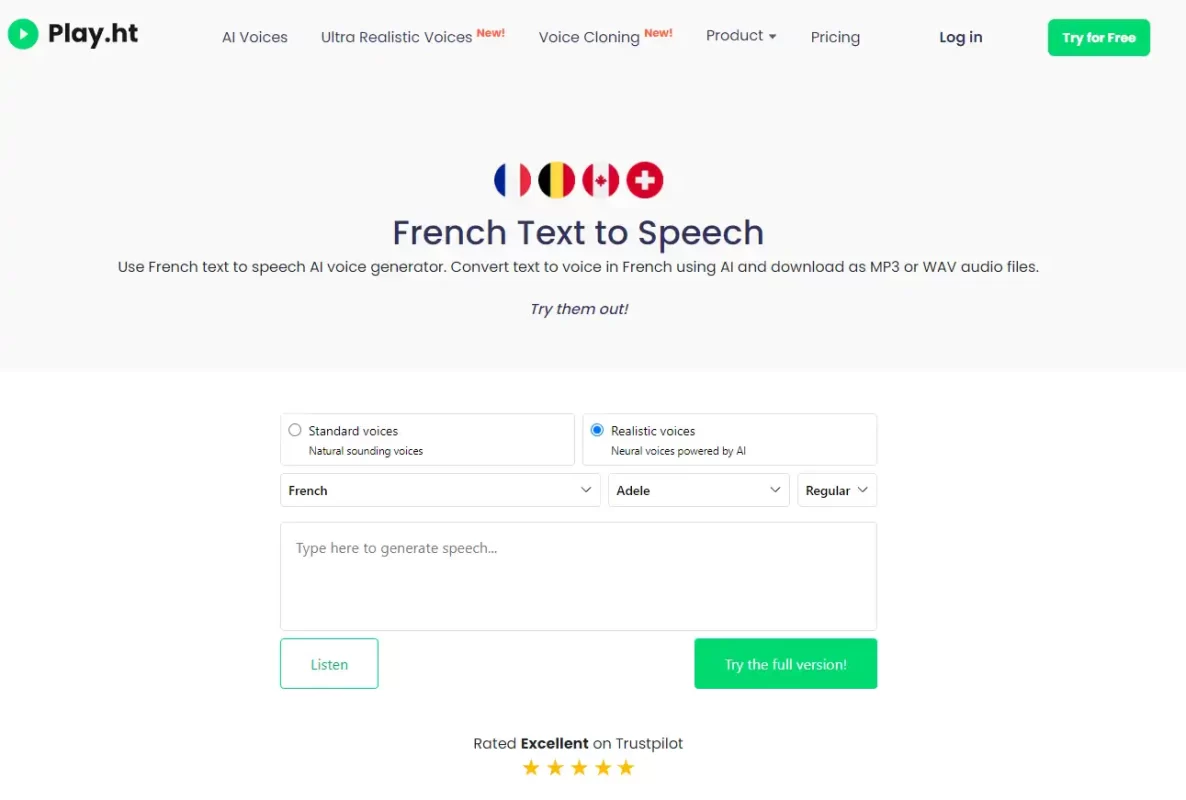 Main features:
It supports over 140 languages and accents, including French accent text to speech
Up to 1,000 characters of voices for text to speech French are available for your selection.
Download audio files in MP3 or WAV format.
#4. TTSFree.com
TTSFree.com is a free text to speech tool that can convert the input text into French voices and you can save the audio files in MP3 format. And all these processes can be done online.
The application uses artificial intelligence and machine learning technology to make sure you can create a French voice that sounds similar to a real human. And the best part is that this French pronunciation generator also allows you to create audio for free or commercial purposes.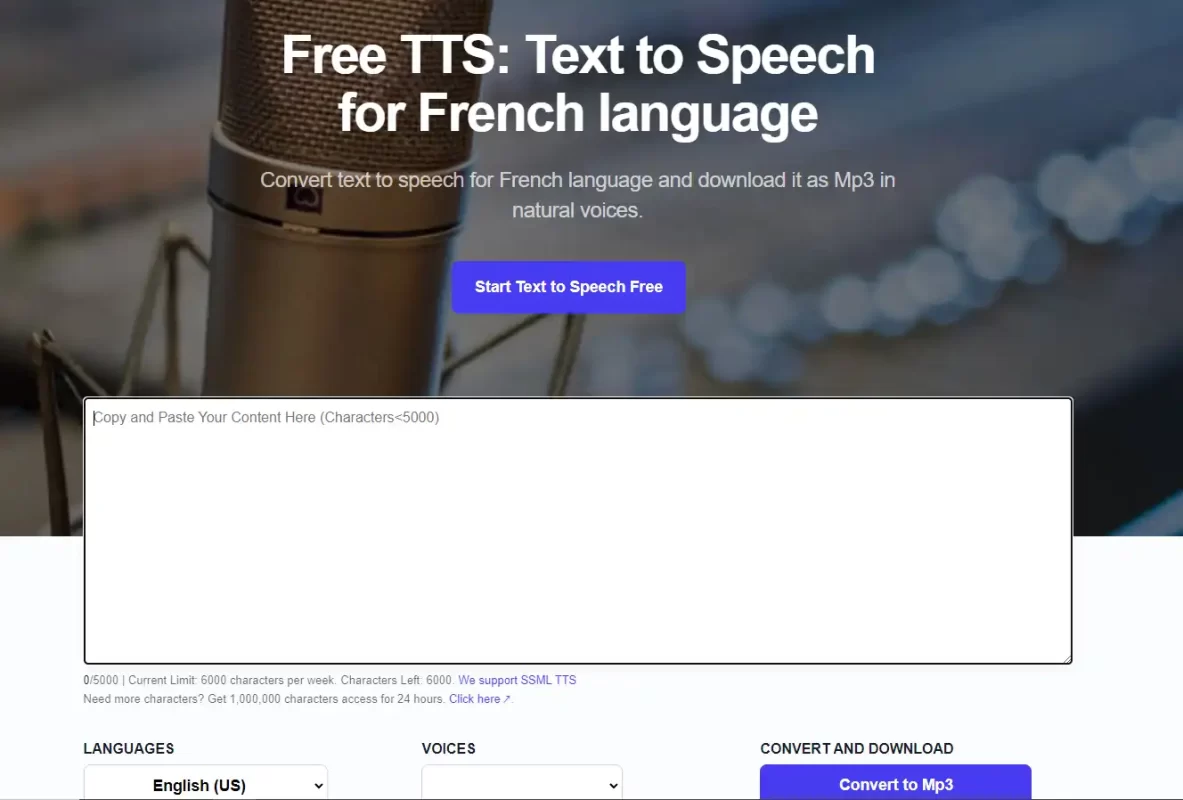 Main Features:
It supports 30+ languages and 10+ voices.
Allows you to customize your audio.
Weekly limit of 6,000 characters currently.
Customize sounds, voice speed, pitch, and volume.
#5. Imstrabslator
Imstrabslator is an online French pronunciation generator that combines a translator and a dictionary. It can translate your French text, or help you with the text to speech function in French. And there are other 14 different languages and 23 types of male and female voices for you to choose from.
It can read any text aloud in a natural-sounding human voice for a few minutes, so you can better check how well the French accent text to speech function is working.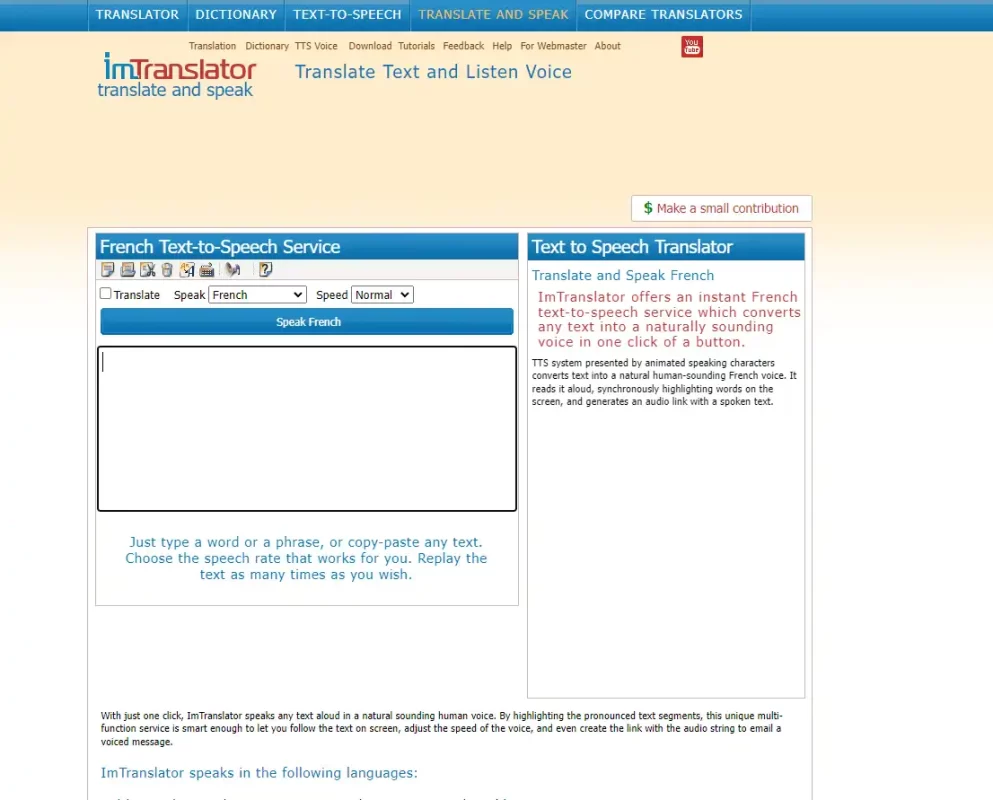 Main features:
It only supports converting the input text into audio for French FR (female).
It can remember the paused position and adjust the voice speed
Adjust the speed rate.
Replay the audio as many times as you can.
Conclusion
We hope the 5 French text to speech voice generators listed above can help you get the ideal French accent. If you are still not sure which one to use, FineVoice would be a good start since it's safe, versatile, and easy to use.
Get Free French Text to Speech
Powerful text-to-speech tool with 220+ lifelike voices in 40 languages to get professional voiceovers. And get speeches with hundreds of character and celebrities voices for entertainment.