As a useful tool, text to speech is very common in our daily lives, people like teachers, content creators, and sales staff use such tools a lot. And German accent is extremely popular since this language is rather difficult to learn and pronounce.
In this article, we will show you the 5 top-rated German text to speech tools that can help you, both the desktop app and online website included. Let's go find out.
5 Top-rated German Text to Speech Tools
FineShare FineVoice
FineVoice is an all-in-one AI voice changer that provides you with a text to speech function too. The AI technology can help you generate realistic voices in multiple languages including German. And every language has extra variants and gender options for you to choose from.
It's not only one of the best voice changers, but also a powerful German text to speech tool. You can use it to generate the ideal German voices easily and quickly in FineVoice, just do some simple clicks and it will be done.
Currently, it's available on Windows, download now and have a try.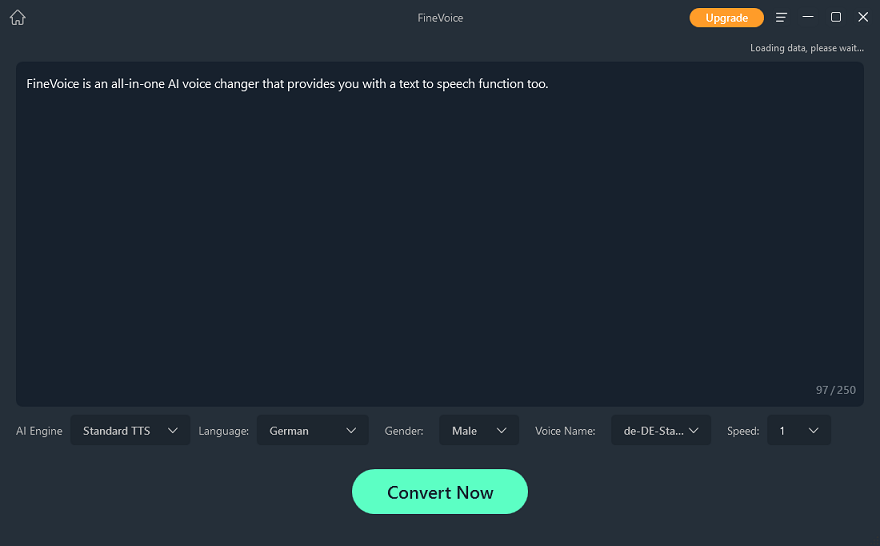 Features:
Free to use without any ads
Intuitive and beginner-friendly interface
Text to speech in German accent
Support 40 different languages for text to speech

Narakeet
You might have already heard about Narakeet since it's a popular web-based text to speech tool. It can be used as a handy German accent voice generator that allows you to create male or female German voices online. What's more, it allows you to use its API for integration, so you can use text to speech on other platforms like Discord.
All you need to do is input the text into the text box on Narakeet, choose the voices and output format, click on the Create Audio button and it will be finished soon.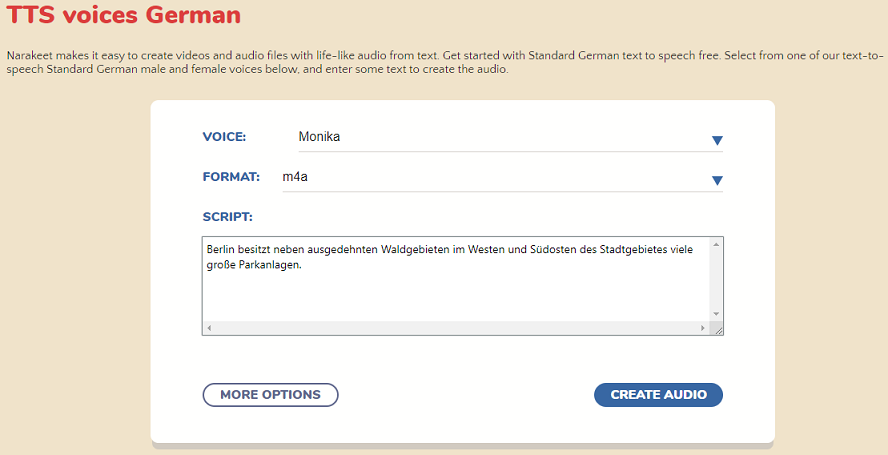 Features:
Provide dialect variants for German text to speech
Dedicated API that can used to integrate with other platforms
Output in MP3, WAV, M4A formats

TTSMP3
TTSMP3 is an online German text to speech tool, which is also free and open-source. It's simple to use, input the text and choose one of the three German voices, then you are ready to go. You can also preview the converted audio by clicking the Read button.
As you can see from the name, this online tool only allows you to download audio files in MP3 format.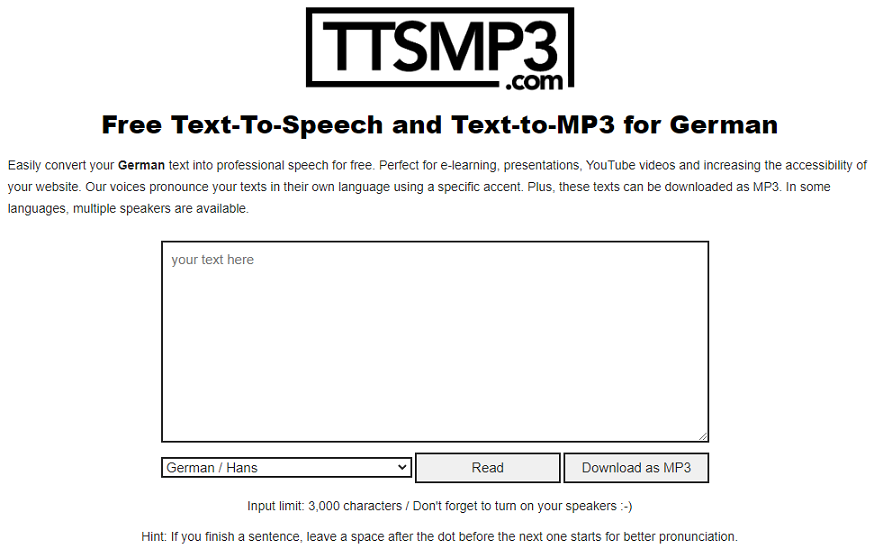 Features:
Allow you to make edits to the audio
Completely free to use
German text to speech with accurate accent

Play.ht
Play.ht is another online free and open-source German text to speech tool. It uses AI technology as well as machine learning technology to help you create realistic voices.
It can be very helpful when you need German voiceovers for your videos or presentations.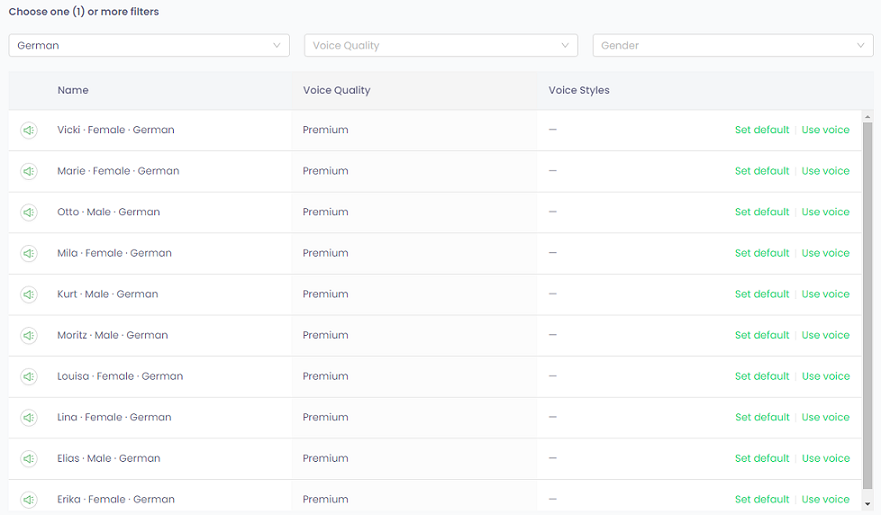 Featurs:
Provide Standard voices version and Premium voices version
Dozens of different German voices are available
Use AI technology to enhance voice generation

ImTranslator
ImTranslator is a online German TTS tool that allows you to generate realistic voices based on text. It's usually regarded as a translator, but in fact, it can also work as a German accent voice generator.
Except for the website version, extension versions of ImTranslator are also available on various browsers, including Chrome, Firefox, Opera, and Yandex.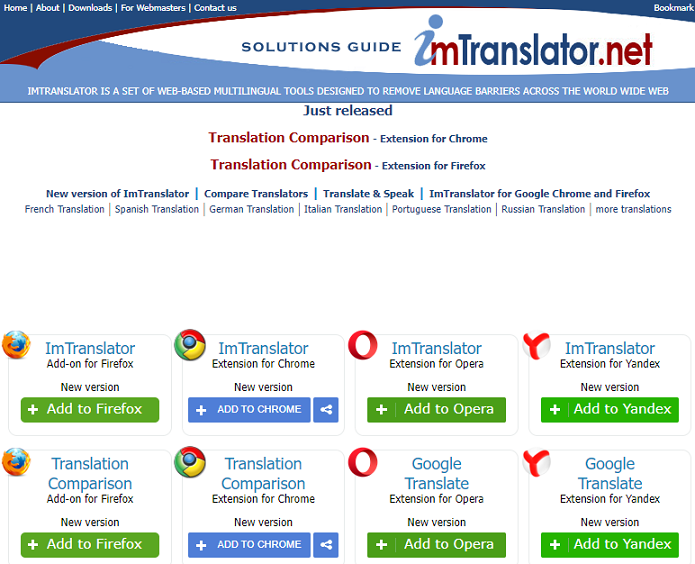 Features:
Perfectly compatible with popular browsers
Provide spell checker, translator, and dictionary to create accurate German text to speech
Localized interface in 23 different languages

FAQs About German Accent Text to Speech
Which one is the best German text to speech tool?
Online tools are convenient, but there are risks of privacy leaks, so the best choice would be FineVoice. Being desktop software, it's safer with your personal information, and the functions are also more powerful.
How to use online German voice generators?
In most situations, you only need to input the text, choose the German language, and start the generation on such websites.
Conclusion
A suitable tool is a good start for making great products. We hope the listed 5 top-rated German text to speech tools can help you, and you better choose one of them according to your preferences and needs. Our top recommendation would be FineVoice, it provides the best quality of German text to speech. And other languages like Japanese, French, and Spanish are also supported.