Text to speech or what we call voice generators are becoming increasingly common in our daily lives, and Japanese text to speech is a popular one. People use a Japanese voice generator for different purposes like content creation, learning, or having fun with friends.
If you are looking for a tool that can do the text to speech Japanese, we have you covered. In this article, we will show you the 8 best Japanese text to speech tools that you can use for free, including desktop software and online websites.
Best Free Japanese Text to Speech Software
Doing Japanese text to speech online websites is a little bit risky since your information might get leaked. Besides, most online websites that provide Japanese TTS services don't have many variants for you to choose from. In this situation, it's recommended to use a more stable and more versatile desktop application. FineShare FineVoice could be your best choice.
FineVoice is an all-in-one AI voice changer that can help you generate vivid Japanese accent text to speech with ease. For anime fans, it also works as a Japanese anime voice generator. What's more, FineVoice provides 220+ lifelike voices in 40+ languages available, numerous character voices and various celebrity voices are waiting for you to try out.
This software is currently available on Windows systems, and with an intuitive user interface and simple usage, you can generate Japanese text to speech without much effort. And FineVoice will automatically save your generated audio files in the library for easy access and management.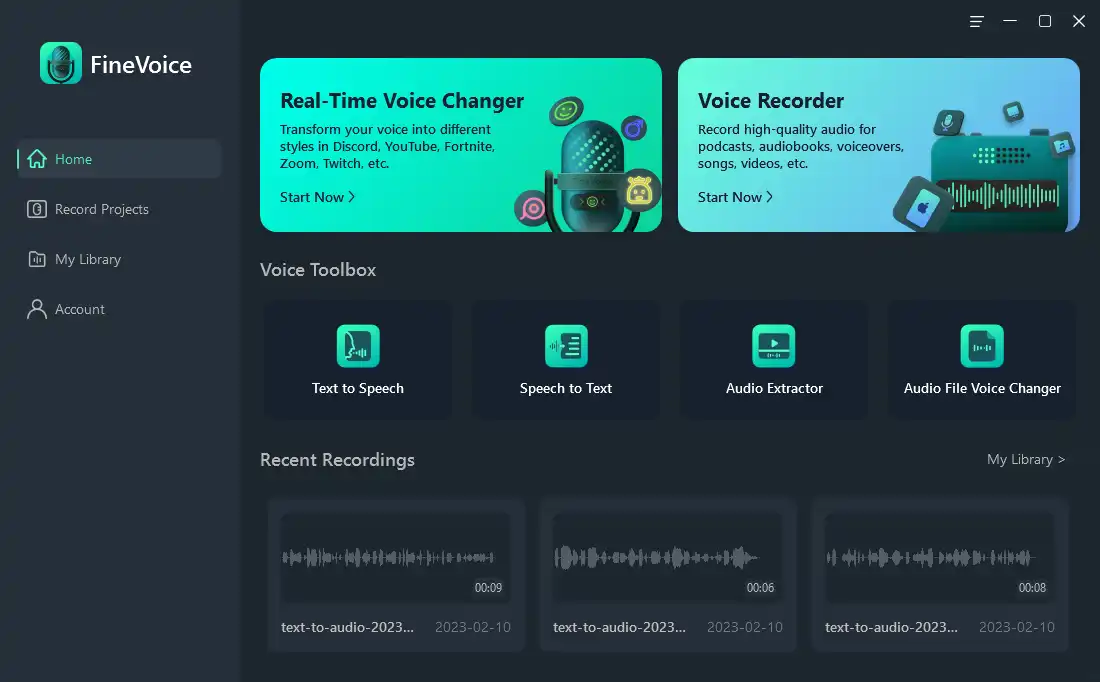 How to use FineVoice as a Japanese voice generator
Step 1. Download and install FineVoice.
Step 2. Open FineVoice and click on Text to Speech tab on the main interface.
Step 3. Paste or type any Japanese text to convert. You can also type in English to generate Japanese accent text to speech.
Step 4. Select Standard TTS as the AI Engine. Choose Japanese from the Language list (FineVoice offers 11 Japanese voices). And choose the gender and voice name of the voice.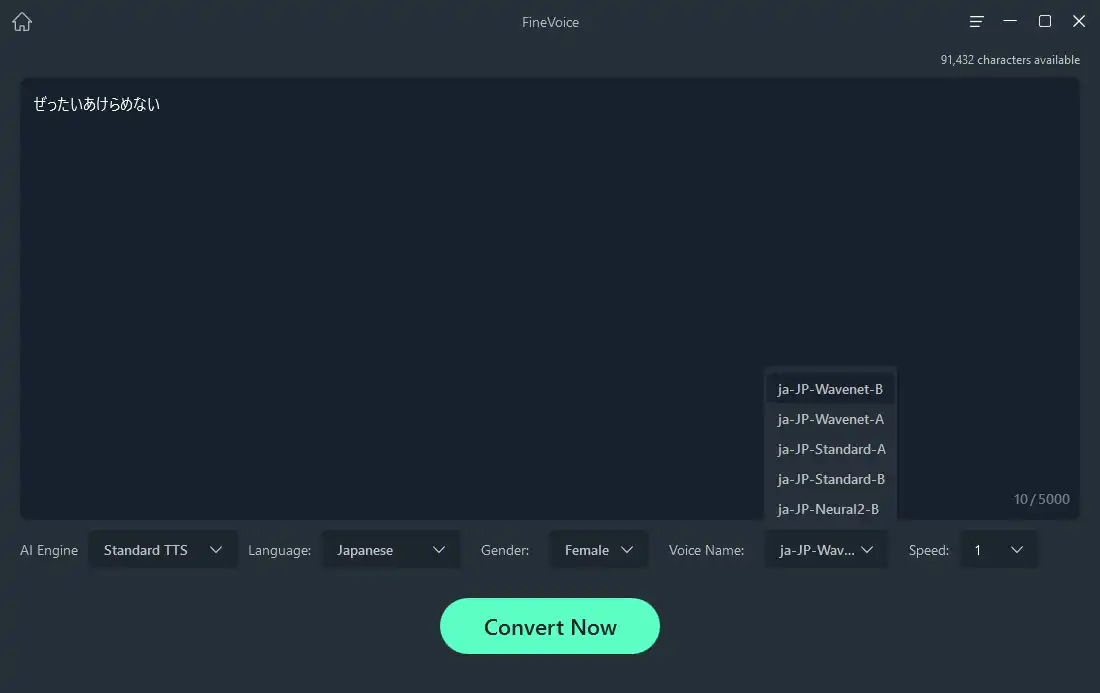 Step 5. After finishing all settings, click Convert Now to start Japanese text to speech generation.
Step 6. When the conversion is complete, you can check the result. Click View to open the local audio file or click Convert another to generate other audio.
Step 7. You can find all your audio files in FineVoice My Library from the main interface.
7 Best Online Japanese Text to Speech Websites
In this part, we will give you the best 7 online Japanese text to speech websites. As Japanese voice generators, they are usually considered to be more convenient than software. Let's go find out.
#1. Narakeet
Narakeet is a web-based Japanese text reader that was designed to simplify the process of generating video content with voice narration, particularly for educational and instructional purposes.
It gives you an online service to help you create text to speech Japanese with its AI technology. It can make life-like narrations from the Japanese accent generator function. Meanwhile, it provides hundreds of different voices to satisfy all your needs.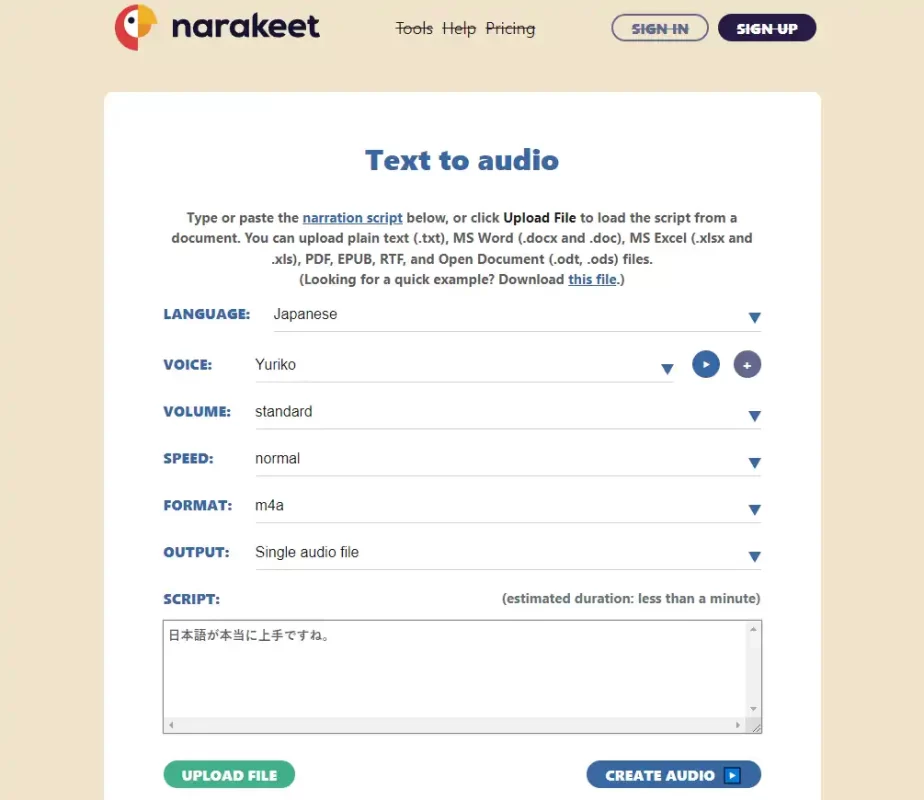 Features:
Japanese voice generator and English voice generation with a Japanese accent
Support volume and speed adjustment
Japanese voices: 9
Audio download: M4A, MP3, and WAV
Convert Script File: Format TXT, DOCX, DOC, XLSX, PDF, EPUB, RTF, ODT, and ODS
Upload Script File Size: Maximum 1 KB
Total number of conversions: 20
#2. Play.ht
This online platform provides you with a simple and efficient way to get natural-sounding Japanese text to speech by using high-quality synthetic voices.
Besides Japanese, Play.ht offers a wide selection of voices in multiple languages too. Additionally, Play.ht provides integration of Japanese TTS options for popular platforms like Medium, Tiktok, WordPress, and Google Docs.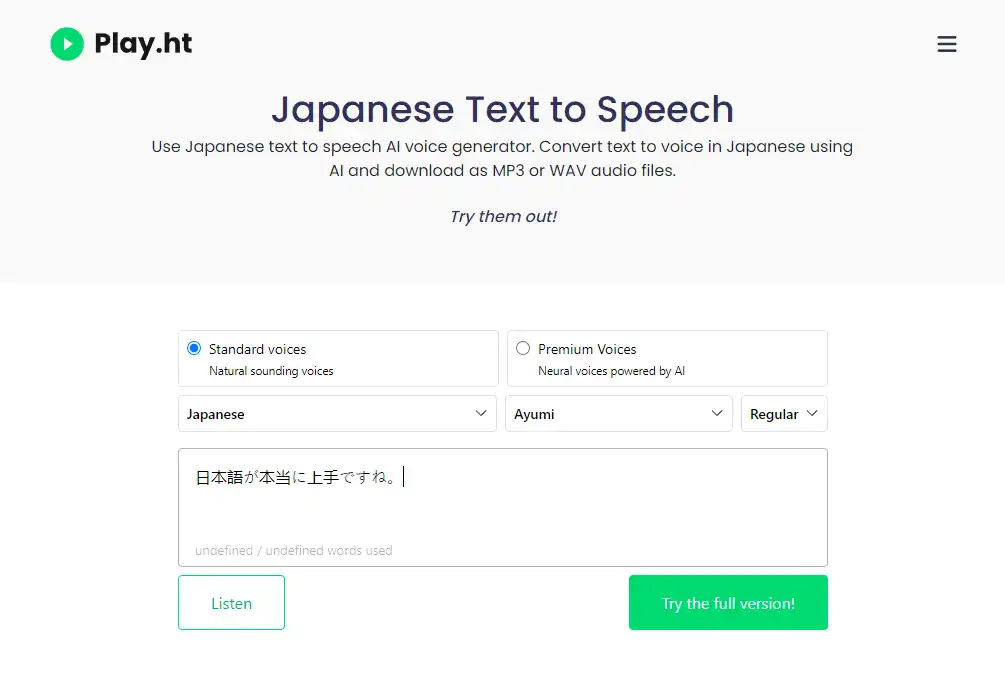 Features:
Simple and efficient Japanese text to speech
Japanese voices: 9
Only for reading cannot download
Fast process speed
#3. ttsMP3.com
ttsMP3.com is another free online web-based service that allows you to get professional Japanese accent text to speech and download it as MP3 files.
This tool is extremely simple compared to other similar tools, but it still has many handy functions to get high-quality audio files, you can even choose to add a break, emphasize specific words, change voice speed, or adjust voice pitch.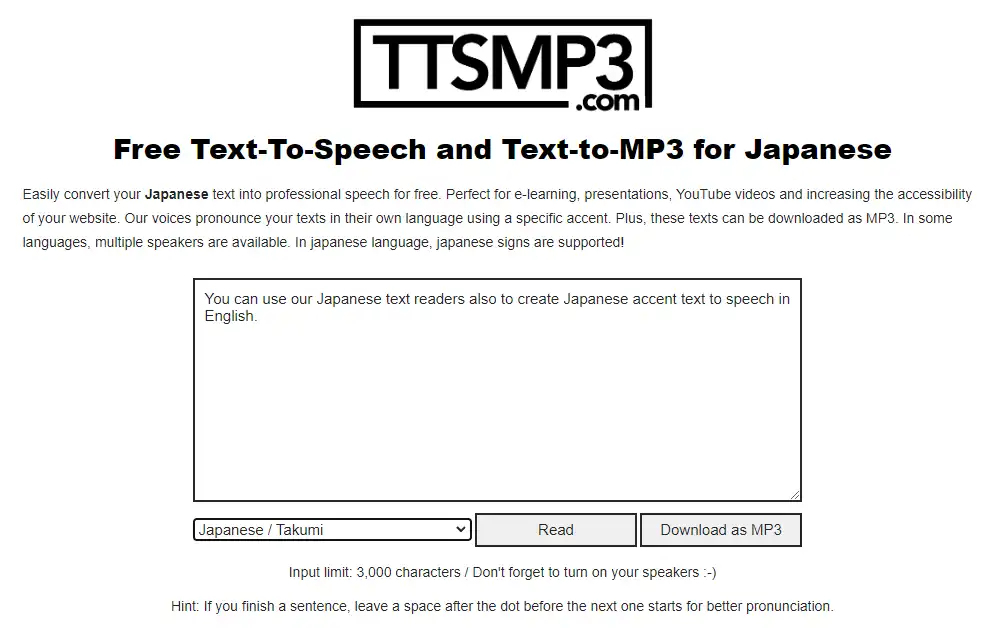 Features:
Free Japanese voice generator that anyone can use
Japanese voices: 2
Audio download: MP3
Input limit per conversion: 3,000 characters
#4. ImTranslator.net
As you can see from the name, ImTranslator.net is an online language tool designed for language-related purposes like translation and text to speech, and it's a quite useful Japanese text reader.
When using this tool for Japanese text to speech, you can use the dictionary and spell check functions on ImTranslator.net to improve the quality of your audio product further.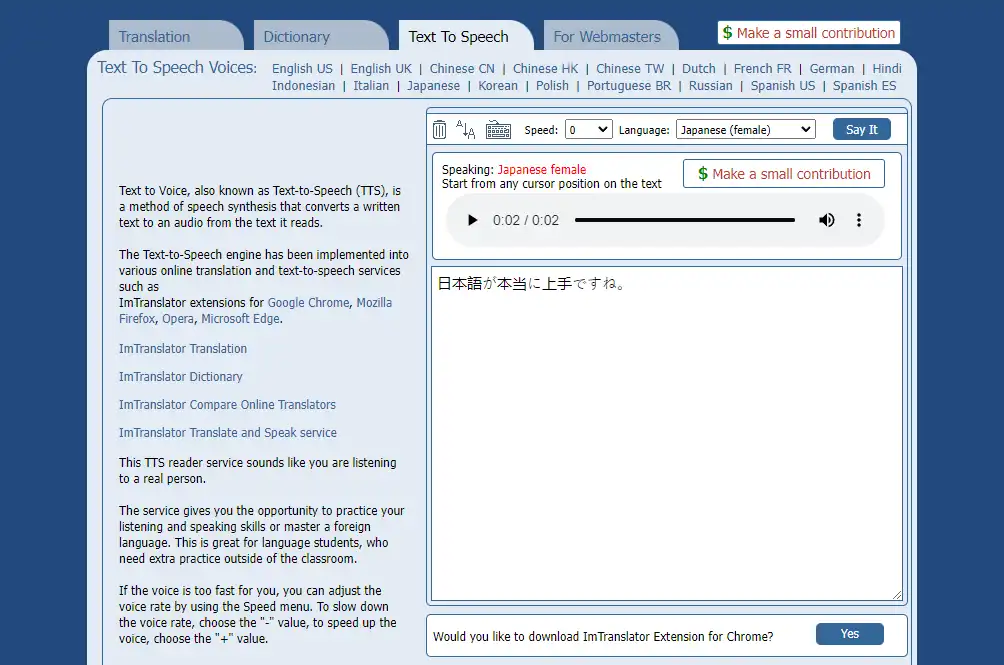 Features:
Provides virtual keyboards that enable you to type in different languages
Support speed adjustment
Japanese voices: 1
#5. Micmonster
Micmonster can help you with Japanese TTS works efficiently, it allows you to convert text into Japanese speech in no time, and then download it as MP3 or WAV file.
The functions on Micmonster can be very helpful, you can even switch between different speakers within the text. It's usually used to create voiceovers for online study, presentations, YouTube videos, and more.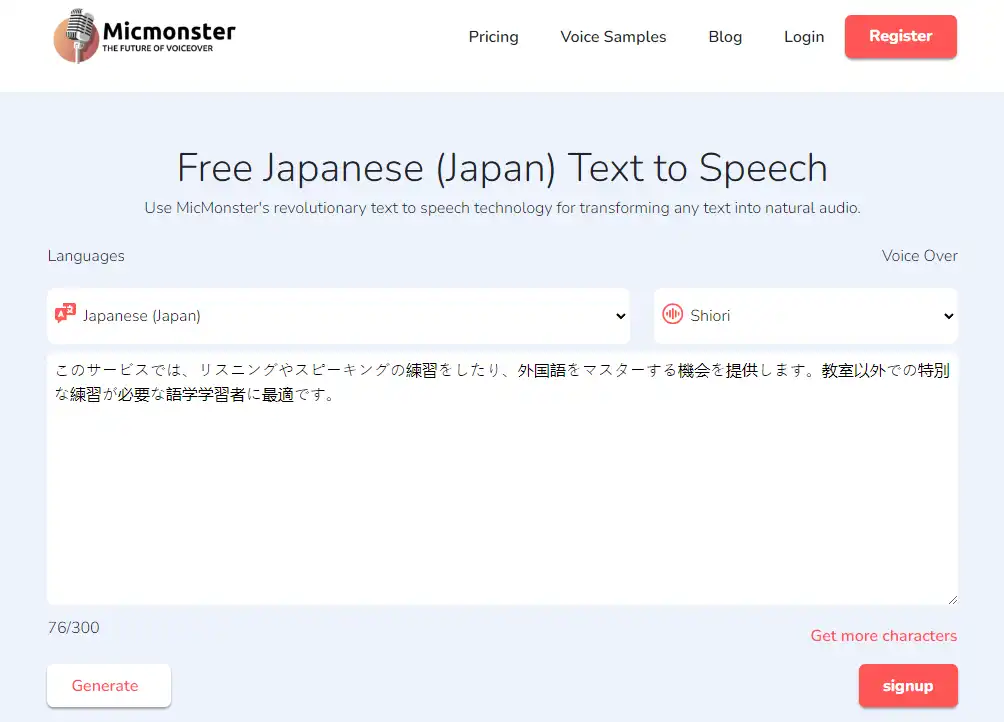 Features:
Support Japanese voice generation and English voice generation with a Japanese accent
Japanese voices: 7
Audio download: MP3
Input limit per conversion: 300 characters
#6. Free TTS
Free TTS offers an online Japanese text to speech service without requiring any payment or subscription fees. With Free TTS, you can use synthetic but natural voices to easily convert written text into Japanese speech.
There are not many customization options on this platform, and paid Japanese TTS platforms may have more functions, but Free TTS is still a good tool worth trying.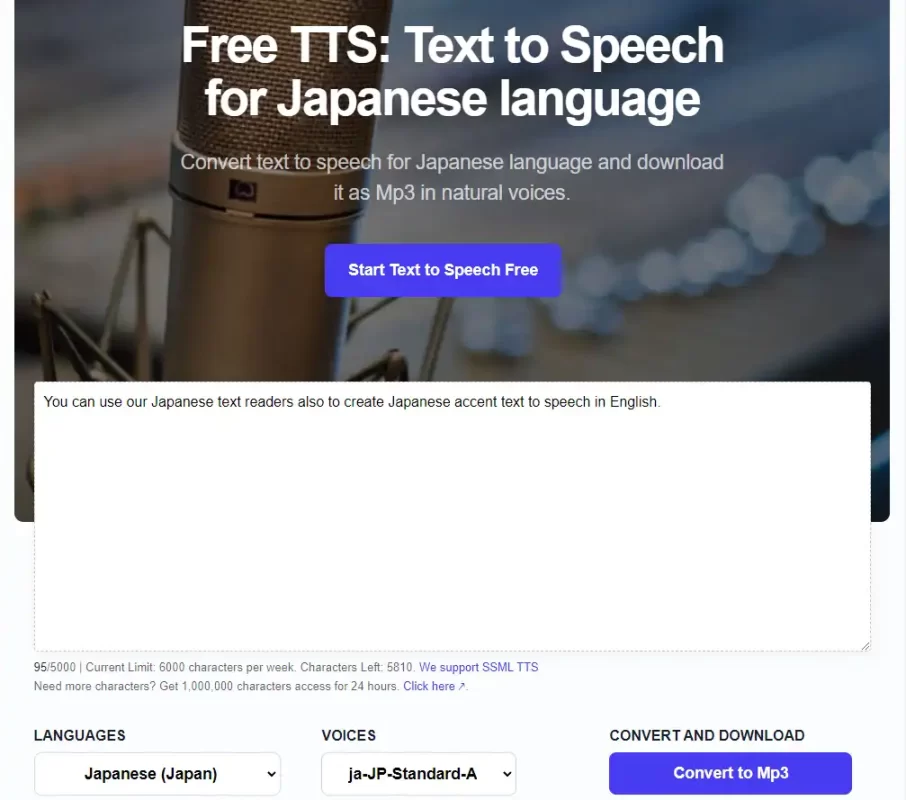 Features:
High-quality Japanese accent generator
Japanese voices: 6
Audio download: MP3
Input limit per conversion: 5,000 characters
Input limit per week: 6,000 characters
Fast conversion speed
#7. Listnr
Listnr is an AI-powered Japanese text to speech generator meant to help you create realistic voiceovers for your content.
It supports exporting the audio product in MP3 or WAV formats, and it's nicely compatible with many popular platforms and applications such as Discord. What's more, Listnr allows you to embed the audio player on other websites, so you can have self-made voiceovers to make your blog and website more engaging.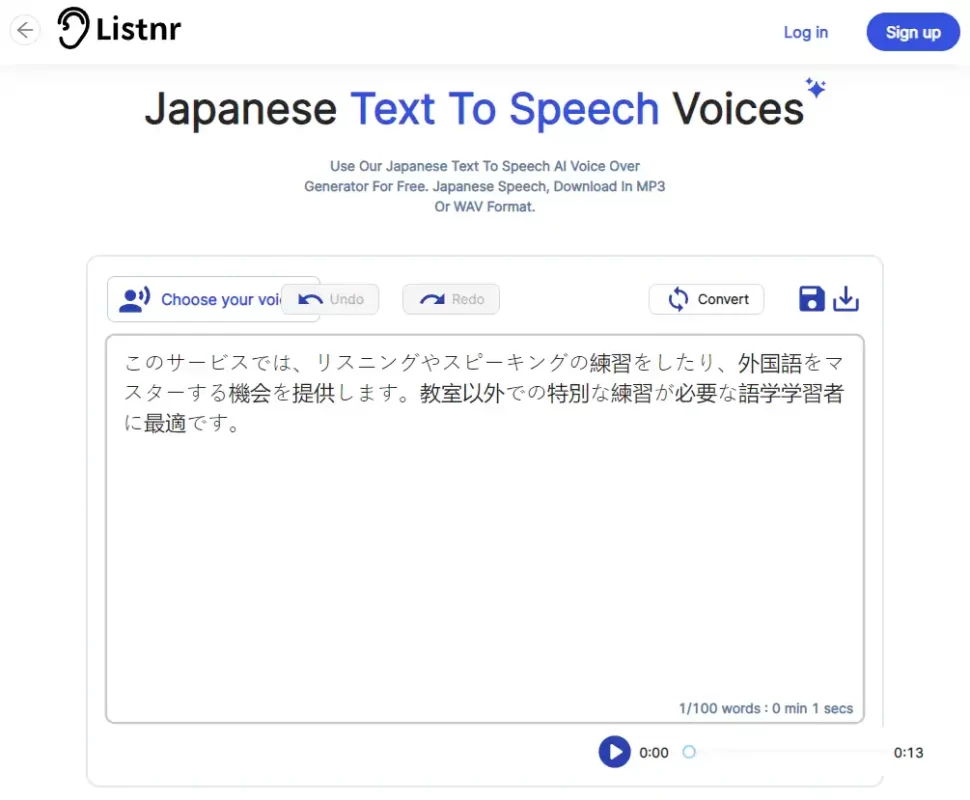 Features:
Support Japanese text to speech and English voice generation with a Japanese accent generator
Japanese voices: 1
Input limit per conversion: 100 words
Conclusion
The 8 free Japanese text to speech tools all have their own unique features. You can choose one of them and we hope you will find the ideal Japanese voice generator among them.
If you don't which one to try first, take away the best Japanese text to speech software FineVoice to create a professional voice for your content.
Try Japanese Text to Speech
Powerful text-to-speech tool with 220+ lifelike voices in 40 languages to generate voiceovers for videos, podcasts, books, presentations. Bring your content to life with FineVoice at any time. Get it for free.