Have you ever wondered how to speak Korean like your favorite BLACKPINK girl group? Or how to create amazing voiceovers for your videos or podcasts in Korean? Or how to listen to your favorite books or articles in Korean? Whatever your reason, you need a good Korean text to speech tool.
Without further ado, let's take a look at these 4 captivating Korean text to speech tools that will leave you spellbound.
FineShare FineVoice
FineShare FineVoice is a powerful and flexible Korean Text to Speech tool that allows you to create realistic and natural sounds from the text. You can use it for a variety of purposes, such as learning languages, creating voiceovers, creating audiobooks, and more.
FineVoice supports more than 40 languages, including Korean, Italian, Russian, Irish, etc. FineVoice also provides the voices of famous people and cartoon characters, such as Snoop Dogg, Morgan Freeman, Spongebob, and Mickey Mouse. With it, you can recreate the sound of your favorite girl group or create a new virtual idol voice. You can use these voices in your video creations to make your content more interesting and engaging.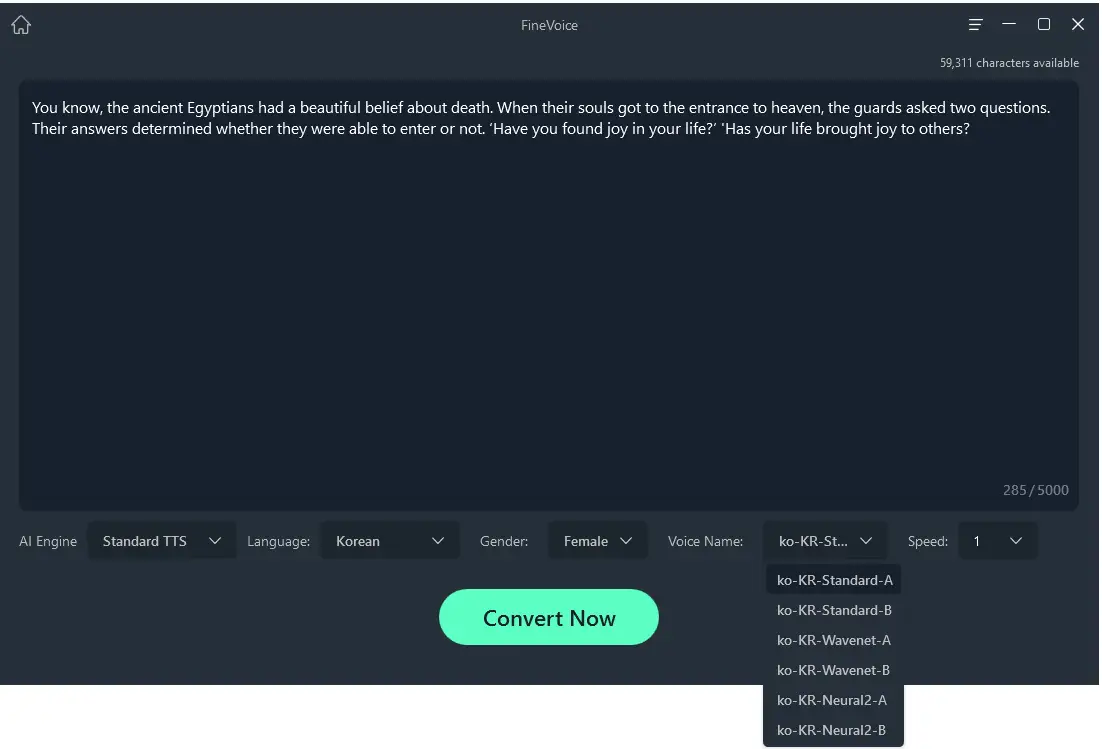 Feature Highlights:
Easy to use and without any ads
The fast and accurate Korean voice generator
Over 200 realistic voice-overs in 40 languages
Offer hundreds of sound effects, voice effects, and soundboards
Powerful and flexible voice changer
Record your voice with high quality
FineVoice is one of the best AI voice changers that can change your voice in Discord, Zoom, Google Meet, Twitch, and more. It's perfect for online meetings, gaming, chatting, live streaming, content creation, and more.
Narakeet
Narakeet is a web-based tool that can convert text to speech in more than 80 languages. It's one of the most natural-sounding Korean text to speech online tools, and it's easy and fun to use. Among these languages, you can choose from eight different Koreans, including male and female voices.
Narakeet is also very fast and convenient. You can use it as a Korean text reader online and you just need to upload a Word document with your script or a PowerPoint presentation with the narration text in presenter notes. You can also customize the voice speed, volume, pitch, and emphasis.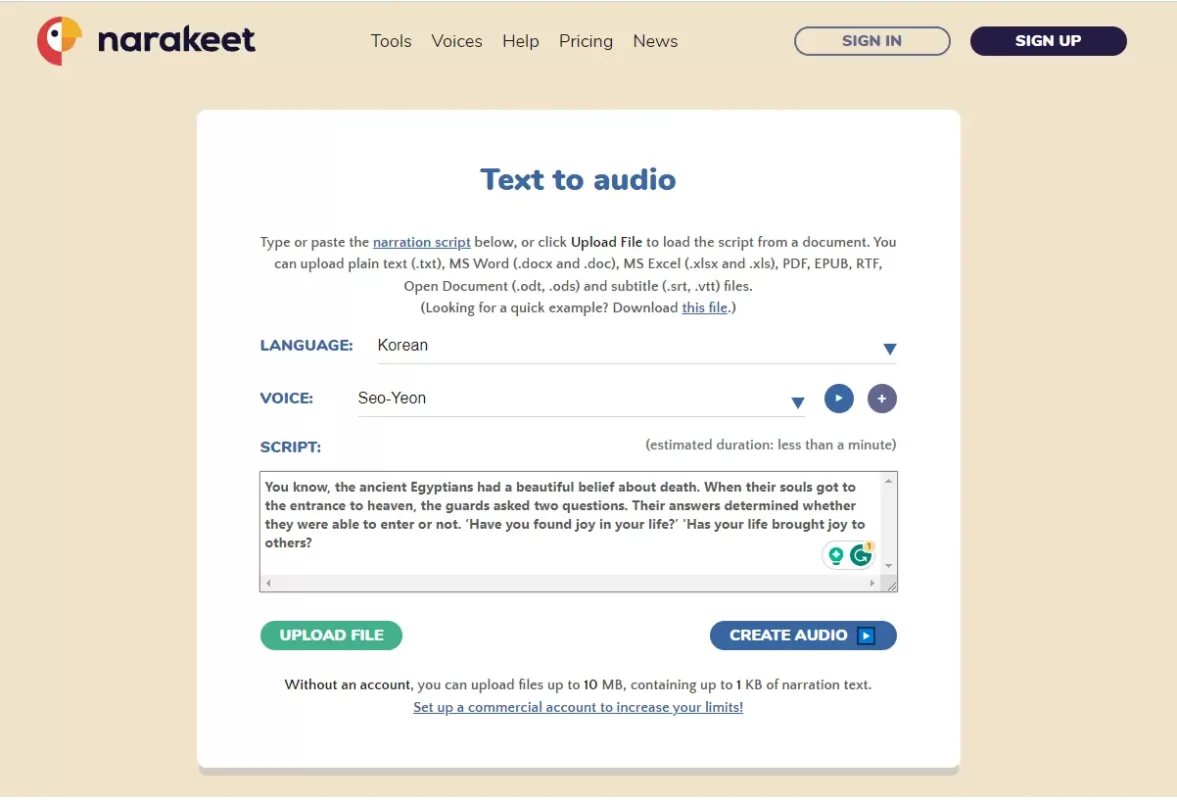 Feature Highlights:
Support more than 80 languages
Create videos from images and audio
Support customizing the voice speed, volume, pitch, and emphasis
Offer a free plan for up to 300 words per month
TTSMP3 is also a great tool for anyone who wants to create Korean voice files from text. You can use it to read news related to your favorite idols or practice your Korean language. You'll be thrilled as you hear the words come to life.
You can convert text to speech in more than 40 languages, including Korean, Chinese, Spanish, etc. And you can choose from four different Korean voices, two male and two female. In addition to it, you can adjust the speed and pitch as you like. With TTSMP3, you can create high-quality MP3 files and download or play them online.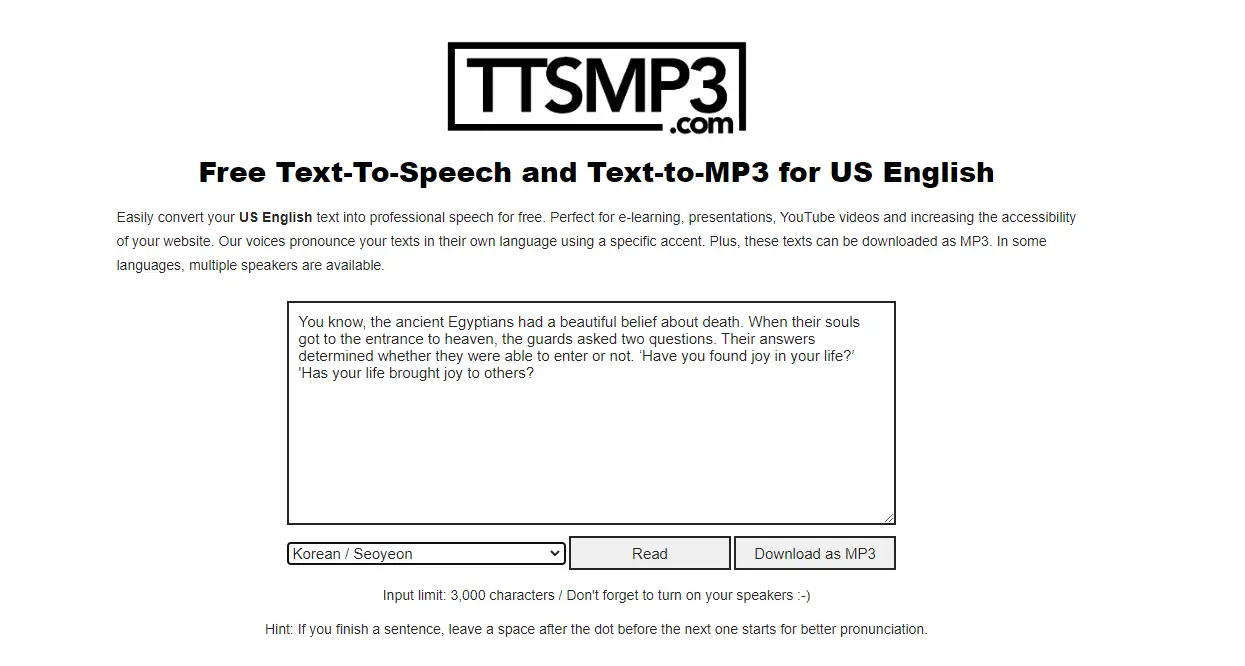 Feature Highlights:
Support special characters to improvise the expressions in the audio
Offer more than 40 languages
Provide a free plan for up to 5000 characters per month
Integrate with Amazon Polly
Micmonster
Micmonster is a powerful and flexible tool that allows you to let your creativity and imagination run wild. It is very popular with virtual idol producers, animators, and storytellers. You can customize your voice to match your idol's characteristics and then use your favorite idol's voice to create voice-overs for your YouTube videos.
Micmonster supports more than 50 languages. You can adjust the speed, pitch, tone, and mood of your voice according to your preference. You can also add background music, sound effects, and pauses to make your audio or video more attractive and professional. Micmonster can create audio files or videos that you can export to various formats such as MP3, MP4, WAV, or AVI.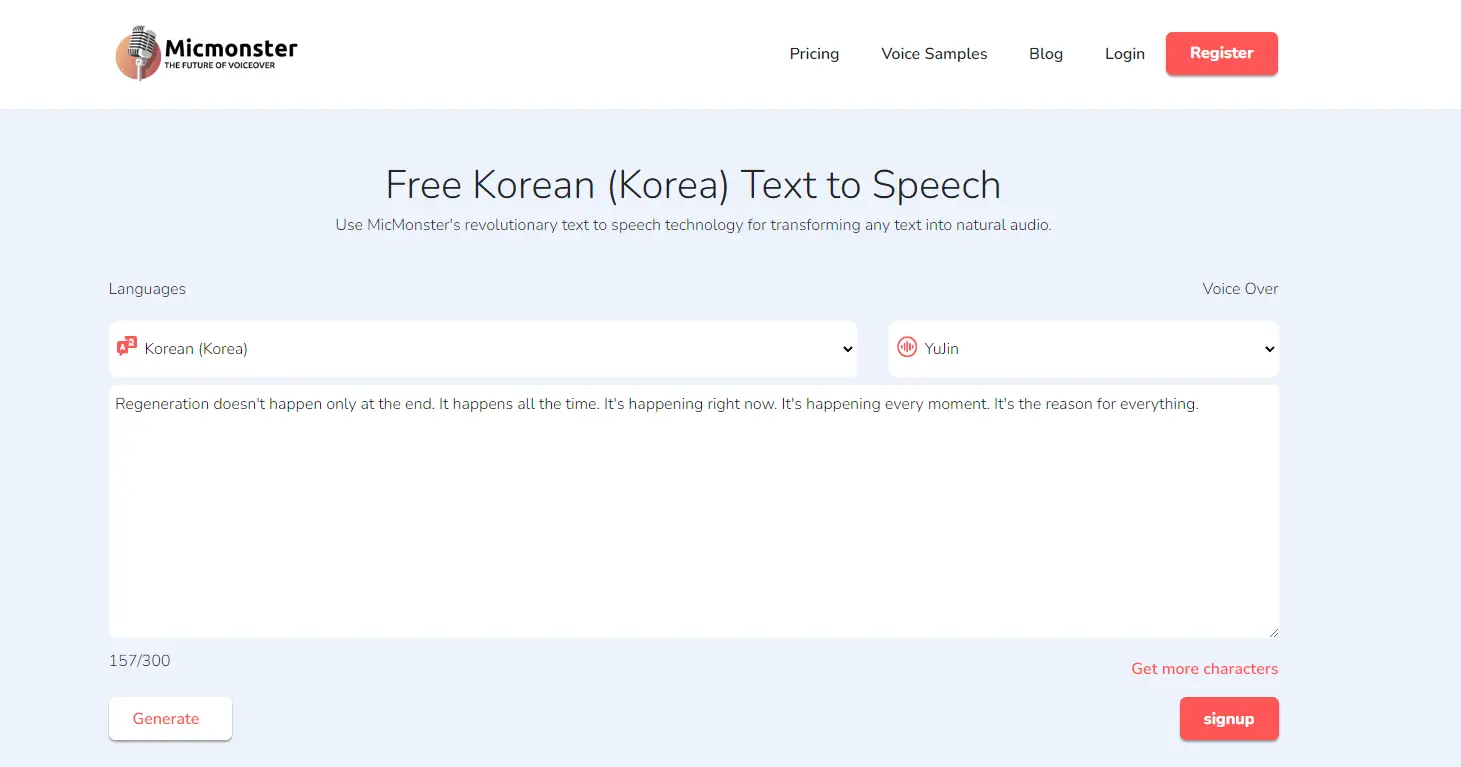 Feature Highlights:
User-Friendly Interface
Create an unlimited number of voiceovers
Offer extensive natural and character-based voices
Support more than 50 languages and over 100 voice options
Multiple output formats
Conclusion
With these extraordinary Korean text to speech converters, you can open a door to a world where language learning meets the enchantment of K-Pop. You can connect with your idols, create your own narratives, and let the power of their voices inspire you like never before.
So what are you waiting for? Download and try out FineVoice and share your feedback with us.
FAQs about the Korean
How Many People Speak Korean?
Over 75 million people around the world speak Korean. The majority of the speakers live in South and North Korea, where it is the official language.
What are the Two Types of Korean Speaking?
Standard Korean (Pyojun-eo)
Standard Korean is the official language of both North Korea and South Korea. It is based on the dialect spoken in Seoul and is used in formal and official settings, such as education, media, and government.
Dialects are regional variations of Korean spoken in different parts of the Korean peninsula. These dialects have distinct vocabulary, pronunciation, and grammar patterns. Some well-known dialects include the Gyeongsang, Jeolla, and Jeju dialects. They are commonly used in informal conversations and can vary significantly from Standard Korean.
What are Some Common Korean Expressions?
안녕하세요– Hello
감사합니다– Thank you
죄송합니다 – I'm sorry
네/아니요– Yes / No
잘 지냈어요?– How are you?
만나서 반갑습니다– Nice to meet you
잘 가요– Goodbye