Are you a fan of Miley Cyrus? Do you find yourself singing along to Miley Cyrus's catchy tunes, wishing you could sound just like her? Have you ever wanted to create your own Miley Cyrus-inspired songs or share messages in her iconic voice?
In this article, we will show you the best Miley Cyrus text to speech tool and how to use it in minutes. By the end of this article, I hope you will be able to sound like Miley Cyrus and have fun with it.
Now let's start this article with the beautiful voice of Miley Cyrus.
Miley Cyrus: A Pop Star with Many Faces and Voices
Miley Cyrus's real name is Destiny Hope Cyrus. She is a multi-talented pop sensation, who has captivated audiences worldwide with her dynamic performances, infectious energy, and ever-evolving artistic identity.
Miley Cyrus has continually changed herself, starting with her early days as a Disney Channel star and continuing with her fearless and avant-garde musical career. She can sing with tenderness and emotion, or with power and attitude. She can adapt to any style and mood, from country pop to psychedelic rock.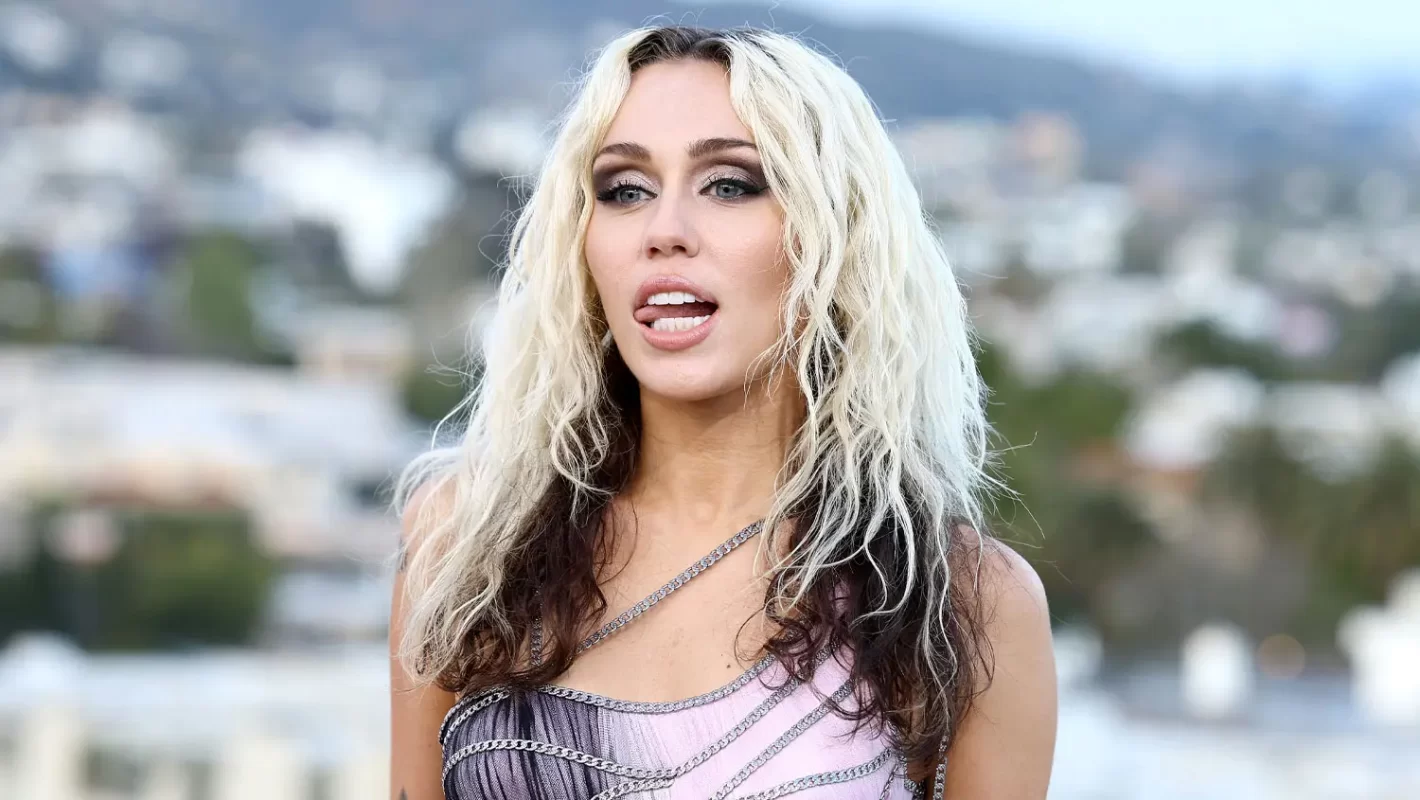 The Best Songs of Miley Cyrus and Their Meanings
Miley Cyrus has recorded over 120 songs for her albums, as well as for her fictional characters and other projects. Here are some of her best songs and their meanings.
This is one of Miley's most inspirational songs, which was featured in Hannah Montana: The Movie. The song is about overcoming challenges and pursuing your dreams, regardless of the obstacles. The song became an anthem for many people who faced difficulties in their lives.
This is one of Miley's most powerful and emotional songs, which was the lead single from Bangerz. The song is about a destructive relationship that left her heartbroken and vulnerable. The song was accompanied by a controversial video that showed Miley naked on a wrecking ball.
This is one of Miley's most successful and acclaimed songs, which was the second single from Plastic Hearts. The song is a tribute to her fans who have supported her throughout her career. The song expresses her gratitude and love for them, as well as her hope for their happiness and freedom.
This is one of Miley's most upbeat and catchy songs, which was the lead single from Endless Summer Vacation. The song is about having fun and enjoying life in the summer, with a nostalgic nod to the Eighties pop culture.
Best Miley Cyrus Voice Generator: FineShare FineVoice
Have you ever dreamed of creating audio content with the voices of your favorite singer Miley Cyrus? If so, you'll love FineShare FineVoice, an amazing AI voice generator that can make your dreams come true.
With FineVoice, you can quickly generate 220 lifelike voiceovers in 40 languages for videos, podcasts, books, presentations, and more. You can use FineVoice to create lip-synced videos with Miley Cyrus's voice or any other celebrity voice you like, such as Morgan Freeman, Kanye West, Bill Gates, Taylor Swift, etc. For an extra touch of fun, you can bring your favorite cartoons to life with voices like Sonic, Minions, Chipmunk, Garfield, Rick and Morty, and so on.
Whether you're looking to create a political satire, a motivational speech, a comedy skit, or a parody song, FineVoice has the perfect voice waiting for you.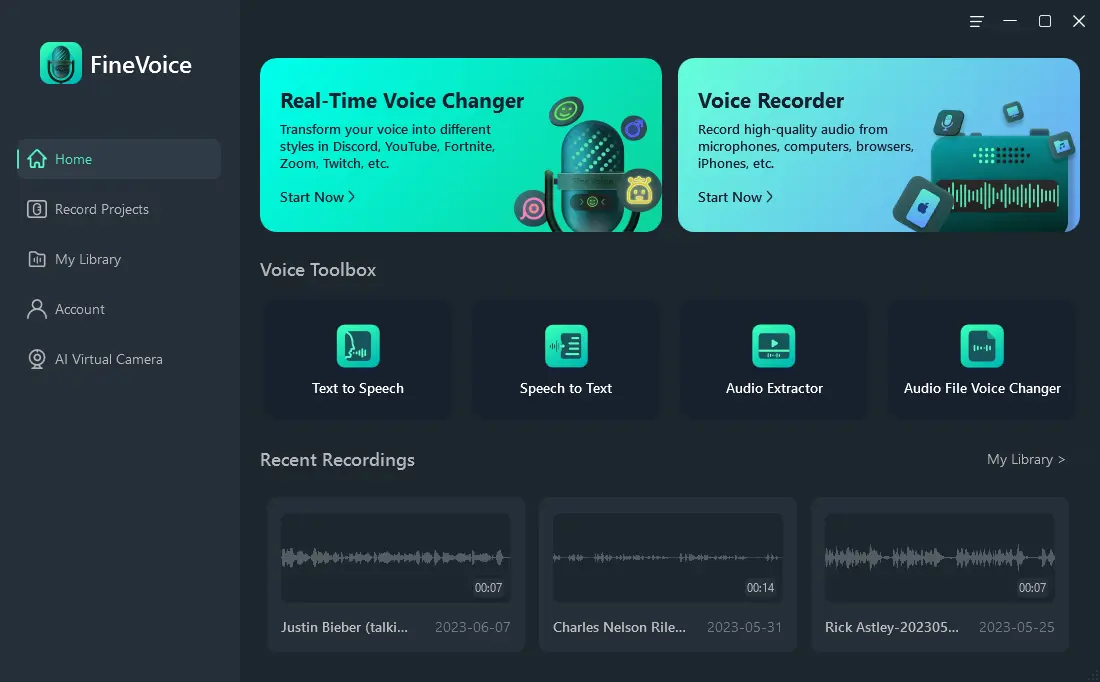 FineVoice is also an awesome Miley Cyrus voice changer that can change your voice in real-time. It has 30+ built-in voice effects and 200+ sound effects that let you sound like Batman, Ghostface, Darth Vader, and more.
How to Generate Miley Cyrus AI Voice with FineVoice?
Here's how to use FineVoice to make Miley Cyrus say anything you want.
Step 1: Download and install FineVoice on your PC. It's easy to use.
Step 2: Launch FineVoice and choose Text to Speech.
Step 3: You can type or paste any text you want Miley Cyrus to say in the box.
Step 4: Select Role TTS in AI Engine and suitable Language.
Step 5: Choose Singers in the Category and find Miley Cyrus's voice from the Voice list.
Step 6: After that, click Convert Now and wait for a few seconds. FineVoice will generate a lifelike Miley Cyrus AI voice for you.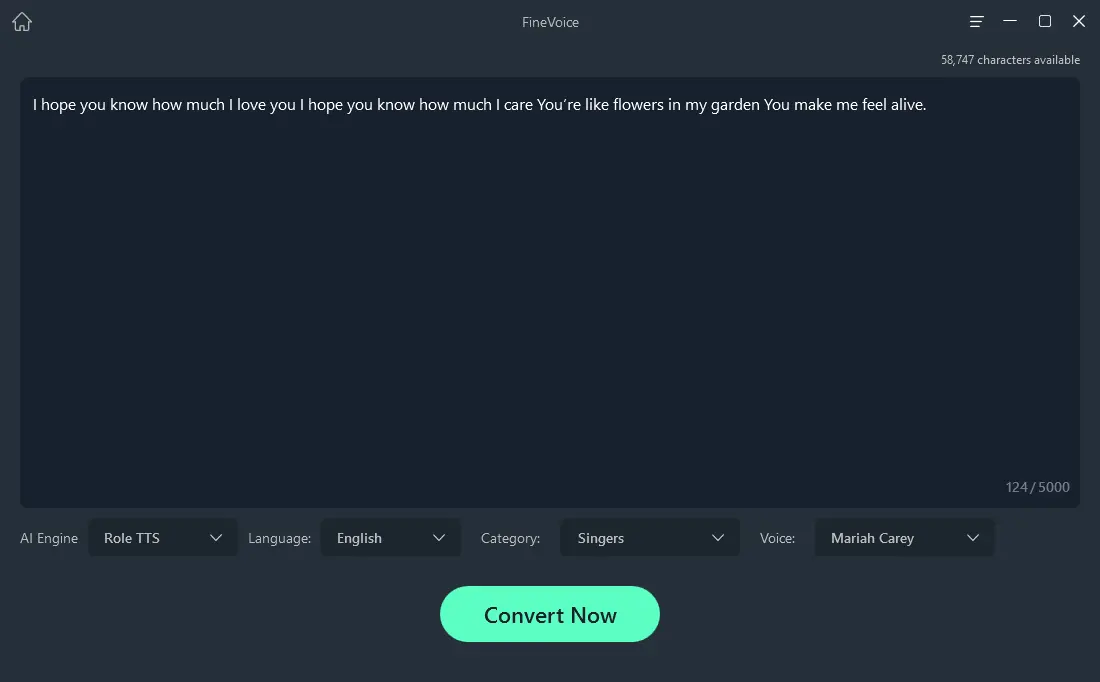 Step 7: Both your local file and FineVoice's My Library contain the created audio.
Conclusion
The Miley Cyrus text to speech tool can let you generate realistic and high-quality Miley Cyrus voices with artificial intelligence. So It's time to express yourself, have fun, and be amazed by the possibilities.
Download FineVoice and start generating your own Miley Cyrus voices today. Trust us, you're in for a wild ride that'll leave you saying, "Wrecking Ball, who?"
FAQs about Miley Cyrus
What Happened to Miley Cyrus' Voice?
Miley had surgery to cure a condition called Reinke's edema, which makes the vocal cords swell from smoking and other factors.
Miley smoked a lot of weed and cigarettes, which changed her voice quality and tone.
Miley began touring when she was young and performed for many hours on stage, which stressed her voice and caused exhaustion.
Miley lost her home in Malibu to the 2018 wildfires, which also affected her voice. She also said that losing her home with Liam Hemsworth affected her songwriting and singing style.
How Many Tattoos Does Miley Cyrus Have?
Miley Cyrus has over 30 tattoos on various parts of her body. Some of her tattoos are symbols of her beliefs, such as a cross, an equal sign, and an om sign. Some of them are tributes to her family, friends, and pets, such as a portrait of her grandmother, the word "Dad", and a paw print. Some of them are references to her favorite songs, books, and movies, such as "Just Breathe", "The Last Song", and "The Truman Show".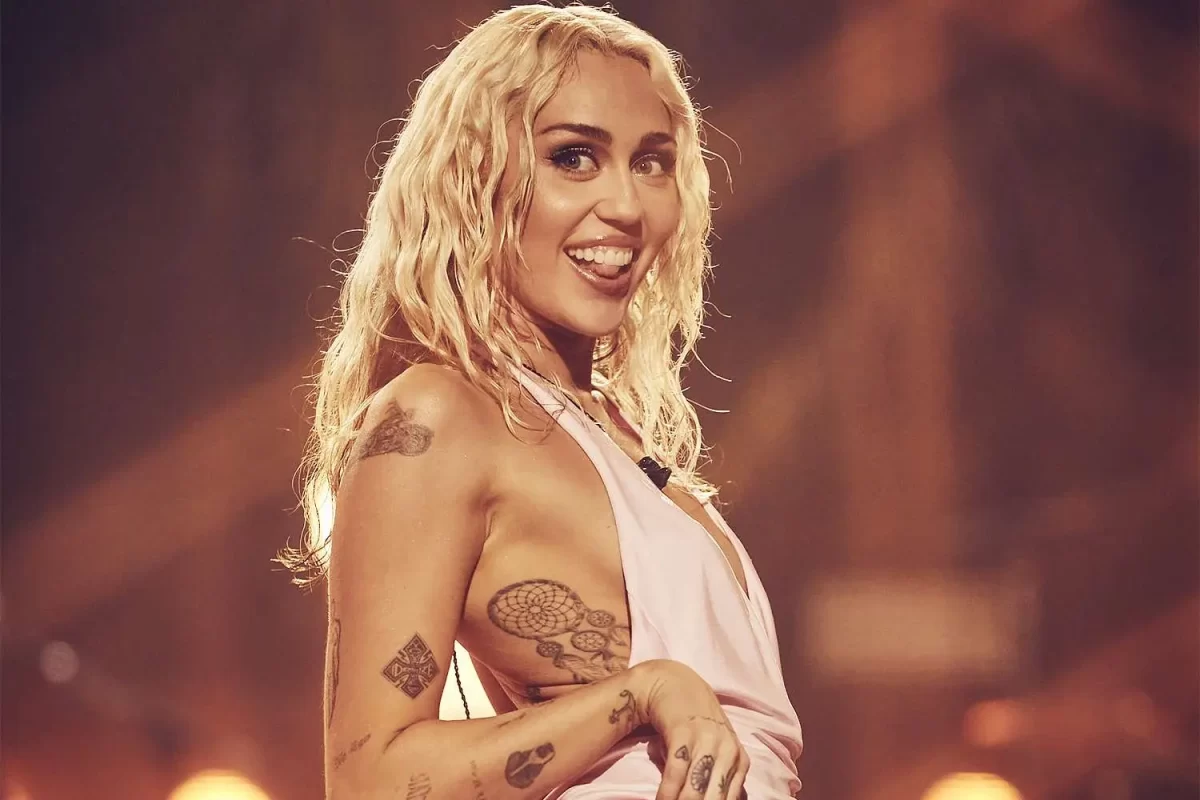 What are Some of Miley Cyrus's Notable Acting Roles?
Apart from "Hannah Montana", Miley Cyrus has appeared in movies such as "The Last Song" (2010), "LOL" (2012), "So Undercover" (2012), and "Crisis in Six Scenes" (2016). Additionally, she has been featured as a guest on popular television series such as "Black Mirror".