Want to speak, read, and listen to Russian like a native speaker? Want to enjoy your favorite books or articles in audio format with a realistic and expressive Russian accent? Want to create voiceovers for your videos or podcasts with a Russian accent that sounds natural and professional?
In this article, we will tell you 5 Russian accent text to speech tools. Are you ready? Let's dive in!
Best Russian Text to Speech Desktop Application
FineShare FineVoice
FineShare FineVoice is a powerful and versatile AI Russian accent voice generator that can turn any text into natural and lifelike speech. It offers more than 220 voices in 40 languages, including Chinese, Spanish, French, and so on.
You can choose more than 5000 voices of celebrities and cartoon characters to spice up your content. Whether you want to create voiceovers for videos, podcasts, audiobooks, lectures, or anything else, FineVoice can help you do it easily and quickly.
But that's not all. FineVoice can also change your voice in real time, filter out background noises, adjust the speaking rate, extract audio from video, and more. It's a must-have voice assistant for any scenario.
Don't miss this opportunity to unleash the charm of your voice with FineVoice. Download it now and enjoy a professional and fun Russian accent generator.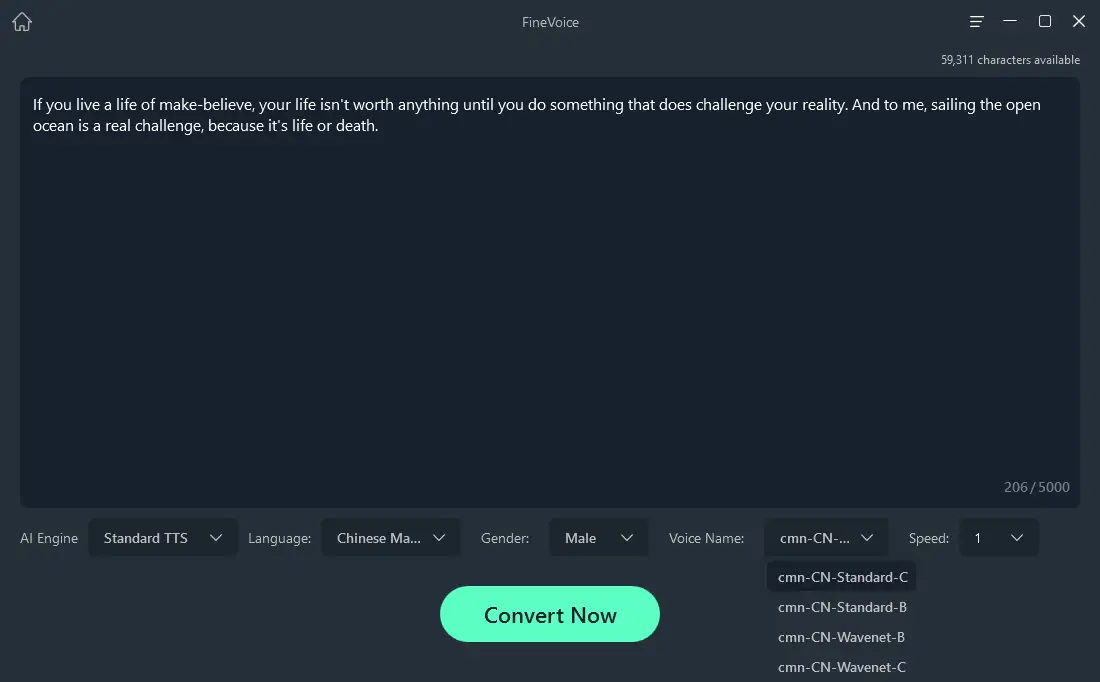 Features:
Easy to use, especially for beginners
Stable and high-quality voice
Create 200+ human-like voiceovers in 40 languages
Provide various voices of cartoons, anime, and movies characters
Support different file types and formats
Adjust the speed to your preference
4 Best Russian Text to Speech Online Websites
Narakeet
Narakeet is the best online tool for Russian text to speech conversion. With Narakeet, you can create voiceover and narration videos with lifelike voices. Without registration, you can try Narakeet for free and create audio files in a few minutes.
Narakeet offers a wide selection of voices for you. You can pick from 90 languages and 600 voices, with different genders, ages, and accents. You can also customize the voice speed, volume, and pitch to suit your style. You can also upload Word, PDF, Google Slides, and more. And then you can turn them into videos with voiceovers and subtitles.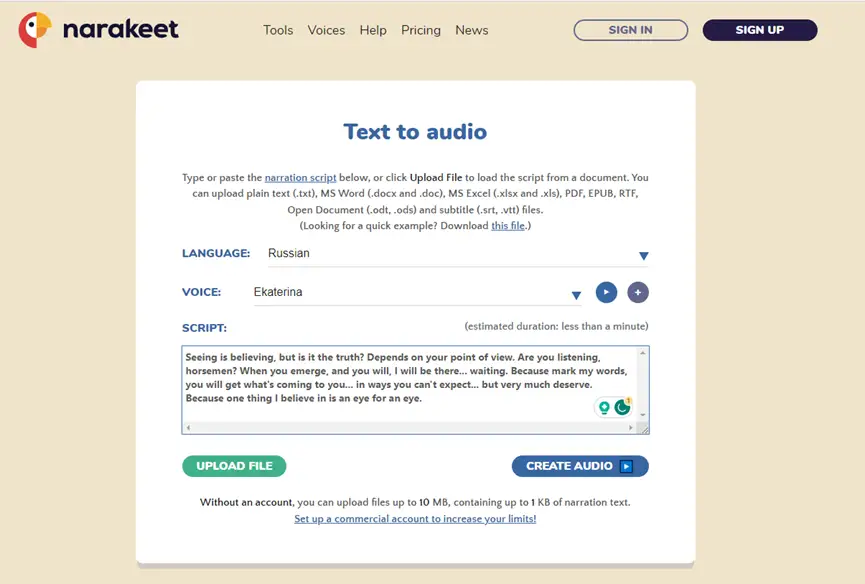 Features:
Free online Russian text to speech tool
Support creating MP3, M4A, or WAV files in 90 languages
You can write a script using Markdown
Adjust the voice speed, volume, and tone
Offer text overlay
Related article: [Text to Speech] 4 Best Morgan Freeman Voice Generators.
Play.ht
Play.ht is known for offering a wide range of natural and expressive sounds to captivate listeners. Whether you're creating language learning materials, expanding your business, or targeting a specific audience, Play.ht lets you effortlessly generate high-quality speech in multiple languages.
With Play.ht you can convert any text into natural speech in 90 languages and 800 voices. The Russian voice generated by Play.ht can bring your text to life, giving your audience an immersive listening experience. You can download the audio as MP3 or WAV files and use them in your projects. You can also pause, add sound effects, and even background music to enhance the overall listening experience.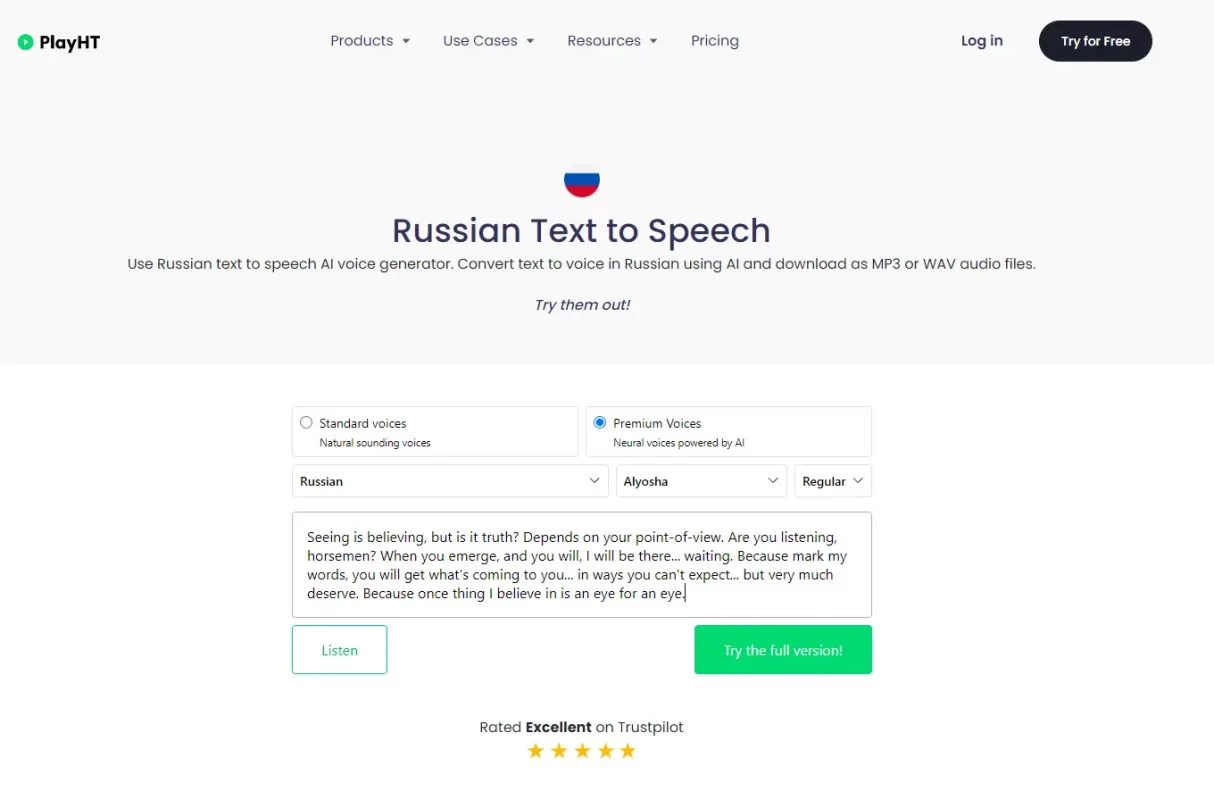 Features:
Simple interface
Free previews
Offer 800+ voices across 90 languages and accents
Accurate human-like voices
Full commercial rights
If you want to create text to speech audio and podcasts with realistic AI voices, Listnr is the perfect online platform for you. Listnr provides extensive multilingual support, including Russian and many other languages.
Listnr offers over 900 high-quality voices that will add a human touch to your content. You can tailor the audio output according to your requirements, controlling speech rate, pitch, and volume to create unique audio content. Additionally, you can add pauses, emphasize certain words or phrases, and adjust pronunciation.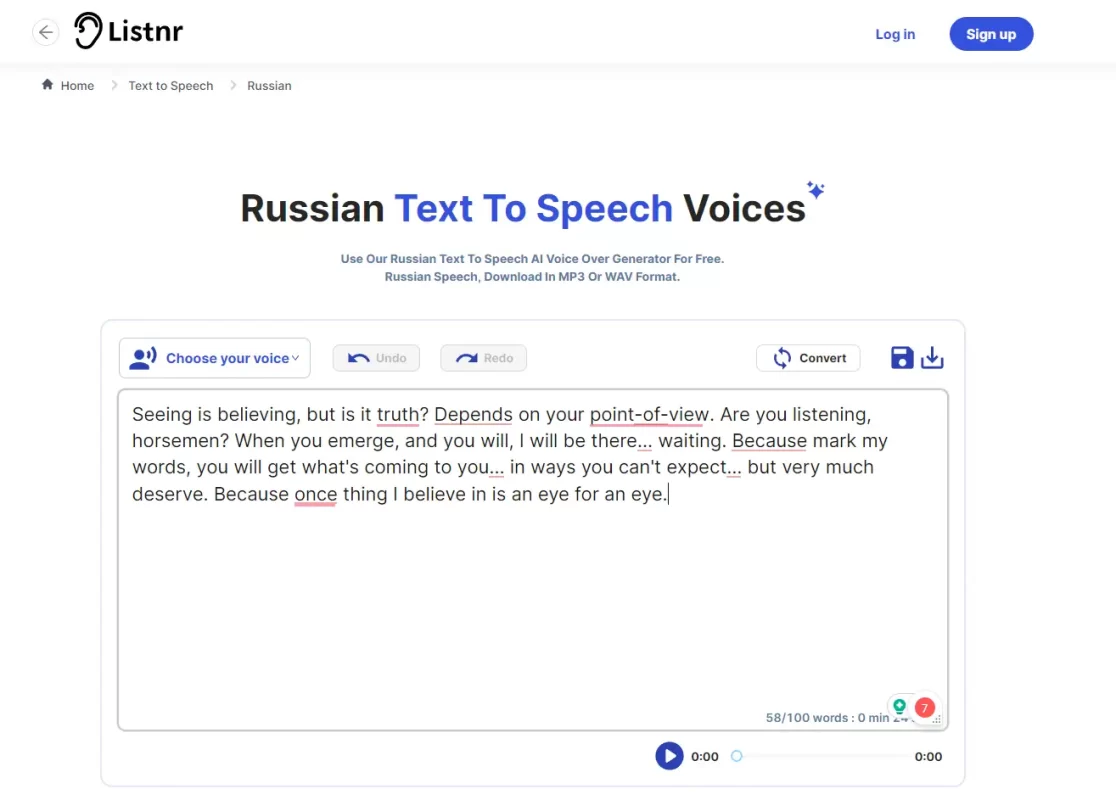 Features:
Diverse natural and lifelike voices
Support multiple languages
Provide advanced customization features
Offer easy integration with popular platforms and applications, such as Discord
Murf is generally considered to be a relatively good Russian text to speech tool. It also offers 20 other languages, such as Russian, Irish, Italian, Spanish, and Chinese.
Murf can assist you with dyslexia, ADHD, or vision problems. You can listen to any text in a natural voice and follow the words as they are highlighted. You can also use Murf to turn any digital book into an audiobook.
Murf is also a great tool for students who want to improve their learning outcomes. You can convert digital textbooks to audio files and listen to them while you do other things.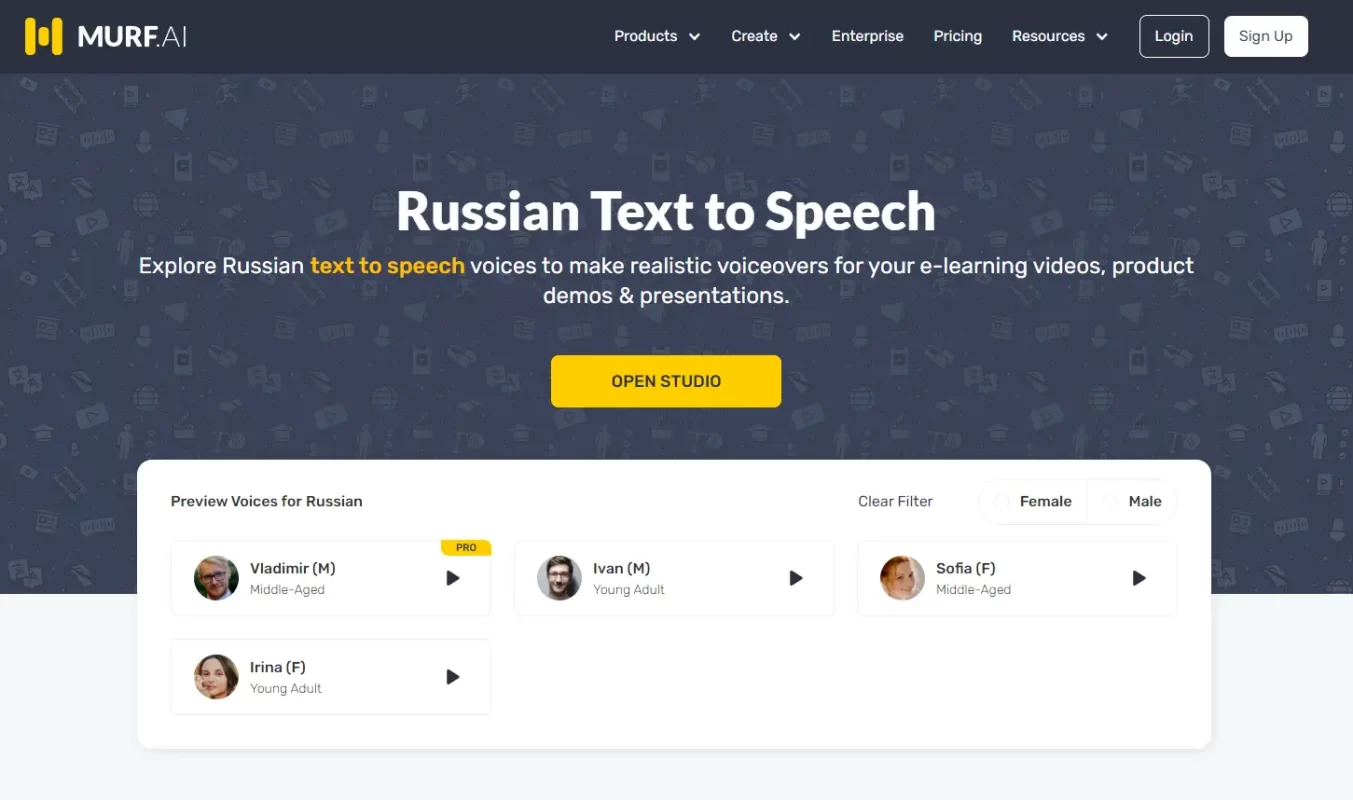 Features:
High accuracy voices
More than 120 different voices in over 20 languages
Change your voice recordings into professional voiceovers
Sync your videos and presentations with voiceovers
Audio editor
Don't miss: 4 Awesome Australian Accent Generator Tools You Can Try Today.
Conclusion
Now it's time to put your new skills into practice and see which Russian accent text to speech tool works best for you. Here we recommend you download and share FineVoice with your friends and family who might be interested in learning Russian or creating voiceovers with a Russian accent.
FAQs about Russian and Russian Accents
What are Some Common Features of the Russian Accent?
Some common features of the Russian accent include the tendency to replace the "th" sound with "z" or "s" (e.g., "think" becomes "zink" or "sink"), difficulties with the "v" and "w" sounds (often interchanged), and a tendency to emphasize different syllables compared to standard English.
How to Roll the 'r' Sound in Russian?
The Russian 'r' is a short sound that is produced by lightly flicking the tip of your tongue against the roof of your mouth. It's similar to the Spanish 'r', but not as long or strong. You can practice by saying words like 'refrigerator', 'river', or 'raccoon' with a rolled 'r'.
What are Some Stereotypes about the Russians?
Russians are aggressive and brutal.
This is false. Russians are not more violent or cruel than any other nation.
Russians love to drink a lot of vodka.
This is partly true. Vodka is the most popular alcoholic beverage in Russia. However, many younger Russians prefer healthy living and don't drink much at all.
Every Russian has a relative in the mafia.
This is false. The mafia was a prominent feature of the 1990s, but even then most Russians had no connections to it. Today, Russia is a law-abiding country with a diverse population and economy.
Russians call each other "Comrade".
This is false. Comrade was a word coined by the Bolsheviks to replace the pre-revolutionary ways of addressing people, but it's no longer used in colloquial speech. If you hear it, it's usually said with irony or sarcasm.