Do you love the sound of Snoop Dogg's voice? Imagine listening to your favorite books, articles, or documents in the voice of Snoop Dogg. How awesome would that be? Well, you can make it happen with Snoop Dogg text to speech tools and generate realistic and natural-sounding Snoop Dogg voices.
In this article, we will show you the 2 best Snoop Dogg voice generators and how to use them to generate Snoop Dogg's voice.
Who is Snoop Dogg?
Snoop Dogg is a famous rapper, actor, and media personality. He is known for his hit songs such as "Drop It Like It's Hot", "Gin and Juice", and "Beautiful". His distinctive voice, style, and slang have made him a cultural icon and a source of inspiration for many artists and fans.
Now enjoy the song "Drop It Like It's Hot" by Snoop Dogg.
Many people would love to have their text read aloud by him, but hiring him for voice-over work can be expensive and impractical. To do this, all you need is a Snoop Dogg voice generator.
2 Best Snoop Dogg Text to Speech Generators
Here are the 2 best Snoop Dogg text to speech tools that can generate high-quality and accurate Snoop Dogg voice.
FineShare FineVoice
Want to sing your own rap in snoop dogg's signature voice? FineShare FineVoice can make your dreams come true! With FineVoice, you can listen to the clear, unmistakable Snoop Dogg voice or create exciting rap songs, motivational speeches, comedy sketches, or even prank calls.
One of the most amazing features of FineVoice is that you can choose from different languages and accents, such as English, Chinese, Russian, Japanese, and more. You can also discover over 5,000 celebrity and cartoon character voices, including Snoop Dogg, Morgan Freeman, SpongeBob SquarePants, Mickey Mouse, and more.
But that's not all. FineVoice is also a real-time voice changer. You can not only turn your voice into Snoop Dogg's voice, but you can also add different sound effects like pitch, reverb, echo, distortion, and more!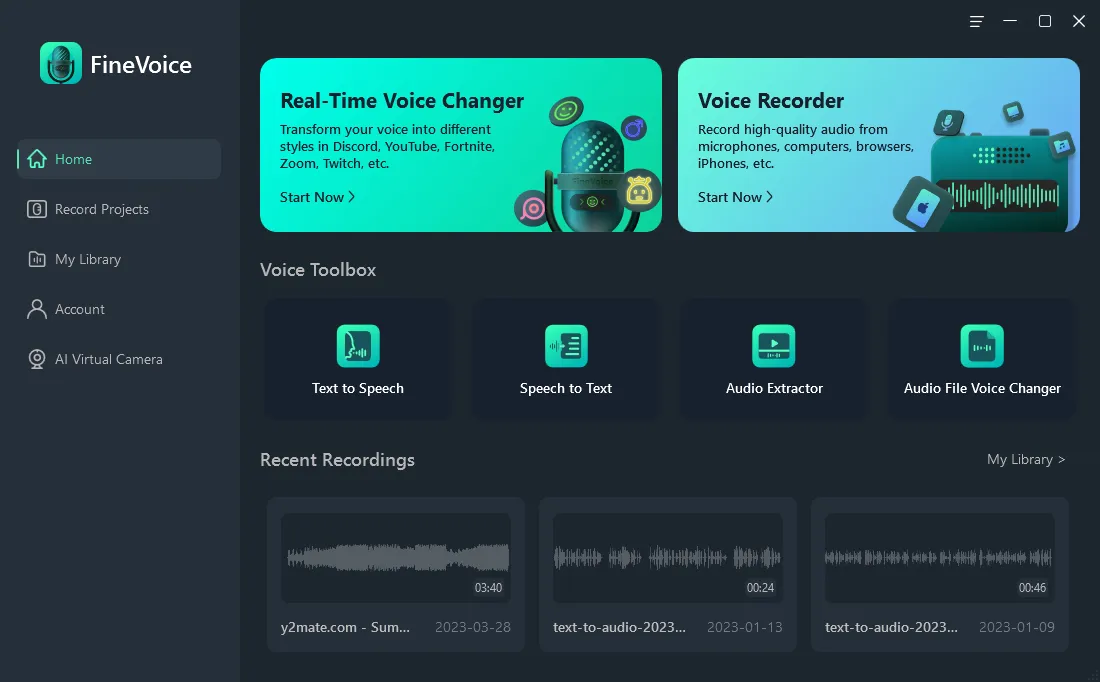 Pros:
Easy to use
Simple and intuitive interface
Accurate Snoop Dogg text to speech tool
220+ built-in voices in 40 languages, including 5000 voices of celebrities and cartoon characters
Transcribe your recordings into text
Extract audio files from video files with ease
High-quality voice recorder
Change your voice in real-time
Cons:
Speechify
Speechify is another popular text to speech application that allows you to convert any text into high-quality audio instantly. You can also choose from a variety of celebrity voices, including Snoop Dogg, Gwyneth Paltrow, Stephen Hawking, and many more. You can also choose from a range of different languages and accents.
Speechify is not only fun but also useful. You can use Speechify to listen to any content you want, such as web pages, documents, PDFs, emails, and more. You can also adjust the speed, pitch, and tone of your voice to your liking. And you can even use Speechify to create your rap songs with Snoop Dogg's voice.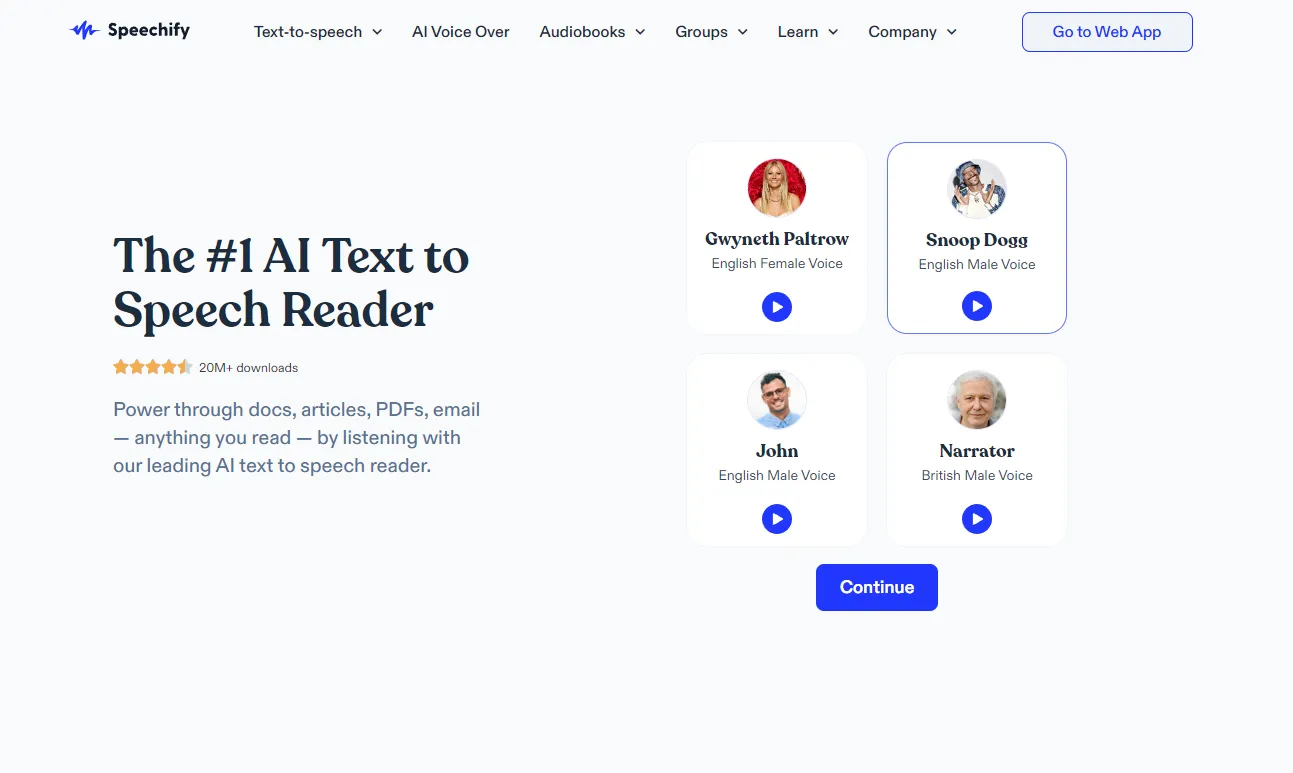 Pros:
Offer a free version with basic features
High security
Help you maximize your time
A library of celebrity voices
It's available as a Chrome extension or a Safari extension
Cons:
Have some glitches and issues
It may not be compatible with some devices or platforms
Tips: How to Use FineVoice Snoop Dogg Voice Generator?
To use FineShare FineVoice to generate Snoop Dogg's voice, you need to follow these steps.
Step 1: Download and launch FineVoice.
Step 2: Choose Text to Speech in the main window.
Step 3: Type or paste your text in the text box.
Step 4: Choose Role TTS in the AI Engine and choose English as the Language.
Step 5: Choose Rappers as the Category and find Snoop Dogg from the Voice menu.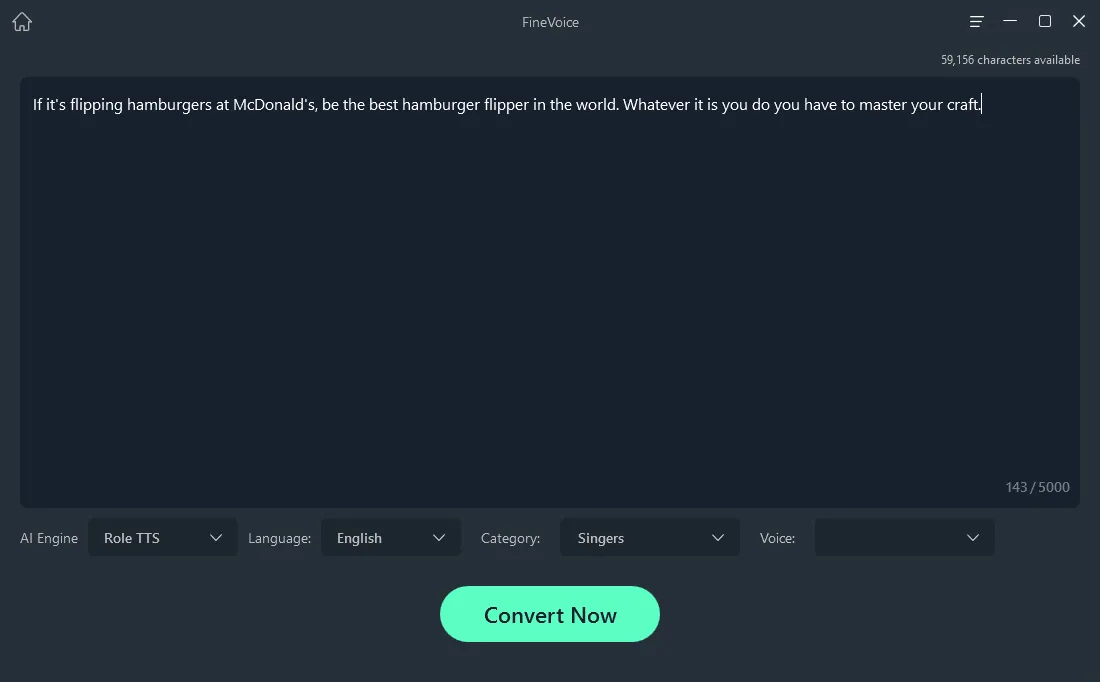 Step 6: Press Convert Now and enjoy hearing Snoop Dogg read your text.
Step 7: You can also download your audio file as an MP3 or share it with others.
Conclusion
If you want to hear Snoop Dogg's voice for your text, you can't go wrong with these Snoop Dogg text to speech tools. You can enjoy your favorite books or articles in Snoop Dogg's style or make your rap songs with his voice.
Give FineVoice a try today and see how cool it is! You'll be amazed by how good it sounds and how much you can learn from it.
FAQs About Snoop Dogg
Has Snoop Dogg Won any Awards?
Yes, Snoop Dogg has received numerous accolades throughout his career, including multiple Grammy nominations and wins. He has also been honored with awards from MTV, BET, and the American Music Awards.
Is Snoop Dogg Involved in Other Ventures Besides Music?
Yes, Snoop Dogg has ventured into various other endeavors. He has appeared in movies and television shows, hosted his own variety show, launched his own line of cannabis products, and even authored a cookbook.
What is Snoop Dogg's Influence on Popular Culture?
Snoop Dogg is considered one of the pioneers of West Coast hip-hop and has had a significant impact on the genre. His unique style, laid-back persona, and distinct voice have made him a cultural icon recognized worldwide.