Spanish text to speech tools can be helpful if you need some Spanish voice for presentation, learning, and making videos. You can find lots of Spanish voice generators on the market, but it could be difficult to find the one tool that suits you the best. Don't worry though, if you are currently looking for a Spanish text to speech generator, you've come to the right place.
In this article, we've compiled a list of the top 5 Spanish text to speech tools for you to choose from, and they are all free to use.
Best Spanish Text to Speech Desktop Application
When it comes to the best Spanish text to speech tool on the market, people tend to use online tools, but they are actually not always the best choice. There are risks of privacy leaks when using online Spanish TTS tools, and they can't work without a network connection. In that case, we recommend using desktop applications such as FineShare FineVoce instead.
FineVoice is an all-in-one Spanish text to speech tool that can generate Spanish voice based on text easily. Text to speech Spanish isn't the only thing FineVoice can do, if you want, it can do the speech to text Spanish too. What's more, FineVoice supports other 40+ languages including Spanish, and you can generate audio with cartoon character voices or celebrities' voices with FineVoice.
FineVoice is currently available on Windows. If you are interested, download it now and have a try.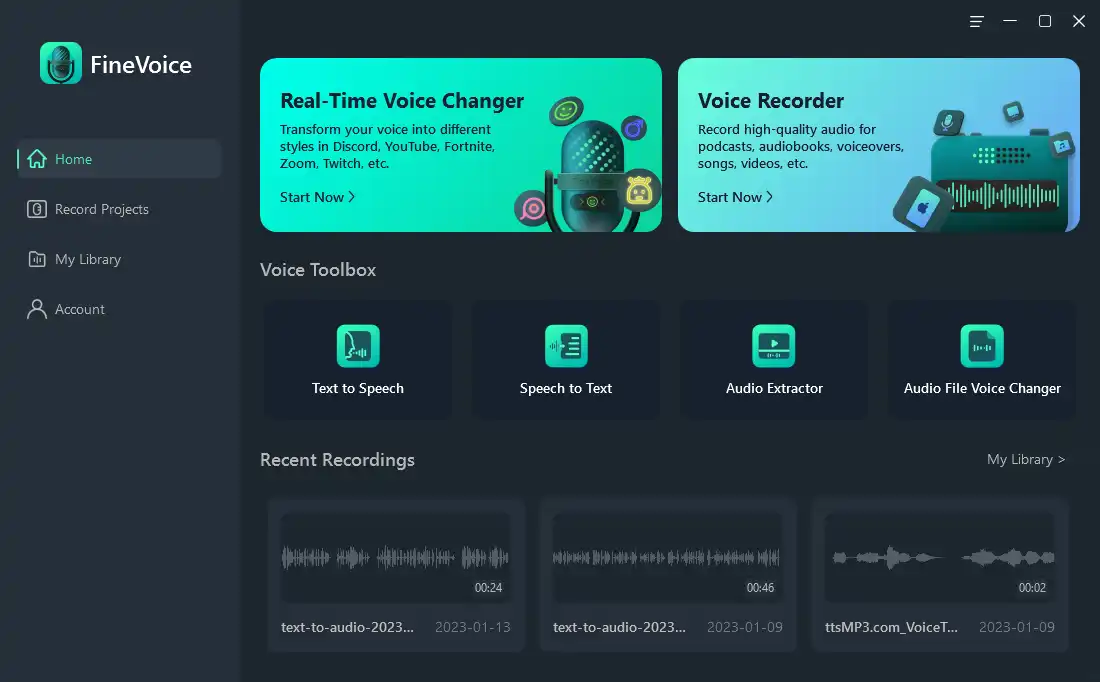 Features:
Beginner-friendly interface
Spanish text to speech with multiple customization options
Integrated with other functions related to voice
Supports Spanish speech to text too
AI technology to improve speed and product quality
4 Best Online Spanish Text to Speech Websites
In this part, we will give you a list of the 4 best online Spanish text to speech websites. Keep reading and you can learn more about these convenient websites.
1. Play. ht
Play. ht is an online AI voice generator trusted by thousands of users, and it offers Spanish text to speech as well. If you are looking for a convenient tool for English to Spanish text to speech, try this website.
This website allows you to use it for free, and you can purchase paid plans to unlock more features. Play.ht can save your text to speech Spanish as MP3 and WAV audio files. It also supports over 140+ languages and accents in total.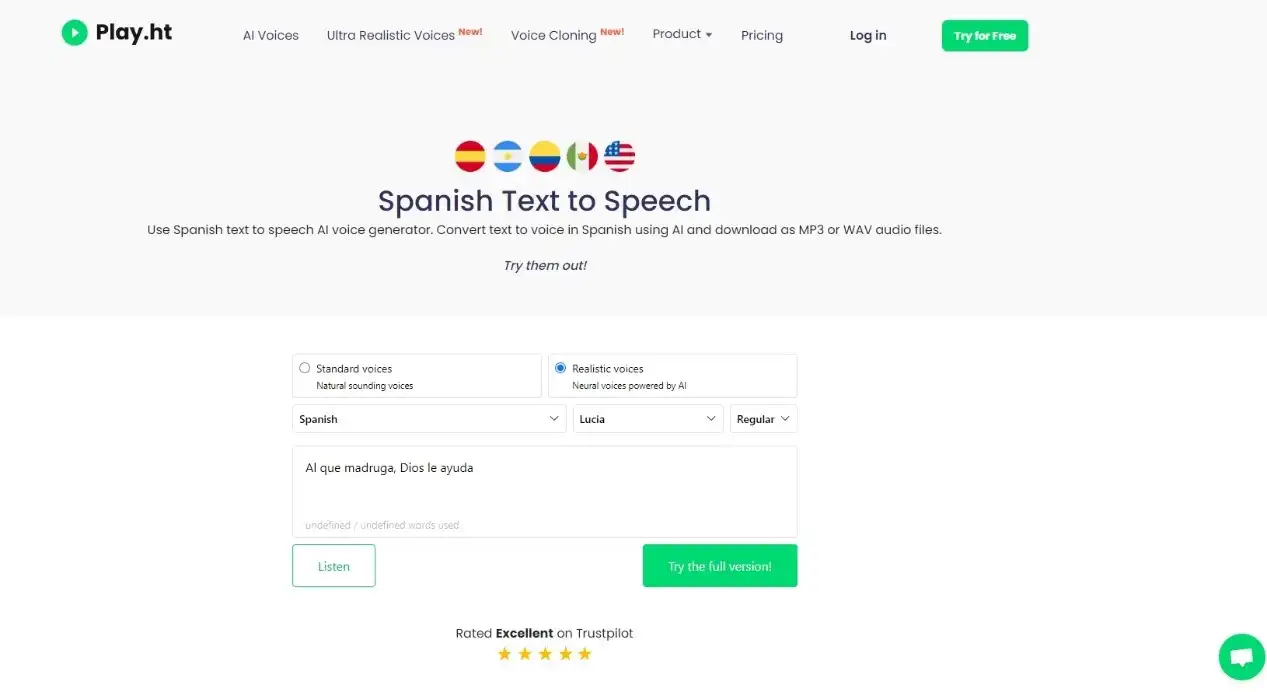 Features:
Two voice modes for Spanish text to speech
Provides multiple Spanish TTS language variants
Supports high-quality audio format
2. Listnr
Listnr is another online AI voice generator tool that can convert text to speech in Spanish for commercial use. Whether you want to make audiobooks, podcasts, videos, or learning materials, Listnr can help you with them.
Listnr gives you 13 male and female Spanish voices, beyond that, there are 75+ different languages you can use including French, German, and Russian. This website can handle conversions quickly and it usually takes less than one minute to complete any Spanish text to speech job.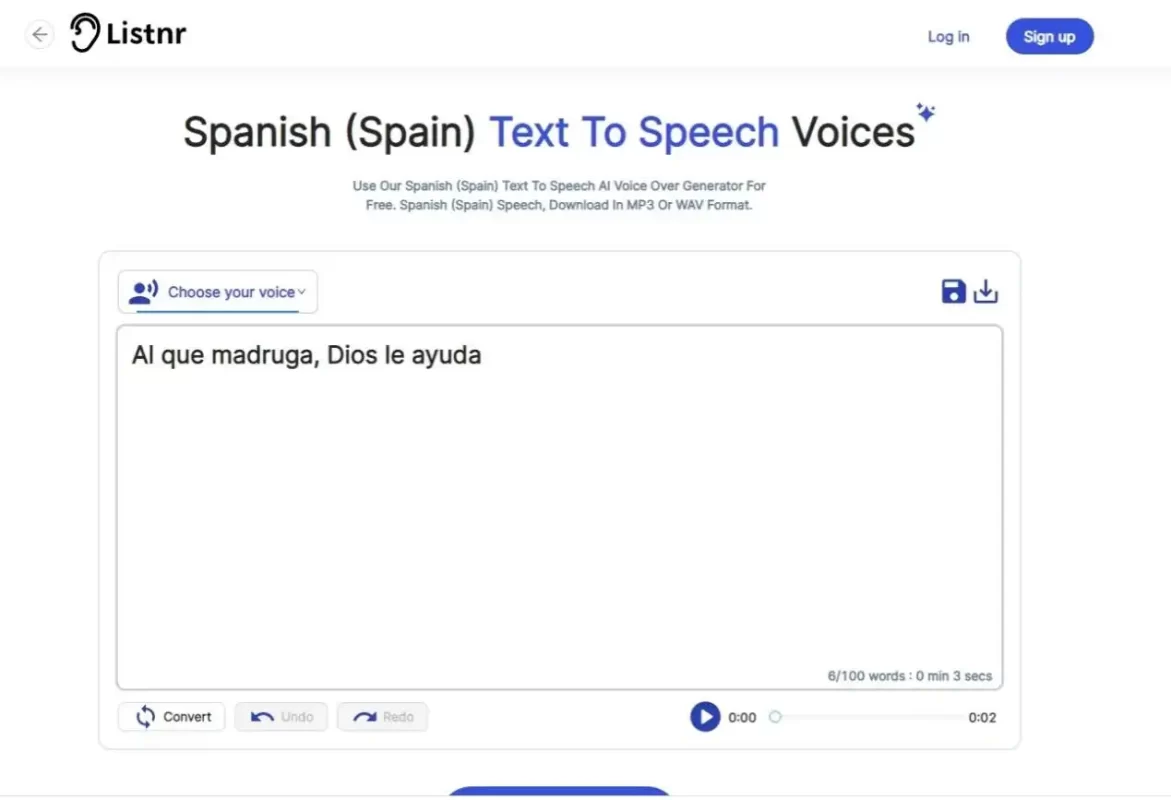 Features:
Provides hundreds of AI voices
Customizable Spanish voice generator
Audio player widgets to help you embed your converted audio

3. Micmonster
As an online text to speech generator, Micmonster can help you to change Spanish text to speech online with a natural-sounding voice.
It supports converting up to 120,000 characters into speech at once, which is very useful if you need to convert long phrases into Spanish voice. Meanwhile, you can preview any paragraph or full text, and check the quality before you download the files.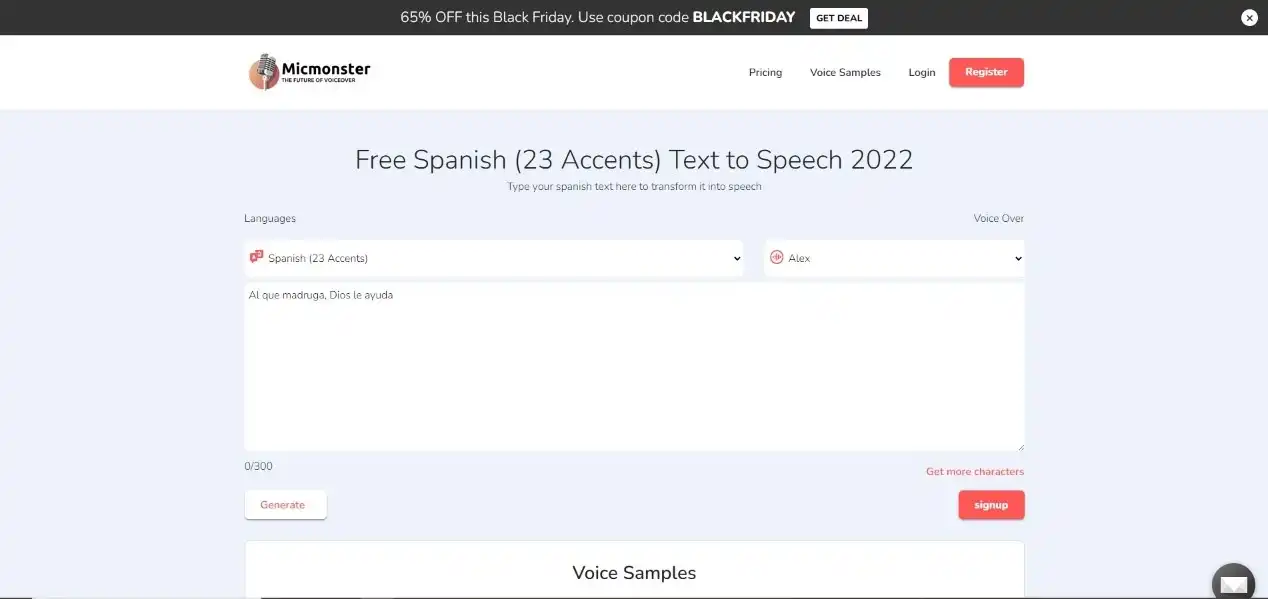 Features:
Can be used on any browser or device
Customize the word pronunciation with phoneme support
More than 20 Spanish text to speech variants
4. Speechify
Speechify is available on a website, desktop app, mobile app, and Chrome extension for Spanish text to speech purposes, in other words, you can use it anywhere, anytime, even on an online chat platform like Discord.
Besides the text to speech English to Spanish conversion, there are over 30 natural, human-like voices in other different languages and dialects on Speechify.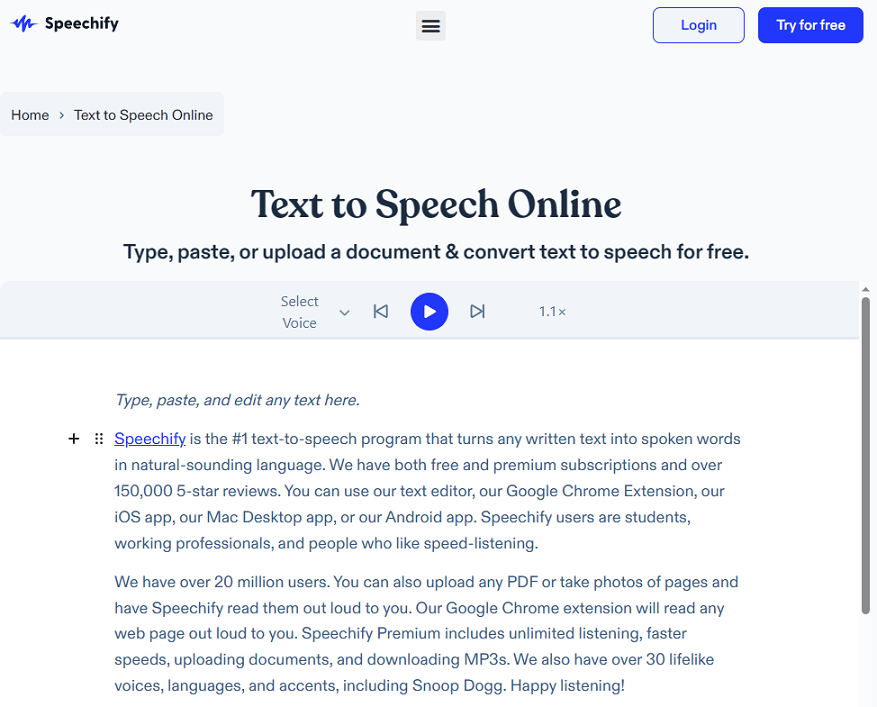 Features:
Compatible with multiple types of devices and platforms
Sync the content you created across different platforms
Highly customizable Spanish text to speech
Conclusion
We hope these 5 best Spanish text to speech tools listed above are able to help you. If you have other voice-related needs like Spanish voice to text, or transcribing YouTube videos, be sure to try the most versatile Spanish accent generator FineVoice.
Try FineVoice for Free
Powerful real-time voice changer for tuning your voice in gaming, streaming, and chatting. It comes with various voice & sound effects and supports creating custom voice. Get it for free.