Are you tired of missing out on the joys of reading due to time constraints or fatigue? Imagine a world where you could simply listen to any text, freeing yourself from the confines of traditional reading. Whether you struggle with dyslexia, ADHD, or visual impairments, there's a groundbreaking solution waiting for you: text to speech tool.
In this article, we will provide an overview of Speechify's features and performance in 2023, and explore 3 noteworthy Speechify alternatives.
What is Speechify?
Speechify is a popular text-to-speech app that can read any text instantly. It was created by Cliff Weitzman, a dyslexic entrepreneur who wanted to help people who struggle with reading. You can use Speechify on desktop and mobile devices, or you can also use its Chrome extension to read any web page with one click.
Speechify offers 56 natural speech sounds in 9 different languages. It integrates seamlessly with a variety of file formats such as PDFs, Word documents, web pages, and eBooks, so you can effortlessly convert written content into natural-sounding speech.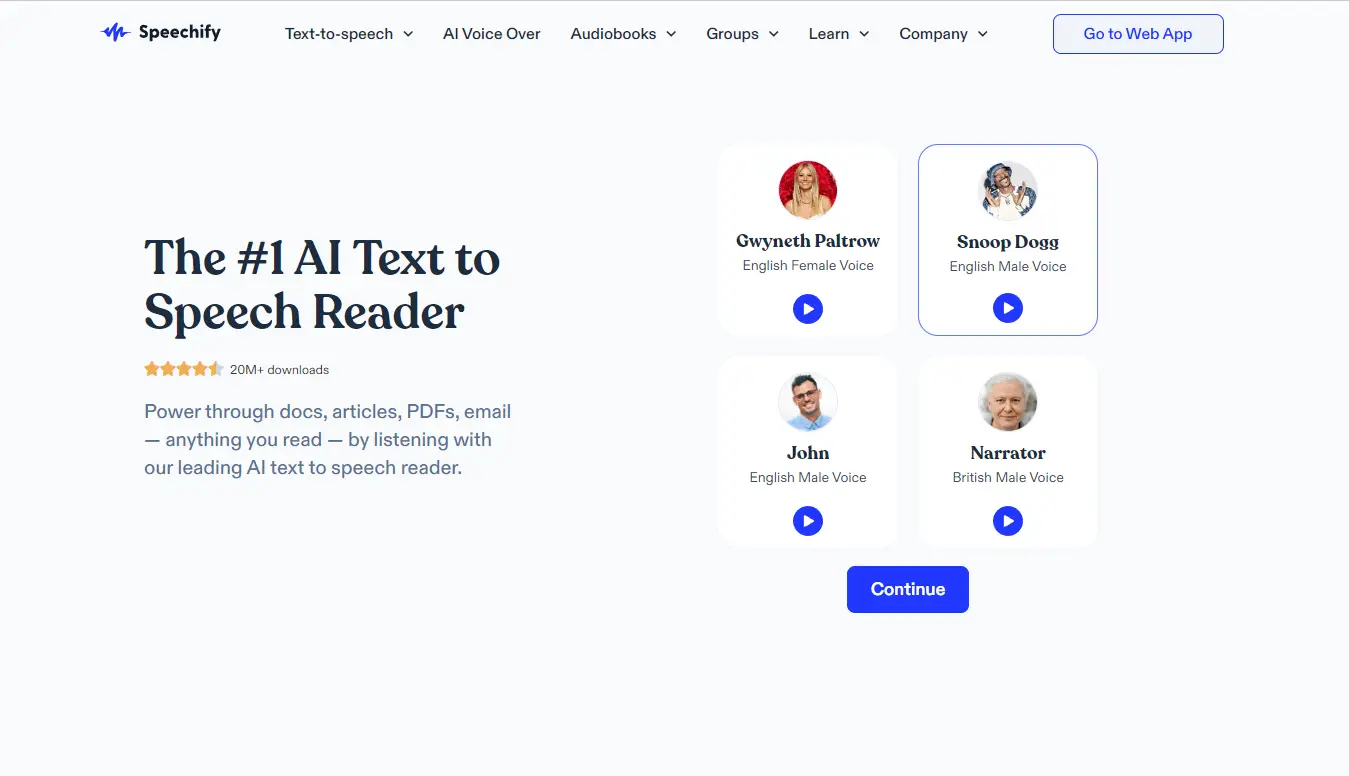 Pricing:
Free plan: a maximum of 5 minutes per document, a maximum of 10 documents per day, and no offline listening.
The premium plan: costs $19.99 per month or $99.99 per year.
Pros:
Read any text instantly and accurately
It has natural-sounding voices and accents
Support various file formats and web pages
Synchronize your progress across multiple devices
Provide some advanced features such as offline listening, cloud syncing, and audio creation
Cons:
It doesn't have a desktop app for Windows or Linux
Relatively expensive compared to other text-to-speech apps
Require an internet connection for most features
Not have a voiceover feature for videos or presentations
Is Speechify too expensive? What if it doesn't work for you? Don't worry, you can try other amazing text-to-speech apps. Here are the 3 best Speechify alternatives you should check out.
FineShare FineVoice
Are you tired of Speechify's limited voices, languages, and features? Do you want to try a new and better app like Speechify that can help you listen to any content you want? Then you should check out FineShare FineVoice, the smart and easy alternative to Speechify.
You can choose from hundreds of voices of celebrities and characters from anime, movies, TV shows, hosts, and more. To give some examples, you can use the voice of Walter White, Chills, Mickey Mouse, and more in your video or presentation. FineVoice also supports multiple languages, so you can choose from more than 200 voices in 40 languages, such as Chinese, Italian, French, Spanish, and more.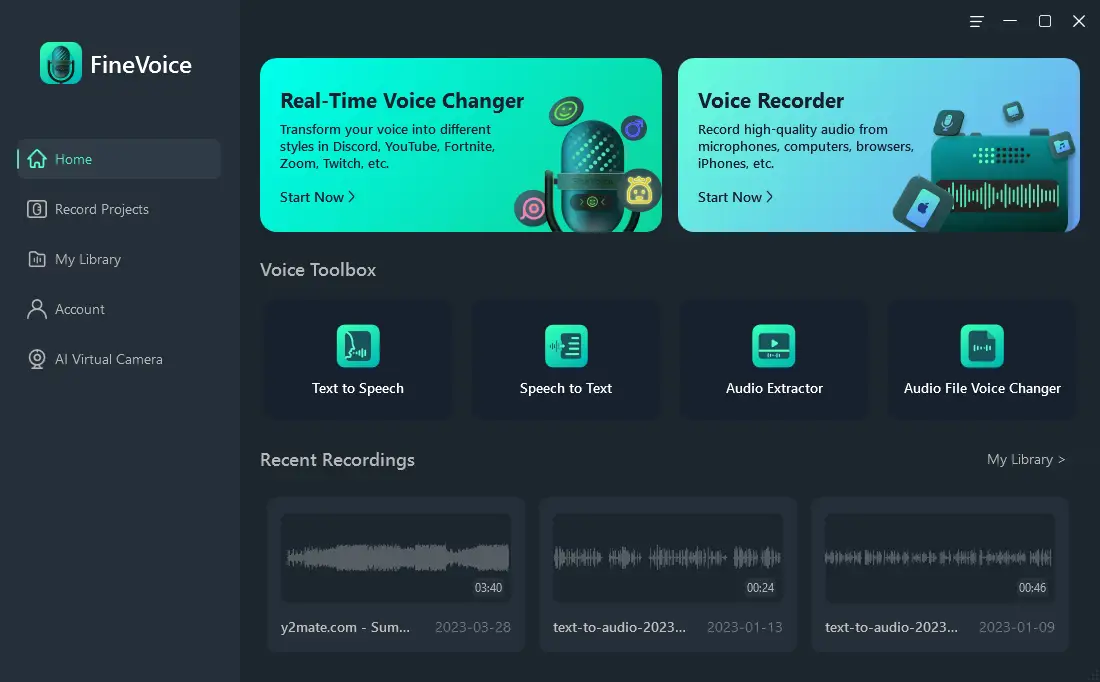 Pricing:
A free trial option
Month Plan: costs $9.90 per month
Year Plan: costs $39.90 per year
Pros:
Simple and easy-to-use interface
Natural and expressive voices
Generate over 220 voiceovers in 40 languages
Change your voice in real-time
High-quality voice recorder
Allow you to share your audio files with others easily
Work offline as well as online
Cons:
FineVoice is also an all-in-one voice changer. You can change your voice to different voices in real-time, such as from male to female, robot, Judy Hopps, and more
Natural Reader
If you are looking for a simple but powerful Speechify alternative that works online or offline, you may want to try NaturalReader. You can create stunning voiceovers in minutes. And you don't need to hire expensive voice actors or spend hours recording your own voice.
You can choose from a wide range of male and female voices in different languages, such as English, Spanish, French, German, and Chinese. You can also adjust the voice speed to suit your preference and enhance your comprehension. With NaturalReader, you can convert any written content into spoken words with just a few clicks.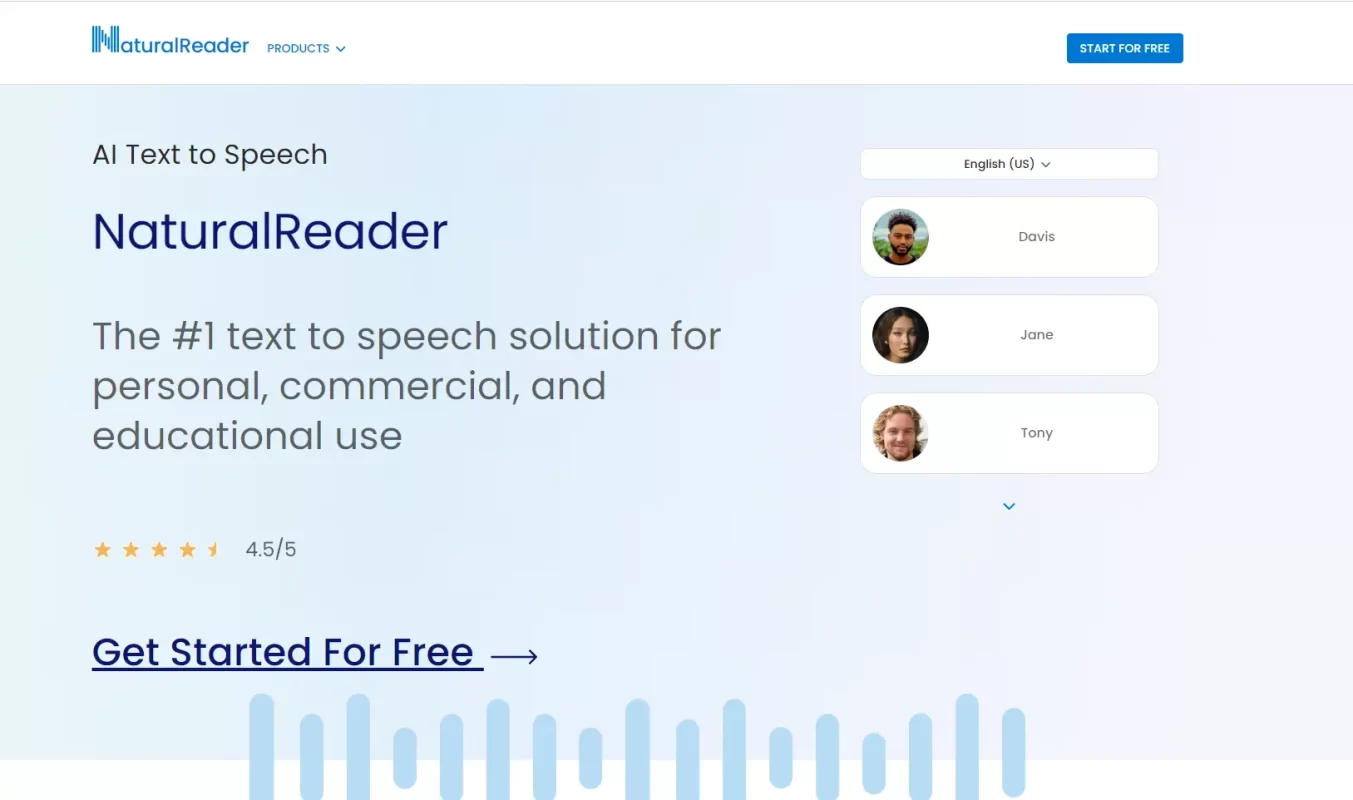 Pricing:
Free: use it free for 20 minutes per day
The paid plans: start from $9.99 per month or $59.88 per year for online users, and $99.50 for software users.
Pros:
Offer over 200 voices in 30 languages and accents
Support various file formats and web pages
Allow you to customize the voice speed, pitch, volume, and pronunciation
Integrate with MS Word, web browsers, and other applications
Create audio files of your text and download them as MP3 files
Cons:
The online version is limited to 20 minutes per day and 5 documents per month for free users
Some voices may sound too mechanical or unnatural
TextAloud
TextAloud is also one of the best Speechify alternatives. It's for anyone who wants to make reading easier and more enjoyable. You can use TextAloud to read the text in documents, web pages, PDF files, etc. on your computer, or create audio files to listen to anywhere. You can also choose from the option to speak in different languages and accents, such as Russian, Irish, and Australian accents.
The most attractive thing about TextAloud is the word highlighting feature, where you can follow the content of your text and enhance your recognition. You can also listen to documents and emails before sending them to proofread for errors that may have been missed while typing and to ensure clear and accurate communication.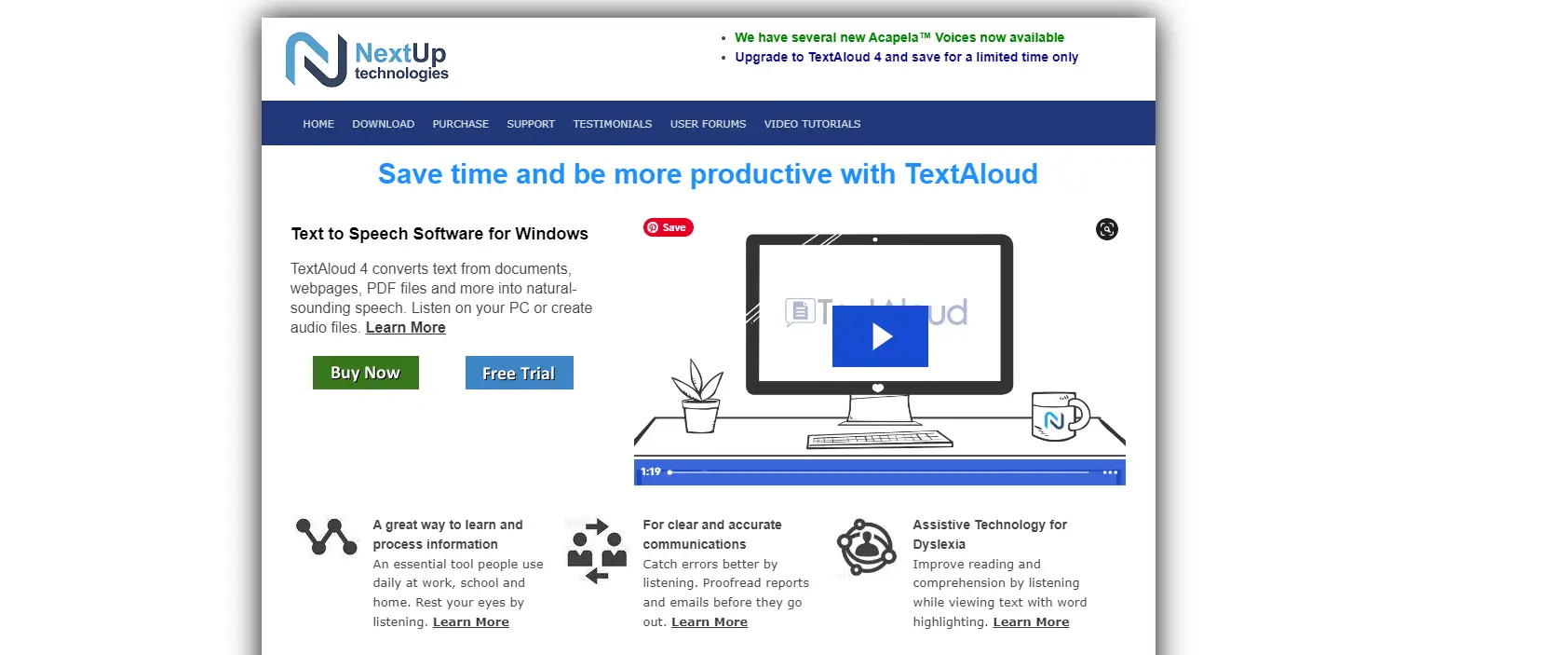 Pricing:
Free trial 30 day
A single-user license: costs $34.95
Pros:
A lot of customization options
Variety of navigation shortcuts
Integrates with MS Word, browsers, and other applications
Offer realistic and natural-sounding voices in different languages and accents
Proofread your documents and emails
Cons:
The preset voice is very monotonous
The GUI is outdated
Not available for iPhone or other devices
Conclusion
Speechify is a great text-to-speech app that can help you with reading, learning, and productivity. However, it also has some drawbacks. If you are looking for an alternative to Speechify that can suit your needs and preferences better, here we recommend you try FineVoice. Download FineVoice today and enjoy a new listening experience!
FAQs about Speechify and Speechify Alternatives
What Devices and Platforms Does Speechify Support?
Speechify is available for iOS, Android, Mac, Windows, and Chrome. You can sync your content across all your devices with a Speechify account.
What Features Should I Consider When Choosing a Speechify Alternative?
When evaluating Speechify alternatives, consider factors such as ease of use, compatibility with your devices, support for different file formats, voice options, customization settings, and any additional features like OCR functionality or offline accessibility.