Have you ever dreamed of speaking like Walter White, the legendary drug kingpin from Breaking Bad? Have you ever wanted to deliver his iconic lines like "I am the danger" or "Say my name" with his deep and powerful voice? Well, now you can.
In this article, we will tell you the 3 best Walter White AI text to speech tools.
Who is Walter White?
Walter White is one of the most iconic characters in television history. He is the protagonist of the hit series Breaking Bad, which tells the story of a mild-mannered chemistry teacher who turns into a ruthless drug lord after being diagnosed with cancer.
Walter White's voice, played by Bryan Cranston, is distinctive and memorable for its deep, gravelly tone and authoritative delivery. You can hear Walter White's voice in the video below.
3 Best Walter White Voice Generators
In this part, we will discuss the 3 best Walter White text to speech tools.
FineShare FineVoice
Want to mimic Walter White's distinctive voice and speech patterns? Want to use his memorable lines like "Say My Name!" or "I'm the one who Knocks!" for your video or streams? Then you need FineShare FineVoice, an excellent Walter White voice generator.
With FineVoice, you can generate the voices of various characters in Breaking Bad. And It has a wide range of famous people and characters' voices to choose from, such as anime, movies, TV shows, hosts, etc.
FineVoice also supports multiple languages, such as Chinese, Spanish, French, and Russian, and more than 200 voices in 40 languages.
Besides, FineVoice is also a real-time voice changer, you can change your voice into different voices, such as from male to female, robot, Squidward, Mickey Mouse, etc.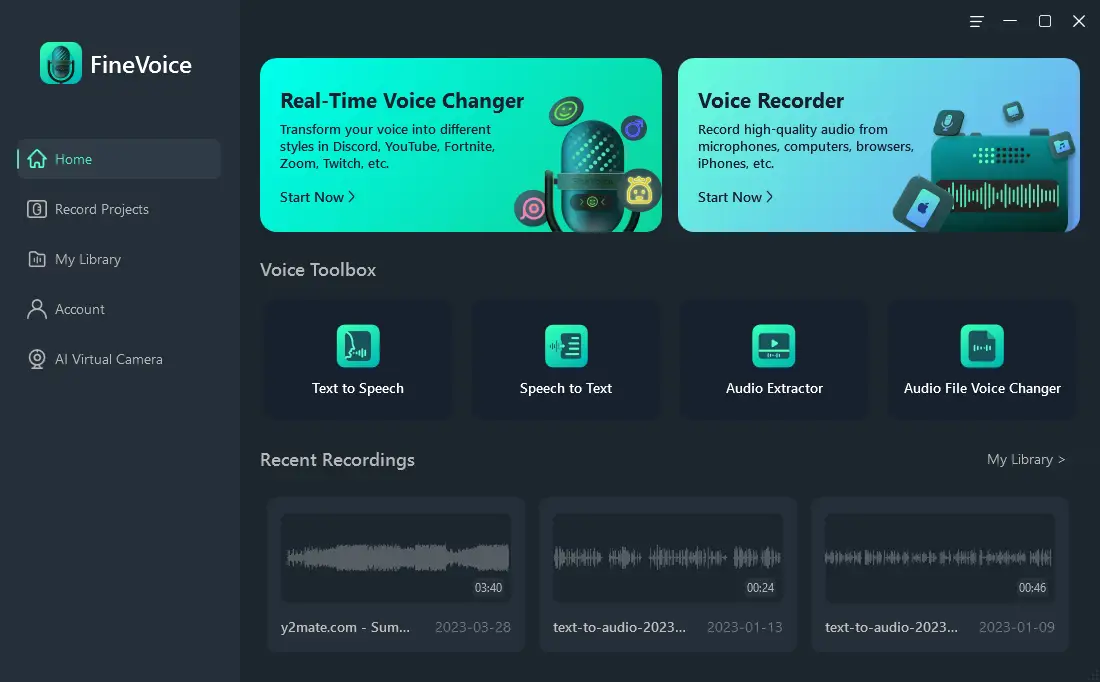 Pros:
User-Friendly Interface
Offer a wide range of high-quality voices
Support multiple languages and accents
Real-time voice changer
Compatible with all popular applications or platforms
Extract audio from the video
Cons:
Only provide the Windows version
101 Soundboards is essentially a soundboard tool. It extracts audio clips from the TV series Breaking Bad and then uses a unique method to imitate the voice of Walter White. You can access hundreds of audio clips from the show, including Walter White's dialogue in different scenes and moods.
With 101 Soundboards, you can select the exact words or lines spoken by Walter White in the show. And you can combine these different clips of Walter White's speech to create a voiceover.
In addition, You can also download and share your voiceovers with others or use them for various purposes, such as prank calls, podcasts, or videos. It offers voiceover boards for other characters, shows, movies, games, celebrities, memes, and more.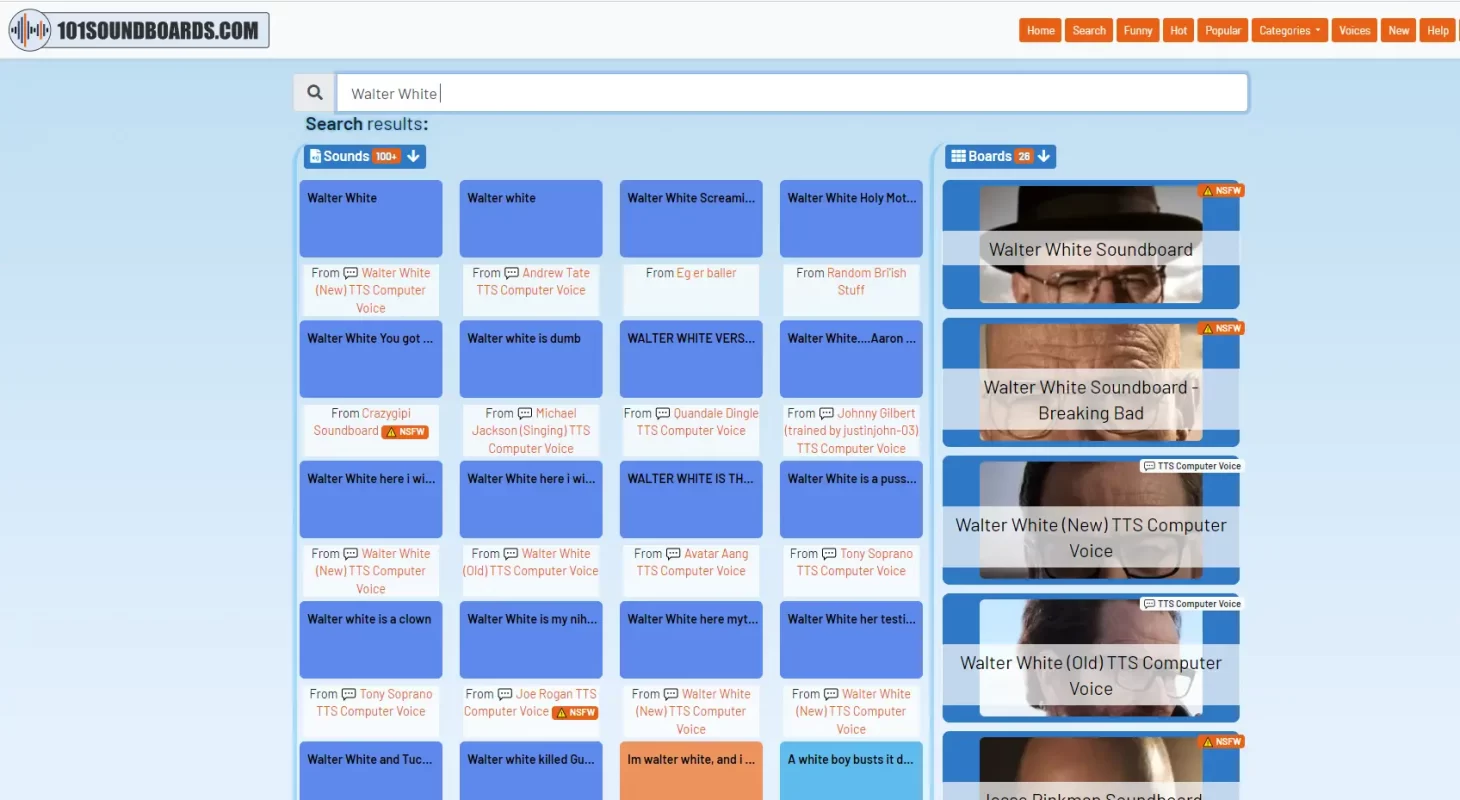 Pros:
Fun and entertaining interface
Support various devices
Allow you to create your soundboards
Save the audio as MP3 files
It doesn't require registration
Cons:
Some sound clips may be low-quality or outdated
No classification of the sounds.
Fakeyou is one of the most accurate and realistic online Walter White voice text to speech tools. It has a large and powerful sound library that gives you over 3,100 voices like Donald Trump, Duke Nukem, Stephen Hawking, and many more.
Whether you want to have a prank call, make a podcast, or create a video, you can use this Walter White voice generator to create voiceovers that sound like him. You can also adjust various parameters such as pitch, speed, and tone to make Walter White's AI voice more realistic and expressive.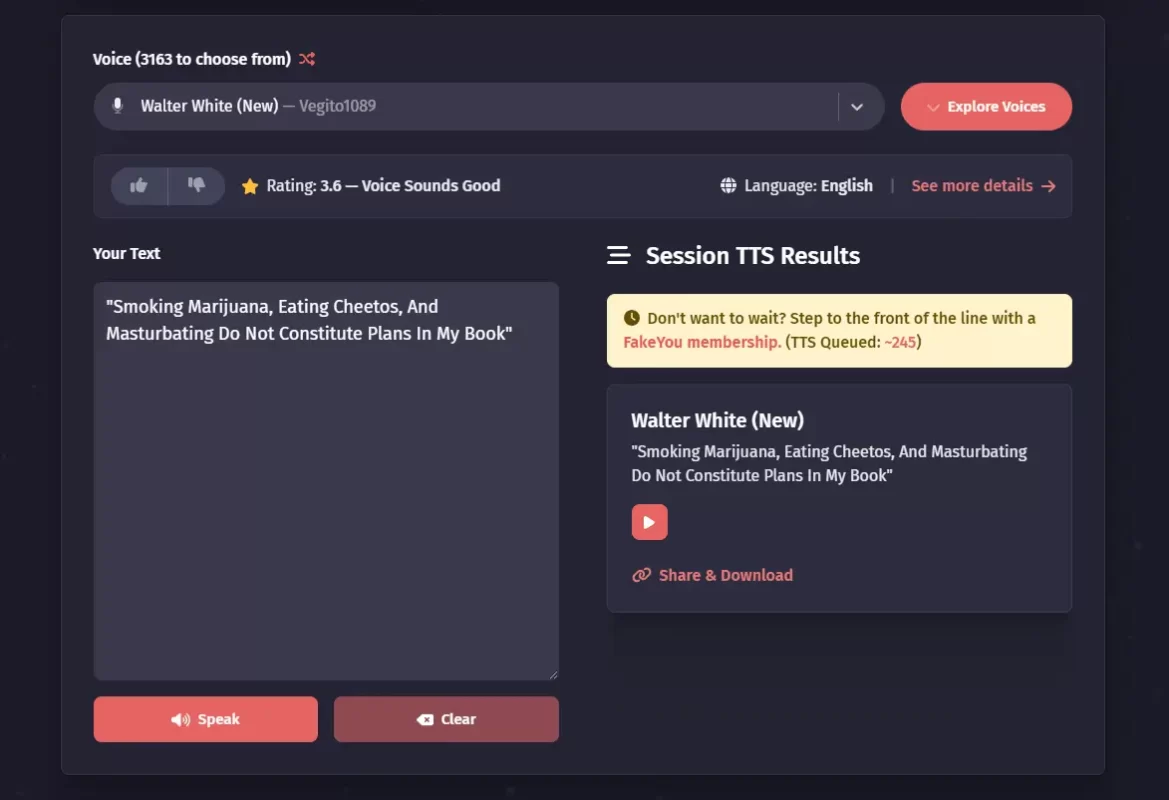 Pros:
Free to access all sounds
Easy to use anywhere
Provides more than 3,100 natural and realistic sounds
Regularly maintain and improve the quality of voiceovers
Increase the number of sounds every day
Cons:
May not work well with long texts or complex sentences
Many ads
Conclusion
Whether you seek customizable Walter White text to speech tools like FineVoice, the precision of 101 Soundboards' audio clips, or the advanced algorithms of Fakeyou, each option offers unique advantages for creating Walter White-inspired voiceovers.
Here we highly recommend FineVoice, download, and let the power of this Walter White voice generator transport you to the thrilling world of Walter White's voice.
FAQs About the Captivating Walter White
What is the Significance of Walter White's Alias, Heisenberg?
The alias Heisenberg holds great significance in the series. Walter White adopts the name as his alter ego, representing his transformation into a powerful and feared figure in the drug trade. Heisenberg symbolizes Walter's embrace of his darker side and his quest for control and dominance.
What are Walter White's Motivations?
Walter White's initial motivation for entering the world of drug production is to secure financial stability for his family after his cancer diagnosis. However, as the series progresses, his motivations evolve to include power, control, and a desire for recognition and success in the criminal underworld.
What are Some of Walter White's Famous Quotes?
Here are some of Walter White's famous quotes that showcase his transformation from a mild-mannered teacher to a ruthless criminal.
"I am the one who knocks." – Walter asserts his dominance and willingness to do whatever it takes to protect his interests.
"Say my name." – Walter demands recognition and instills fear in others by establishing his authority as Heisenberg, the persona he adopts in the drug trade.
"I did it for me. I liked it. I was good at it. And I was really… I was alive." – Walter reveals his true motivations, acknowledging the exhilaration he experiences from his criminal activities.
"I'm not in danger, Skyler. I am the danger." – Walter asserts his newfound power and the dangerous persona he has become.
"Tread lightly." – Walter warns others to be cautious and not underestimate his capabilities.
"I did it all for the family." – Walter often justifies his actions by claiming they were done to secure his family's financial future, even though his motivations become more complex as the series progresses.
"Chemistry is the study of matter, but I prefer to see it as the study of change." – Walter expresses his fascination with the transformative nature of chemistry, paralleling it with his transformation.
"No more half-measures." – Walter emphasizes the need for decisive and uncompromising action when dealing with challenges.
"I have nothing to lose." – Walter, driven by desperation and a desire for control, embraces a reckless mindset where he believes he has nothing left to lose.
Related article: Embrace the Brilliance of Doctor Who Quotes.