How does Stephen Hawking talk? After ALS had taken away his natural speaking voice, he started to convert messages into speech with a speech synthesizer called Speech Plus CallText 5010. Serving as a remarkable Stephen Hawking translator, it reproduces his distinct vocal patterns and intonations, allowing users to communicate with a touch of his unparalleled brilliance.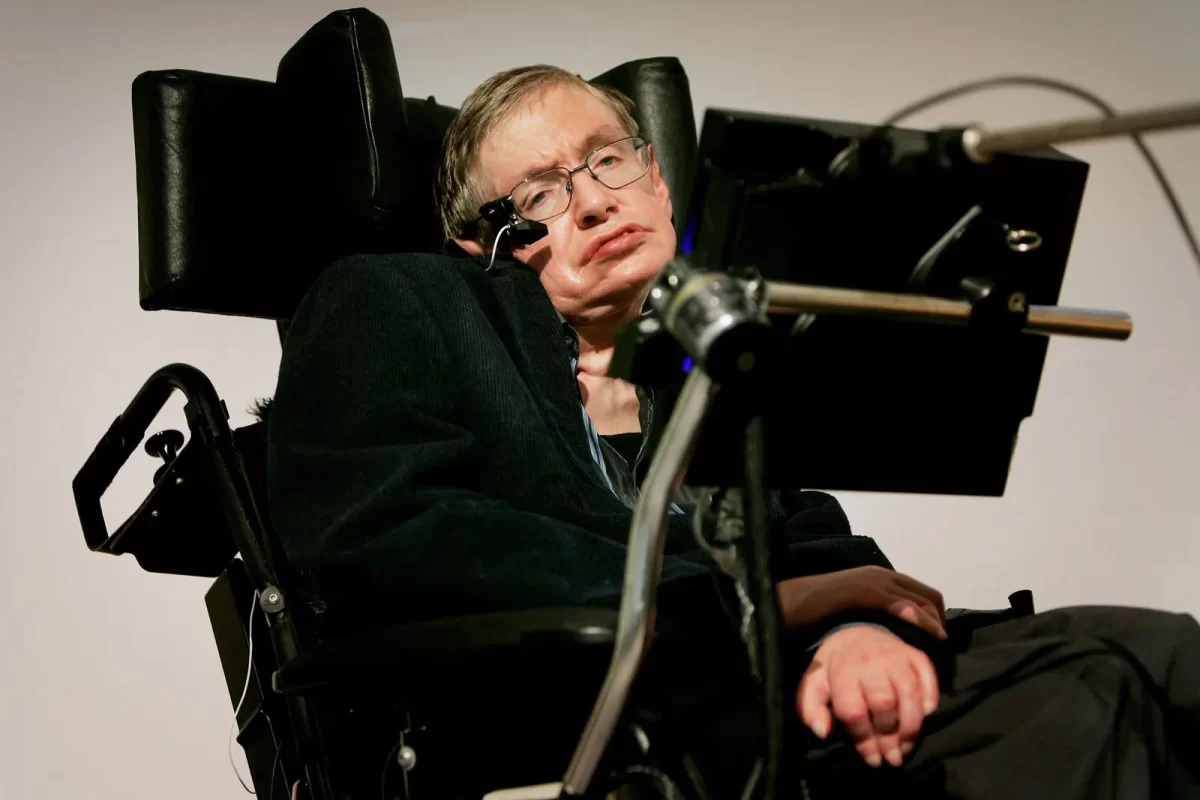 Voice synthesis technology gives voice to other people who can't speak like Stephen Hawking. With the immense development of voice synthesis, people around the world use text-to-speech for communication, work, and entertainment.
How to get Stephen Hawking's voice? In this post, we will share with you the 5 best Stephen Hawking voice generators. Use the software, websites, or app to generate a voice with Stephen Hawking's voice.
5 Best Stephen Hawking Voice Generators
Take away the best Stephen Hawking voice generator to convert text into speech.
#1. FineShare FineVoice
Is there a Stephen Hawking voice generator free to use? FineShare FineVoice is a simple yet powerful all-in-one AI voice changer. And it's also a good Stephen Hawking text-to-speech application.
With the free text-to-speech feature, you can generate 220 lifelike voiceovers in 40 languages for your videos, audiobooks, podcasts, and other content. And with the newly introduced role TTS engine, you can access Stephen Hawking's voice generator.
Besides this voice generator, you can find powerful voice tools like real-time voice changer, speech-to-text, audio file voice changer, audio extractor, and multi-track voice recorder.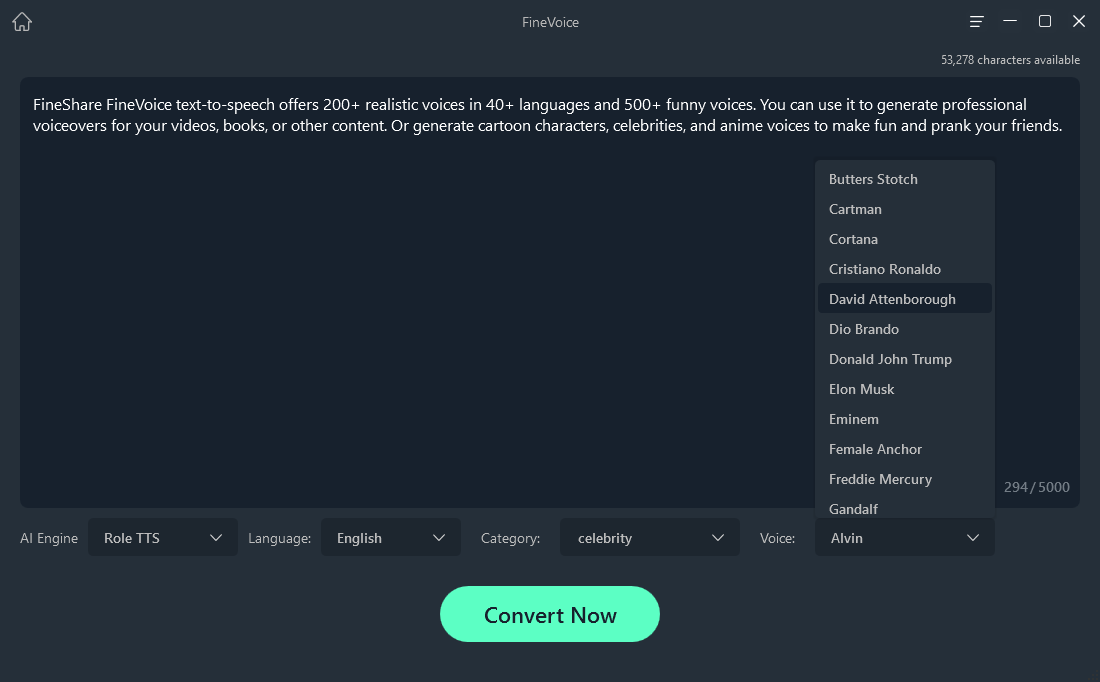 Pros:
Easy to use
Great Stephen Hawking voice generator
Provide a highly accurate and authentic narration experience
Offer various customization options
Real-time voice changer
Audio extractor
Cons:
How to use this Stephen Hawking voice generator?
Step 1. Install FineVoice and launch the program.
Step 2. Click the Text to Speech button on the main interface.
Step 3. Type or paste the text to want to convert. Find a voice you want to use.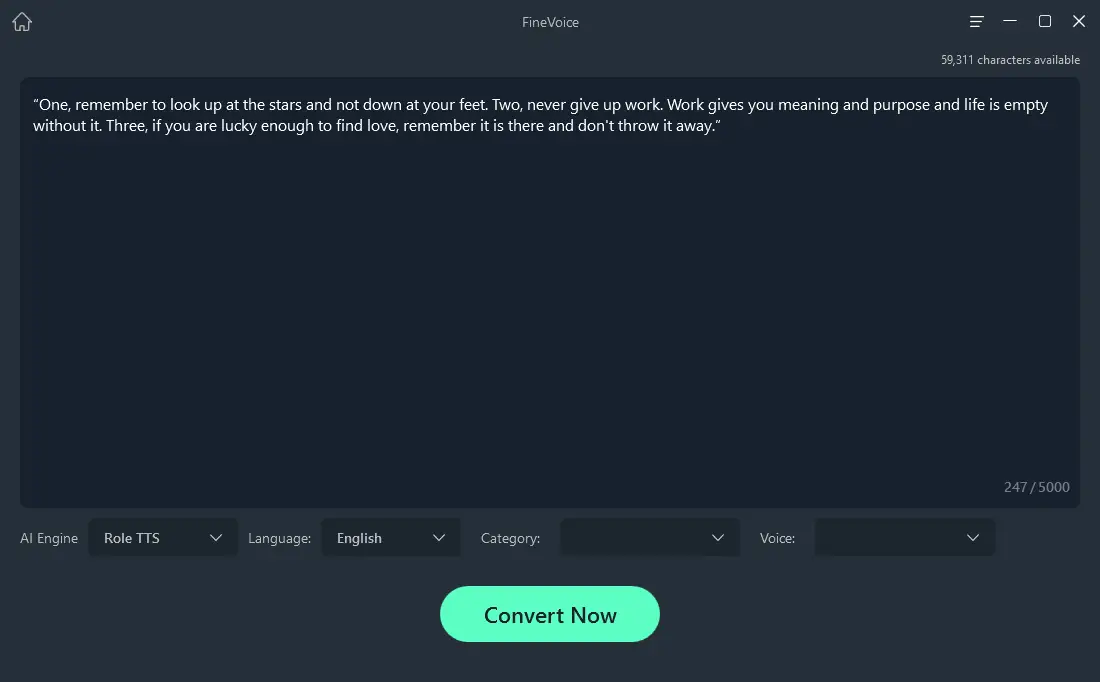 Step 4. Click Convert Now to convert the text to speech.
#2. Lingojam
Now let's look at some Stephen Hawking voice generator websites. The first one is Lingojam. It offers different text-to-speech tools such as Yoda voice generator and English to Shakespearean.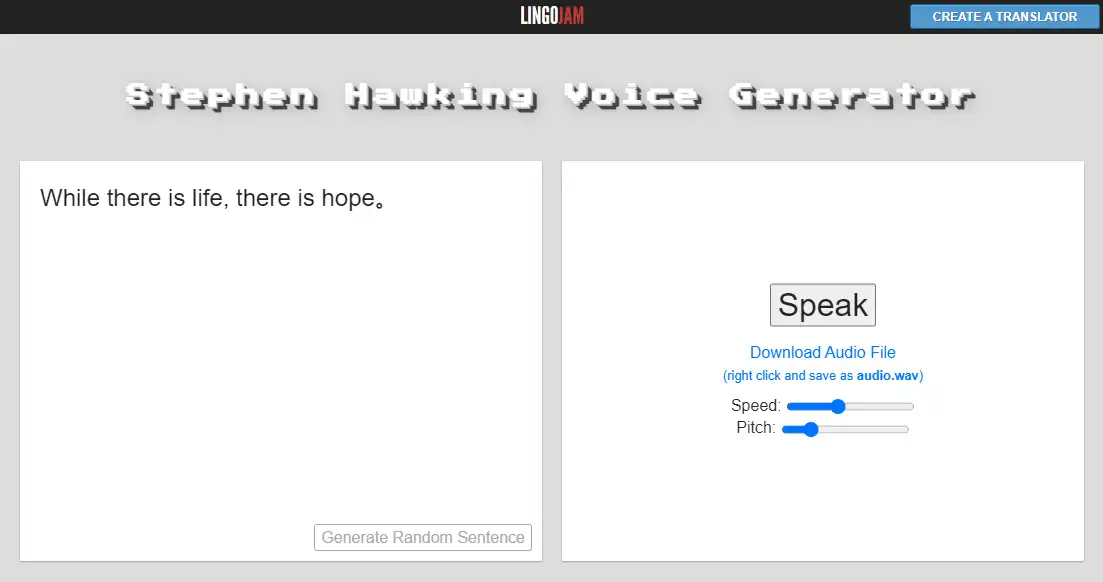 Pros:
Clear UI
Simple to use
Speed and pitch adjustments supported
Fast generation speed
Generated audio file download supported
Cons:
Sound unnatural
Website only
#3. FakeYou
Another online Stephen Hawking text-to-speech tool is FakeYou. This site has an easy-to-use interface and the voices are categorized without confusion.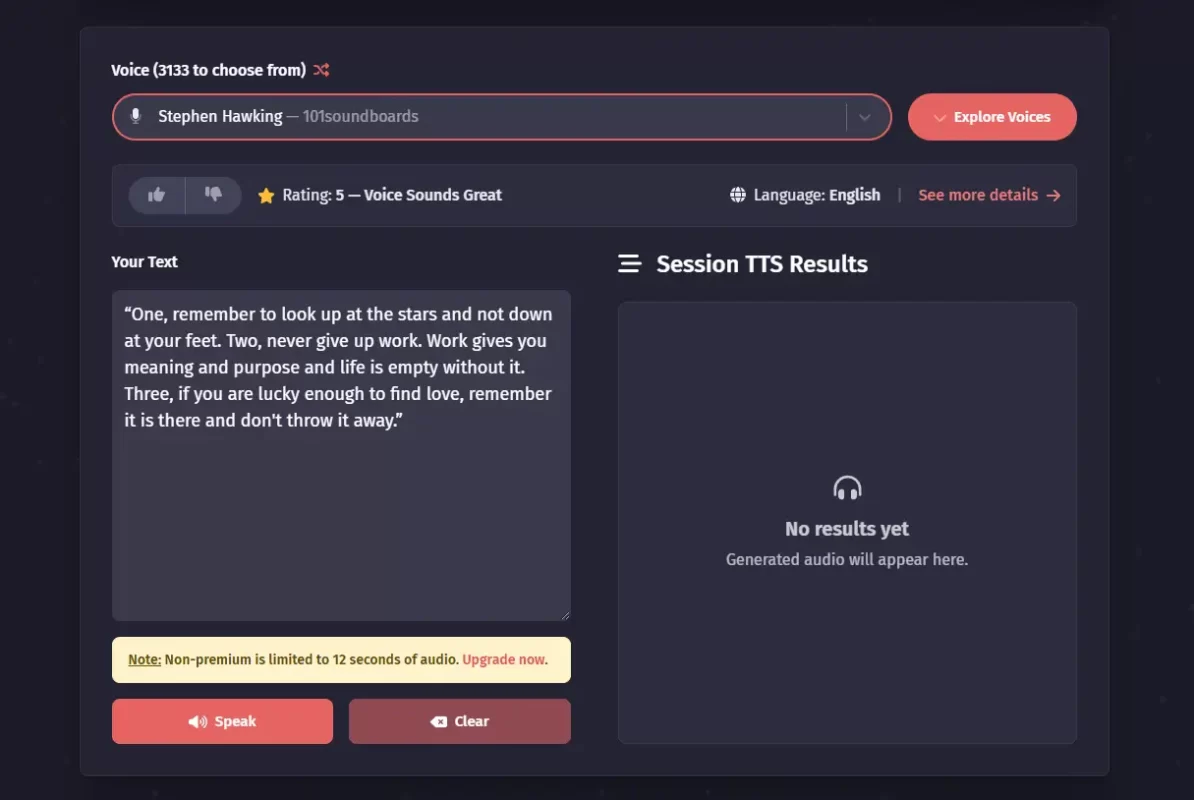 Pros:
2000+ voices
8 languages
Voices of virtual characters and real people
Voice clone supported
Cons:
Need to wait in the TTS queue
Slow generation speed
#4. Uberduck
Uberduck is a further effective text-to-speech tool at your disposal. It offers much more voices than FakeYou. With the various voices from popular cartoons, you can use Uberduck as a cartoon character voice generator.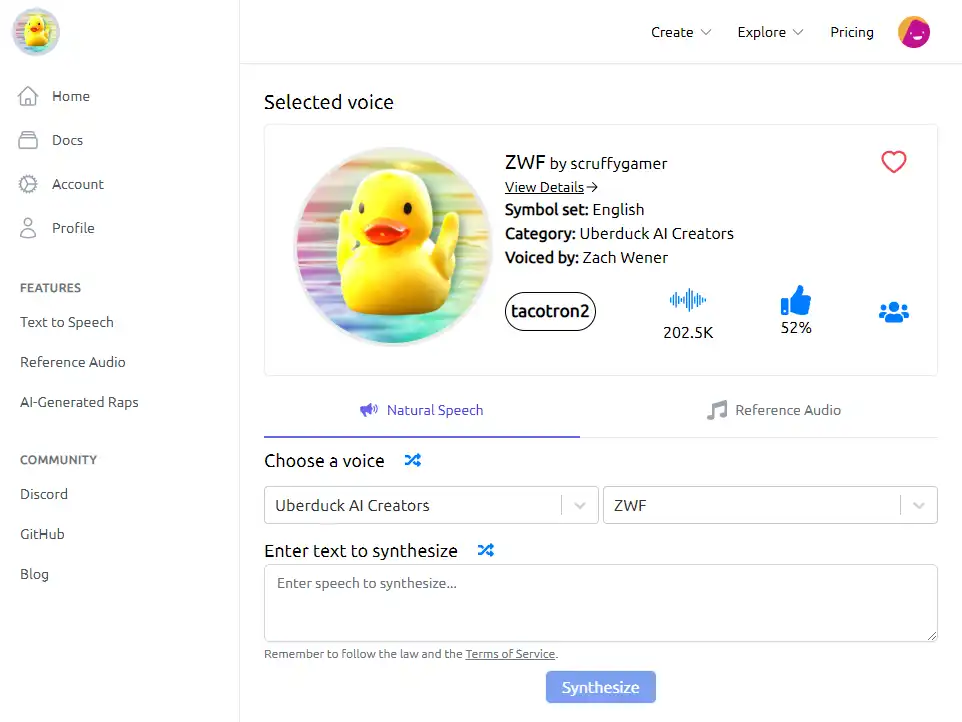 Pros:
4000+ voices
A comprehensive collection of voices from movies
Fast TTS generation speed
Singing voice generation supported
Cons:
Confusing classifications
Difficult to find what you want
#5. Speech Synthesizer – Hawking
Are you looking for a Stephen Hawking voice generator app? This Speech Synthesizer enables you to generate speech with Stephen's voice on your smartphone.

Pros:
Easy to use
English and German supported
Simple UI
Android and iOS supported
Cons:
Not for Windows and macOS
No update for a long time
Conclusion
Grab your favorite Stephen Hawking voice generator. There are more good choices we have to convert text to speech than Stephen. Use FineVoice to generate high-quality voiceovers for your podcasts, streams, and videos.