Looking for a great rapper voice generator? Uberduck Text to Speech is to the rescue. The AI voice generator has been amazing in creating virtual realistic voices that add a persona to the result.
However, if you are skeptical about its usage due to recent lawsuits, we will also tell you some of its amazing alternatives that offer the same high quality (probably more). So, let's go into the details!
What Do You Know About Uberduck Text to Speech?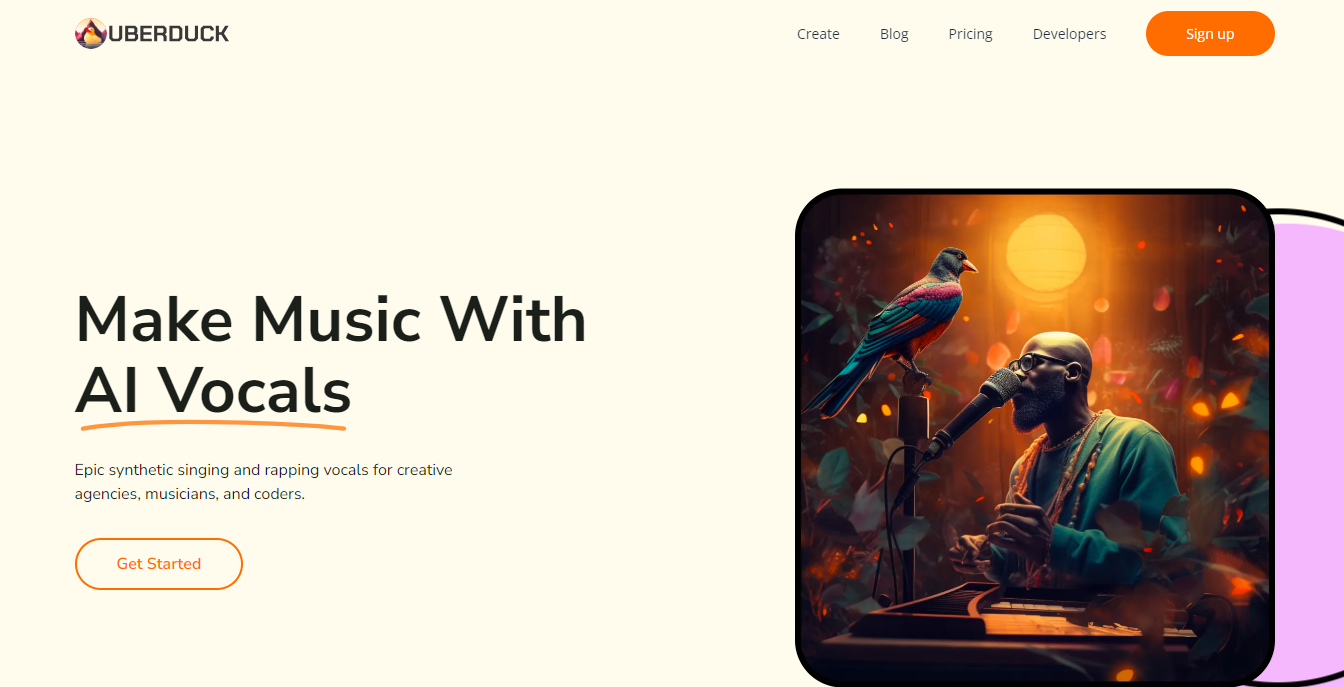 You may have encountered Uberduck Text to Speech while searching for an AI voice generator. This beginner-friendly guide will cover Uberduck AI's features, safety, pricing, and usage.
Modern TTS provider Uberduck AI uses a sophisticated algorithm to turn text into the voice of a certain person or character. It is effective and widely utilized in content advent and accessibility packages. Uberduck AI offers amazing voices to bring your text to life more realistically than typical TTS systems.
Key Features
Diverse Voices: Uberduck AI offers male and female voices with different styles and accents. These Uberduck voices don't only include celebrities or popular figures but also fictional characters.
Realistic Pronunciation: Uberduck's premium AI assures correct word pronunciation, producing natural-sounding speech. It adapts the accent and verbal details of that person to add a depth of realism and deepfake.
Multiple Languages: It can transform text into speech in multiple languages, expanding your international audience. So, you can create not only sound for your local people but listeners worldwide.
My Rap: Uberduck AI text-to-speech also allows you to create a customized rap in different singers' voices. So, you can make your own album with selected rapper's voices.
Is Uberduck Free?
It's great features also make you think, is Uberduck free? Luckily, it offers free and premium plans. The free package offers limited features, making it ideal for casual users. You can use the free version of the Uberduck AI voice generator to test the waters. Consider subscribing to a premium plan for more features and get the best Uberduck voices at maximum quality.
Is Uberduck AI Safe?
Since it uses singers' voices, you may think, is Uberduck AI safe? Well, it is safe and reliable. Content creators, organizations, and individuals use it for many purposes. Your records and privacy are usually protected when using the site.
Moreover, you won't get a copyright strike if you are stating AI-voice generation on commercial use. Since the platforms have suffered lawsuits, they are more careful in this aspect. So, you can use Uberduck on Discord servers, YouTube videos, or Twitch streams if you state they are AI-generated.
How To Use Uberduck Text-to-Speech?
After learning about the features and flexibility of the tool, you might be interested in how to use Uberduck AI. So, follow the steps below to produce the music and voice you like.
Step 1: Create an Account
If you don't have an account, you will need to register on the platform first. Otherwise, you cannot use its services without signing up. Go to Uberduck's official website and click sign up at the top right corner. Enter your email and create a password. Verify your email, and you are free to use the platform.
Step 2: Select Your Voice
After you sign into your account, let's create beautiful voice songs. Click on the Create button in the top menu bar. You will get diversified options in the Voice Selection box. Set the age, gender, accent, style, and many other fields as you prefer.
Step 3: Enter Text & Generate
Now, you need to enter what you want to give to your magical AI singer. Below the voice selection box will be the Text Box. Type in the text there, or just copy-paste it from another place.
Step 4: Listen & Download
After you are satisfied with everything, click the Generate button to convert the text into voice. It will take a few seconds, then you can listen to the results. Edit it until it's perfect. Lastly, you can download it for later use.
3 Best Uberduck AI Alternatives
Although the platform is a great TTS software, there are also amazing Uberduck AI alternatives that offer the same features. Below are the top alternatives explained briefly.
#1. FineShare Singify – Best AI Rapper Voice Generator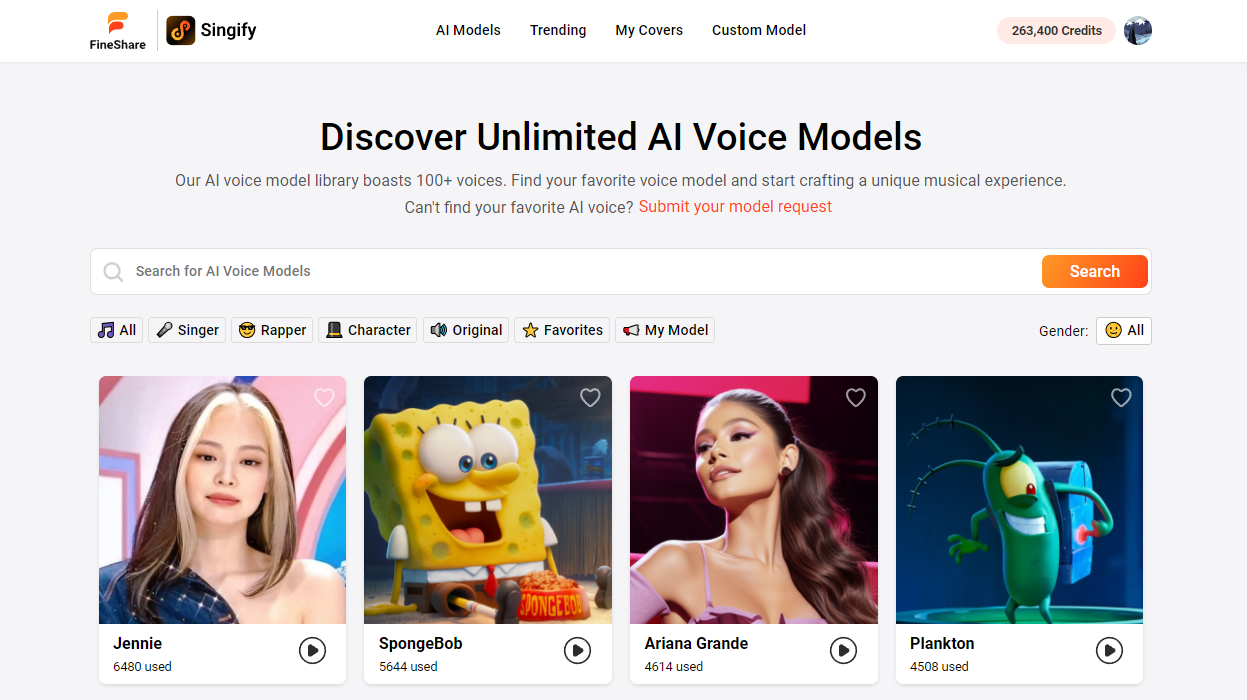 If you are considering improving your rap songs, FineShare Singify is a great Uberduck alternative. Its advanced AI creation lets you generate stunning, melodious, and outstanding rap vocals. Below are a few of its highlights:
Highlights
Flexibility in Voices: FineShare Singify has more than 100 realistic voices, including your favorite singers and rappers. This AI tool can create vocals with rappers' voices that match your song, whether you like old-school hip-hop or modern seductive music. So, create your AI cover song today.
Customization: It allows you to customize the AI covers with your custom voice models. You can also submit voice requests and let FineShare add the voice you want. By customizing voices, FineShare Singify creates rap that matches your song's feel.
Easy Process: Singify is also easy to use and offers a streamlined process. You can convert your singing into amazing voices in three simple steps, i.e., selecting voice, converting, and downloading.
#2. FineShare Online Voice Changer – Best Online Voice to Voice Tool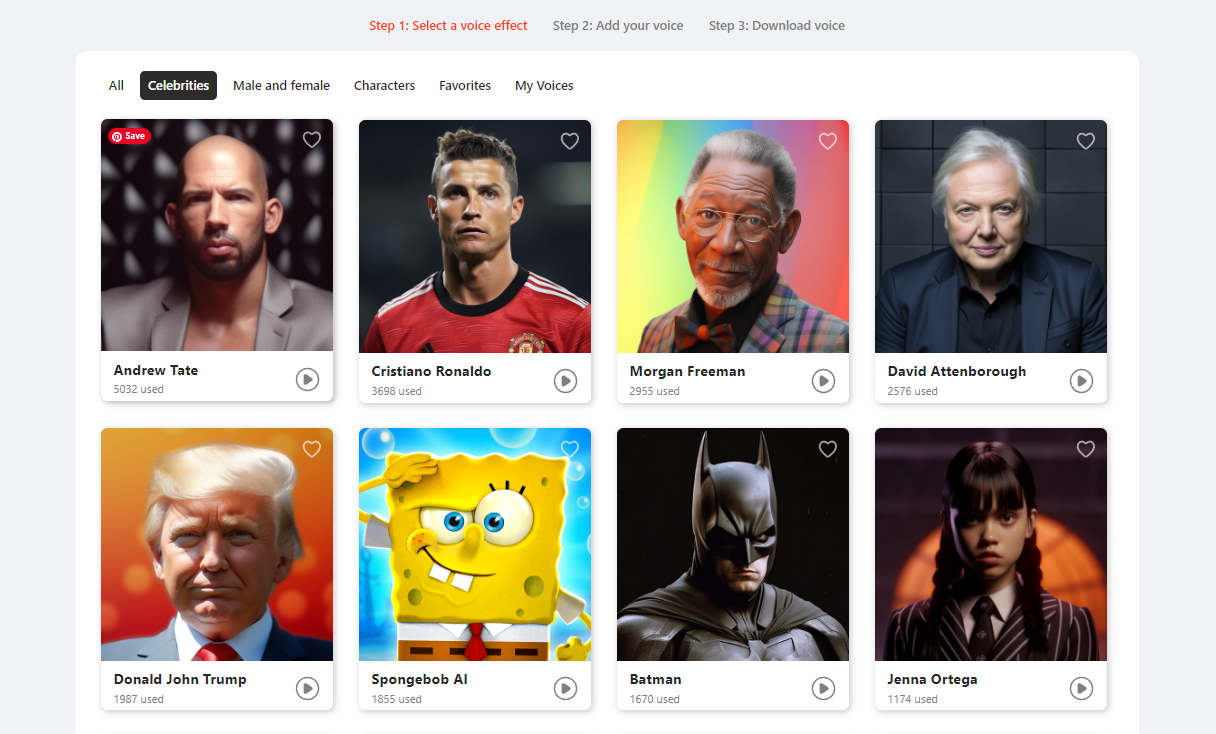 Another great Uberduck AI alternative is FineShare Online Voice Changer, which you can use on the go. It actively changes your voice of recording and local audio to give you vibes of talking like your favorite rapper.
Highlights
Several AI-Generated Voices: FineShare Online Voice Changer offers you more than 110 AI-generated voices that you can use. Besides rappers, you may sound like a robot, demon, ghost, old man, Eminem, Ice Spice, Obama, or any character you like. In fact, you can even change your gender.
Voice Modulation: Since it will convert your voice on any device that has an internet connection, you will notice your voice is converted into the selected profile's voice flexibly. This gives the tool a unique aspect to play around.
Privacy: FineShare protects user privacy by not sharing voice data with other parties. All your voices remain within the platform, which automatically deletes within four hours.
#3. FakeYou – AI Text to Voice Tool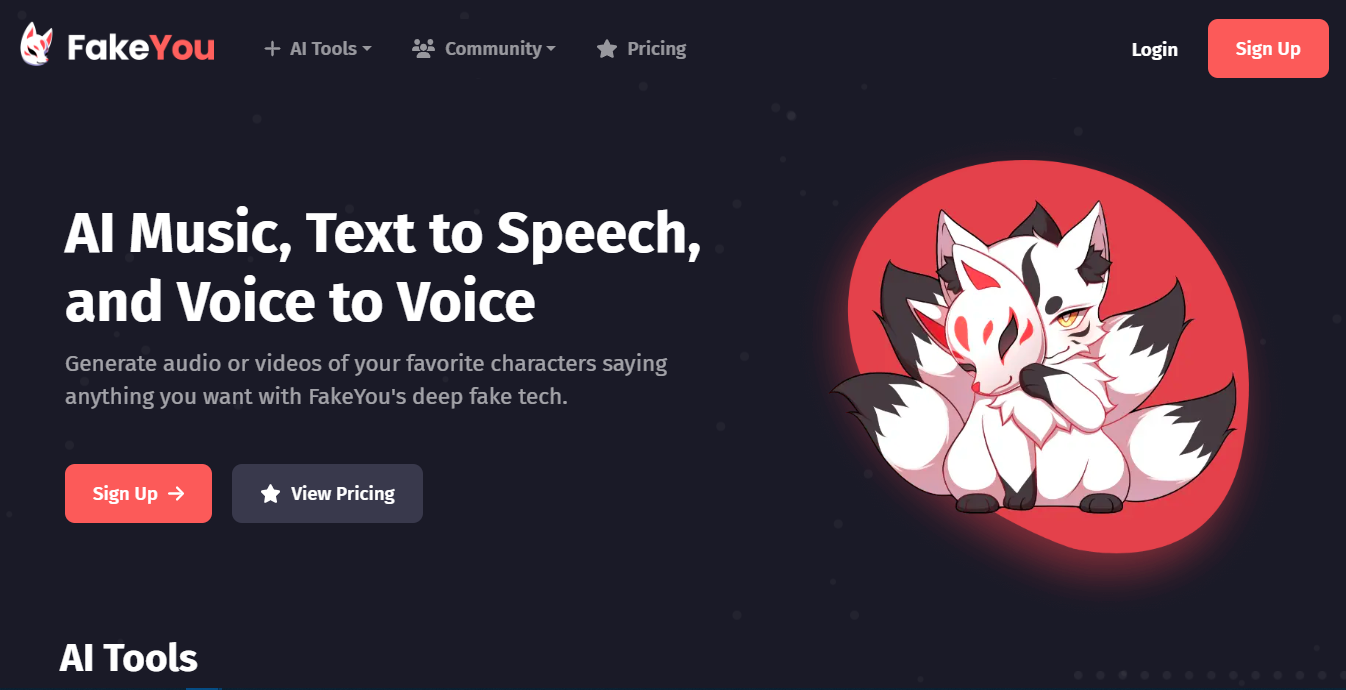 Last, we have FakeYou, which offers AI TTS, TTV, and VTV conversion. Many content creators and streamers use FakeYou for amazing results.
Highlights
Natural-Sounding Voices: The tool creates realistic AI sounds. Let it be of singer, rapper, or anyone.
Multilingual Support: FakeYou offers several languages support, allowing you to create content for your worldwide audience.
Versatile Applications: FakeYou is a solid choice for audiobooks, voiceovers, and text read-aloud.
Conclusion
Uberduck AI text-to-speech has been a great AI tool, let it be for rapper voices or others. It is versatile, free, safe, and easy to use. However, you can also try some of its alternatives, like FineShare Singify, Online Voice Changer, and FakeYou. So, if you want a rapper voice changer, you have four amazing options to choose from.
FAQs
#1. What Happened to Uberduck?
Since Uberduck used to allow users to post voice models, they ultimately faced lawsuits by Universal Music Group and SAG AFTRA. As a result, they disallowed users to post voice models in July 2023.
#2. What is the Best AI Rapper Voice Generator Free?
Several AI rapper voice generators are available on the internet for free. It is hard to point out the best since many are amazing in their domain. But if we have to choose one, we will name FineShare Singify.