Do you want to have fun with your voice without revealing your identity? Do you want to prank your friends or enemies with hilarious sound effects? Do you want to sing like a rock star or a villain?
If you answered yes to any of these questions, then you need a voice changer microphone!
What Is a Voice Changer Microphone?
A voice changer microphone is a device that lets you modify the pitch, tone, and volume of your voice. You can use it to create different voices, accents, languages, or even animals. You can also use it to disguise your voice when you are singing or gaming online.
But not all voice changer microphones are created equal. That's why we have done the research for you and found the 3 best voice-changer microphones for singing and gaming on Amazon.
These devices will let you enjoy your voice in a whole new way, whether you want to have fun or express yourself.
Top 3 Voice Changer Microphone Devices on Amazon
#1. Toysmith Changer 6.5-Inch Voice Changer Microphone
This voice changer microphone is designed for kids. It has a built-in speaker that lets you hear yourself clearly. The device is lightweight and portable, so you can take it anywhere you go.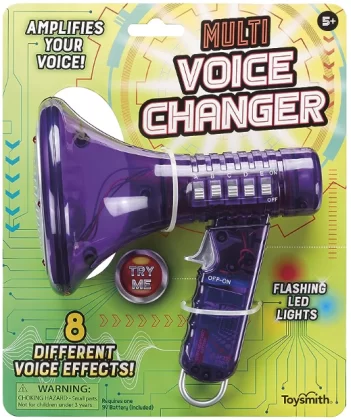 Highlights:
10 voice modifiers for fun
Colorful flashing LEDs with a 9-volt battery
Different sound combination creation with frequency and amplitude adjustment
Price: $17.99 Buy it here
#2. Podcast Equipment Recording Package Changer
This device is designed for podcasters who want to record their own shows or interviews with different voices. It comes with a microphone and a mixer that can adjust the volume and tone of each voice separately.
You can also add background music or sound effects if you want. Connect the voice changer microphone to your computer or laptop with the USB port.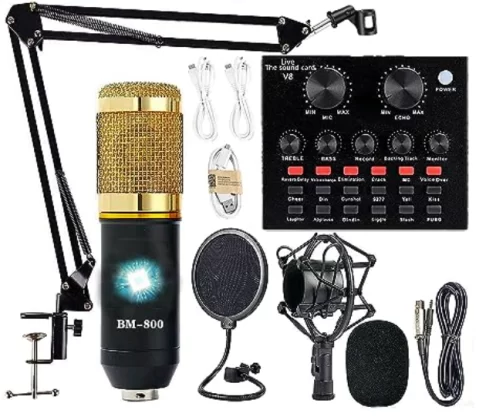 Highlights:
Professional recording studio package equips with a BM-800 voice changing microphone
Live sound card gives you excellent sound quality
Multiple sound effects to bring fun to your recording and real-time voice change
Compatible with laptops, desktops, and mobile phones
Price: $39.99 Buy it here
#3. Portable Handheld Microphone Multifunctional Disguiser
This voice changing microphone is designed for singers who want to sing like famous artists or characters from movies or TV shows. It comes with 16 different sound effects that you can choose from. It's also lightweight and portable to take anywhere.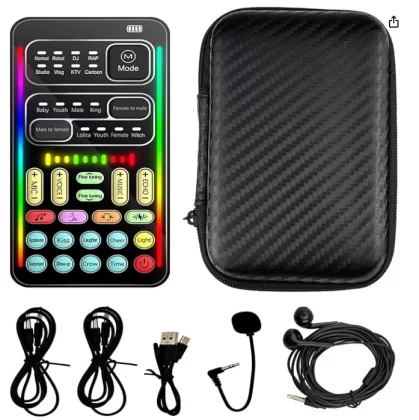 Highlights:
Change your voice from male to female or vice versa with the 8 man or woman voices
8 sound effects for singing and gaming
Small and portable with LED color lights
Compatible with your phone and game portals
Price: $25.99 Buy it here
FineShare FineVoice: Best Voice Changer Microphone Alternative
If none of the above devices suit your needs or preferences, don't worry! We have another option for you: FineShare FineVoice!
FineShare FineVoice is not just another voice changer microphone app! It's actually an AI-powered voice changer app that lets you transform your voice in real time! You don't need any additional hardware or software; just download the app on your computer and start using it!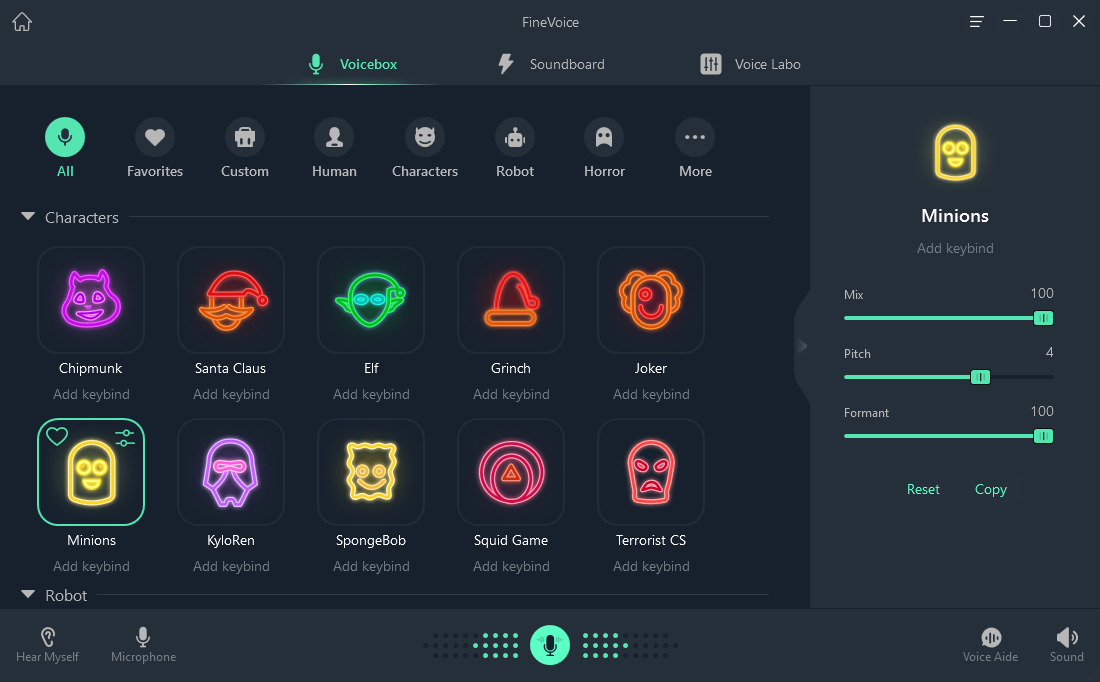 FineShare FineVoice has many features that make it stand out from other voice changer apps:
Key Features:
Real-time voice changer for all video games, streaming, and voice/video chatting platforms
30+ voice effects of famous celebrities, characters, devices, and more.
200+ sound effects to add ambiance to your voice
You can make custom voice effects and soundboard with FineVoice
Audio file voice changing and record your voice with voice effects
Pros:
Free to install and easy to use
Fun and creative with various voice effects
Versatile and flexible
Cons:
You need to download the software
It only works on Windows
How to Use FineVoice for Gaming?
If you want to use FineShare FineVoice for gaming, here are some steps you can follow:
Step 1. Click the button to download and install FineVoice.
Step 2. Launch FineVoice and open the Real-Time Voice Changer.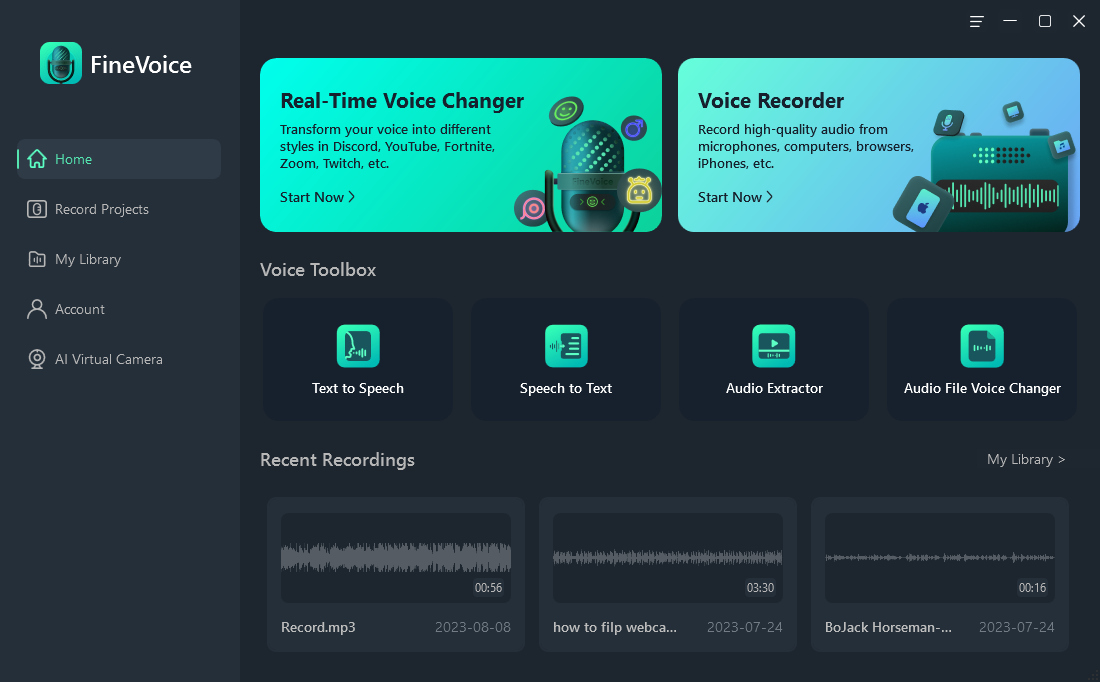 Step 3. Connect your microphone and headphones. Configure them in FineVoice.
Step 4. Explore the voice effects, click on them, and speak into your microphone to hear your new voice.
Step 5. Open the video game you want to play like Fortnite, Minecraft, GTA, TF2, Valorant, or your game devices like PS5, Switch, and Xbox.
Go to the Audio/Voice Settings, and select FineShare Virtual Microphone as the input audio device.
Now you can have fun with FineVoice for games.
Conclusion
We hope this post has helped you find the best voice changer microphone for singing and gaming. And, we recommend FineShare FineVoice as a cheaper, is easy to use, fun and creative, versatile and flexible.
So what are you waiting for? Download FineShare FineVoice today and start having fun with your voice!
FAQs
#1. Can I use a voice changer microphone for singing?
Yes, you can use a voice changer microphone for singing. A voice changer microphone is designed to modify the pitch, tone, and volume of your voice so that it sounds like someone else's voice.
#2. What is the best voice changer microphone app for PC?
Some voice changer microphone app works on Windows PCs, but FineShare FineVoice Real-Time Voice Changer is the top one. It's free, easy to use, and compatible with all your favorite streaming, gaming, and voice chatting platforms.
#3. How to get a voice changer microphone free online?
FineShare Online Voice Changer is a free online service to record and change your voice with 100+ realistic voice effects. You don't need to download any software to use this microphone voice changer.