Do you want to have the vicious and lower-pitched voice of Venom? Read this article, we will give you the top 5 Venom voice changers.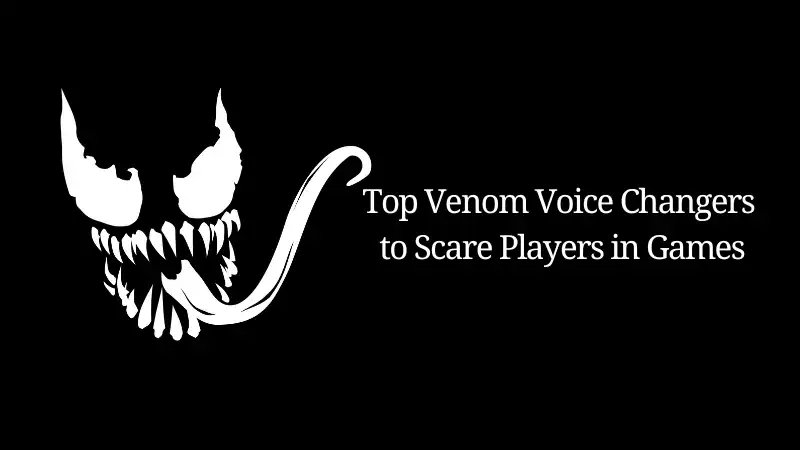 Part 1. What Do You Know about Venom?
Are you a Venom fan? Did you read the Venom comics or have you watched the Venom films? The former two films are box office successes. And a third Venom film is in development.
Venom is a sentient alien symbiote who survives by bonding with a human host. His host in the Venom films is Eddie Brock, who is an investigative journalist. Brock gained superpowers after symbiosis with Venom.
You may be fascinated by Venom's anti-heroic traits and his malicious low-pitched voice. Who is the voice of Venom? Tom Hardy! The actor of Eddie Brock plays Venom and voices Venom.
Do you want to have Venom's voice? Read on and download the top 5 Venom voice changers. Create your Venom voice and scare your game teammates and friends.
Part 2. Top 5 Venom Voice Changers for Windows and mac OS
In this part, we will introduce the top 4 Venom voice changers to you.
#1. FineShare FineVoice
FineShare FineVoice is a real-time Venom voice changer for Windows. It works with games and communication applications such as Discord, Twitch, Zoom, Skype, Fortnite, and Rust.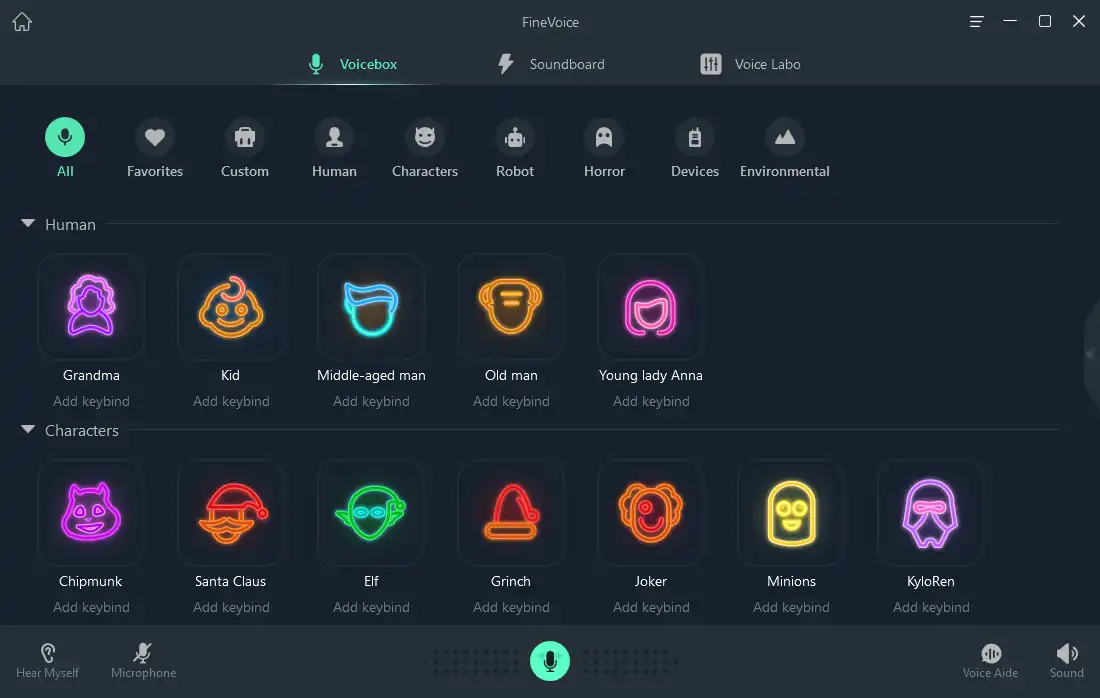 Highlights:
Offers 30+ voice effects and a preset Venom voice in the Horror voice category.
Offers 200+ preset sound effects including 20+ horror sound effects.
FineVoice Soundboard allows you to import and manage your Venom sounds
High-quality voice recorder to record Venom voice in the films.
Venom voice creation with 28 audio effects in Voice Labo.
Limits:
It only provides the Windows version.
How to use this Venom voice changer on your computer?
Step 1. Click the button to download the free Venom voice changer on your Windows PC.
Step 2. Install and launch FineVoice. Click the Real-Time Voice Changer on the main interface.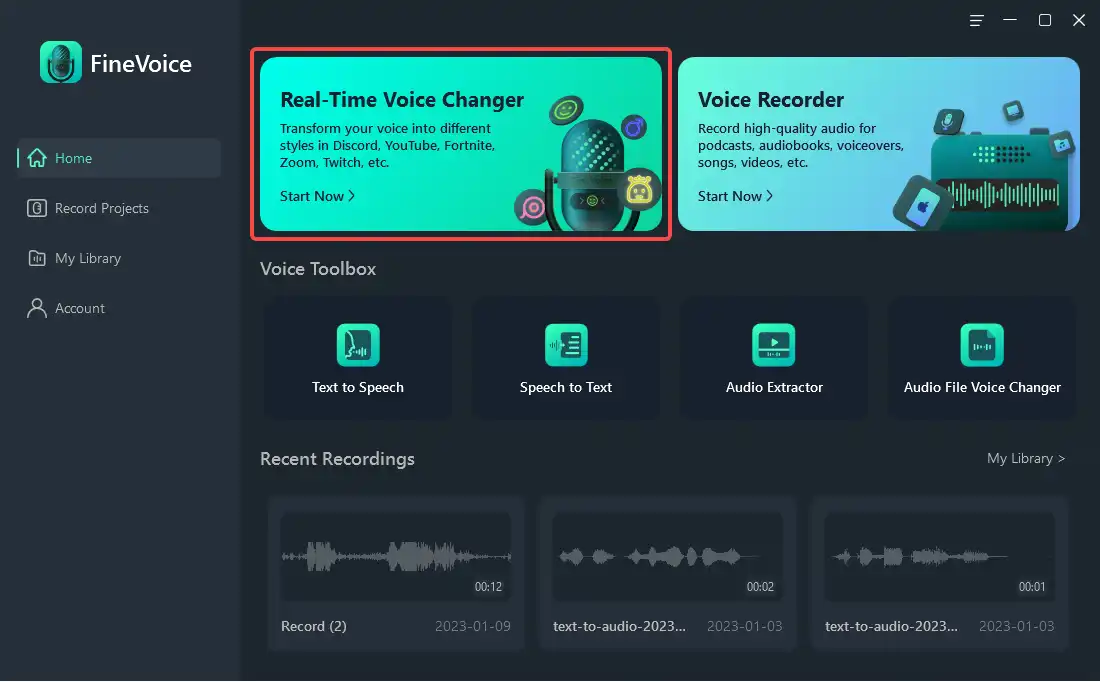 Step 3. Set up FineVoice. Select your microphone and speaker to hear your voice.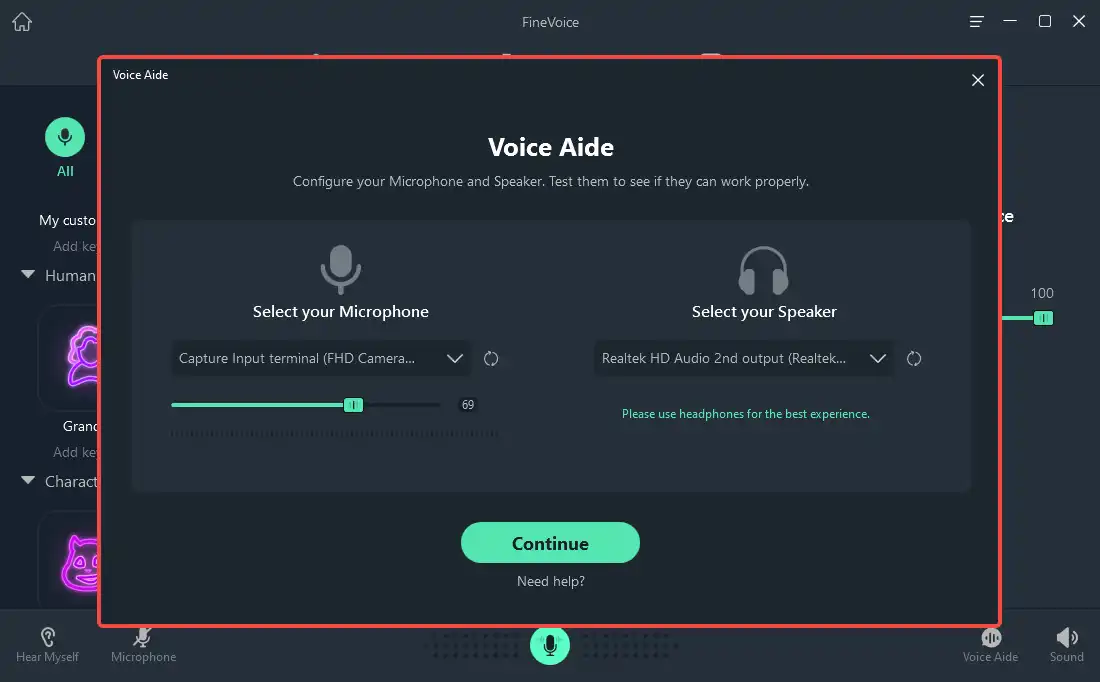 Step 4. Navigate the Voicebox. Click the Venom voice button under the Horror category. Speak into your microphone and adjust the voice effect based on your natural voice.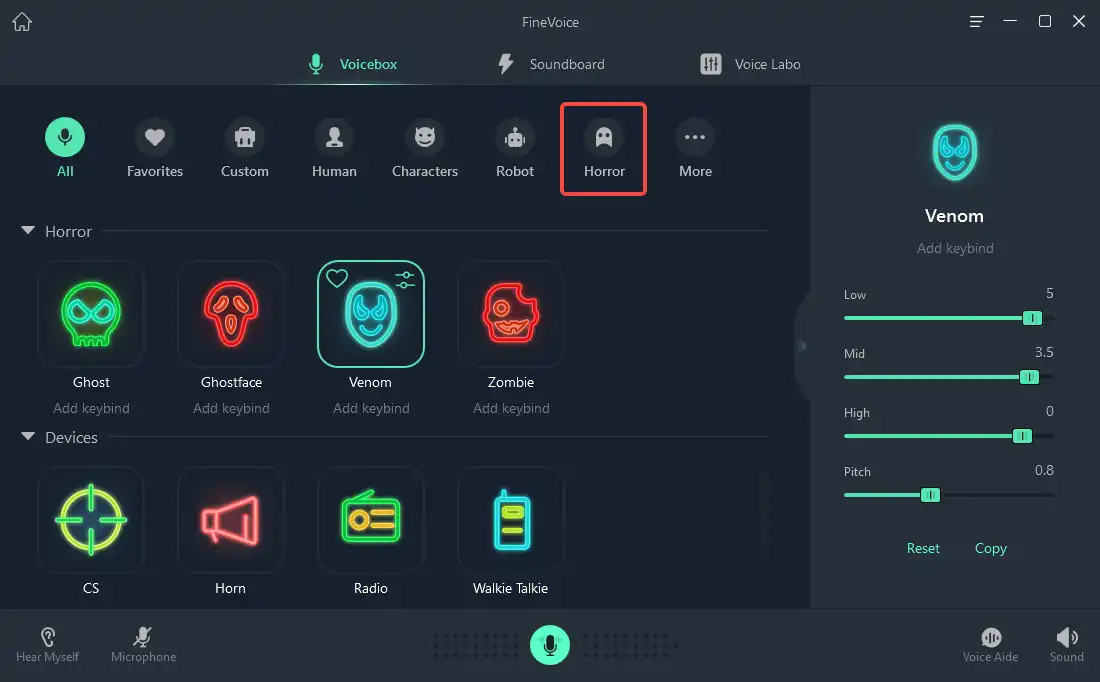 Step 5. Open your game application. Select FineVoice Virtual Microphone as the input audio device. Speak with your transformed Venom voice.
#2. Voicemod
Another great option for Windows users is Voicemod. Although it doesn't give you a preset Venom voice. You can use it to create a Venom voice effect.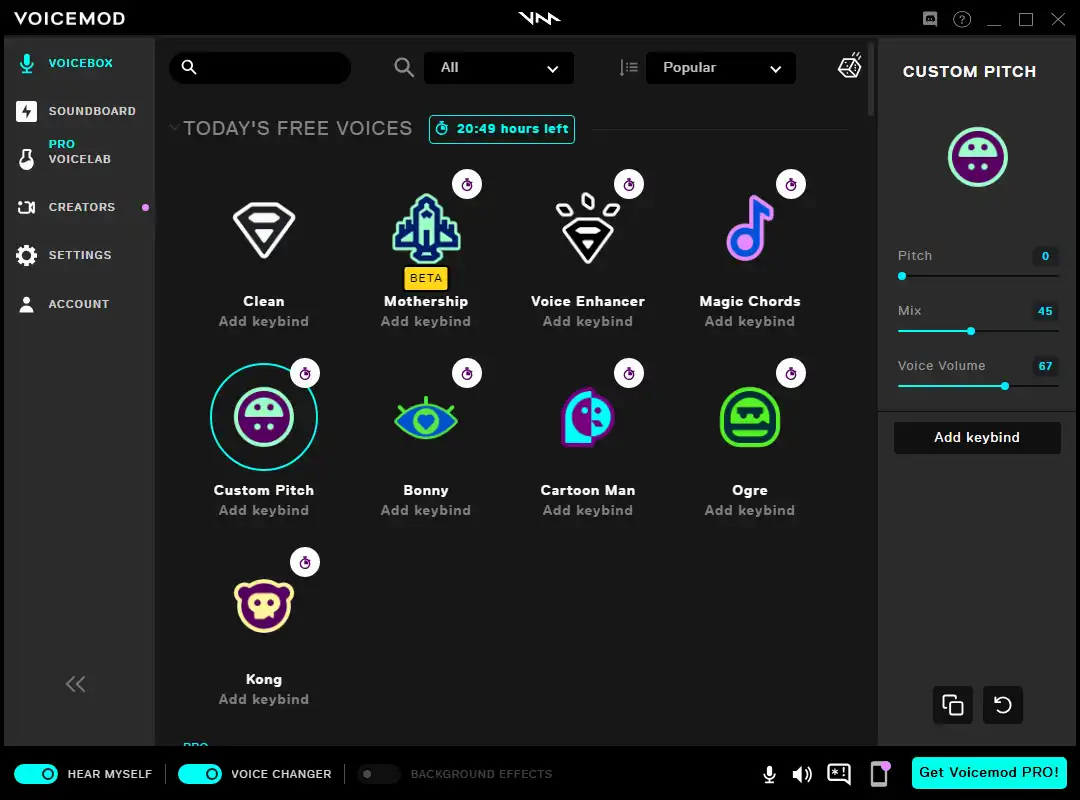 Highlights:
Offers AI voice filters in categories of robotic, characters, horror, etc.
Offers free common-used soundboards for streamers and content creators.
Offers free voices every day.
Offers an online soundboard community for Voicemod users to share sound clips.
Limits:
Requires a paid PRO subscription to use the full features, such as Voicelab and most of the voice filters.
Don't support Mac and mobile devices yet.
#3. Voxal Voice Changer
Are you a MacBook user? If so, you may try this real-time voice changer software – Voxal Voice Changer. It's compatible with Windows and macOS. This real-time Venom voice-changing software is integrated with Twitch, PS4, Xbox, and other voice communication applications.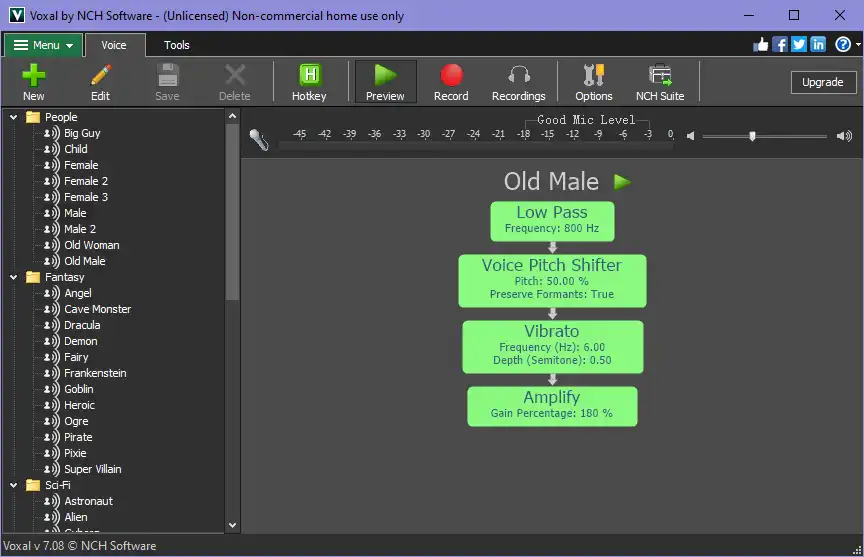 Highlights:
There is a free version available for non-commercial use.
Offers background noise effects including busy office, cave, bathroom, etc.
Offers 9 human voice filters, 7 fantasy voice filters, 7 sci-fi voice filters, and 9 strange voice filters.
Supports customizing each preset voice with the sound parameters it offers.
Limits:
The free version is restricted to using one voice only each time running Voxal. Using unlimited voices needs a paid Plus version whether for non-commercial or commercial use.
You need to purchase the software for commercial use.
#4. Clownfish Voice Changer
Clownfish Voice Changer is another Venom voice changer software that can apply effects in real-time via a microphone or other audio input device. It is installed at the system level so it modified every audio application on your computer.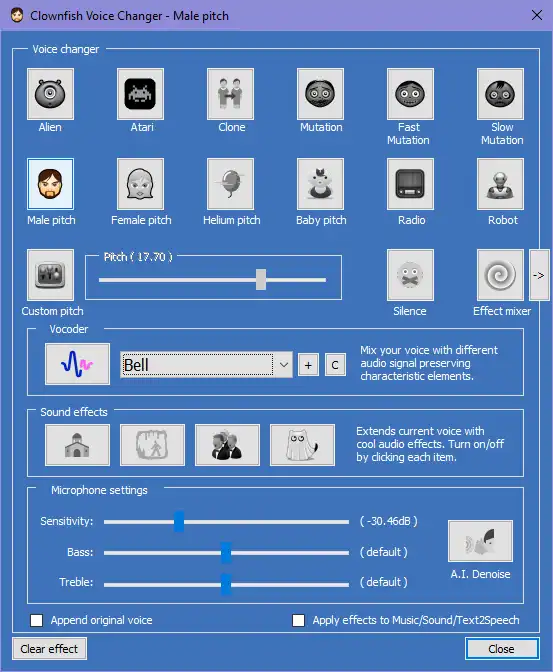 Highlights:
Offers 12 voices to modify your voice.
Supports voice customizing.
Offers text-to-speech tool with more than 200 accents.
Offers a sound and music player.
Supports AI denoise.
Limits:
Only works on Windows.
The modified voice is unnatural and doesn't like a human voice.
#5. FineShare Online Voice Changer
Do you want to get Venom's voice without downloading any software? Try out FineShare Online Voice Changer. This free online voice changer provides 87+ voice effects from characters to celebrities. Record your voice or upload any audio file, and use FineShare to make Venom, Minions, and Obama speak for you.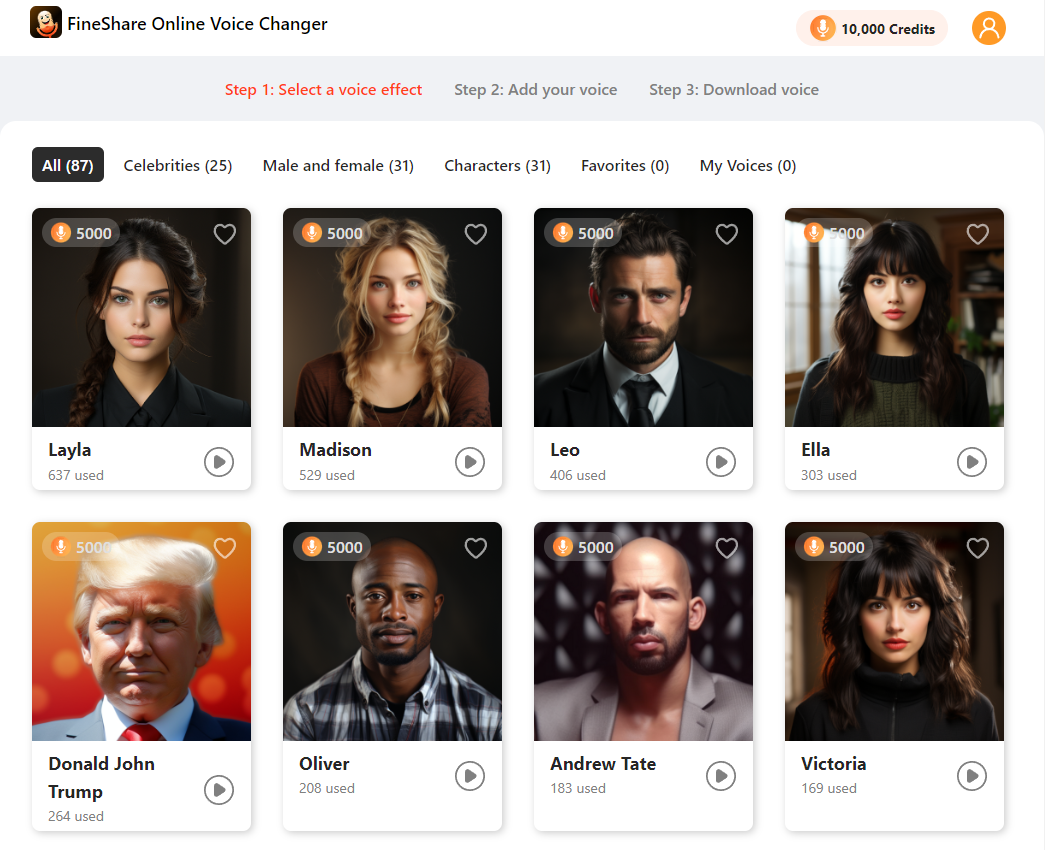 Pros:
Easy to use
Audio file voice changer
Large voice effect library
Preview any voice effects with samples
Cons:
Not for real-time voice changing
Bonus tips: Carry Away Best Venom soundboard
When you don't feel like talking through a Venom voice changer, you may want to try a Venom soundboard. There is a website for you (https://jayuzumi.com/venom-soundboard), bookmark it in case you need it.
Jayuzumi is an online soundboard website that offers hundreds of soundboards from movies, cartoons, animations, and celebrities.
The Venom soundboard offers a virtual Venom soundboard containing 45 Venom quotes with virtual sound buttons. Scroll down the page and you will find more Venom sound clips in a sound playlist.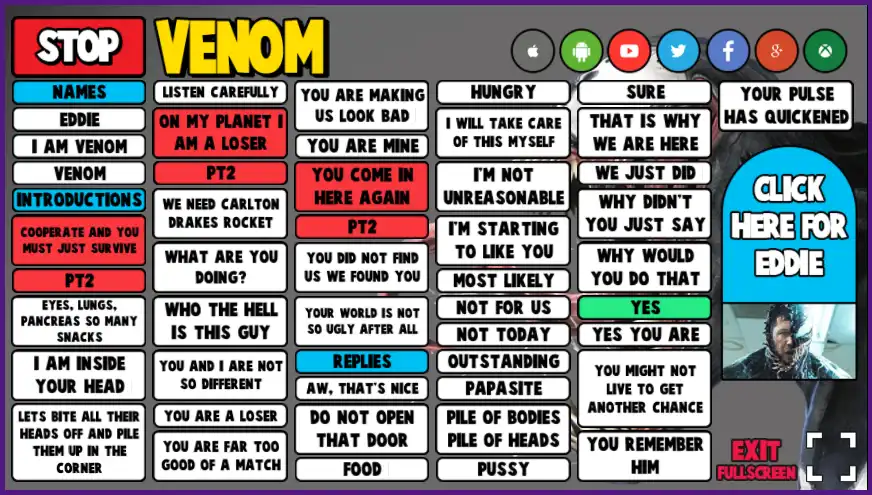 Wrap Up
Congratulations! You have got the top 5 Venom voice changers. They give Venom's dark, witty color to your voice. Now, have fun in your games. You can record others' reactions when hearing Venom saying.
Try FineVoice for Free
Powerful real-time voice changer for tuning your voice in gaming, streaming, and chatting. It comes with various voice & sound effects and supports creating custom voice. Get it for free.