Are you looking to set your stream apart from the masses? Streaming isn't just about playing games or sharing your thoughts—it's about creating an unforgettable experience. If you're looking to add a dash of excitement to your streams, we've got the secret ingredient: streaming voice changers.
In this article, we will show you the 5 best voice changers for streaming in 2023—your ticket to creative streaming success!
Why Use a Voice Changer for Streaming?
Using a voice changer for streaming is an exciting and creative choice that can bring numerous benefits. Here are some compelling reasons why content creators use voice changers in their streaming endeavors.
Entertainment and Engagement
Whether you're playing games, sharing stories, or hosting events, altered voices and unique characters can capture your viewers' attention and keep them coming back for more.
Viewers love to suggest voice changes, characters, or scenarios, making your streams more interactive and building a sense of community.
This can be especially important for those who wish to maintain their privacy or keep a clear separation between their personal and streaming lives.
For gamers and cosplay lovers, voice changers allow you to fully immerse yourself in your character, enhancing the overall experience for you and your audience.
For holidays, special events, or themed content, voice changes can add a layer of authenticity and fun.
Creativity and Versatility
They enable you to impersonate famous voices, create unique character voices, or experiment with funny and unexpected effects.
5 Popular Voice Changers for Streaming
Explore the world of content creation with these 5 popular streaming voice changers.
Are you looking for a way to spice up your voice and impress your audience during your live streaming? Try FineShare FineVoice, the ultimate voice changer for streaming to sound like a different person, a famous star, or even a mythical creature.
FineVoice has various voices that you can choose from or customize according to your preferences. You can sound like your favorite characters, celebrities, robots, and animals, including SpongeBob, Minions, Jigsaw, etc. You can also mix and match different voices and effects to create your own unique style. You can use it for online meetings, games, chats, live streaming, singing, content creation, and more.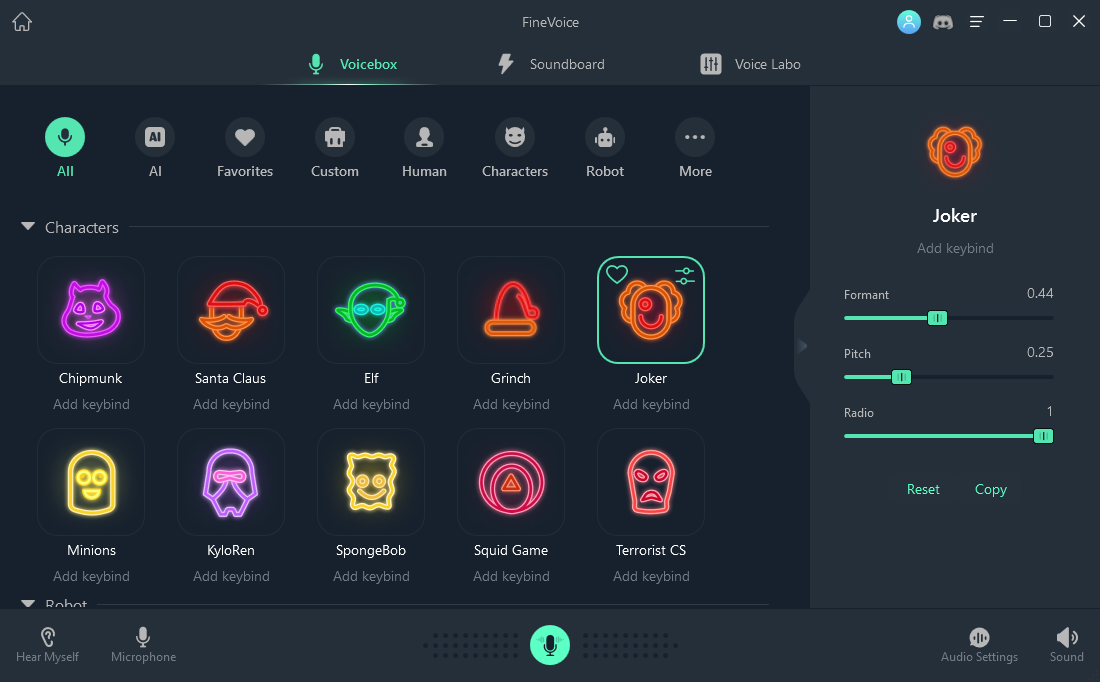 🙂Pros:
You can change your voice in real time while you are streaming on platforms like Discord, Zoom, Twitch, and others
Offer over 30 voice effects that can transform your voice into different styles, such as robot, demon, chipmunk, Egirl, man, and more
You can create your own voice effects with the voice labo function
Convert any text into the realistic voices of your favorite characters
Provide more tools to solve complex speech processing tasks, such as fast and accurate transcription, multitrack voice recording, audio extractor, and more
Receive regular updates, addressing bugs and adding new features
🙁Cons:
It doesn't have a mobile app.
It only works on Windows 10/11 computers.
Voxal Voice Changer
If you're looking for a top-notch voice changer that can elevate your streaming to the next level, Voxal Voice Changer is a fantastic choice. It's designed to be a streamer's best friend, whether you're looking to add a twist to your gaming sessions, create unique content, or maintain privacy.
With it, you can roleplay any type of character and sound like someone else in online games or prank calls. You can also add realistic background noise effects, such as busy offices, trains, forests, and more. You can also adjust the volume of the background noise to suit your needs. You can use it with any application or game that uses a microphone, such as CS: GO, Rainbow Six Siege, Skype, Discord, and more.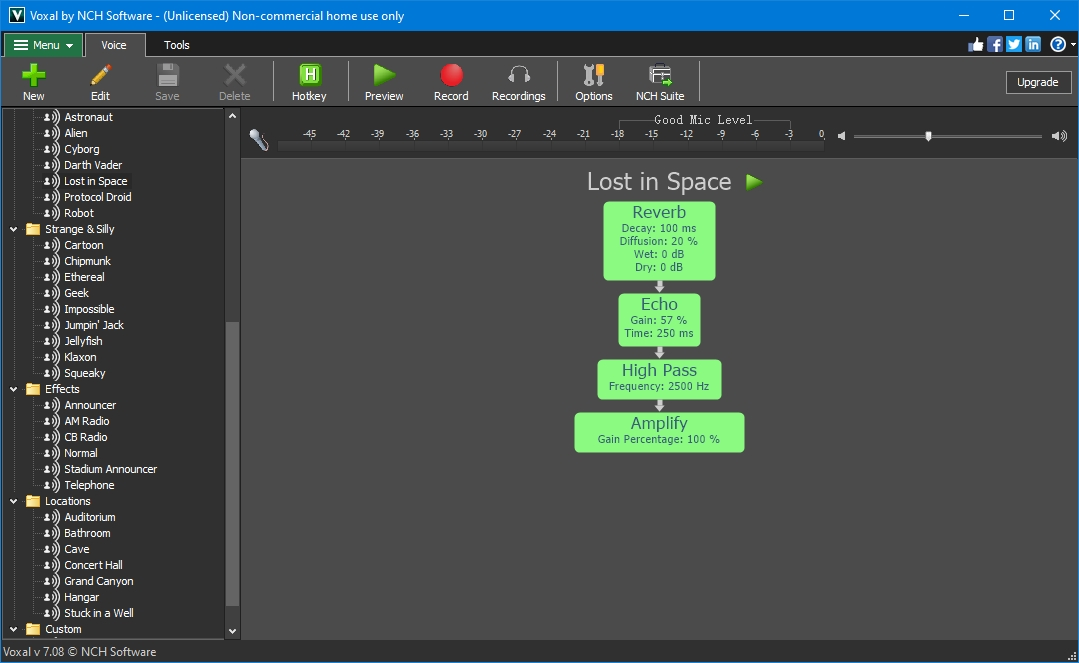 🙂Pros:
It has a wide range of voice effects that can make you sound like anything you want, such as a monster, a superhero like Spiderman, a villain, or an animal
You can change your voice as you speak or after you record
You can use it with many games and applications that use a microphone
You can easily control the software with hotkeys and a simple user interface
You can use it without affecting your system performance or FPS when gaming
It functions with both Windows and macOS platforms
🙁Cons:
Mastering the software and its functionalities might require a learning curve
The full-featured version of Voxal requires a purchase
MorphVOX
MorphVOX is another voice changer software for streaming that can transform your voice in real time with amazing quality and accuracy. It has an extensive library of voice effects, so you can choose from the menacing growls of a monstrous creature to the whimsical banter of an animated character.
For users who crave personalization, MorphVOX allows you to craft and save custom voice presets. This feature offers a high degree of flexibility, allowing you to quickly switch between different voices or characters during your stream, keeping your audience entertained and engaged.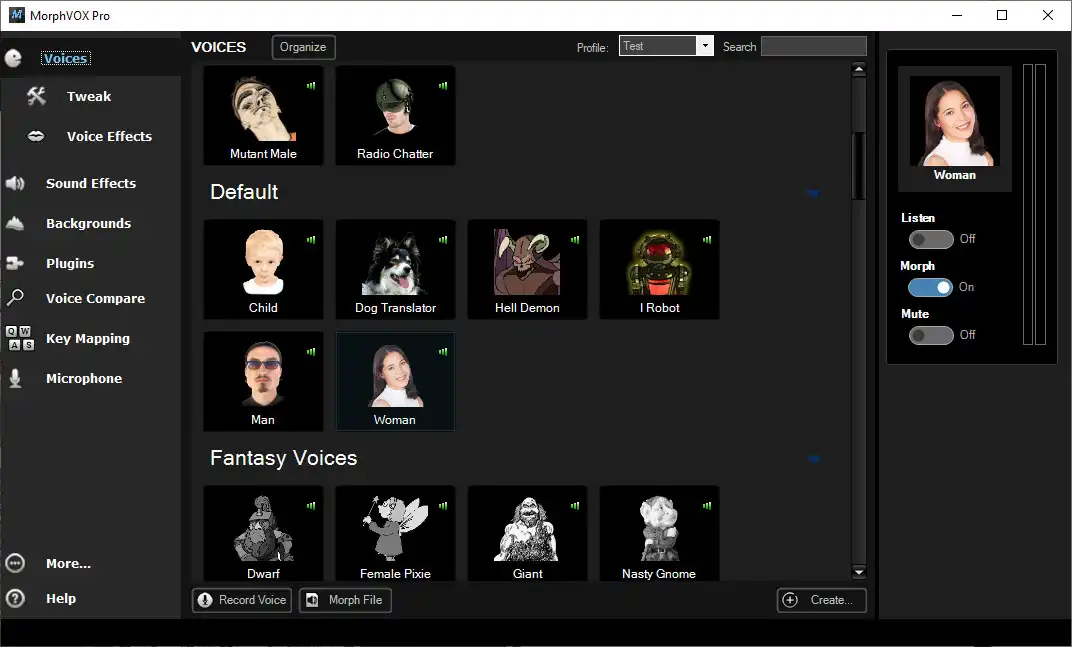 🙂Pros:
It offers real-time voice modulation, enabling you to change your voice instantly during streaming and other applications
Offer a vast selection of advanced voice effects
It includes background sounds to enhance the immersive experience during your streams
It's known for its excellent audio quality
You can create and save custom voice presets
🙁Cons:
MorphVOX is primarily a paid software
It has a steeper learning curve, particularly when exploring advanced settings and customizations
It may consume a relatively significant amount of system resources
Clownfish Voice Changer
Clownfish Voice Changer stands out as an exceptional and cost-effective choice for streamers seeking the best free voice changers for streaming to elevate their content. You can play different categories of sounds, such as animals, cartoons, expressions, games, etc. You can also add your own sounds and edit them using the built-in sound editor.
You can choose from a wide range of voice effects, such as alien, baby, robot, radio, helium, UwU, etc. You can also create your own custom pitch and vocoder effects. You can adjust the intensity and quality of the effects using sliders and buttons. Clownfish can be used not only for streaming but also for pranks, voice chats, and online gaming, adding humor and entertainment to various online interactions.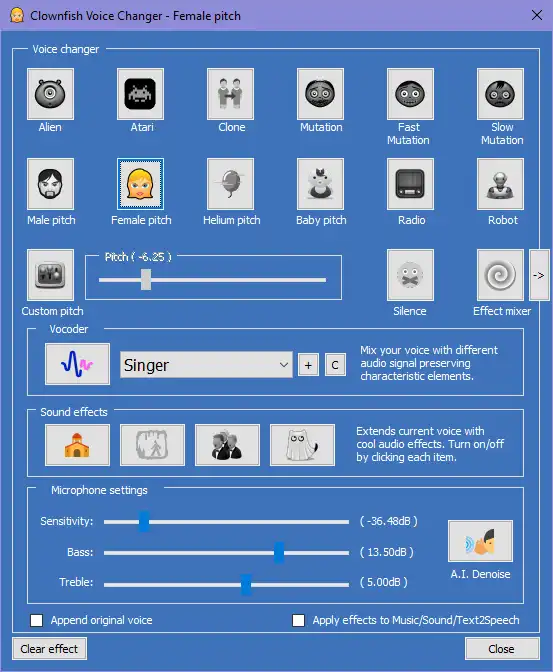 🙂Pros:
It's free software, especially suitable for users on a budget
Clownfish offers an intuitive and user-friendly interface
It's compatible with various communication and streaming applications, including Discord, Skype, TeamSpeak, and more
Provide a broad selection of voice effects, such as robot, alien, echo, and more
Enable real-time voice modulation
🙁Cons:
It may lack some advanced features and customization options
The audio quality of these effects may not be as high as in paid alternatives
Limited to Windows
AV Voice Changer
Voice Changer Software emerges as the ultimate voice changer for live streaming, designed to enhance your live streaming experience like never before. This versatile and feature-rich software, exclusively available for Windows users, allows you to change your voice in real-time, adding a captivating layer of creativity and entertainment to your live broadcasts.
You can become anyone or anything you envision, instantly transforming your voice into that of a superhero like Batman, a whimsical character, or an alien from another galaxy. You can also add cool effects and sounds to your voice to make it more lively and realistic. Whether you're a dedicated gamer, a masterful storyteller, or a casual streamer, AV Voice Changer elevates your streaming game.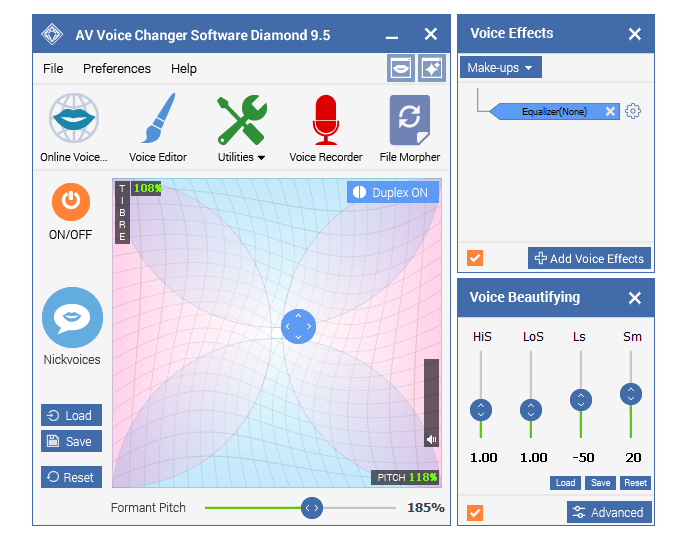 🙂Pros:
Offer real-time voice changes, allowing you to instantly modify your voice during live streams or conversations
Provide a wide variety of voice effects, pitch adjustments, and custom presets
The voice sounds clear and professional during live broadcasts
Integrate with popular VoIP applications seamlessly
Support advanced customization and scripting
🙁Cons:
It primarily operates on Windows systems, leaving macOS and Linux users without access
It potentially excludes users on a tight budget
Occasional compatibility issues
Conclusion
As you explore the realm of voice changers for streaming, remember that your creativity knows no bounds. With these tools, you can transform your stream into a fun, unforgettable adventure that your viewers will keep coming back to. So, don't wait—dive in and let the fun begin!
Download FineVoice and let your creativity run wild in the world of streaming. Unleash the magic, and let your voice transform your content into something truly extraordinary!
FAQs about Voice Changer for Streaming
What is a voice changer for streaming?
A voice changer for streaming is a software or hardware tool that allows streamers to alter their voices in real time. It's used to add various effects, accents, or character voices to their streams.
Are voice changers legal to use in streaming?
Using voice changers for entertainment purposes is generally legal. However, it's essential to respect platform rules and avoid any harmful or offensive content. Additionally, be aware of privacy laws when using voice changers that involve the voices of others.
Do I need any additional equipment for using a voice changer in my streams?
In most cases, you can use a stream voice changer with your existing microphone and streaming setup. However, investing in a high-quality microphone can further enhance the overall audio quality of your streams.