Recently, multi-camera live streaming apps have grown in popularity. Some people choose to use multiple live streaming software to make their live streams more professional. In this post, 3 best multi-camera live streaming software to empower your live stream.
What Is Multi-Camera Live Streaming Software?
Multi-camera live streaming offers your audience different perspectives and makes them entirely engage in your live stream. A single angle cannot perfectly show your face and other objects you want to display at the same time. But multi-camera live streaming software can help you achieve this goal. That is why you need multi-camera live streaming software.
Multi-camera live streaming is one person using more than one camera to capture and transmit a single live stream. Multi-camera live streaming is important for individuals and businesses who want to enhance their streaming.
It plays a vital role in many events like sports, gaming, live conference, shopping, and more. Multi-camera live streaming can make your video more professional and interesting and also keep your audience more engaged.
Now, not only professional devices can create live streaming but also some apps can finish it. Which app? How can I get it? This post can tell your answer.
3 Best Multi-camera Live Streaming Software
FineCam
FineCam is an AI-powered virtual camera, also a live streaming app, which can connect all your favorite streaming apps and conferencing, such as YouTube, Zoom, Twitch, etc.
During the live streaming, you can show more than one angle to your audience by clicking the + icon. Most of all, the number of the camera is unlimited. It can take your live streaming to the next level.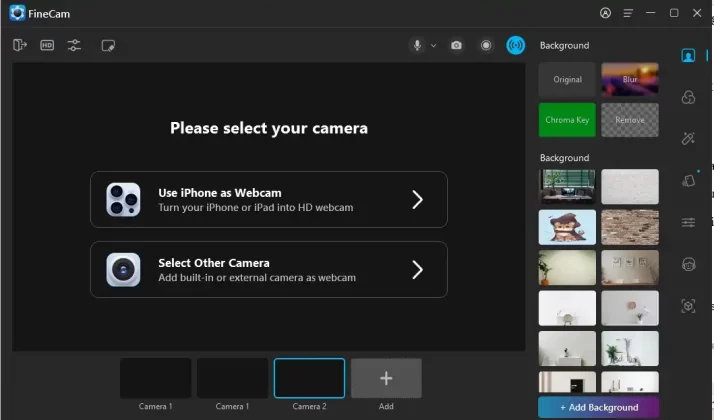 Main features:
High-Quality Video: FineCam can replace professional devices and turns your iPhone into an HD webcam for your computers.
Shot From Multiple Angles: use the phone's front and rear cameras simultaneously.
Webcam Background Removal: FineCam helps users remove and blur webcam background simultaneously, or you directly pick your favorite photos and set them as your background.
FineCam support users add YouTube videos, webpage links, and slides as background.
OBS Studio
As a free and open-source software for multi-camera live streaming and video recording, OBS Studio (Open Broadcaster Software) is simple to use with Twitch, Facebook Live, YouTube, and other platforms.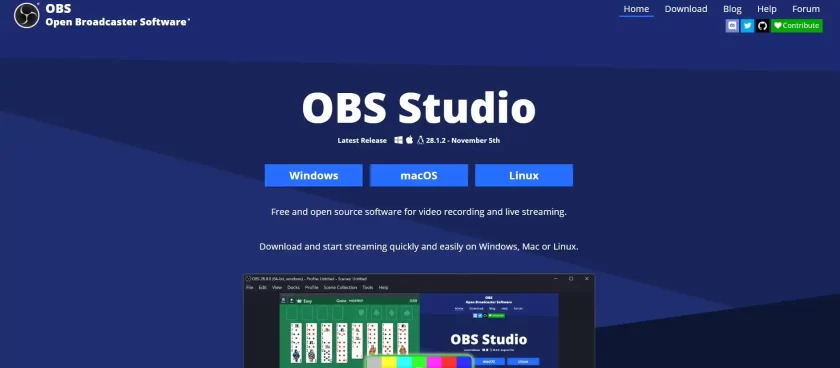 Main features:
Studio Mode: You can design the layout as you like.
Scenes Settings: The unlimited number of scenes and easily switch scenes by custom transitions.
Audio Mixing Capability: Audio mixer with per-source filters including noise gate and noise suppression.
Switcher Studio
Switcher Studio is another live streaming app that turns your iPhone into a streaming camera. It can connect up to 9 cameras or video simultaneously. Influencers and e-commerce companies use this app to sell and promote brands. This app is best for influencers and e-commerce platforms.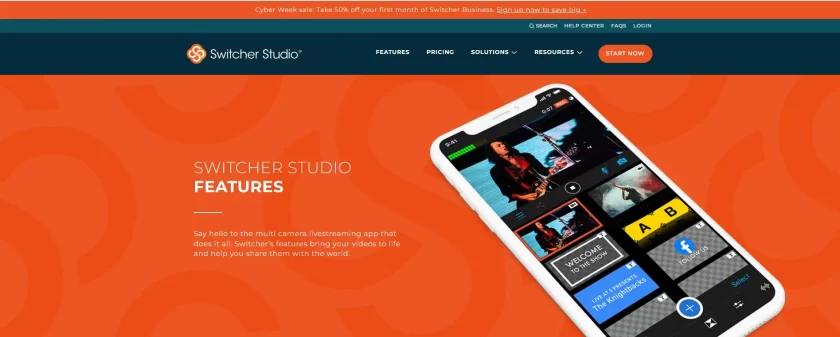 Main features:
Sell Products: Shopify merchants can sell products on Facebook, and they can insert pictures, and multimedia to beautify their products.
Multi-camera Live Streaming: Switcher Studio can connect up to 9 cameras, such as PC, iOS, iPhone screens, etc.
Share the Screen: You can invite your friends to join your video, and your friends can share their computer screens.
Conclusion
According to this post, I introduce the 3 best multi-camera live streaming software, FineCam, OBS Studio, and Switcher Studio, and hope they will bring you a good live streaming experience.