Have you ever listened to a song and thought, "Wow, this is better than the original!"? Sometimes, a cover version of a song can take it to a whole new level of greatness, by adding a different style, flavor, or emotion.
Whether it's rock, K-pop, pop, R&B, soul, or metal, many cover songs outshine the originals, according to some music fans and critics. Here is the ultimate list of 20 covers better than the originals, in no particular order.
The Ultimate List Of 20 Covers Better Than The Original That Will Blow Your Mind
1. Whitney Houston: – I Will Always Love You
Originally by Dolly Parton
Dolly Parton's country ballad was reborn through Whitney Houston's powerhouse vocals, transforming it into an immortal love anthem and an enduring symbol of affection.
2. Jimi Hendrix: – All Along the Watchtower
Originally by Bob Dylan
Jimi Hendrix's transformative guitar virtuosity and electrifying performance turned Bob Dylan's folk ballad into a roaring psychedelic rock anthem, forever etching it in the annals of rock history.
3. Jeff Buckley: – Hallelujah
Originally by Leonard Cohen
Leonard Cohen's Hallelujah was already a lyrical masterpiece, but Jeff Buckley's rendition brought an ethereal quality, painting the song with raw, heart-wrenching emotion that has made it a timeless classic.
4. Aretha Franklin: – Respect
Originally by Otis Redding
Aretha Franklin's soulful reinterpretation of Otis Redding's Respect not only equaled the original's intensity but became an anthem of women's empowerment and self-respect. So it's one of the cover songs that are better than the original.
5. Disturbed: – The Sound of Silence
Originally by Simon & Garfunkel
Disturbed's powerful and haunting cover of Simon & Garfunkel's "Sound of Silence" added a modern, darker edge while preserving the song's introspective beauty, solidifying its status as a remarkable reinterpretation.
6. Nirvana: – The Man Who Sold the World
Originally by David Bowie
Nirvana's haunting, grunge-inspired take on David Bowie's "The Man Who Sold the World" showcased Kurt Cobain's emotional depth and established a deep connection between the two musical legends.
7. The Fugees: – Killing Me Softly with His Song
Originally by Roberta Flack
The Fugees' version of Killing Me Softly with His Song was more soulful and jazzy, with a brass section and a Motown vibe. It became a worldwide hit, reaching number one in many countries, and winning a Grammy award for Best R&B Performance by a Duo or Group with Vocal.
8. Sinead O'Connor: – Nothing Compares 2 U
Originally by The Family (written by Prince)
Sinead O'Connor's raw, emotionally charged interpretation of Prince's "Nothing Compares 2 U" resonated with heartbreak, becoming an enduring ballad for the ages.
9. Johnny Cash: – Hurt
Originally by Nine Inch Nails
Johnny Cash's poignant cover of Nine Inch Nails' "Hurt" stands as a haunting reflection on a life lived, transforming the industrial rock hit into a heartbreaking farewell, a testament to Cash's own journey.
10. Michael Bublé: – Feeling Good
Originally by Nina Simone
Nina Simone's jazz standard took on a modern, magnetic charm when Michael Bublé's silky vocals and contemporary jazz-pop arrangement gave it new life, connecting with a new generation of listeners.
11. Soft Cell: – Tainted Love
Originally by Gloria Jones
Soft Cell's synth-pop revival of Gloria Jones' "Tainted Love" breathed new life into the song, defining an entire era and emerging as a quintessential '80s anthem.
12. Alien Ant Farm: – Smooth Criminal
Originally by Michael Jackson
Alien Ant Farm's high-octane and punk-infused cover of Michael Jackson's "Smooth Criminal" gave a youthful spin to the King of Pop's hit, captivating a new generation of fans.
13. Marvin Gaye: – I Heard It Through the Grapevine
Originally by Gladys Knight & the Pips
This soul song was written by Norman Whitfield and Barrett Strong, and recorded by several artists in the 1960s. The most famous version was by Marvin Gaye in 1968, who slowed down the song and added more emotion and drama to his vocals.
14. The Clash: – I Fought the Law
Originally by The Crickets
This rockabilly song was written by Sonny Curtis and recorded by The Crickets in 1959. The song was covered by many artists, but one of the most famous covers better than the original was by The Clash in 1979. The Clash's version was more punk and rebellious, giving the song a new edge and energy.
15. Guns N' Roses: – Knockin' on Heaven's Door
Originally by Bob Dylan
This song was written and recorded by Bob Dylan in 1973, for the soundtrack of the film Pat Garrett and Billy the Kid. Guns N' Roses' version was more hard rock and epic, featuring electric guitars, keyboards, and a choir.
16. Amy Winehouse: – Valerie
Originally by The Zutons
The song became more popular when Amy Winehouse covered it in 2007, with Mark Ronson as the producer. Winehouse's version was more soulful and jazzy, with a brass section and a Motown vibe.
17. Joan Jett & The Blackhearts: – I Love Rock 'n' Roll
Originally by The Arrows
Joan Jett's fierce rendition of The Arrows' "I Love Rock 'n' Roll" reshaped the song into an iconic rock anthem, immortalizing her as a rock 'n' roll legend.
18. Madonna: – American Pie
Originally by Don McLean
The song was covered by Madonna in 2000, for the soundtrack of the film The Next Best Thing. Madonna's version was more pop and danceable, with a shorter length and a different arrangement.
19. The Beatles: – Twist and Shout
Originally by the Isley Brothers
The Beatles' exhilarating cover of the Isley Brothers' "Twist and Shout" embodied youthful exuberance and remains a timeless classic, capturing the essence of the band's early years.
20. Aerosmith: – Come Together
Originally by The Beatles
The song was covered by Aerosmith in 1978, for the soundtrack of the film Sgt. Pepper's Lonely Hearts Club Band. Aerosmith's version was more rock and roll and energetic, featuring Steven Tyler's raspy vocals and Joe Perry's guitar solo.
Bonus Tips: How to Create AI Cover Songs with FineShare Singify?
Do you want to create your own song covers with the voices of your favorite singers, rappers, or celebrities? Do you want to hear how your voice sounds like when mixed with AI vocals? Try FineShare Singify, the ultimate online AI song cover generator.
FineShare Singify lets you create stunning song covers with over 100 AI voice models in just one click. You can choose from a variety of voices, such as Beyoncé, Taylor Swift, Lil Peep, Morgan Freeman, and many more.
It's very easy and fast. You just need to follow these simple steps.
Step 1: Go to the FineShare Singify website and create a free account.
Step 2: Explore the library of 100+ AI voice models and pick the one you like.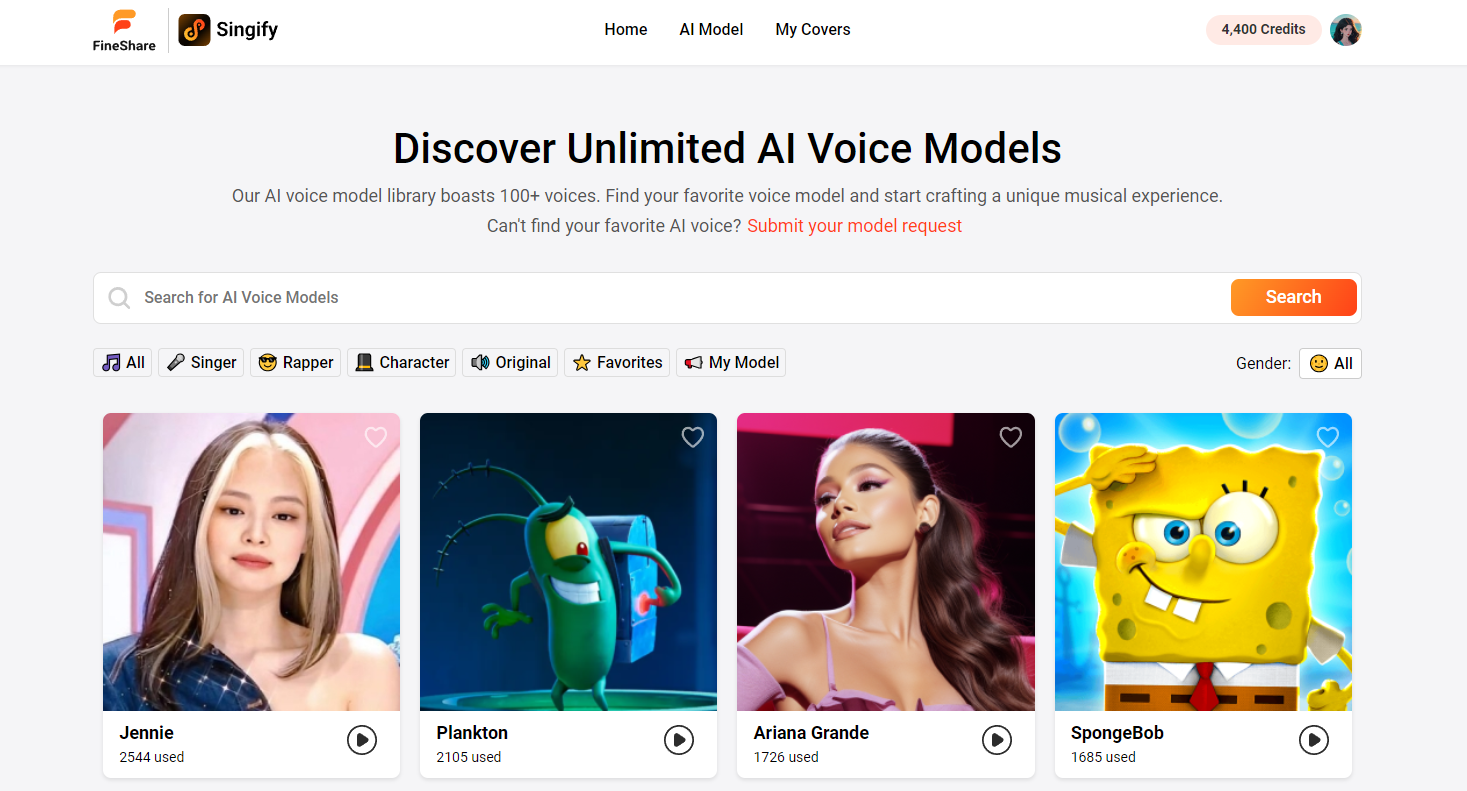 Step 3: Upload the song you want to cover or search by the song title. You can also record your own singing voice if you want.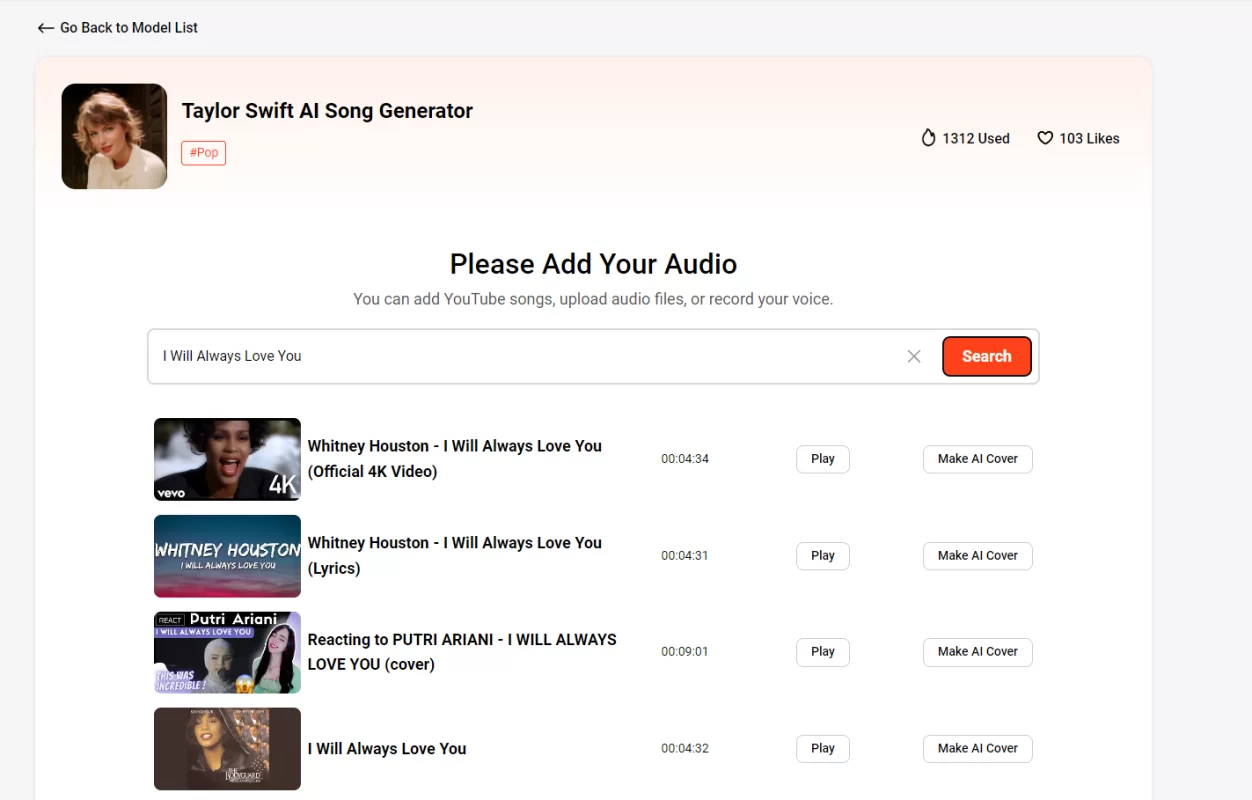 Step 4: Wait for a few seconds while the AI generates your cover song.
Step 5: Download your AI cover song or share it with your friends on social media.
Conclusion
These 20 remarkable covers are not just musical reinventions; they are chapters in the ever-evolving story of music. They don't just pay homage to their originals; they redefine and expand their horizons, leaving an indelible mark on the landscape of music.
So, what do you think of these cover songs? Do you agree that they are better than the originals, or do you prefer the original versions? Do you have any other cover songs that you think are better than the originals?
FAQs about Covers Better Than the Original
Why Do Artists Choose to Cover Songs in the First Place?
Artists often cover songs for various reasons, including paying tribute to their musical influences, showcasing their vocal or instrumental skills, and adding their unique interpretation to a well-known piece of music.
Are There Any Legal Considerations When Covering a Song?
Yes, covering a song often requires obtaining the necessary licenses and permissions from the original copyright holders. Copyright infringement could occur if this isn't done.
What Factors Make a Cover Successful in Surpassing the Original?
Successful covers often bring a fresh perspective, unique style, or emotional depth to the song. Exceptional vocal or instrumental performances can also contribute to a cover's success.