Have you ever wanted to remove the vocals from a video and keep only the music, or vice versa? Maybe you want to make your karaoke tracks, remix your favorite songs, eliminate unwanted noise, or edit the vocals for your own project. Whatever your reason, you need a good vocal remover tool that can help you achieve your goal.
In this article, we will introduce you to the 5 best vocal removers from videos. We will compare their features and help you decide which one is right for you. Whether you prefer online or app tools, we have got you covered.
Adobe Audition: Elevating Professional Audio Editing
Do you want to create amazing audio projects with ease and efficiency? Do you desire to let your imagination run free and express yourself via music? If yes, then you need Adobe Audition, the ultimate audio workstation for professionals.
Adobe Audition offers over 12,000 free sound effects. You can also import your own sound effects or create new ones using the sound design tools. You can work with different types of audio formats and displays, such as multitrack, waveform, or spectral. You can also use advanced tools to remove background noise, align speech, and enhance sound quality.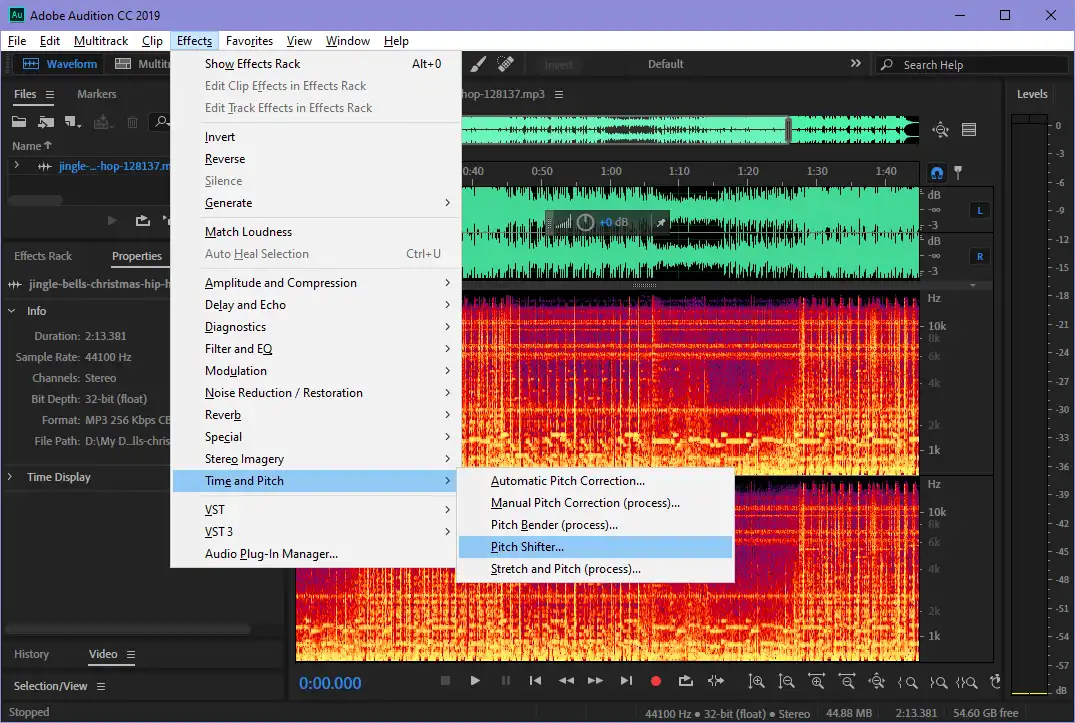 Features:
Record and edit audio in multiple tracks, waveforms, or spectral displays
Mix and master your audio with advanced effects and plugins
Access over 12,000 free sound effects from the Adobe Audition library
Export your mixes in various formats, such as MP3, WAV, OGG, and more.
Creative Cloud integration
Audacity: The Open-Source Approach to Vocal Removal
Given its free and open nature, Audacity has earned a place in the hearts of users looking for a reliable vocal remover from videos without breaking the bank. It's accessible to beginners thanks to its user-friendly interface. You can import and export audio files from different sources and applications, such as CDs, tapes, vinyl records, video games, streaming services, and online platforms.
One of the most amazing features of Audacity is vocal removal, which can help you create karaoke tracks or isolate vocals from songs. It can extract vocals from stereo tracks by splitting them into left and right channels, inverting one of them, and setting both to mono. It also has a Vocal Reduction and Isolation effect that can automate this process and give you more options to adjust the frequency range and the output mode.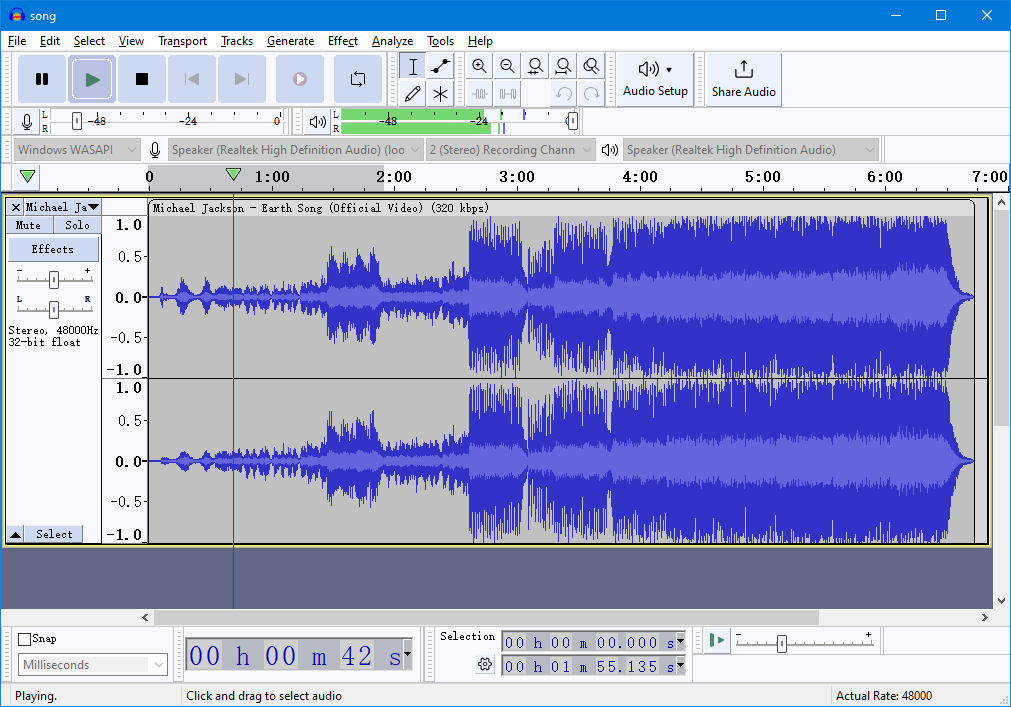 Features:
Use a microphone or mixer to capture live audio, or digitize existing recordings.
Import, edit, and combine sound files in different formats, such as WAV, AIFF, FLAC, MP2, MP3, Ogg Vorbis, and more
Apply various effects to your audio, such as changing the speed, pitch, or tempo of a recording
Use the spectrogram view mode to see and choose frequencies.
Fully manipulate tracks and selections using the keyboard
Vocal Remover and Isolation: The Free Online Vocal Remover for Songs and YouTube Videos
Do you love music and sound? Do you want to make your own tracks from any song or video? Then you need Vocal Remover and Isolation. It's a website that lets you separate the background music and remove vocals from YouTube videos or any audio file.
It can handle any kind of mix, even the most complex ones. And it learns from thousands of songs and adapts to different genres and styles. You can select which instruments you want to isolate or remove from the song. You can also adjust the track's volume and pan settings. Whether you want to practice your singing skills, make your own remixes, or experiment with sound design, this website has everything you need.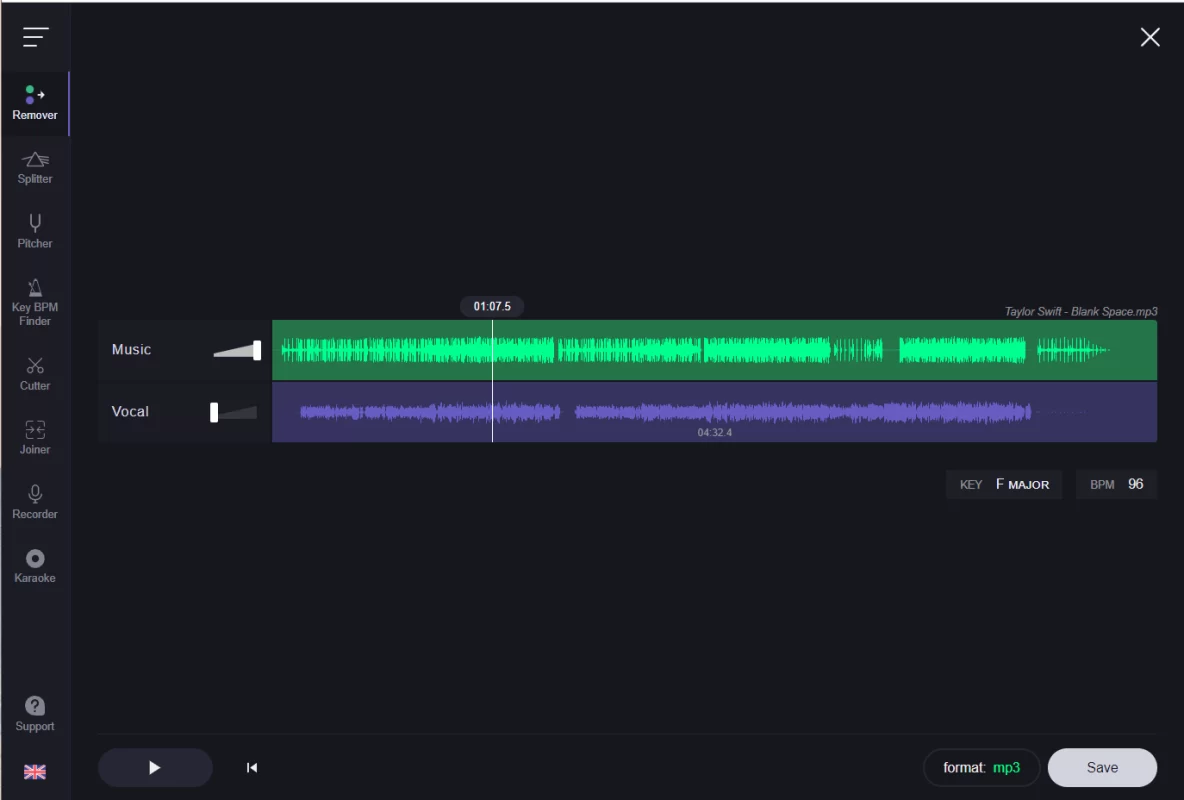 Features:
Simple and user-friendly interface
It's free to use for files up to 4 minutes long and 30 MB in size
Use artificial intelligence and machine learning to deliver high-quality results fast
Support various file formats, such as MP3, WAV, AAC, AIFF, M4A, MP4, AVI, FLV, MOV, WMV
Notta: The Online Vocal Remover with Multiple Features
Notta is an online vocal remover from video tool that can remove vocals from any video file with ease and accuracy. Unlike other vocal removers that use simple filtering techniques, Notta uses deep learning to analyze the audio spectrum and isolate the vocals from the music. In this way, Notta maintains the highest quality vocal and instrumental sound output, avoiding common audio artifacts that sound robotic or have a metallic edge.
Notta has a simple and intuitive interface that allows you to remove vocals in a one-step process. You don't need to install any software or plugins to use Notta. It works on any device and any browser, whether you use Mac, Windows, Android, or iPhone, or Google Chrome, Safari, Firefox or Edge.
Additionally, Notta clears all files within 24 hours after processing, so you don't have to worry about data security.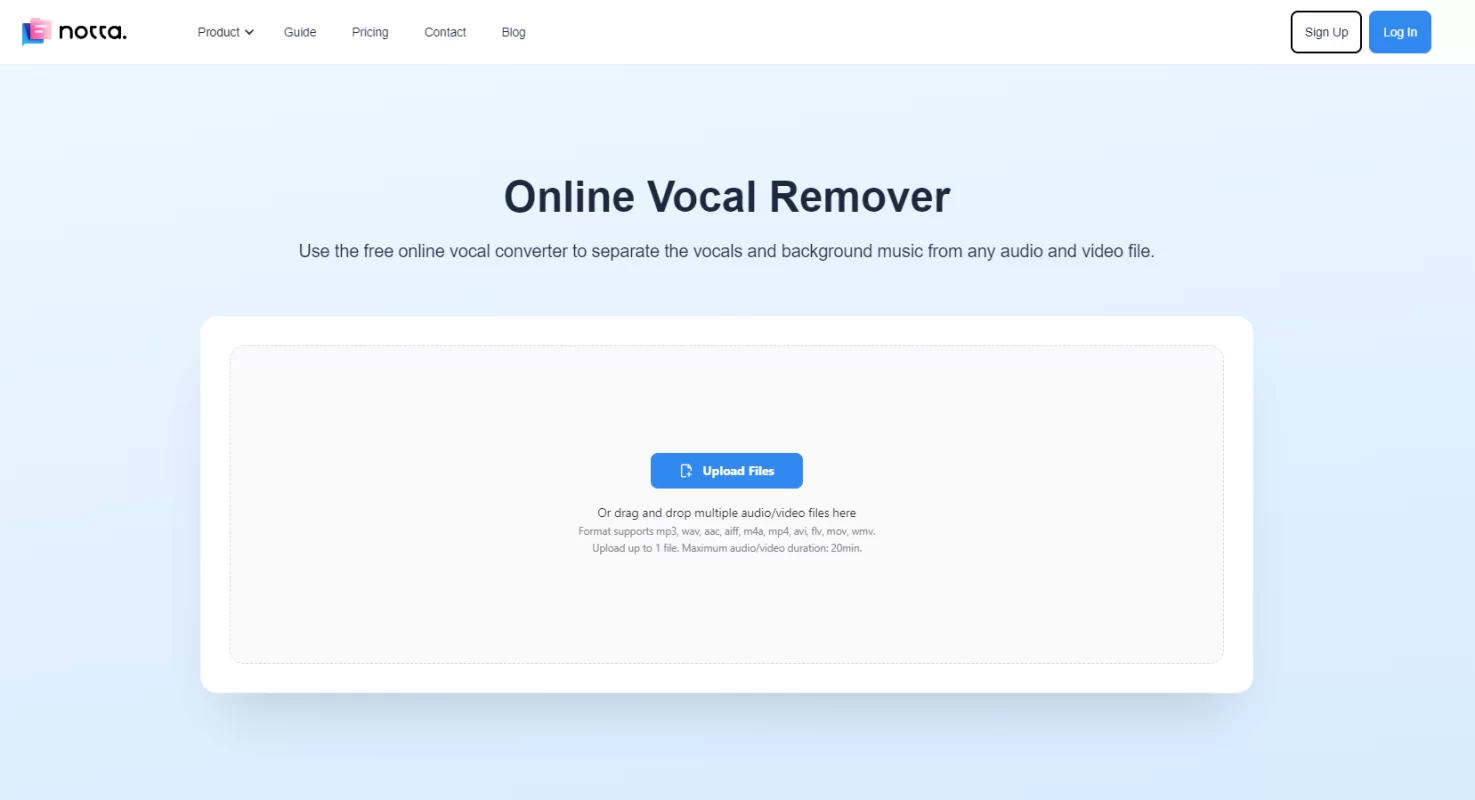 Features:
Extract vocal and instrumental sounds from songs accurately
Easy to use
Work on any device and any browser
Your files are encrypted and protected by SSL technology
Record and transcribe your Zoon meetings instantly
VEED.IO: The Online Video Editor with Mute Feature
Do you want to create stunning videos without any hassle? If yes, then VEED.IO is the perfect online video editor and ultimate vocal remover for you. It's a simple yet powerful tool that lets you make professional-quality videos for marketing, social media, education, communication, and more.
One of the amazing features that VEED.IO offers is the ability to mute video online. You can easily remove audio tracks from a video file with just a few clicks. You can mute a part of the video or the whole video. After eliminating the original audio from your video, you can also add your own audio files. This is handy if you want to remove voice, music, or unnecessary sounds while keeping video quality.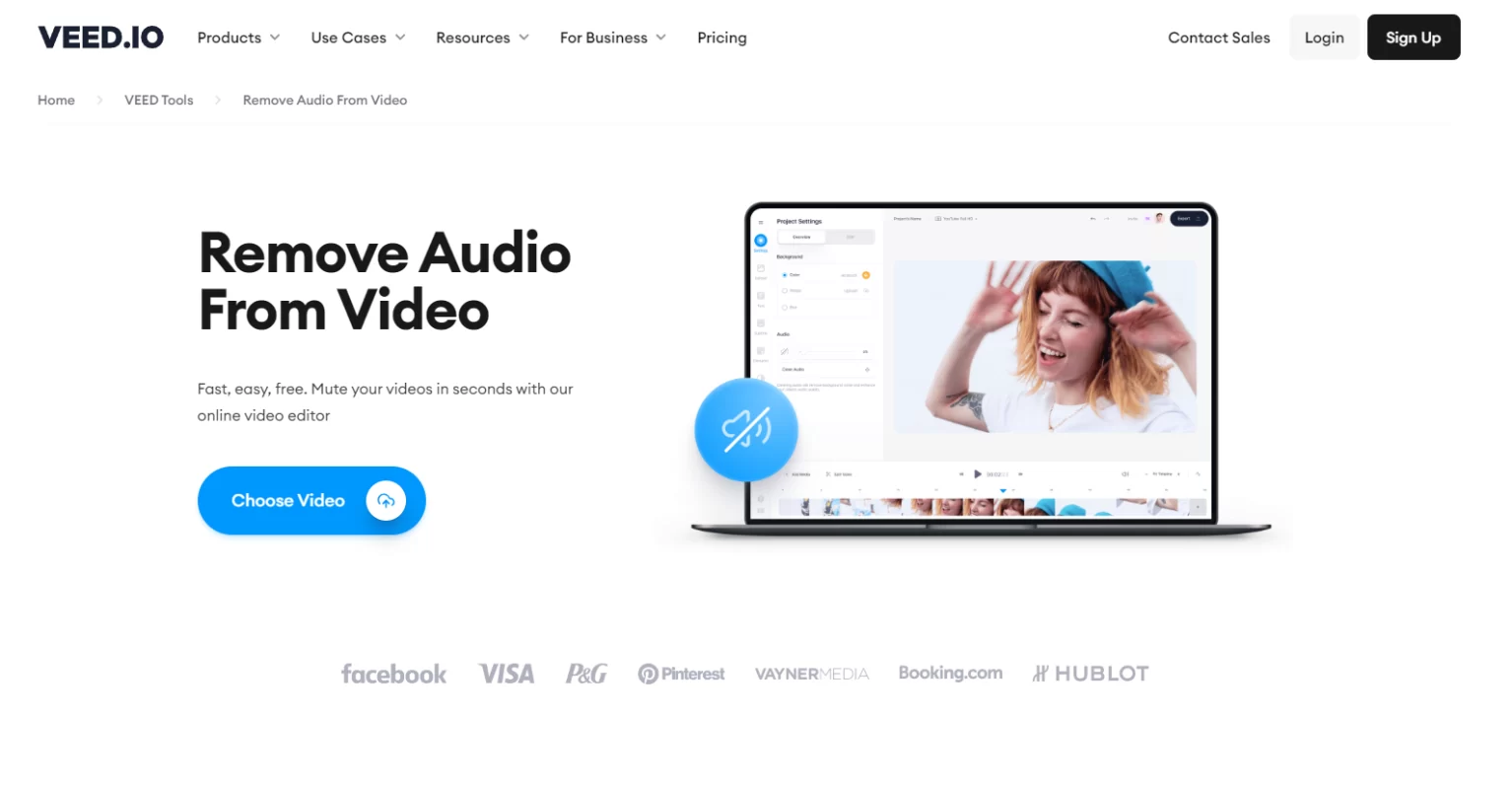 Feature Highlights:
Remove background noise from your videos instantly to ensure your content is free from any audible distractions
Remove the background of your videos without using a green screen
Remove unwanted silences, awkward pauses, or filler words from your videos in just a few seconds
Access millions of royalty-free images, videos, and music tracks from VEED.IO's stock library
Add subtitles to your videos with almost perfect precision
Bonus Tip: The Online AI Song Cover Generator FineShare Singify
If you are looking for a fun and creative way to make song covers, you should try FineShare Singify, the best online AI song cover generator. It's very easy and convenient to use. For example, you can sing "Bad Guy" by Billie Eilish in the voice of Donald Trump, or "Shape of You" by Ed Sheeran in the voice of SpongeBob.
With FineShare Singify, you can first remove the vocals from a video and keep only the music, then use FineShare Singify to add your vocals. You can choose from more than 100 unique AI voice models, including singers like Taylor Swift, Ed Sheeran, and Ariana Grande, rappers like Eminem, Drake, and Nicki Minaj, celebrities like Scarlett Johansson, Barack Obama, and Morgan Freeman, cartoon characters like Patrick Star, Homer Simpson, Elmo, fictional figures Goku, Vegeta, Shrek, and more.
Don't wait any longer, start creating your own AI song cover now!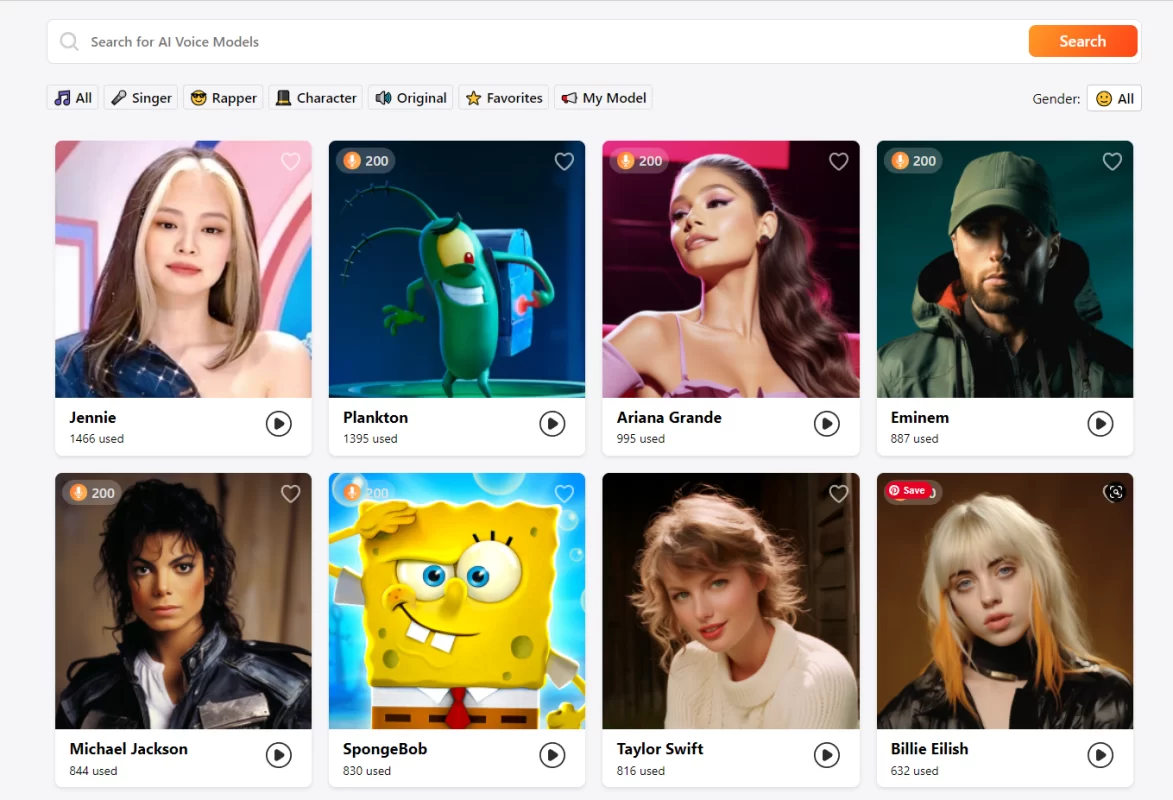 Features:
Free to use and doesn't demand installation or downloading
Use AI voice cloning technology to create song covers with different voices
More than a hundred distinct AI voice models
Offer three built-in ways to make song covers: search for the songs, upload audio files, and record directly
Let you preview, download, and share your song covers with your friends and family
Conclusion
The world of vocal remover tools beckons us to compose new symphonies of creativity. Whether you want to remove vocals from videos online or offline, there is a vocal remover from video that can suit your preferences and requirements.
However, keep in mind that no tool can guarantee a perfect result, as some vocals or instruments may still be audible or distorted after the removal process.
FAQs about Vocal Remover from Video
How Do Vocal Remover Tools Work?
Video vocal removers work by analyzing the audio frequencies and characteristics of a song to distinguish between vocals and instrumental elements. They use various techniques such as frequency-based separation, phase cancellation, and machine learning algorithms to achieve this separation. Once the vocal components are identified, they can be muted or reduced, leaving behind the instrumental parts.
Can Vocal Remover Tools Completely remove vocals?
While vocal remover tools can be quite effective, achieving a perfect vocal removal is challenging, especially in complex audio tracks. Vocals often share frequencies with other instruments, making complete removal without affecting the audio quality difficult.
What Are the Applications of Vocal Remover Tools?
Vocal remover tools have various applications. Musicians and DJs use them to create remixes and mashups, while video creators can alter audio dynamics for their content. Karaoke enthusiasts can generate instrumental versions of songs, and music producers can extract instrumentals for sampling.