Picture this: a dusty road, a lonely guitar, and the haunting voice of a troubadour telling tales of love, heartbreak, and the rugged beauty of the heartland. Country music has always been a captivating journey into the human experience, where lyrics are more than words—they're the fabric of life itself.
While the traditions of country music have been lovingly tended by human hands and hearts, the digital age has ushered in a remarkable era of songwriting creativity. In this article, we'll introduce you to 3 amazing country song generators that are poised to change the way we craft country melodies.
What Is a Country Song?
A country song is a genre of music that typically features storytelling lyrics and instrumentation associated with rural and American folk traditions. Country music often draws from the experiences and emotions of everyday life, encompassing themes such as love, heartbreak, family, rural life, and the struggles and triumphs of ordinary people.
Here are the key characteristics of a country song.
Country songs are known for their narrative lyrics that tell a story or convey a specific message. These lyrics often focus on personal experiences and emotions, making them relatable to a wide audience.
Traditional country music often features acoustic and string instruments such as guitars (both acoustic and electric), fiddles, banjos, steel guitars, and harmonicas.
Country singers typically use a clear and dynamic vocal style. While styles can vary, many country songs are characterized by the use of vibrato, yodeling, and a twangy vocal quality.
Common themes in country music include love and relationships, heartache and loss, patriotism, nostalgia for rural life, and storytelling about the challenges and triumphs of everyday people.
Country music encompasses various subgenres, such as traditional country, outlaw country, country pop, and more. Each subgenre may have its own unique characteristics and themes.
Country music has deep roots in American culture, particularly in the rural South. It has also influenced and been influenced by other genres, such as folk, blues, gospel, and rock 'n' roll.
3 Amazing Country Song Generators
Do you love country music? Do you want to create your own country songs? Do you wish you could sing like your favorite singers, celebrities, or even cartoon characters? Try FineShare Singify, the free online AI country song cover generator that lets you create amazing song covers.
FineShare Singify covers all kinds of music genres and styles, including country music, K-pop, pop, R&B, etc. You can choose from over 100 AI voice models, ranging from singers and celebrities to cartoon characters such as Taylor Swift, Michael Jackson, Plankton, Patrick Star, and many more.
You can discover new ways of interpreting popular country songs by using different voice models, or you can create your own original country songs by recording them directly. For example, you can make Donald Trump or SpongeBob SquarePants sing a country song and see how it sounds.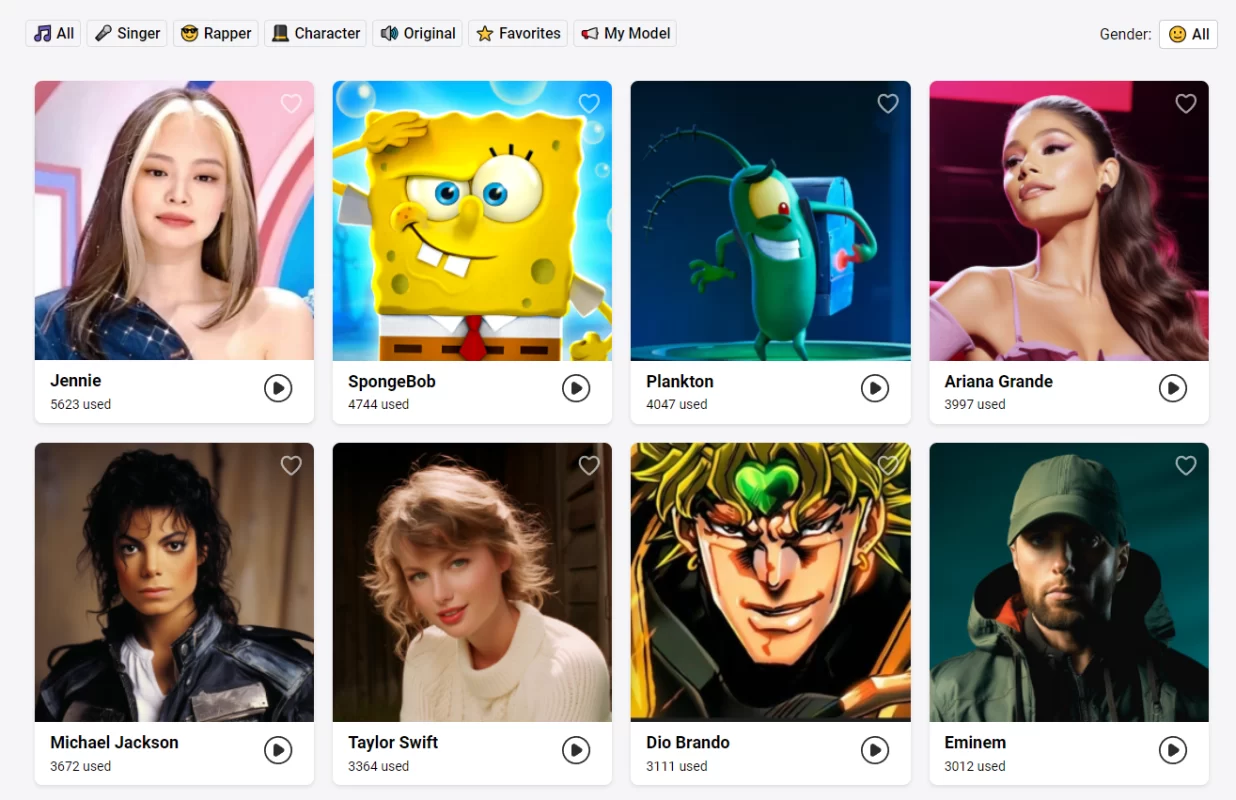 Feature Highlights:
Free online AI song cover generator
It has a user-friendly interface
Provide various AI voice models
Offer three built-in ways for making song covers: search for the songs, upload audio files, and record directly
Share song covers with others on social media or download them for offline listening
Country Song Lyrics Generator
If you are a fan of country music, or if you want to try your hand at writing your own songs, you will love the Country Song Lyrics Generator tool. It's a fun and easy way to create your own country songs in minutes. All you need to do is enter keywords, such as a name, a place, a color, or anything else that comes to your mind.
This Country Song Lyrics Generator tool offers many other types of song generators, such as rap, pop, rock, love, and more. You can also generate lyrics for specific artists, such as Taylor Swift, Ed Sheeran, Drake, and others. The website claims that it's the most powerful lyrics generator on the internet. You can explore all the different options and have fun creating your own songs.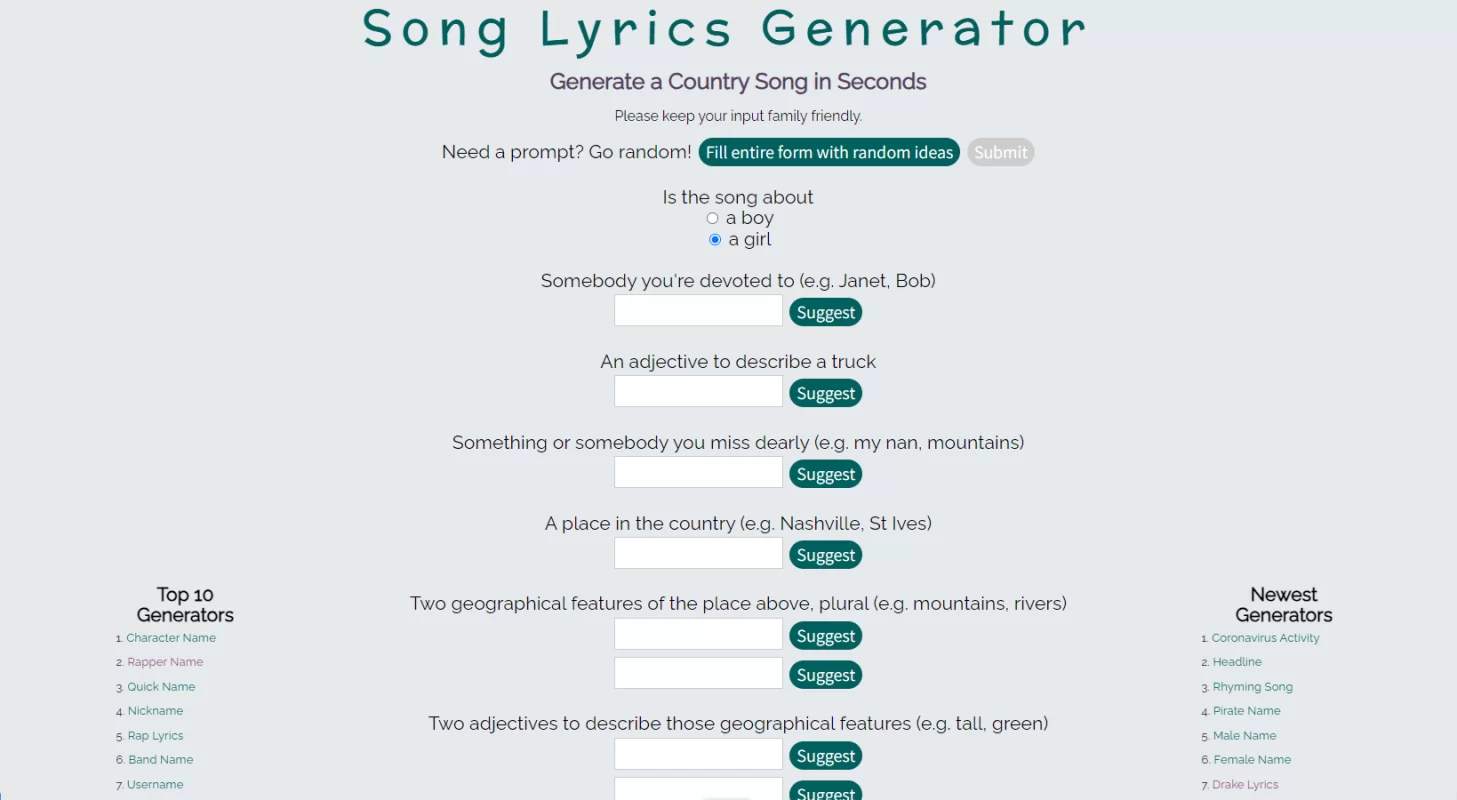 Feature Highlights:
Generate country song lyrics based on the keywords you provide, such as a boy's or a girl's name, a place in the country, a color, and so on
Create lyrics that match the style and mood of country music
Generate lyrics for specific artists, such as Ed Sheeran, Drake, Kanye West, and others
Upload an image to make your song more personal and unique
Provide inspiration and assistance for your lyrics
Country Lyrics Generator
Are you a country music fan? You can check out the Country Lyrics Generator, a tool that can help you write amazing country lyrics in minutes! It's powered by Lyrics.com, a website that has a huge collection of song lyrics from different artists and genres.
You can use this tool to explore your creativity and musicality. You can write songs about anything you want, from romance and sadness to adventure and humor. You can also adjust the lyrics by changing the rhyme scheme, the mood, and the tone. You can even choose the name of your country singer and the title of your song.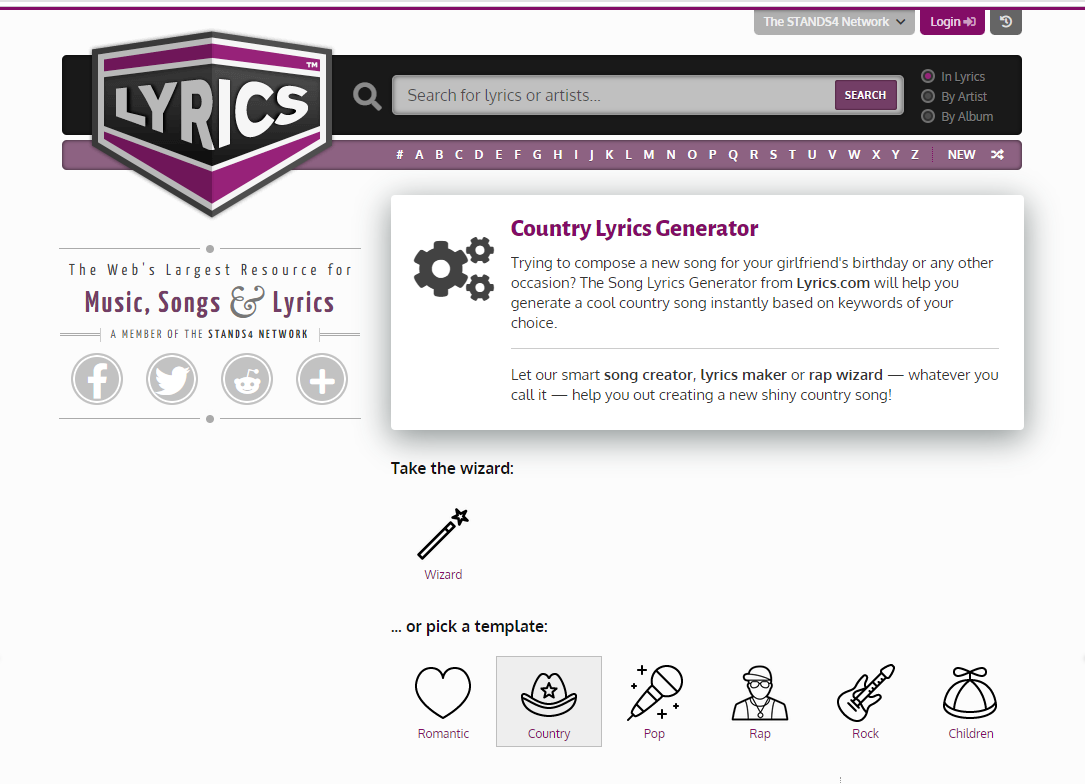 Feature Highlights:
Generate country song lyrics based on some keywords of your choice
Provide different genres such as bluegrass, outlaw, honky-tonk, and more
Guide you through the process of creating a country song using the wizard
Customize the lyrics of your song by changing the words, phrases, rhymes, mood, tone, and more
Let you upload an image to make your song more impressive
The 10 Most Popular and Best Country Songs in 2023
According to the web search results, the top 10 country songs of 2023 ranked so far are as follows.
Jordan Davis, "Next Thing You Know"
Jelly Roll (Feat. Lainey Wilson), "Save Me"
Luke Combs, "Fast Car"
Megan Moroney, "Tennessee Orange"
Morgan Wallen, "Last Night"
Old Dominion, "Memory Lane"
Tyler Hubbard, "Dancin' in the Country"
Ashley McBryde, "Light on in the Kitchen"
Zach Bryan (Feat. Kacey Musgraves), "I Remember Everything"
Chris Stapleton, "White Horse"
Conclusion
In the ever-evolving landscape of music creation, one thing remains constant: the enduring power of country music to touch our hearts. So, whether you're a seasoned songwriter looking to broaden your horizons, an aspiring artist seeking inspiration, or simply someone who cherishes the timeless stories spun by country music, these remarkable country song generators are here to amaze and inspire you.
Hot FAQs about Country Song Generators
What is a Country Song Generator?
A Country song generator is an AI-powered tool that assists in generating country song lyrics. It uses AI algorithms and a database of existing country songs to create new lyrics in the country music style.
Do I Need to Have Prior Songwriting Experience to Use a Country Song Generator?
No, you don't need prior songwriting experience to use these generators. They are designed to be user-friendly and can assist both beginners and experienced songwriters.
Can Country Song Generators Create Melodies and Music, or Just Lyrics?
Most Country Song Generators focus on generating lyrics. However, some advanced AI tools can assist in creating melodies and chord progressions in addition to lyrics.