Have you ever wondered what it would be like to make your own songs like Kanye West? The rap superstar, the musical genius, the cultural icon. His songs have influenced millions of people and changed the landscape of hip-hop. But what if you could make your own songs like his using artificial intelligence?
That's right, you can use AI to create your own Kanye West songs. In this article, we will show you the top 3 Kanye AI song generators that let you make your own Kanye West rap songs.
FineShare Singify
Do you love music? Do you wish you could sing like your favorite singers or rappers? FineShare Singify is an AI cover song generator that lets you create AI covers with your desired voices for free.
You can choose from a library of over 100 AI voice models, including singers like Adele, Ed Sheeran, and Eminem, rappers like Drake, Nicki Minaj, and Lil Nas X, characters like Spongebob, Homer Simpson, and Darth Vader, and real humans like Barack Obama, Donald Trump, and Elon Musk. You can find other genres like rock, K-pop, country, jazz, and classical. You can also enter any song you want and generate an AI cover with your preferred voice.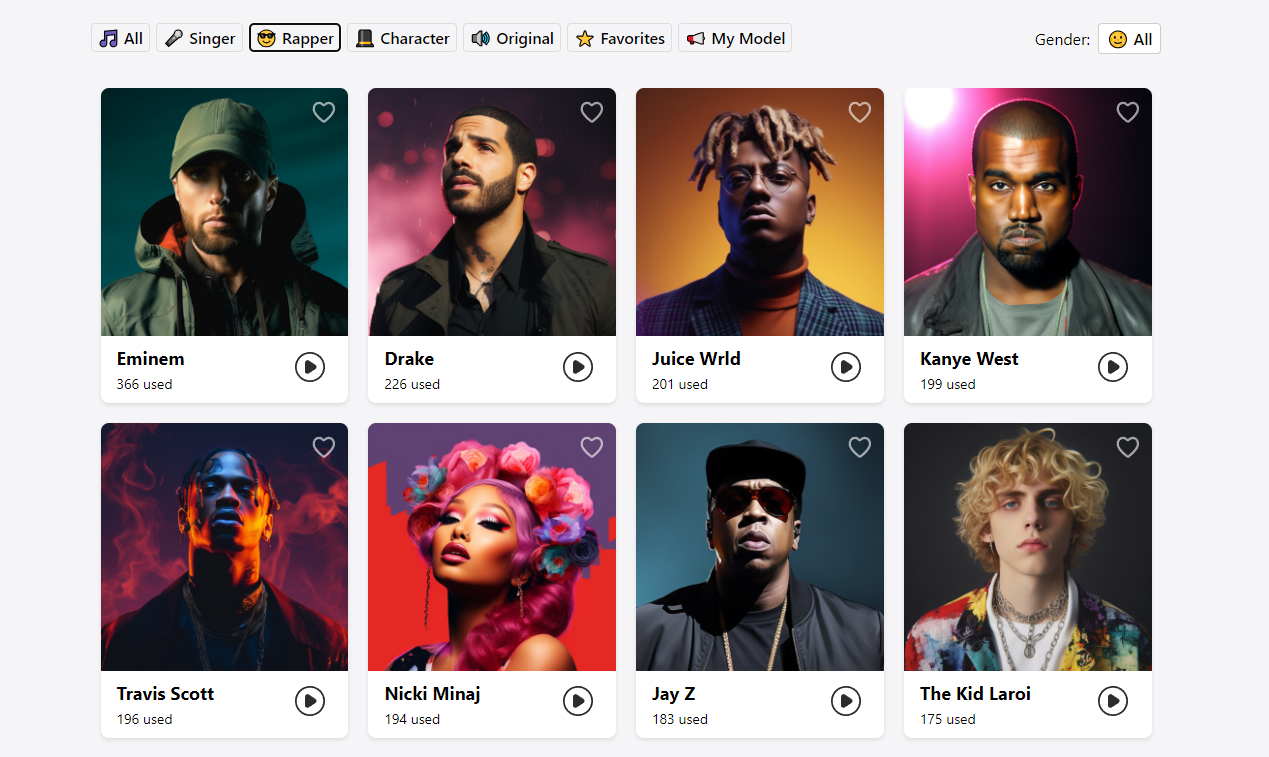 Features:
Easy-to-use interface
Generate realistic and expressive AI covers instantly without separating vocals
Wide range of voice models
Multiple ways to add songs
Email notification of cover conversion completion
Continuous creation of conversion tasks
Voicify.AI
Do you love Kanye West and his music? Do you wish you could create your songs with his voice? If yes, then you need to check out Voicify AI, the popular Kanye AI Song Generator that lets you create amazing AI music covers with the voice of Kanye West.
With Voicify AI, you can find the voices of famous singers, such as Taylor Swift, Lady Gaga, Whitney Houston, Michael Jackson, and others. You can find the voices of famous actors from different movies and shows, such as Emma Watson, Scarlett Johansson, Morgan Freeman, and many more. You can also find voices of animated characters, such as Elsa from Frozen, Woody from Toy Story, Shrek from Shrek, and others. You can also share your AI covers with the Voicify AI community and discover new and amazing creations from other users.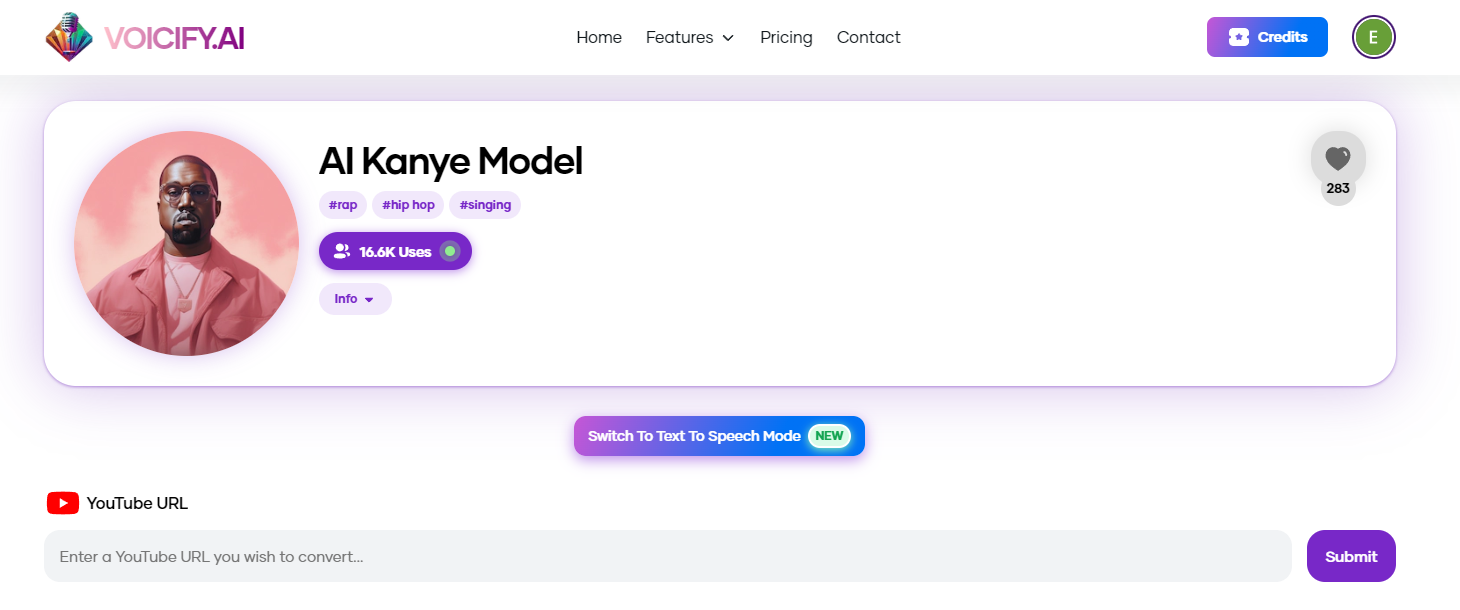 Features:
User-Friendly interface
Offer high-quality voice model
AI-generated Kanye West songs
Personalize your songs to match your preferences
Wide appeal
Uberduck
Do you want to rap like Kanye West, sing like Rihanna, or parody like Weird Al Yankovic? Uberduck is a platform that lets you make music with AI vocals, and it has the best Kanye West voice models you can find. It's the ultimate tool for Kanye West fans and music lovers alike.
You can choose from different Kanye West eras, such as Graduation, Yeezus, or Jesus is King, and generate lyrics and vocals that sound just like him. You can also customize your song with different beats, samples, and effects to make it your own. Uberduck is easy and fun to use, and you can share your song with your friends or download it as an MP3 file.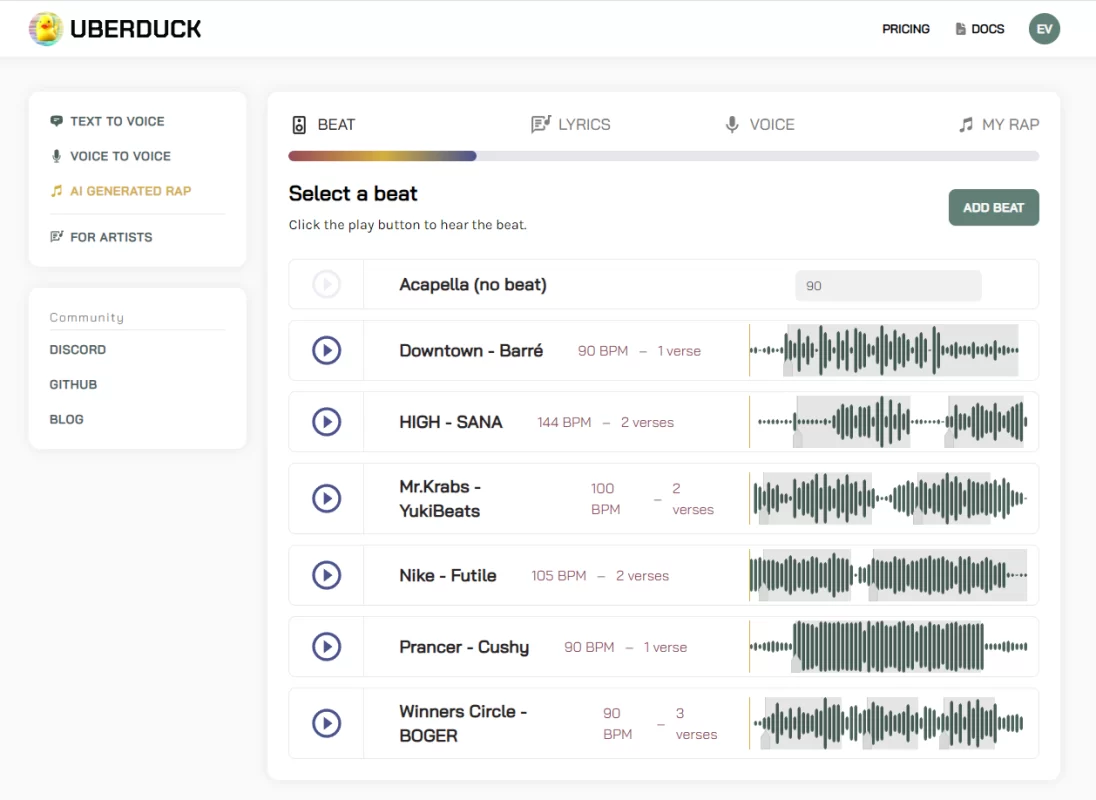 Features:
Easy and fun to use
High-quality and realistic vocals
Creative and original lyrics
Transform your voice into whatever voice you like.
AI music production challenge
Bonus Tips: The 10 Most Popular Kanye West Songs
Kanye West has produced a multitude of popular and influential songs throughout his career. Here is a list of the 10 most popular Kanye songs according to various sources.
Stronger – An iconic hit that fuses electronic and hip-hop elements, featuring the memorable sample of Daft Punk's "Harder, Better, Faster, Stronger."
Gold Digger – A catchy and energetic track featuring Jamie Foxx, addressing themes of money and relationships.
Heartless – A melancholic yet melodic song known for its Auto-Tuned vocals and introspective lyrics.
Jesus Walks – A thought-provoking song that tackles spirituality and religion against a backdrop of hip-hop beats.
All of the Lights – A grandiose track featuring a star-studded ensemble of artists, known for its lush production and orchestration.
Love Lockdown – A departure from Kanye's earlier sound, this song introduced a more experimental and electronic direction.
Runaway – An emotionally charged anthem with a signature piano melody, exploring themes of self-awareness and personal flaws.
N****s in Paris – A collaboration with Jay-Z, characterized by its bombastic production and energetic back-and-forth between the two artists.
Can't Tell Me Nothing – A defiant track featuring introspective lyrics and a memorable hook, reflecting Kanye's journey in the music industry.
Bound 2 – A soulful and nostalgic song that samples Brenda Lee's "Sweet Nothin's," known for its raw and unfiltered feel.
Conclusion
Whether you are a fan of Kanye or not, you will surely have a blast with these Kanye AI song generators and discover new possibilities for music creation. Just as Kanye West incessantly defied conventions, these AI generators stand as vanguards of disruption, orchestrating the future of music with every algorithmic note.
So what are you waiting for? Go ahead and try them out!
FAQs about Kanye AI Song Generator
What Is a Kanye AI Song Generator?
A Kanye West AI song generator is a type of artificial intelligence software designed to create music that emulates the musical style of Kanye West, a renowned musician and producer. These AI systems analyze patterns, rhythms, melodies, and even lyrics from Kanye's discography to generate new compositions that capture his unique musical essence.
How Do Kanye AI Song Generators Work?
Kanye AI song generators use deep learning algorithms to analyze and understand the musical elements present in Kanye West's songs. They learn patterns in rhythms, chord progressions, instrumentation, and lyrical themes. With this knowledge, the AI can then generate new music that is stylistically similar to Kanye's work.
Can Kanye AI Song Generators Create Original Music?
Yes, Kanye AI song generators are capable of generating original compositions. While they draw inspiration from Kanye's style, the AI algorithms are designed to produce new melodies, harmonies, and lyrics that capture the essence of his music without directly copying existing songs.