Have you ever been bothered by the unfit background in your video? The background in your video may not always meet your exception, and such backgrounds may ruin the entire video. In this situation, you might want to remove video background and add a new one. If you don't know how to remove background from video, here are some tools that can help you.
#1. Remove Video Background by Using Kapwing
Kapwing is a free video background remover that allows users to remove video backgrounds, and the best part of it is that you can do the removal online. It's easy to use and you can start your editing simply on a web page.
It supports the background removal of both green screen and blue screen videos, then you can replace the background with any image you have.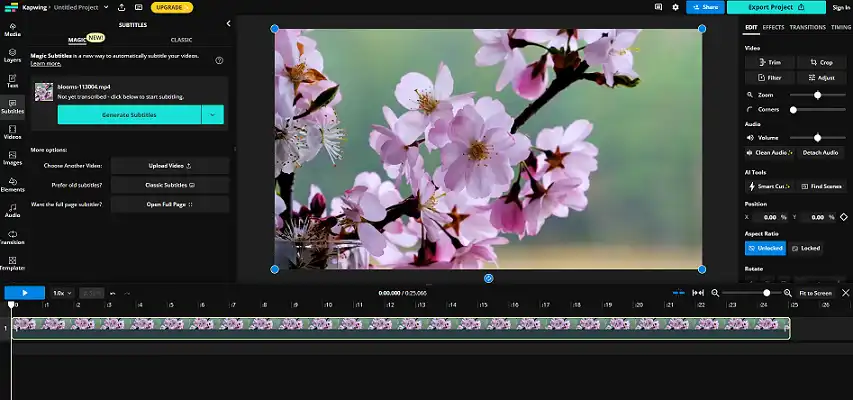 Also, Kapwing provides lots of video templates and AI-powered tools to save you some time when editing videos. For example, using the online trim tool makes your video perfectly slim, and the magic subtitle function can generate subtitles automatically for your video. Or if you want to make a funny meme of your own, then the meme generator is just the one tool for you.
#2. Remove Video Background by Using Filmora
Filmora is a video editing software developed by Wondershare. For now, it supports windows, mac, Android, and iOS.
It not only provides the green screen effect in video editing but also has some advanced operations of the video layers. With this software, you can make overall changes to multiple video clips at once, and there are built-in preset settings for you to choose from so you can make nice videos quicker.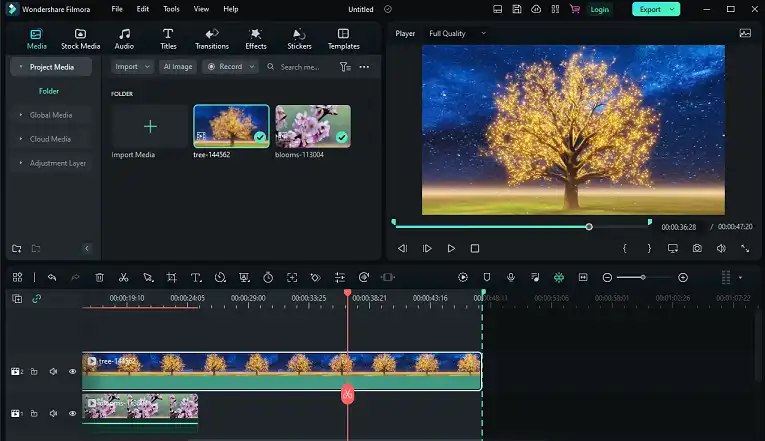 Another featured function of Filmora is motion tracking. Whatever effects you add to the video, it can keep tracking the protagonist's movement and make the effects stay in the right places. You can add mosaics or texts to the video in the same way, and all you need to do is to choose which part of the video you want them to be, a simple click and the motion tracking tool will do the rest.
#3. Remove Video Background by Using Chromavid
Chromavid is a useful mobile app for removing background from videos. As the name suggests, it has more chroma color choices than usual video editing software and it can replace blue, red, yellow, and green screens with any other video background you like.
To provide more convenient experiences, it allows you to decide your own key bindings, you can bind the chroma keys and change video chroma and effects instantly.
It also provides you with unlimited recording time, so you can records videos for as long as you want.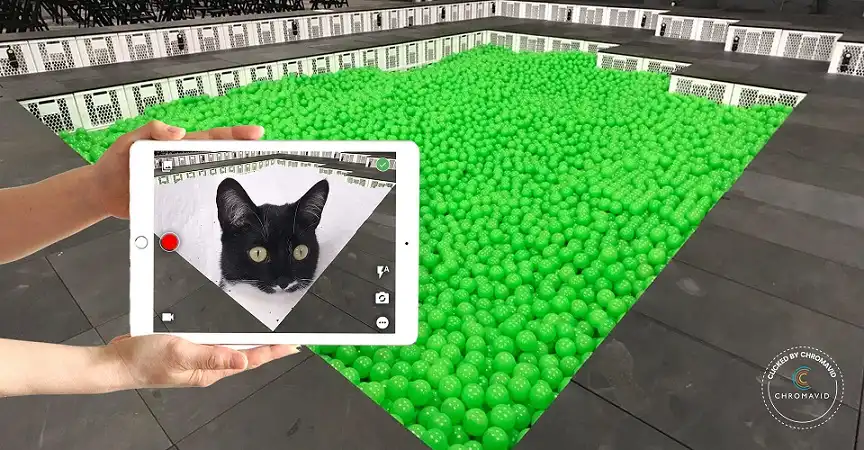 #4. Remove Video Background by Using VSDC
VSDC is a free video editing software for Windows. It provides a chroma key masking function, and using it will detect the solid color background in your video and remove it immediately from your video.
This software is one of the easiest video editing tools for beginners to handle, you can edit videos with the help of its non-linear editor and conversion tools, and both video and audio can be converted through VSDC.

And after editing videos, you can directly export the videos to social media or even burn DVDs with the built-in tool.
To proceed with using VSDC to edit video, you will need a Windows system computer, a camera, a green screen background, and a reliable light source. With all the equipment, you will be able to easily edit your video background with VSDC.
#5. Remove Video Background by Using Video Background Remover
Video Background Remover is a mobile app for video background removal usage, and currently, it's only available on the Android platform. As well as the removal function, Video Background Remover can change the video background with the images from your phone gallery or camera. It provides two options for you to choose from: remove the background directly or change the green screen background to any background you want to use.
Video Background Remover is free to use, it's very suitable for anyone who wants to try some simple video editing. However, it also contains some ads in the app due to the free usage.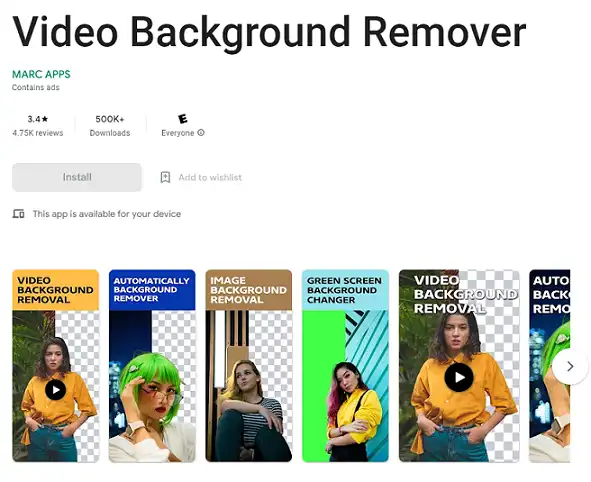 Tip: How to Remove Webcam Background Using FineCam
Before editing videos, you need to have them on your devices. For people who love recording videos of their own lives, FineCam is a good choice to do the recording job.
It's free webcam software, with no ads. Just one click on the remove background option, and you can easily remove the video background without a green screen.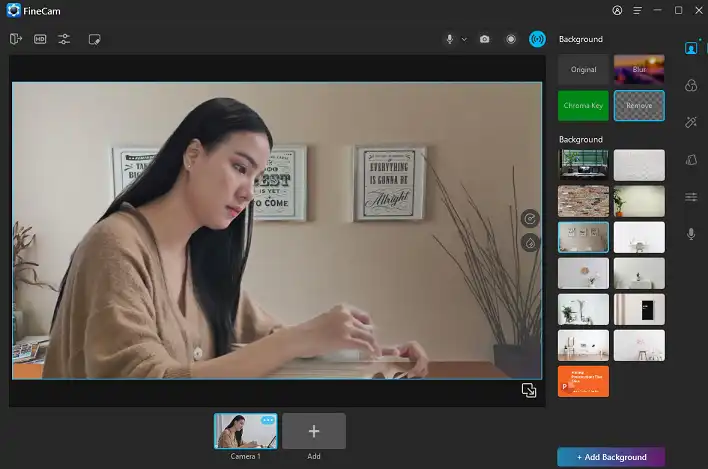 If you want to add background to the video, check the background presets or click the add background button at the bottom to choose your own background. There is more than one choice for background customization, you can choose a picture, a YouTube video, a web page, an app window, or a PPT file.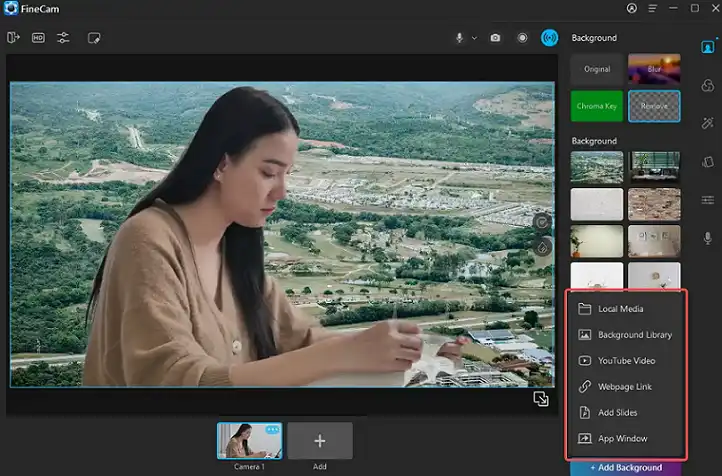 Besides the fully customizable background, you can also choose a filter and add effects to your video, lots of them are waiting for you to try.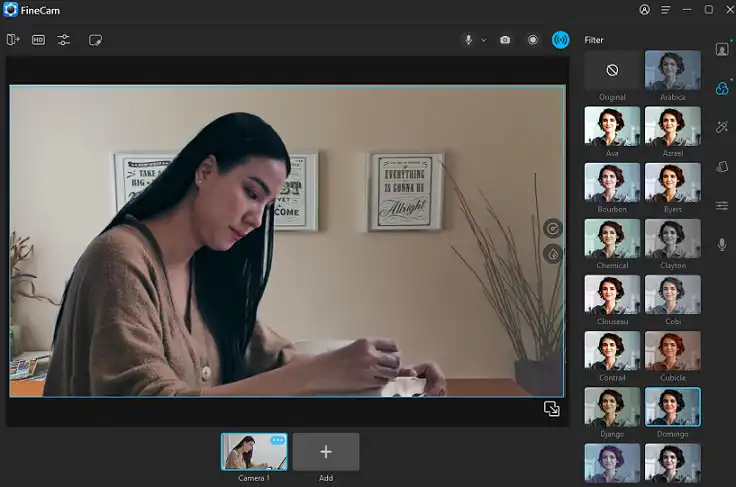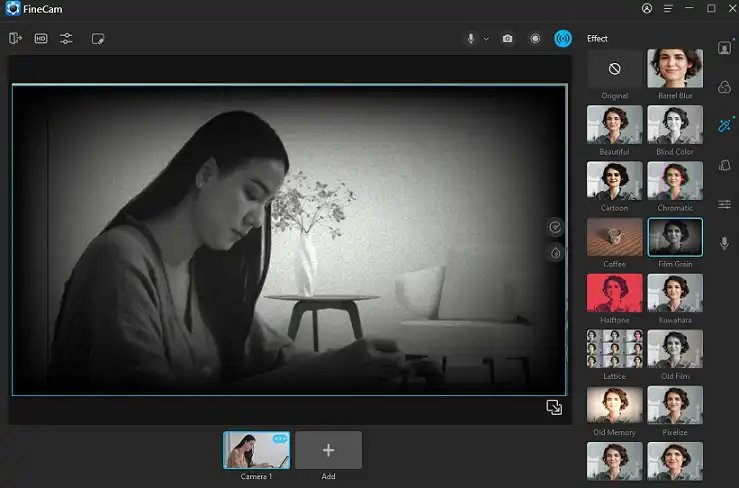 For advanced adjustment, there are also some color and light options for you to make your video looks better.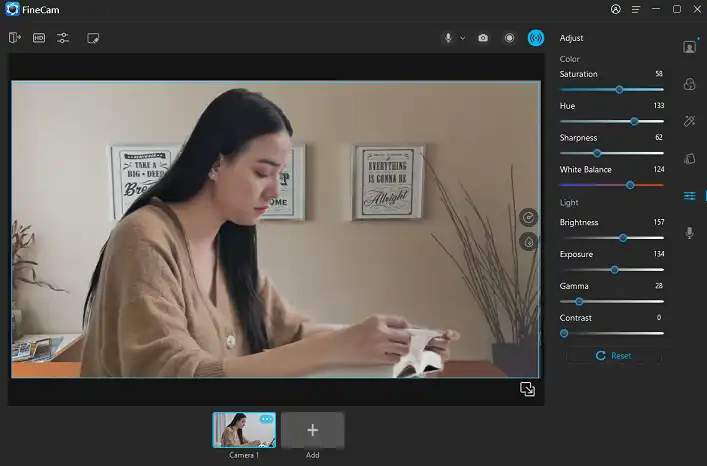 Besides video recording, FineCam also can be used to use your iPhone as a webcam, add effects to your webcam, blur and change your webcam background, etc.
Conclusion
The listed software above can help you remove background from video quickly and easily. Each of them has unique advantages, you can choose one of them according to your needs and then start your new journey in video editing.
---