Not having a webcam or your webcam doesn't work when you need it the most is frustrating. So, you may think about using your phone's camera instead. But it gets even more troublesome to not have Wi-Fi connections at the moment. That's where USB cables help.
We're here to help you make your phone a webcam for your PC via USB. You won't need Wi-Fi for the connectivity and will get smooth video results. Wanna know how? Let's hop into the methods!
How to Use iPhone and Android as Webcam with/without USB
If there is no Wi-Fi and you want to use your iPhone as a camera for your computer, you can rely on a webcam application named FineCam, which allows you to connect your iPhone camera through a USB lightning cable.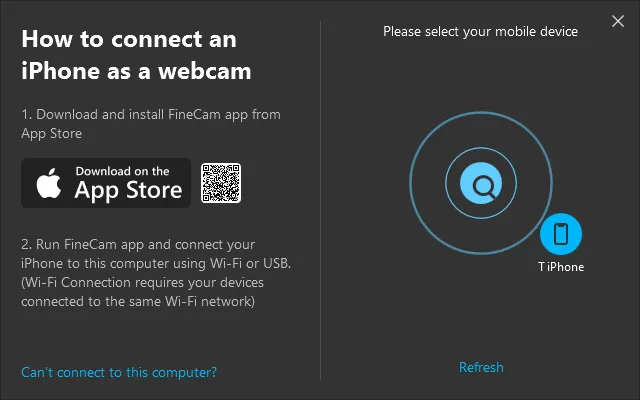 It offers a free edition so that you don't have to pay for the feature. In addition, this application allows you to control your iPhone camera using its desktop client. In this way, you can easily zoom in/out, mirror, and adjust color and brightness.
Actually, FineCam is beyond this, now download it and go to explore. (compatible with iOS 13 and above, even iOS 16 and Android 5.0 and above.)
See how it works to turn iPhone into a webcam [Video].
Download and install FineCam on your phone from App Store or Google Play Store and on your PC via the official website.
Remember to allow it all the required permissions to make it operable.
Connect them via a USB cable. If you wish for a wireless connection, make sure both devices are connected to the same Wi-Fi network.
Run FineCam on both devices and send a connection request from any one of them. From the iPhone, you only need to follow the on-screen commands. But if you wish to send through your PC, click on Add > Use Phone as Webcam.
After accepting the request on the other device, the last step is to make sure that the Virtual Camera feature is activated. It is located in the top right of your PC FineCam. Now you can use your Phone as a webcam on any streaming platform.
How to Use Android Phone as Webcam for PC via USB
To connect your phone to your PC, you will require software that can act as a bridge. Here we have an optional recommendation for you, namely DroidCam. It is a fantastic software that instructs your computer to recognize your phone's camera as a webcam.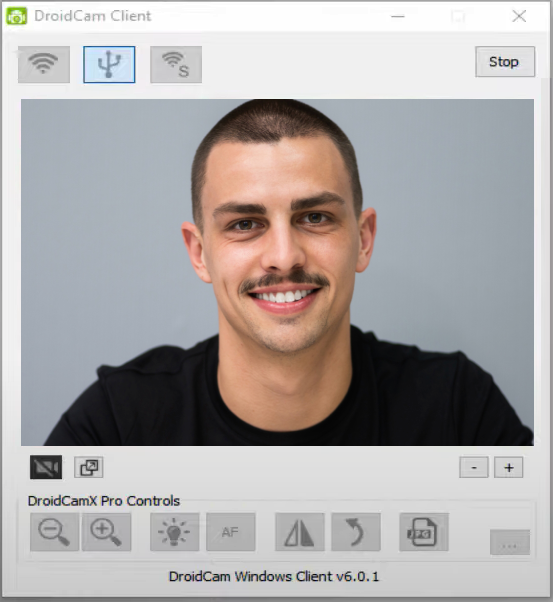 You can have astonishing video quality without any lag by connecting via USB. The software works for phones above Android 5.0 (Lollipop). On PC, it works well with Windows 10 and Linux. However, you won't get any support for Mac OS. Here's how to use it via USB without Wi-Fi:
Download and install DroidCam on both your PC and your phone.
Now you need to enable the Developer Options on your phone. For this purpose, go to your mobile's Settings > About Phone.
Tap on Build Number up to 7 times.
Once enabled, go back and find this new functionality in the settings.
In the Developer Options, scroll to USB Debugging and toggle the switch on. The step is compulsory.
Connect your phone and PC through a USB cable, and launch DroidCam on both.
Click on the USB sign in the middle of your PC and click Start. Your PC will auto-detect your Android and start the video right away.
How to Turn Your Phone into Webcam for Mac without Wi-Fi
But what if you want to connect your phone to the Mac? Again, the third-party complications also apply here. But some webcam software has made the task easy. You can use Reincubate Camo, specially designed to work with iOS devices like Macs and iPads.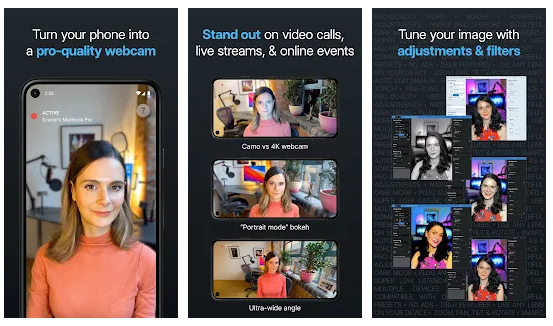 From the Camo, you can get a clear picture quality. And the software is also available for free. But you require at least iOS version 12.0 or above to make it work. Here's how you can connect it to USB:
Install the Reincubate Camo on your iPhone and open it.
Give permission to your camera and microphone.
Now send the link to yourself from the application. Or you can use AirDrop for downloading the Mac Client.
Install the software on your iOS device by following the prompts, and then launch it.
Keep the Camo open on both devices and connect them via a USB cable. That it! The software will recognize and show your video from your phone's camera on your Mac's screen.
Frequently Asked Questions
Can You Use a Phone's Camera As Webcam for a PC Without an App?
Miraculously, there is a way. But you need to have OBS on your PC (or you can download it). Here's the method: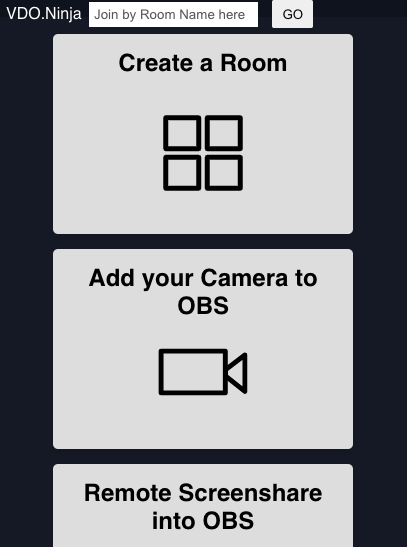 Download and launch OBS Studios on your PC.
On your phone, go to vdo.ninja
Click on Add Your Camera to OBS, and click on Start.
You will see a link in the green text on the top. Copy it and send it to yourself via mail.
Now, come back to the OBS on your PC, and click the + in the Sources box. Select Browser, and name it as you want before clicking OK.
Paste the link from your mail in the URL box, and adjust the width and height (recommended 1920 x 1080).
Tick two boxes, Control Audio Via OBS and Refresh Browser When Screen Becomes Active (need to scroll down a bit for the latter).
Click OK, and you will be using your phone as a webcam without any software.
Is USB Connection Better Than Wi-Fi Connection?
Every method has its perks and downfalls. As connecting through Wi-Fi gives you the flexibility of moving, you are not limited to the length of your cable. However, the USB connection works even better in terms of quality and latency. You can have a crispy clear video with latency almost equal to zero.
Are These Methods Free For Turning A Phone Into a Webcam?
Of course! All the above methods are free, legit, and easy to use. You don't need to spend any to get them. However, they also offer better resolutions and additional benefits in their premium version. You can always spend a little to get the extra mile for advantages (despite the FineCam, which is entirely free with all the beneficial features).
The Bottom Line
Converting your phone into a webcam is not a difficult task. All you need is appropriate software. USB connections are the best option for zero latency and vivid video quality. We've told you how to use your Android and iPhone as a webcam for your PC without Wi-Fi. Choose the best method for yourself and start recording.
Look Superb in All Videos
FineCam is an AI-powered virtual camera for Windows and Mac. It makes you look better in Zoom, Teams, YouTube, makes video production easier, and tunrs your phone into an HD webcam. Get it for free.