With the increase in virtual interaction during the pandemic, webcams have become essential equipment while remote and hybrid work. There are times you may need to use the webcam to record yourself for a speech, or for a YouTube video production but you can't easily pick out a flexible webcam recorder. As such, we have curated a list of some of the best free webcam recorders to help you easily complete your video recording on Windows and Mac computers.
FineCam is one easy-to-use webcam software that enables you to easily adjust your webcam settings and images so that you can record high-quality webcam videos. With FineCam, you can easily remove the webcam background, add effects and filters, and create multiple scenes within a few clicks. Moreover, it even enables you to use YouTube videos, PowerPoint slides, and Web pages as a background. All of these features make it easier to edit and record videos on a computer.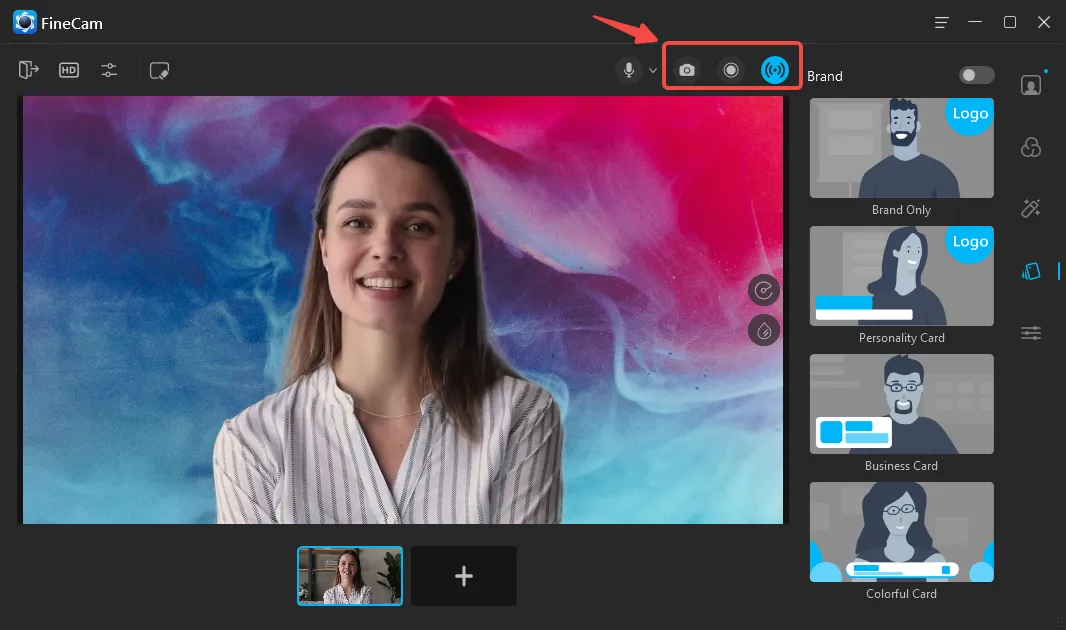 In addition, using the Smart Recording of FineCam, you can avoid creating a giant video file. And your webcam-recorded video will be split into small parts so that you can easily get them stored or shared elsewhere.
System requirements:
Windows: Win 7 and above.
Mac: macOS 11 and above.
iOS: iOS 13 and above. (If you are going to use this software to turn iPhone into a webcam.)
Android: Android 5.0 and above. (If you want to use your Android as a 4K webcam.)
Pros
Smart Recording avoids creating giant videos.
Supports select audio input.
Blur, remove, and change the webcam background with AI face recognition.
Work with Unsplash to give you endless virtual backgrounds.
Webcam filters and effects are included.
Cons
Watermark is included in the free edition
Removing the webcam background requires Windows 10 and Windows 11 with high-end GPUs.
#2. Camera – Windows Built-in Webcam Recorder
Your Windows computer is built-in with a tiny Camera app that enables you to test, take photos, and record videos. So you don't need to download third-party webcam recording software.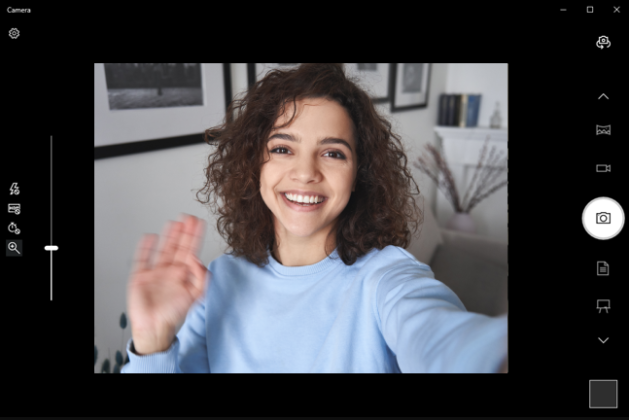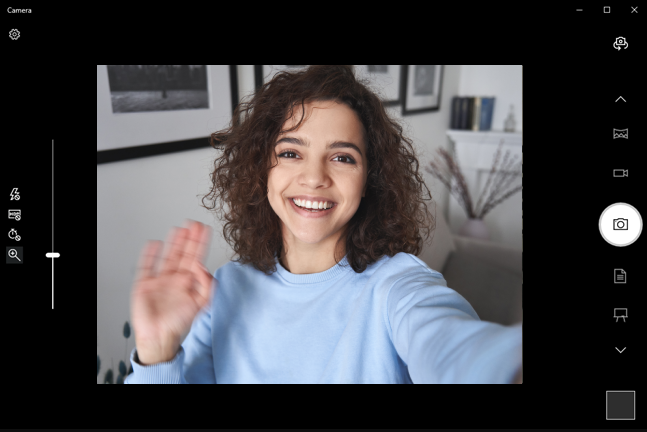 With the framing grid, you can compose a perfect picture before taking selfies or recording videos. Besides, it can back up your photos directly to OneDrive. This app works perfectly on Windows 10 and Windows 11 and it supports high-resolution pictures.
Pros
Completely free.
Without downloading third-party software.
Support high-quality pictures and videos
Cons
Don't support Windows 7 and Windows 8
#3. QuickTime Player – Free Webcam Recording Software for Mac
QuickTime is one popular webcam software for Mac users. It allows you to record webcam, screen, and audio, as well as edit videos on your Mac computer for free. Besides recording, it also can be used as a player to play videos and audio on your Mac computer.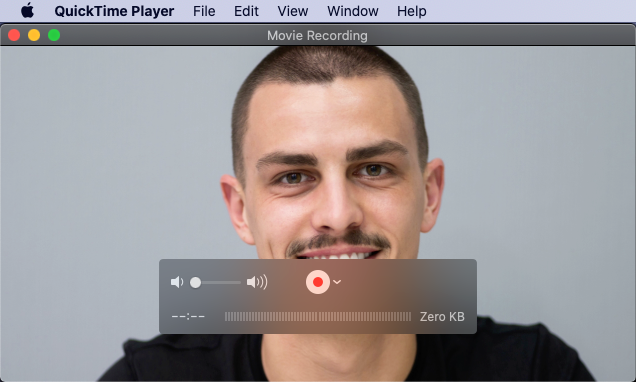 System Requirements:
Compatible with 400 MHz or higher Macintosh G3 PowerPC-based or Intel-based machines.
At least 128 MB of RAM.
Mac OS version 10.3.9 or later.
Pros
100% Free.
Mac built-in app.
Simple to use.
Cons
#4. Bandicam – All-in-one Webcam Recorder
Bandicam is an excellent camera software if you are looking for a program to capture videos from other devices like your smartphones or even PlayStation. Bandicam can also be used as a recorder for screen and to record gameplay. The program also supports casting IPTV, Apple TV, and HDTV screens directly on your PC.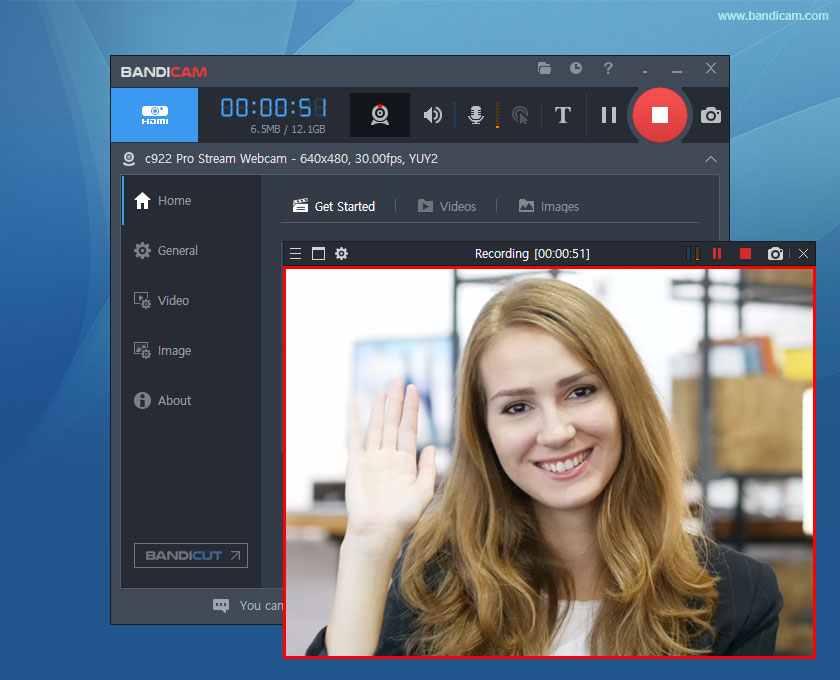 Notably, Bandicam supports H.264 codecs that accelerate your recording to high speeds and compress videos while maintaining great quality outputs.
Operating Systems: Windows 11/10/8/7
Pros
Available for free
Supports auto start/stop recording feature
Supports direct uploading feature to Google Drive/YouTube/Vimeo
Supported on Windows 11/10/8/7
Supported a wide array of graphic cards
Cons
#5. OBS Studio – Open Source Webcam Recorder
This is a free and open-source webcam that can be used for video recording and live streaming. OBS Studio offers high-performance real-time video/audio capturing and mixing. The program also provides an extensive audio mixer with features such as noise gate, noise suppression, and gain.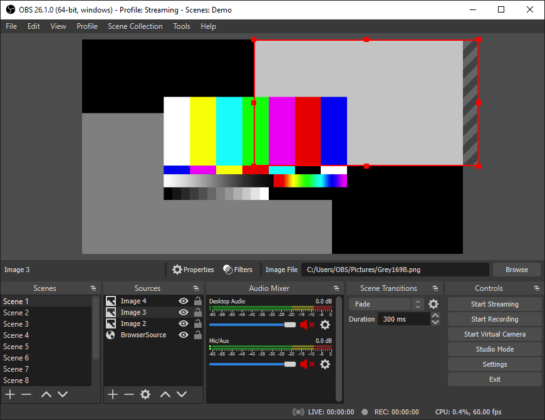 Notably, OBS Studio also offers a virtual camera which allows it to be used as an input source in other applications that support webcam use. This includes video conferencing apps like Zoom and Skype.
Operating Systems: Window 10/8/7, MacOS X & Linux
Pros
Has several useful features
Allows for custom background
Has a virtual camera
Supports picture in picture
Cons
Can be difficult to navigate at first
#6. Logitech Capture – Webcam Recorder for Logitech Camera –
This webcam recording software has extensive studio controls. It is also completely free and is popular, especially among Logitech webcam users.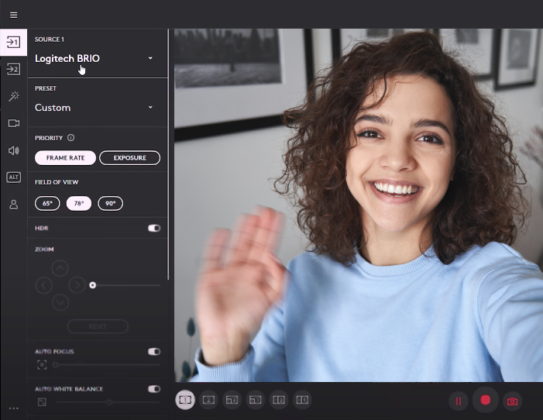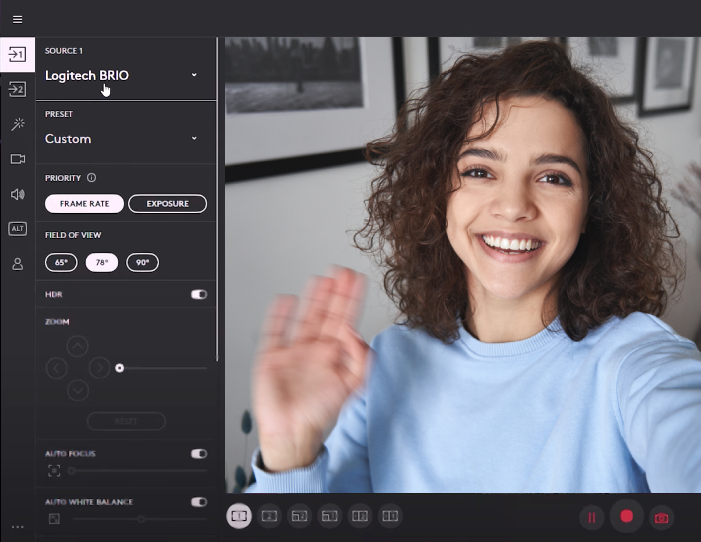 Logitech Capture can be used to adjust images, adjust focus and even enable ChromaKey. Interestingly, this software also lets you use two webcams simultaneously with a picture-in-picture representation.
Operating Systems: Windows 10/8/7
Pros
Offers direct streaming to YouTube
Has portrait optimization
Multiple source recording
Cons
Account registration is mandatory
Only works with a few cameras
#7. YouCam – Webcam Recording Software for Beginners
This is one of the best free webcam recording software for beginners. It has a clutter-free and intuitive interface that most people would find easy to use.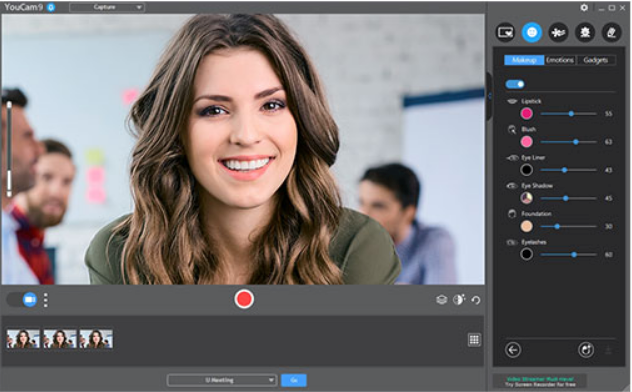 In addition, it has an array of impressive editing tools and features such as face distortion lenses, stickers, dynamic effects, and emoticons. On top of that, YouCam also supports face avatars, AR stickers, and live animation. The software can be synced with services like platforms like Skype.
Operating Systems: Windows Vista, 10/8/7
Pros
Animated effects
Seamless integration with third-party video conferencing apps
Support for live streaming on YouTube and Facebook
Cons
The free trial is only available for a month and has limited features.
#8. SplitCam – Record Webcam for Streaming
This webcam recording software might not be as popular as some of the other options on this list. Nevertheless, SplitCam has a couple of handy features that make it a great option to consider.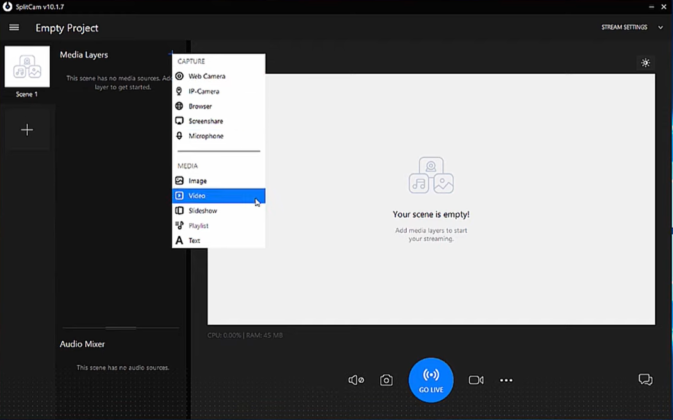 The software has an in-built virtual webcam that can be used to share screen videos with media channels. SplitCam also supports streaming live videos as well as recording webcam chatting. One major drawback of this program, however, is that it doesn't integrate with popular platforms like Facebook.
Operating Systems: Windows 11/10/8/7
Pros
Simple interface
Extensive range of filters
Virtual Camera
Cons
Does not integrate with popular social media platforms
Not as feature-rich as alternatives
#9. YawCam – Webcam Recorder for Monitoring Purposes
This is entirely free webcam recording software for Windows. This software is written in Java. It has a pretty simple interface and offers some of the core camera features you might require.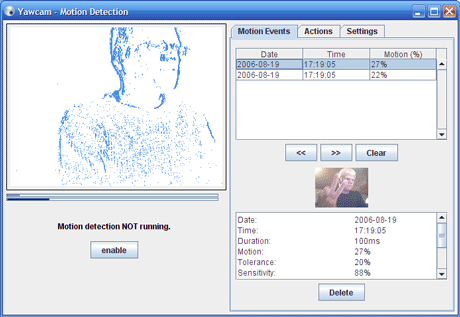 Its features include text/image overlay, motion detection, and an image-to-movie converter. The drawback is that the software does not have some of the fancy features you will find in alternatives. It is also short on editing tools.
Operating Systems: Windows 11/10/8/7, Vista, XP
Pros
Completely free
Simple interface
Cons
#10. ManyCam – Webcam Recorder for Streaming
ManyCam is a free webcam recording software, and it is quite popular for its intuitive user interface. The program can be used to change your recording background during online meetings.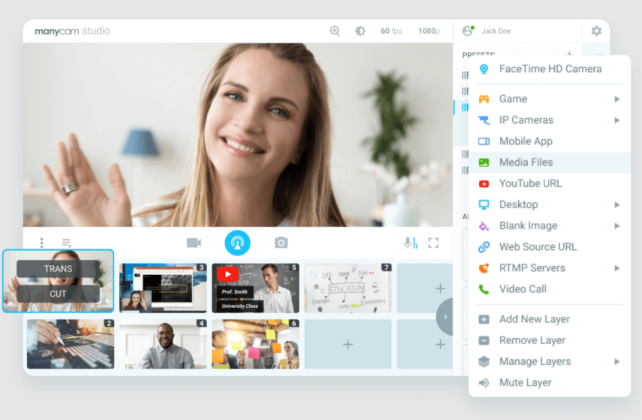 It also has a Software Development Kit (SDK), which can be used to integrate the webcam with any online teaching platform. ManyCam can also be used during game streaming and mobile live streaming.
Operating Systems: Window 10/8/7 & MacOS X
Pros
Can stream 4k videos
The free plan has no intrusive watermark
Multi-screencasting and multi-recording feature
Cons
Limited free plan
No light enhancement
The Bottom Line
The above webcam recording software is all suitable for various purposes. To choose the best software for you, it is necessary that you identify the specific tools and features you require. For instance, if you are a Twitch streamer, OBS Studio may be more suitable. Similarly, if you are particular about animated effects, you might want to consider YouCam.
Look Superb in All Videos
FineCam is an AI-powered virtual camera for Windows and Mac. It makes you look better in Zoom, Teams, YouTube, makes video production easier, and tunrs your phone into an HD webcam. Download it now.