Screen recording has become a crucial tool for many people and companies. You can use it to create a tutorial, record an online meeting, or capture some important moments on your computer screen.
Given that Screencastify is only a Chrome plugin and each process can record the screen for up to five minutes. As a result, many people are looking for alternatives to it.
In this article, we will explore 5 top Screencastify alternatives and their pros and cons so that you can choose one according to your screen recording needs.
What is Screencastify?
Screencastify is a popular screencasting tool. It's easy to capture and record screens and create videos for tutorials, presentations, demonstrations, and more. With Screencastify, you can also record screens along with audio narration, webcam footage, and even system audio. Screencastify Chrome extension can be a convenient choice for users who work with the Google Suite of tools.
However, like any software tool, Screencastify comes with its disadvantages. Let's take a look.
Limited video editing features
Require Internet connection
Chrome dependency
Limited export options
5 Best Screencastify Alternatives
Given the limitations of Screencastify, we will present to you the 5 best alternatives to Screencastify.
1. FineShare FineCam
As an AI-powered virtual camera software, FineShare FineCam is absolutely a great alternative to Screencastify. With its clean and simple user interface, beginners can get started in just a few minutes. FineCam is perfect for creating instructional videos, conducting online meetings, product presentations, content creators, and live streaming.
In FineCam, you can customize layouts and backgrounds using different free themes. You may also utilize the WiFi or USB interface to use your iPhone as an HD webcam. To get the greatest shot while recording, you can adjust camera settings, including zoom, orientation, resolution, and other settings. It can record video at resolutions up to 1080p.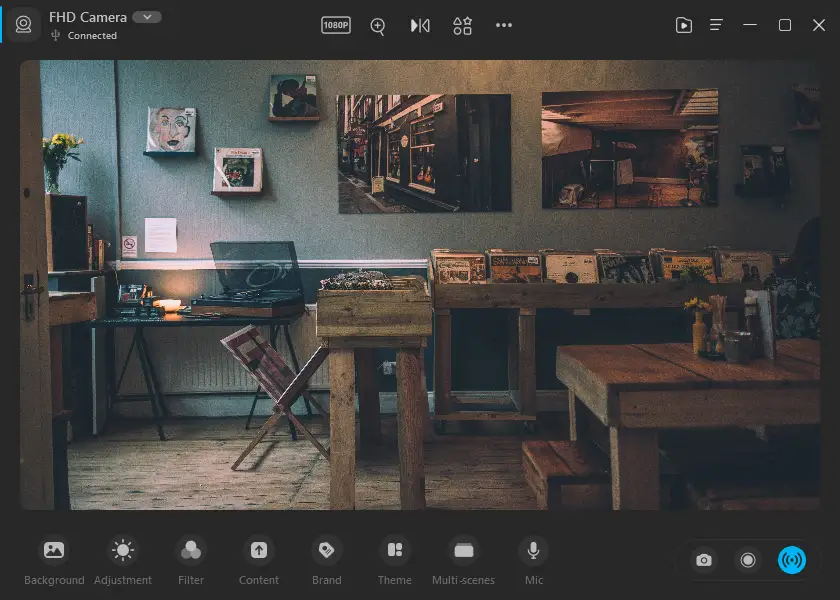 If you want to record video from various perspectives, you can use Multi- scenes in FineCam, or you can switch the front or rear camera, change the shape of the camera, and adjust the brightness and contrast. When conducting an online meeting, if you want to leave for a while without quitting the meeting. You can use the be right back feature to pause the video and resume later.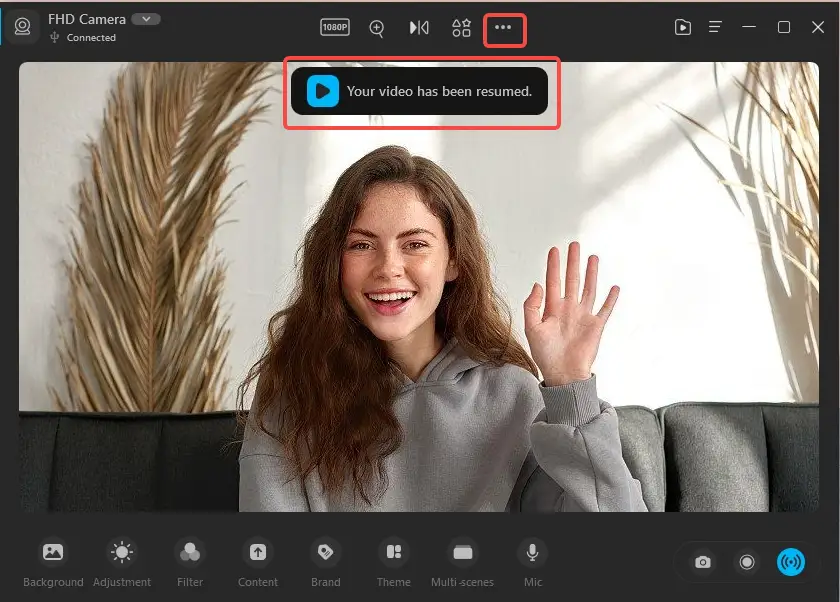 Pros:
Easy to use
Record 4K videos
Use your phone as a webcam
Blur, remove and change webcam backgrounds
Provide various virtual backgrounds
Cons:
Want to discover video recording software to record anything you like? Look through the posts to select your favorite: 11 Best Video Recording Software in 2023 [Free & Paid].
2. Loom
Loom is a popular screenshot tool that allows you to record your screen and camera at the same time and share videos instantly. Why Loom is one of the best Screencastify alternatives? Because it works on almost all devices, including iOS, Android, Mac, and Windows, as well as an extension on Chrome.
With Loom, you can record videos at resolutions up to 4K. On top of that, it has communication and collaboration features to discuss ideas with your team, students, or colleagues.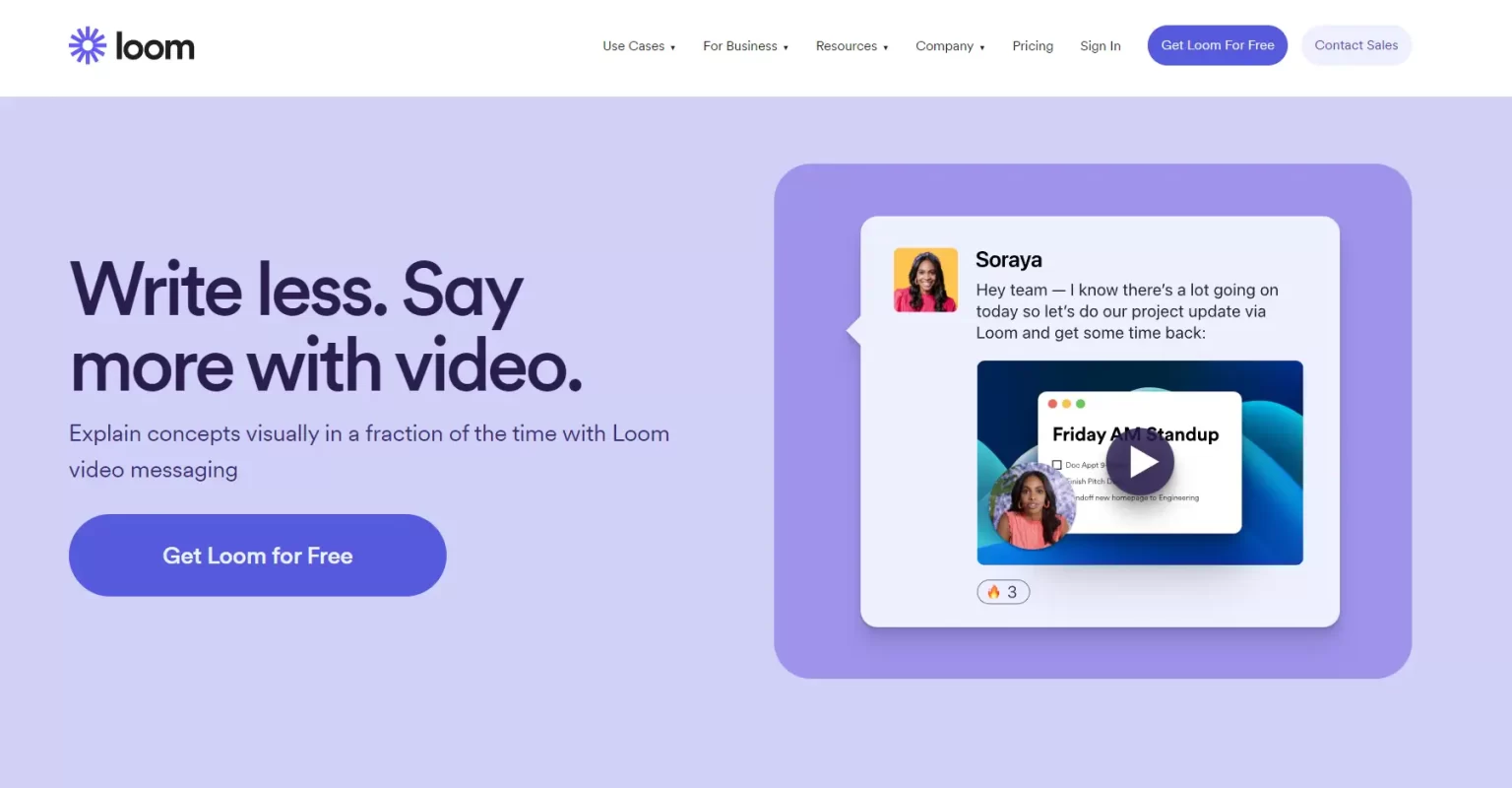 Pros:
Record your screen in up to 4K high resolution.
Instant upload of videos to the Loom library.
Transcription and hidden captions
Support record system and internal microphone
Custom branding, password protection, and link embedding for paid accounts
Cons:
The free version can record up to 720p.
The video is public by default
No support for real-time video conferencing
If you are looking for an alternative to Loom, you can read this article: Top 6 Loom Alternatives in 2023 [Free and Paid].
3. OBS Studio
OBS Studio, also known as Open Broadcaster Software, is a free open-source screen recorder for the majority of platforms. If you're seeking a free Screencastify alternative, it's a great choice. OBS is popular with some content creators, gamers, and streamers. This is because it's perfect for recording game footage and video blogs.
With OBS Studio, you can add multiple sources, such as your screen, webcam, microphone, image, or other video sources. The preview pane in OBS Studio Mode lets you adjust scenes before you record them live. OBS also contains capabilities like a mixer, scene switching, and transitions.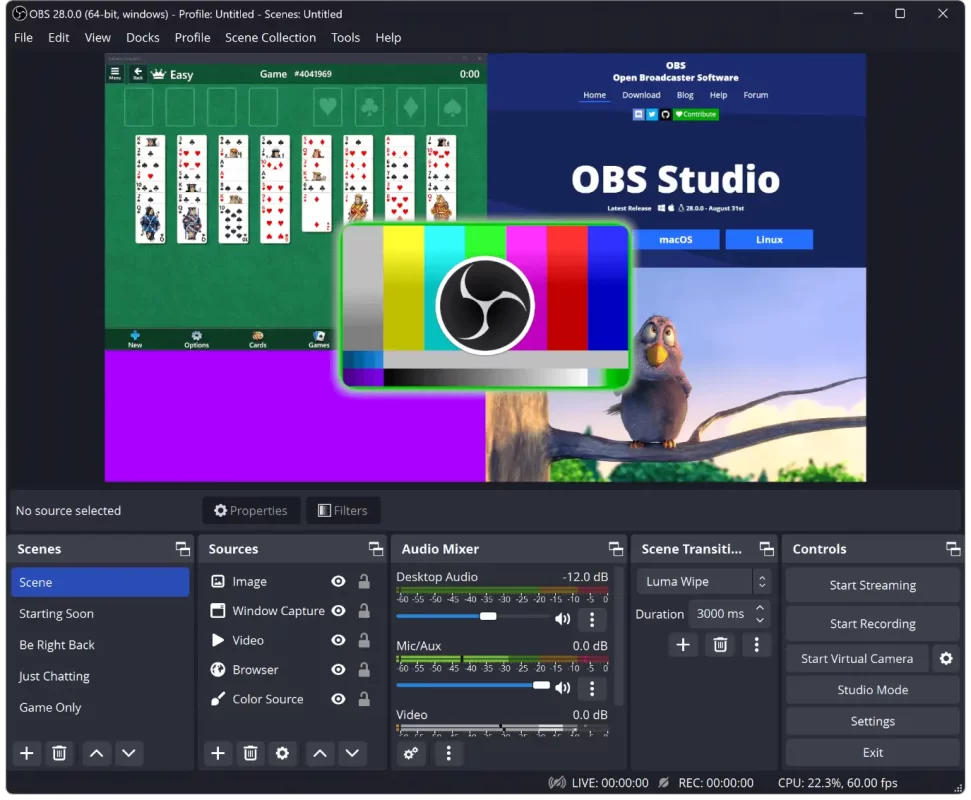 Pros:
Support 4K video recording
Provide broad platform
Have many free and open source plugin
Customization and flexibility
Advanced video editing features
Cons:
Not beginner friendly
Require manual setup
Lack of built-in cloud storage
Related articles: 9 Best OBS Studio Alternatives for Mac & PC in 2023.
4. Snagit
Snagit is an all-in-one screen recorder from the famous TechSmith team. Snagit is only available for Windows and Mac users and you need to pay to use the tool. You can use it to take screenshots, record videos, and edit photos and videos.
Like Screencastify Chrome, Snagit can share your recordings to various platforms such as Google Drive, Dropbox, and TechSmith's own website. While screen recording, you can choose to capture full screen, region, window, scrolling capture, and more. You can save captured screenshots or recorded videos in a variety of file formats, including PNG, JPG, GIF, MP4, and more.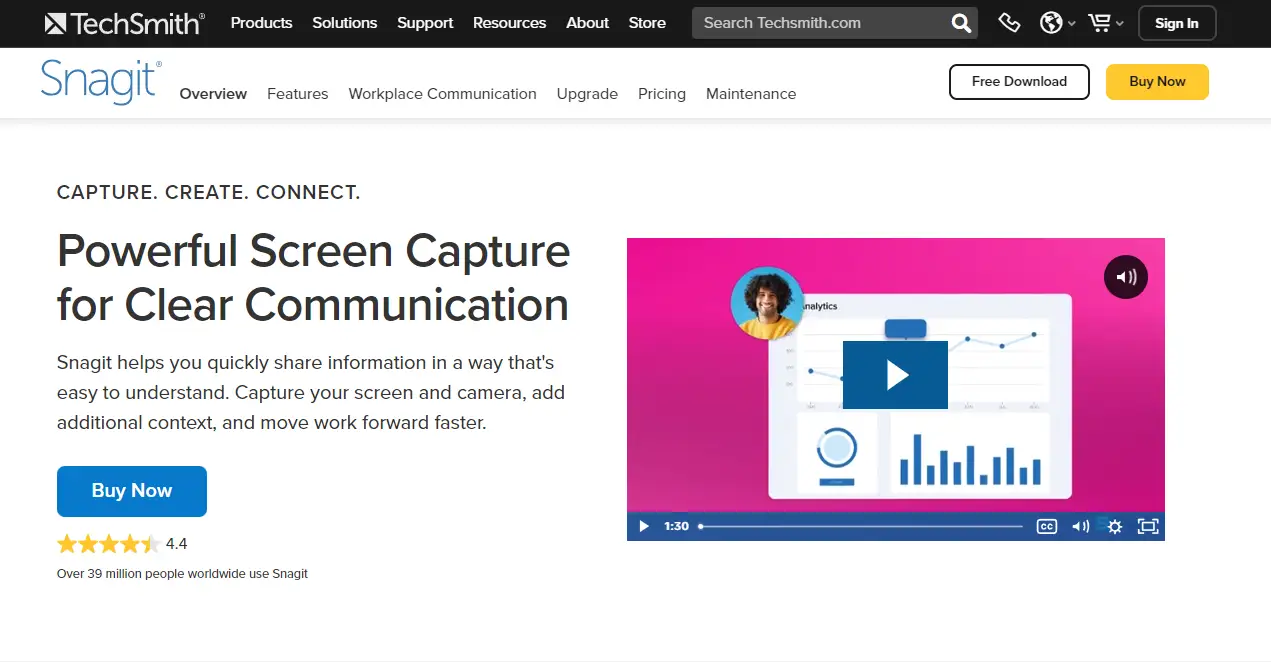 Pros:
Easy-to-use interface
Powerful image editing and screen capture features
Multiple output options
Supports integration with other tools
Real-time annotation tools
Cons:
Limited video editing features
Doesn't offer built-in live recording or streaming capabilities
Expensive paid software
Because of its expensive price, many people are also looking for alternatives to Snagit, which you can read about Snagit Alternative: 6 Tools for Screen Recording in 2023.
5. Camtasia
Camtasia is another screen recording tool developed by the TechSmith team. It can be an excellent Screencastify alternative because you can consider Camtasia as an upgrade version of it. It has all the features available in Screencastify as well as some other complementary features, such as ready-made templates and extended video editing tools.
Camtasia offers a wide range of features for creating professional-looking videos. With Camtasia, you can record your screen, webcam, or both of them. It's also a powerful video editing tool where you can add animations, callouts, and zoom and pan effects. You can also add quizzes and interactive elements to your videos, which is perfect for online learning.
Alt=Camtasia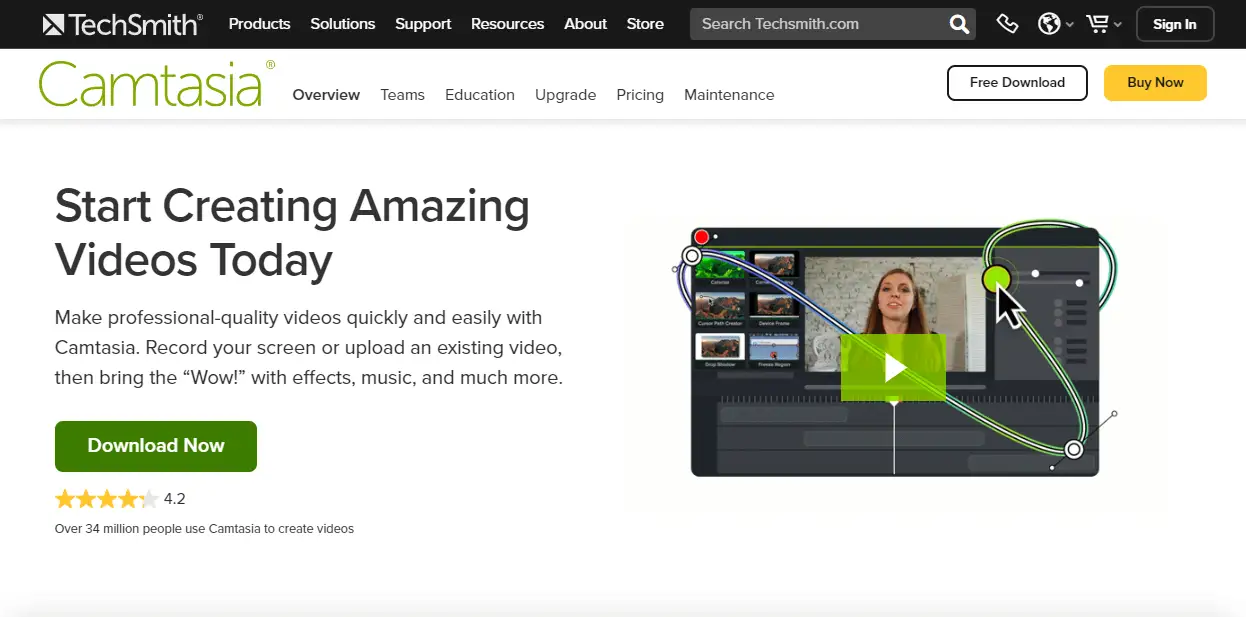 Pros:
Record your screen in high quality
Provide plenty of ready-made templates to embellish videos
Powerful multimedia presentation tools
Numerous tools and visual effects, sound systems, etc.
Support markers, arrows, and sketching actions in screen recordings
Cons:
Expensive and have no free version
Complex user interface
Large file size for long videos
Not support live video conferencing
Conclusion
If you have already learned about the 5 best Screencastify alternatives we mentioned above and their advantages and disadvantages. You can choose the most suitable application for your needs, such as OBS specializes in recording gaming videos, Camtasia for large corporations, etc. If you need a tool for video presentations and personal screen recording requirements, then we highly recommend FineCam.