In recent years, online education is becoming more and more popular and commonly accepted by students and educators around the world. Students can take classes and attend lectures conveniently, whether they want to learn new knowledge or expand what they have already learned, watching video lectures is always a good choice.
Thanks to the massive internet, this learning resource is almost infinite. You can find classes from those famous universities and lectures from lectors who have made great achievements in their areas. Math, history, art, literature, or physics, anything you are interested in can be found on the internet.
However, this way of learning also has its shortcomings, such as difficulty to review online video lectures that you didn't completely understand, or can't attend an online lecture due to some urgent reasons and nowhere to compensate for that. And this is where the lecture recording software comes in handy.
Lecture recording software can be the ideal tool to help you study online lectures in a better way. Here we will show you the benefits of using lecture recording software and the 6 best lecture recording software including their unique features.
Benefits of Using Lecture Recording Software
#1. No doubt that not everyone can understand and master what the lectures talk about after watching for the first time. Getting the lectures recorded will make you be able to review difficult concepts after the online lecture is over, you can watch again until you have learned them well enough.
This would be very helpful especially when you are preparing for exams or assessments. Reviewing and revising the lecture materials will help you fill in the knowledge gap and greatly enhance your learning outcomes.
#2. For all the students who study lectures online, using lecture recording software can provide students with the ability to watch the lectures at their own pace and time after recording them. Such flexibility makes students can adjust the playback speed, volume, and quality of videos according to their habits.
When reviewing a lecture through the recording, you will be able to skip the unnecessary part and repeat the important part to your liking. The whole progress of learning from lectures will be more comfortable, and learning online will also be more efficient.
#3. Sometimes there could be emergencies that make you unable to attend the live session of video lectures. If you get some illness like a bad fever you can't even get up from bed, and you will miss the coming online lectures for sure.
In this situation, using lecture recording software will provide equality for students who have been absent due to various reasons, you can just record them as local files and watch them when you have the chance.
#4. Taking notes is an important and useful learning skill that many students prefer to use, and teachers would usually leave students some time to do it during classes.
But since it's hard for students and lectors to communicate in time during online lectures, taking notes in online lectures may cause you to miss the important points. Lecture recording software can help you to relieve the pressure of note-taking in online lectures, you can focus on the lectures and take notes later.
Best Lecture Recording Software
#1. FineShare FineCam
FineShare FineCam might be one of the best video lecture recording software you can find. It's an AI-powered webcam software integrated with various useful functions including screen recording and using iPhone or Android as a webcam. With the help of FineCam, you can record online video lectures with a high definition of up to 4K at most, and the record length is unlimited, even the long lectures that last for hours can be recorded without interruption.
And it's fine if you have never used such screen recorders before. The user interface of this software is quite intuitive and friendly to beginners, all the functions are easy to understand and you will be able to handle them in a few minutes. To record online lectures, all you need to do is choose the webpage or app window as background in FineCam, then start recording as you want. And this function also supports setting different virtual backgrounds during
Currently, FineCam supports both Windows and MacOS, and it's free to use.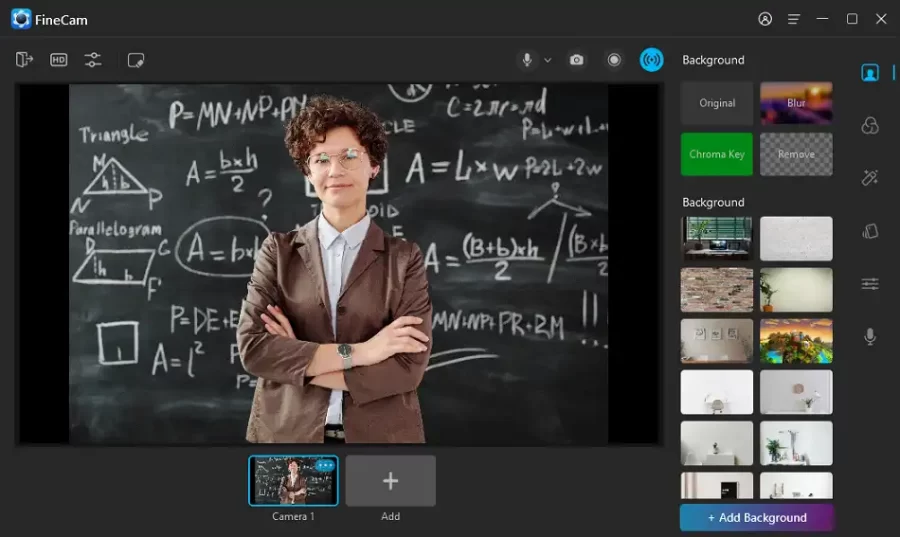 Features:
HD lecture recording
Unlimited recording time
Beginner-friendly interface and operations
Use iPhone or Android as a webcam
Record multiple lectures at once
#2. OBS Studio
When speaking of screen recording software, there's always a place for OBS. As an open-source screen recording software, OBS has been released for more than 10 years and now it's still highly favored by streamers, gamers, and anyone who needs screen recording. For online learners, it's a good choice if you are looking for free lecture recording software.
However, despite being such a popular screen recording software, OBS is very hard to handle since it was designed for professional usage. It's true that OBS has powerful functions, but it's not a suitable start for beginners who want to record online lectures, you will have to spend a lot of time learning how to operate it before actually using it to record online lectures.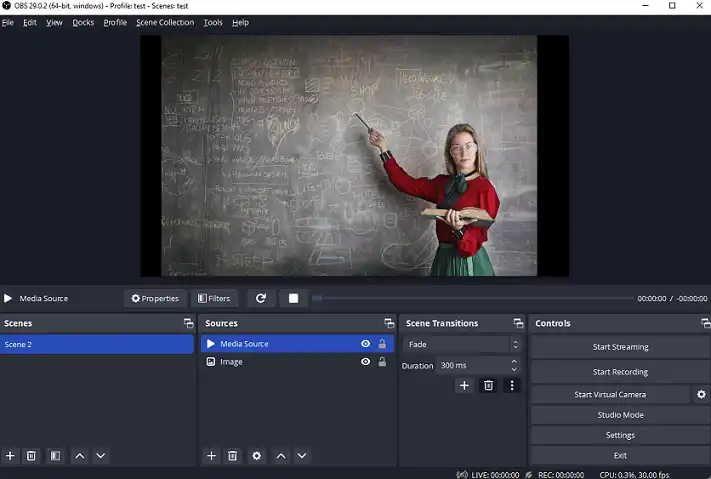 Features:
Support for various encoders and formats
Unlimited scenes and sources
Highly customizable by using plugins and scripts
#3. Panopto
Panopto is a cloud-based platform that can work in your browser and record lectures directly without installing any extra stuff such as a browser extension. For that reason, if you are tired of comparing different software to find out which one is the best lecture recording application, Panopto might be exactly the one suitable tool for you.
This software is simple to set up and use because it integrates seamlessly with any online learning management system. And the user-friendly interface provides easy access to users who have no experience using such software.
Panopto Basic version is free to use and it supports only 5 hours of video storage in total, which means you may not be able to record too many lectures. And most functions are unavailable unless you are using the Panopto Enterprise version.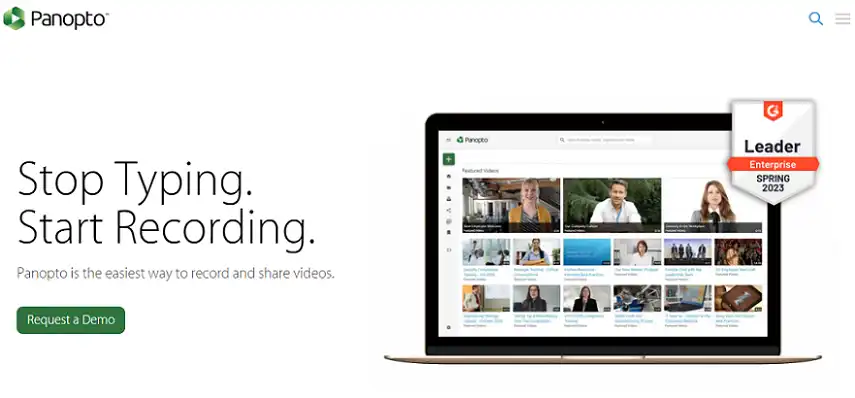 Features:
Digital asset management
Content library with video search function
Capture multiple screens and cameras simultaneously
#4. Yuja
Yuja is another powerful tool that you can use to capture online video lectures efficiently. It can be very helpful for corporate enterprises and educational institutions to manage their streamlined videos. The good compatibility with learning management system platforms makes Yuja a popular solution for recording video lectures. Except for the desktop version, you can also use this software on both Android and iOS platforms, the mobile platforms will make your recording and reviewing of online lectures more convenient.
Yuja offers any customer a free trial program to try it out before actually paying. And you can choose the specific products you need to get a customized price.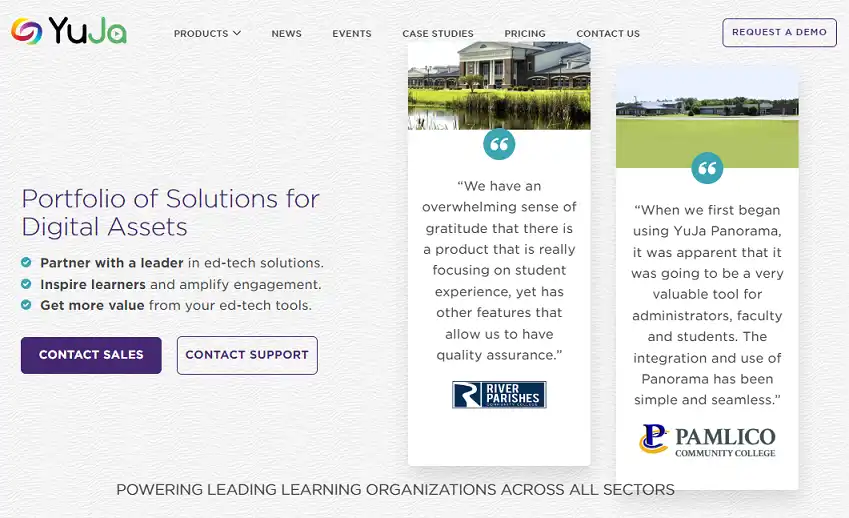 Features:
Digital asset categorization
Caption the videos for accessibility
In-video comments
Search certain information inside videos
#5. Echo360
Echo360 is an all-inclusive video recording and management software. It allows you to record lectures and presentations automatically or on demand from any PC device or mobile device. Simple, intuitive recording UI that is the same across both hardware and software. After your lecture recording is down, you can even transcribe the video files into text for further convenience.
Echo360 has a navigable interface, you can get to know how to use it quickly. If it's still too hard for you to handle, Echo360 also provides excellent customer support to solve any problems you meet during usage.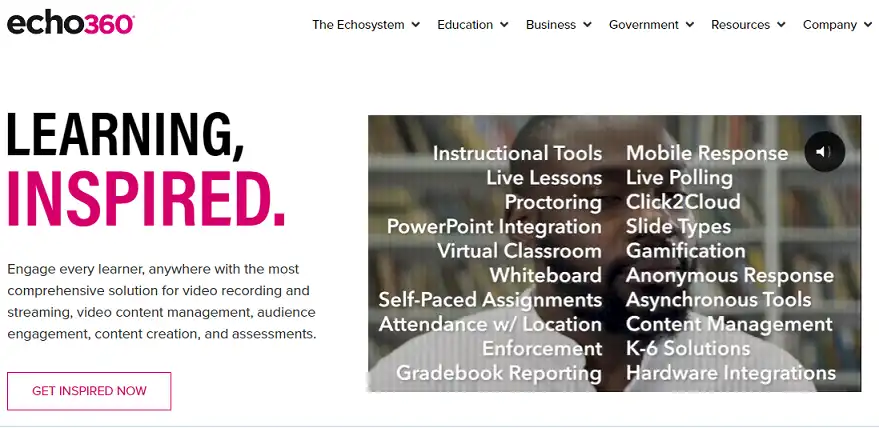 Features:
Student portal
Reporting and analytics
Smart integrations
Quick video editing
#6. Ezvid
Ezvid is a full-featured video editor and screen recorder. It can capture the online lecture you are watching whether the video source is from a desktop app or a browser page. Ezvid also provides easy control of video speed, you can adjust it to suit your own pace. You can produce razor-sharp HD lecture recordings through Ezvid, and it supports recording lectures up to 45 minutes in length at most. However, recordings made by Ezvid can't be saved as local files, the software will upload them to YouTube.
Ezvid is free software, it currently supports Windows systems but is unavailable on Windows 11. And you will need at least 10GB of free hard drive space to install it.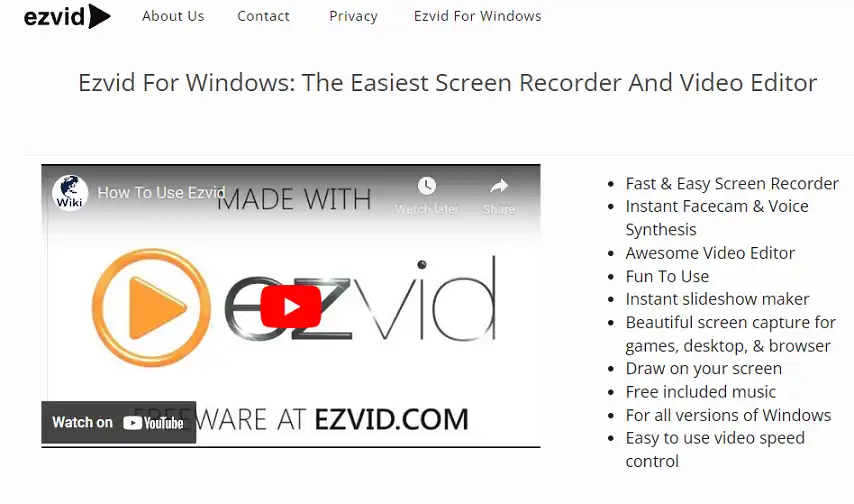 Features:
Speed control on recordings
Voice controller
No watermark on the recordings
Keyboard shortcuts supported
Conclusion
Online lectures are a big vault of knowledge, and everyone who desires self-improvement can learn a lot from online lectures. It's a convenient way of learning new things and it would be even more convenient if you can watch and review the lectures anywhere anytime. Try the 6 lecture recording software we listed above and enjoy the new experience of learning from online lectures.