Are you a fan of Genshin Impact, the hit open-world action role-playing game? Do you enjoy listening to the voices of your favorite characters as they adventure, fight, and interact with you? Have you ever wondered what it would be like to create your own Genshin voices for fun or your own projects?
In this article, we will introduce you to the best Genshin AI voice generator, FineShare FineVoice, and show you how to use FineVoice to make your own Genshin voices.
So, without further ado, let's get started!
What Is Genshin Impact?
Genshin Impact is a popular action role-playing game (ARPG) developed and published by the Chinese video game developer miHoYo. It was first released in September 2020 and quickly gained immense popularity for its stunning open-world design, action-packed combat, and engaging storyline.
The game is set in the fantasy world of Teyvat, which is richly detailed and features seven distinct regions, each inspired by different real-world cultures and elements of fantasy. Players take on the role of the Traveler, a character who can explore the various regions, interact with diverse characters, and uncover the mysteries of the world.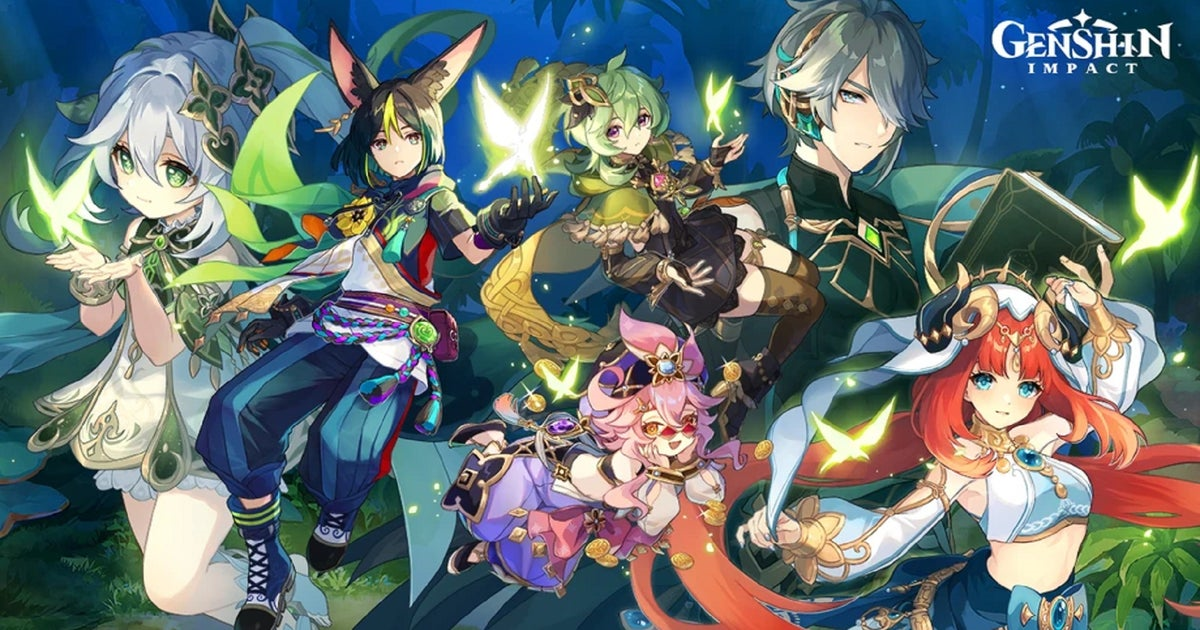 The Best Genshin AI Voice Generator: FineShare FineVoice
Do you love Genshin Impact and wish you could hear your favorite characters speak in your language? If yes, then you need to try FineShare FineVoice, the best Genshin Impact AI voice generator ever! It's an amazing and easy-to-use Genshin Impact text to speech tool that can produce realistic and natural-sounding voices for Genshin Impact characters.
With FineVoice, you can enjoy Genshin Impact character voices in over 40 languages and accents, including Spanish, Chinese, French, Japanese, German, Italian, and Portuguese. You can also choose from over 220 voices, including anime voices like Dio Brando, cartoon voices like Peppa Pig, celebrity voices like Morgan Freeman, YouTubers like Gawr Gura, and Genshin Impact character voices.
Besides, you can use it to make fun and creative Genshin voices for various purposes, such as making your own Genshin Impact character voice lines or dialogues, pranking your friends or other players with Genshin voices, or creating creative YouTube videos with Genshin AI voices.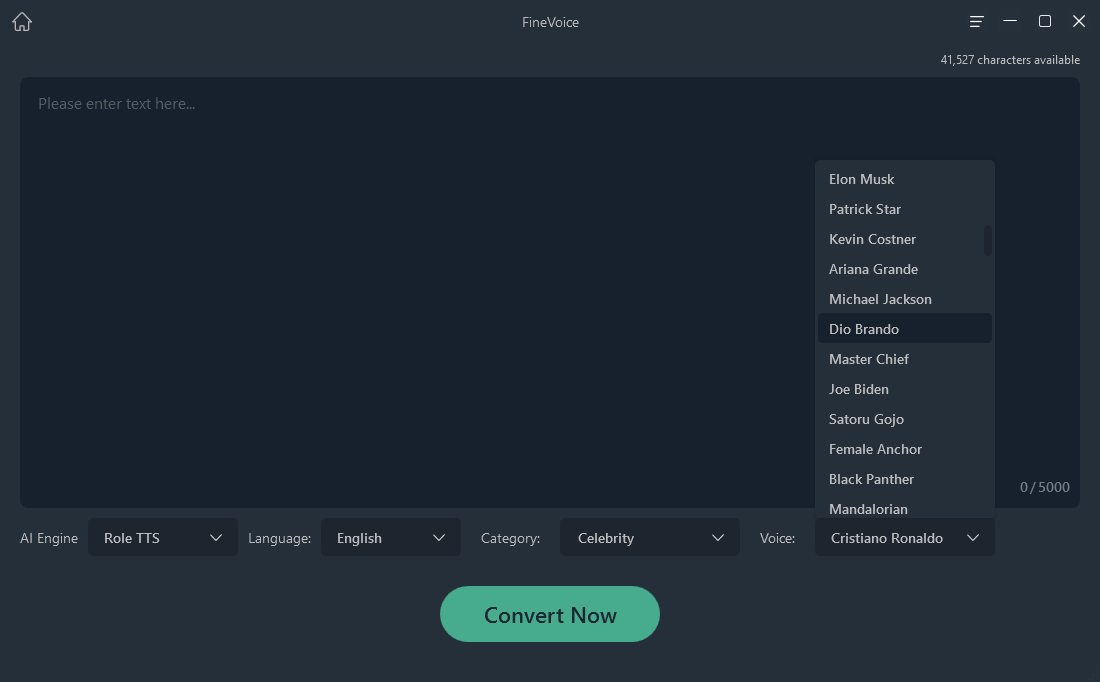 How to Use FineShare FineVoice to Generate Genshin Impact Voices?
To use FineVoice, this Genshin text to speech tool, to generate a Genshin Impact AI voice, you just need to follow these easy steps.
Step 1: Download the FineShare FineVoice app on your computer.
Step 2: Choose Text to Speech under the Voice Toolbox.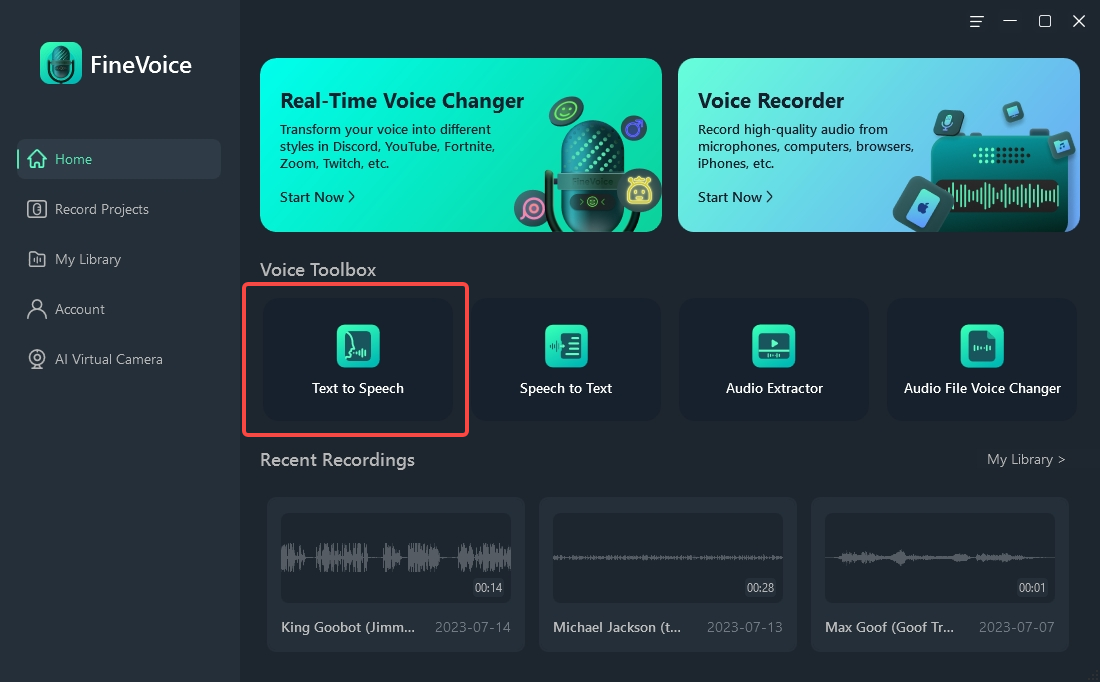 Step 3: Fill out the given text box with your desired text.
Step 4: Select the Genshin Impact voice from the Role TTS> Celebrities Category or use the search function to find it.
Step 5: Adjust the voice settings according to your preference.
Step 6: Click the Convert Now button to create your Genshin Impact AI voice audio file.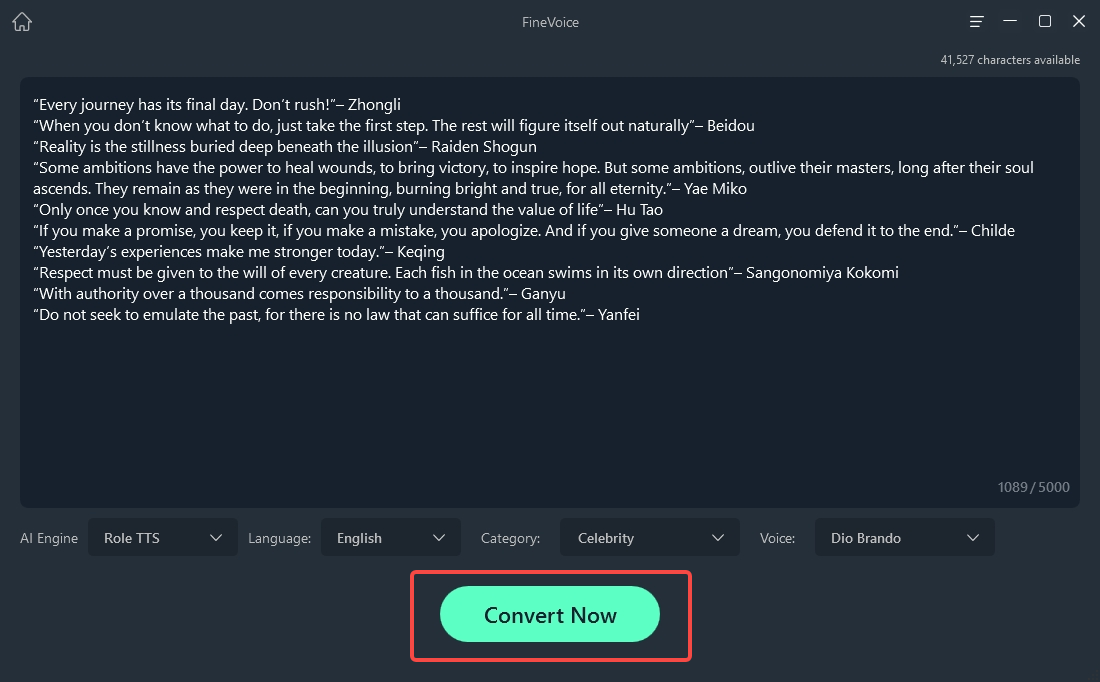 Step 7: Download or share your audio file as you wish.
All in all, FineVoice is a great tool for Genshin Impact fans who want to create their own Genshin Impact AI voice content.
Learn More about Some Popular Genshin Impact Characters
Genshin Impact features a diverse and extensive cast of characters, each with their unique abilities, backstories, and elemental affinities. Here are some popular characters from the game.
The player character, whose name and gender can be customized, with the ability to switch between elemental affinities (Anemo, Geo, Electro, and more).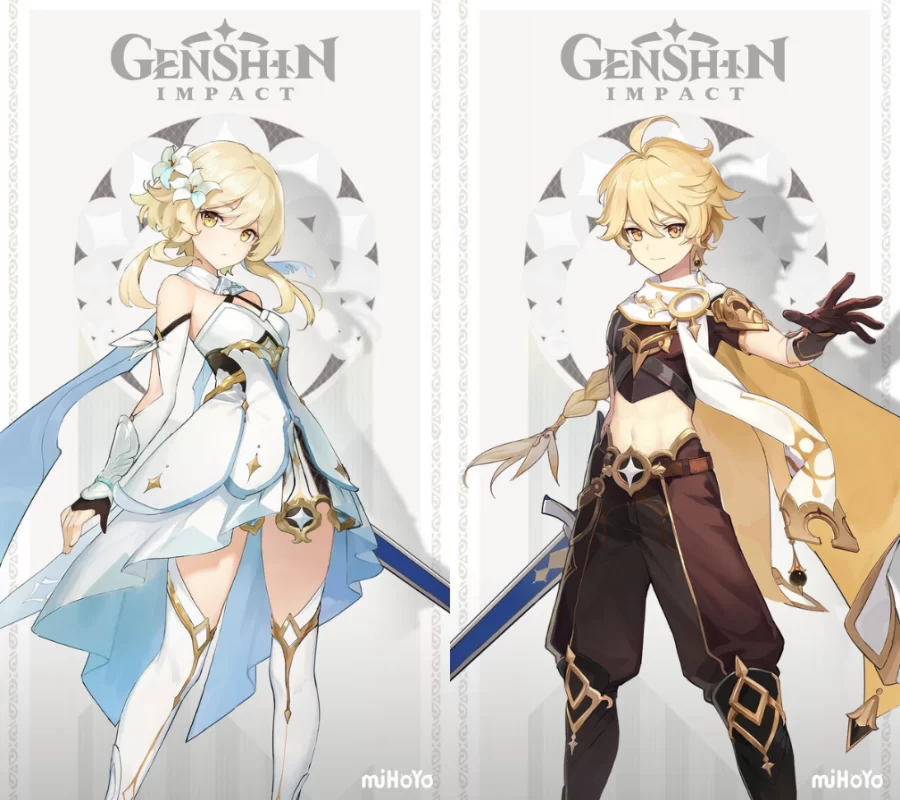 A skilled archer from Mondstadt, known for her enthusiastic personality and fiery elemental abilities.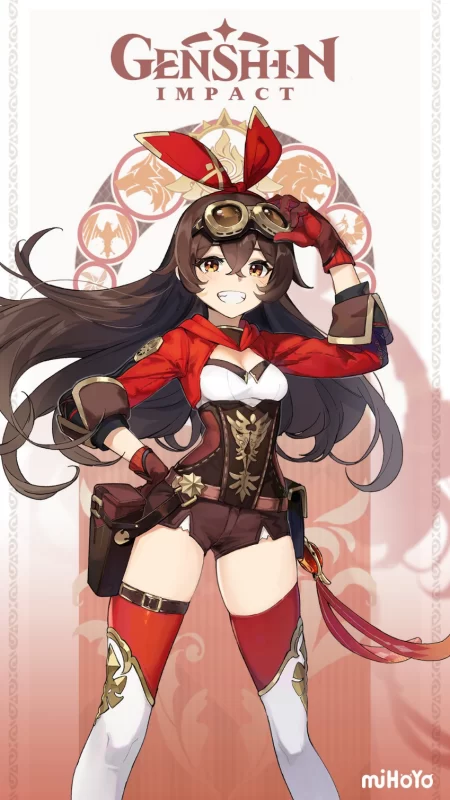 The Head Librarian of the Knights of Favonius in Mondstadt, who wields powerful electro magic.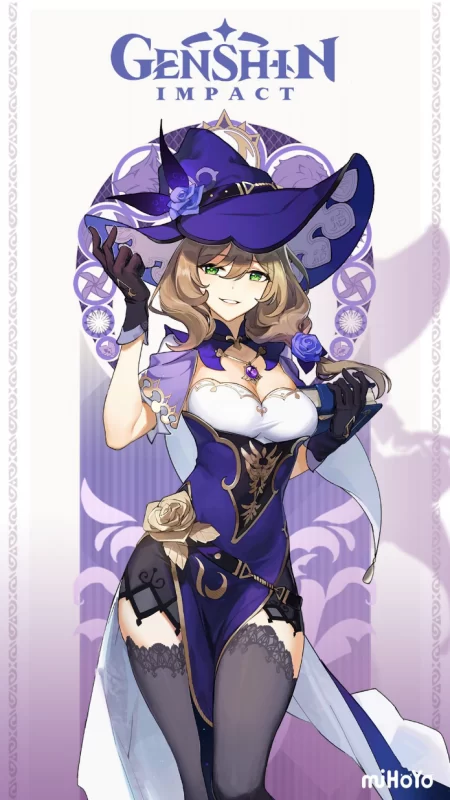 A brooding character and the owner of Dawn Winery in Mondstadt, he wields the power of fire.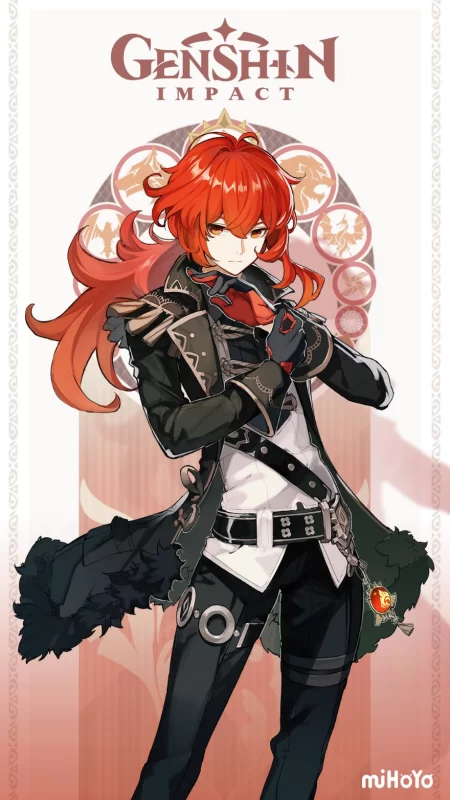 An Adeptus guard in Liyue can transform into a fearsome creature and wields the power of Anemo.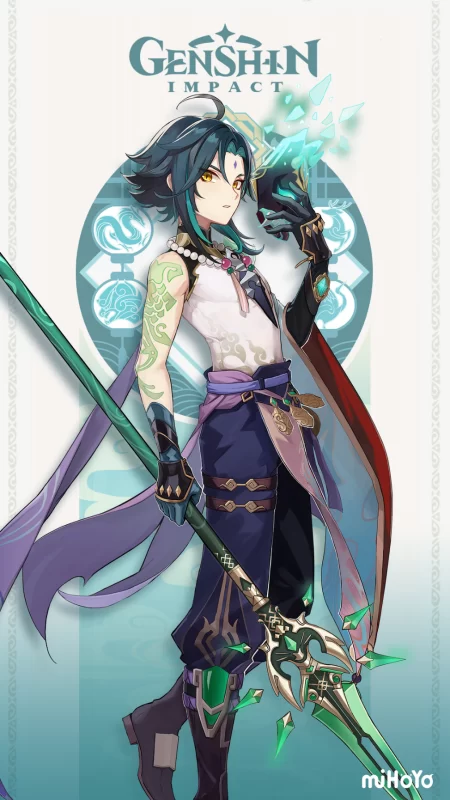 Ganyu's graceful character design and her strong cryo (ice) abilities appealed to many players.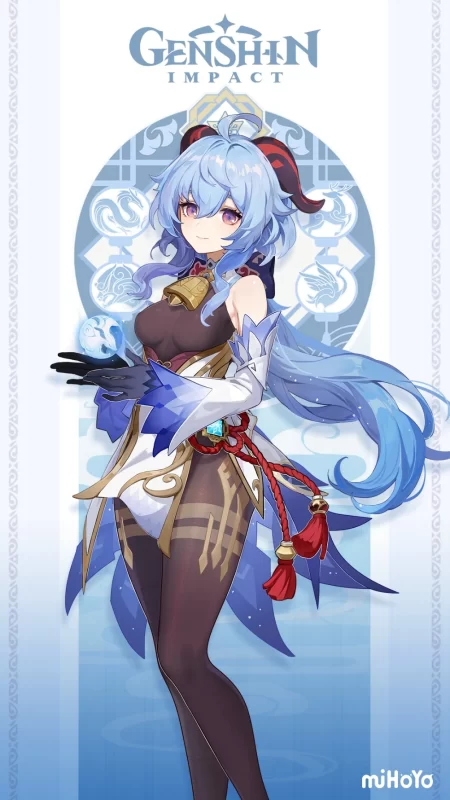 Conclusion
The Genshin AI Voice Generator is a testament to the evolving power of artificial intelligence in the gaming industry. With the Genshin voice generator, you can unleash your creativity and imagination by creating new Genshin voice lines, dialogues, or characters.
Are you ready to try it out? You will be amazed by what you can create with FineVoice. It's like having your own Genshin voice studio in your pocket. Have fun and enjoy!
FAQs about Genshin AI Voice Generator
What Is Genshin AI Voice Generator?
Genshin AI voice generator is a tool that uses artificial intelligence to convert written text into speech. It can mimic the voice of a specific Genshin Impact character or create a new voice based on your preferences.
How Does the Genshin Voice Generator Work?
The Genshin AI Voice Generator uses deep learning algorithms to mimic human voices. It's trained on a dataset of voice samples from professional voice actors and then customized to match the personalities and traits of in-game characters.
On Which Platforms Can I Play Genshin Impact?
Genshin Impact is available on various platforms, including Windows, PlayStation 4, PlayStation 5, Nintendo Switch, iOS, and Android.
What Is the "gacha" System in Genshin Impact?
The "gacha" system in Genshin Impact is a mechanic used for acquiring new characters and weapons. Players can use in-game currency, known as Primogems, to make wishes and receive random rewards.