Browser extensions help us with numerous activities and eliminate the need to use apps to perform different tasks. For instance, when you want to read aloud a given text while focusing on other things, you can get a text to speech Chrome extension add-on to help.
The text to speech extension only requires you to enable it, and it will read aloud the particular text, saving you the hassle of focusing on the text as you read it. Hence, you can listen to the speech without interrupting your other activities.
Fortunately, there are numerous text to speech Chrome extensions you can use. However, not all of them are reliable. Luckily, we've researched and tried them to prepare a listicle of the top 6 text to speech Chrome extensions you should use. Read on!
Top 6 Text to Speech Chrome Extensions
An online search will display numerous text to speech extensions, but with the list below, you don't have to waste time finding the best extensions.
1. Natural Reader
If you want a free text to speech Chrome extension, Natural Reader is a good option. With its free version, you can enjoy converting numerous languages to spoken audio, such as Japanese, French, and Chinese.
Alternatively, you can get the paid version to unlock all its capabilities.

Highlights:
It's cross-platform and available as a web, Android, and iOS app.
Supports over 16 languages.
Natural Reader has an intuitive and simple interface to use.
Using OCR functionality, you can use it to read text from pdf files and images.
Allows voice customization, such as changing the speed.
2. Capti Voice
When you want to listen to web articles, books, or other documents, the Capti Voice extension is handy, especially for educational purposes. You can use its free version if you only want to read aloud in US English. For other languages, you must get the paid version.

Highlights:
Supports 26 languages.
Allows pre-selecting text that you wish to read aloud.
It has shortcuts for easy navigation.
The speed automatically adjusts to match the language.
3. Read Aloud
This customizable text to speech Chrome extension is among the most widely used and has over 4M users. You can use it to read various files, including PDFs, Google Play Books, Amazon Kindle, blog posts, etc. What's more, it's an open-source project and supports numerous languages.

Feature Highlights:
Supports 40 languages.
Allows adjusting the reading speed, pitch, volume, etc.
Utilizes TTS technology in converting webpages to audio.
Users can choose the text-to-speech voice you wish to use.
Allows text highlighting.
4. Speechify
It's a reliable read-aloud Chrome extension that utilizes AI to convert TTS with quality clarity. In addition, it has a great assortment of natural voices and enhanced features ideal for the visually impaired.

Feature Highlights:
Allows voice customizations.
Supports over 60 languages.
It has OCR functionality that allows extracting texts from eBooks, PDFs, images, etc.
Its voices are high quality, and you can enhance tone, speed, and pitch.
5. Talkie
With Talkie, you will convert texts to speech easily as the extension automatically detects the language to use and the voice and reads the text aloud to your convenience. You can also download free voices, dialects, or other languages you wish to use in the TTS conversion.

Highlights:
Supports over 40 languages.
You can use it on iOS and Android devices.
It has a simple interface.
It works offline.
It has an unlimited word count.
6. Snap&Read
It's a free text to speech Chrome extension mainly designed to support universities and schools. It works with different browsers and is handy in quickly reading aloud any text on the tab you've opened. It converts text to speech in real-time.

Highlights:
It has excellent snapshot TTS.
It supports over 100 languages.
Its translation is real-time.
It allows uploading PDF files to convert to speech.
It has OCR Screen functionality.
Bonus Tips: Best Text to Speech Software on PC
Although we've presented the six ideal text to speech Chrome extensions you can use, there is a bonus option with more features and functionality. FineShare FineVoice is an AI voice changer that supports text-to-speech conversion on PC. You can pick from a variety of voices, such as fictional characters, cartoon characters, and celebrities. You can also use famous voices like Yoda, Duke Nukem, Stephen Hawking, Kanye West, Barack Obama, and more.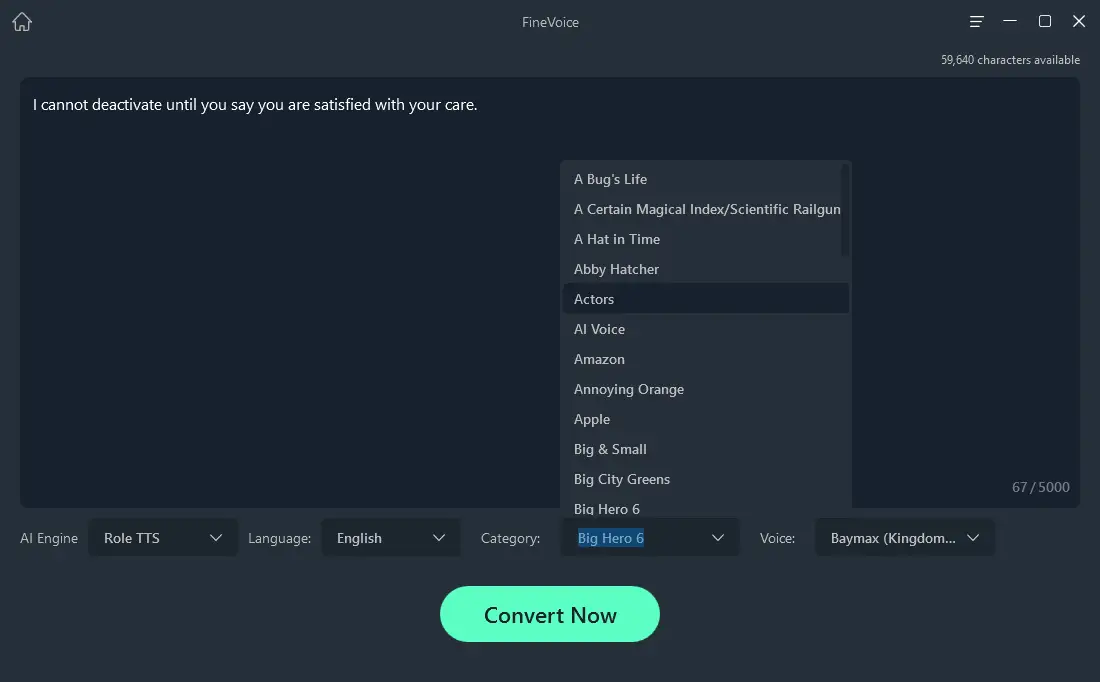 Highlights:
Easy to use
It has celebrity voices and over 200 authentic voices
It supports over 40 languages.
It has high-quality voice conversion.
It has real-time text to speech conversion.
Conclusion
When you want to read aloud texts, such as from a PDF or a browser tab, a text to speech Chrome extension will help with that. We've discussed the six best text to speech extensions you can use. Refer to the highlights of each presented extension to decide which works best for your case.
If you want a more reliable tool that goes beyond text-to-speech conversion to offer other features like voice changers, use the FineShare FineVoice. Try it out!