Zoom is one of the most popular and widely used platforms for video conferencing and online meetings, especially in recent years. It has a number of advantages such as a simple and user-friendly interface, high-quality video and audio, and various features to enhance your online collaboration and communication.
However, despite being a powerful tool, there are still some aspects of Zoom that can be improved. Have you ever wondered how to improve your Zoom quality and experience? In fact, some Chrome extensions will help you with that. Suitable extensions can improve your work efficiency and productivity even further.
In this article, we will introduce you to the top 10 Chrome Zoom extensions that you should try. Whether you are a sale staff, a teacher, or a casual Zoom user, you will find something useful in this list.
Zoom
How can we miss this one when talking about Zoom extension for Chrome? The extension version of Zoom is developed and published by the official, and it has received over 10 million users on Chrome Web Store.
The extension version isn't as powerful as the original Zoom since it's only a small program added to your Chrome browser, but you can still find the basic functions work fine. You can use the Zoom extension for screen sharing and video conferencing with ease. And the features like high-quality video, passcode access, and instant message are kept in this extension.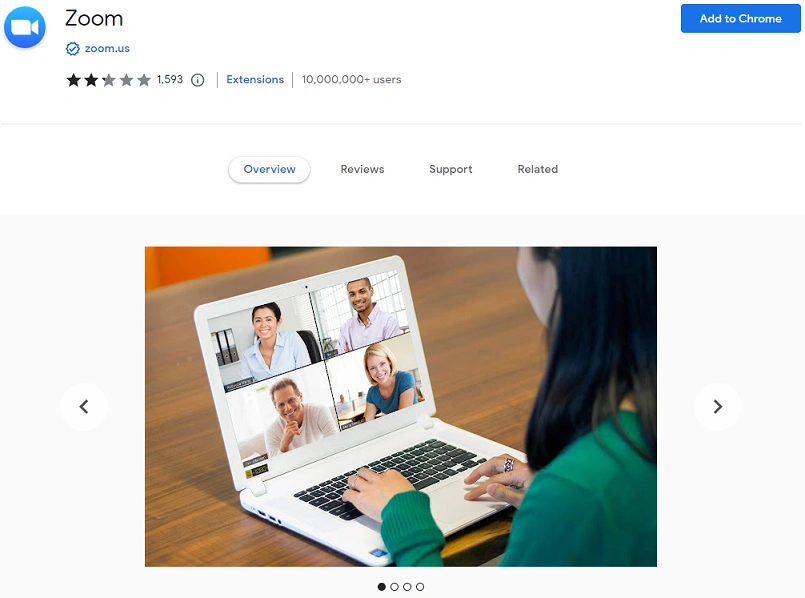 Features:
Free to install and use
More convenient than its desktop version
Support meetings of 100 persons at most

Zoom Scheduler
Zoom Scheduler is another Chrome extension developed by Zoom officials, and it's highly recommended to use this scheduler program along with the extension version of Zoom.
With this Zoom Scheduler extension, you can add events and meetings to your future plan, and schedule Zoom meetings directly from the calendar services. Currently, it fully integrates with Google Calendar and Microsoft 365 Calendar, or you can use the original Zoom Calendar service.
Zoom Scheduler also syncs every attendee's schedule and it will automatically send them invitations via email, including the meeting URL and instructions on how to join the coming meeting. After receiving the invitations, other people can quickly join your meeting with one single click.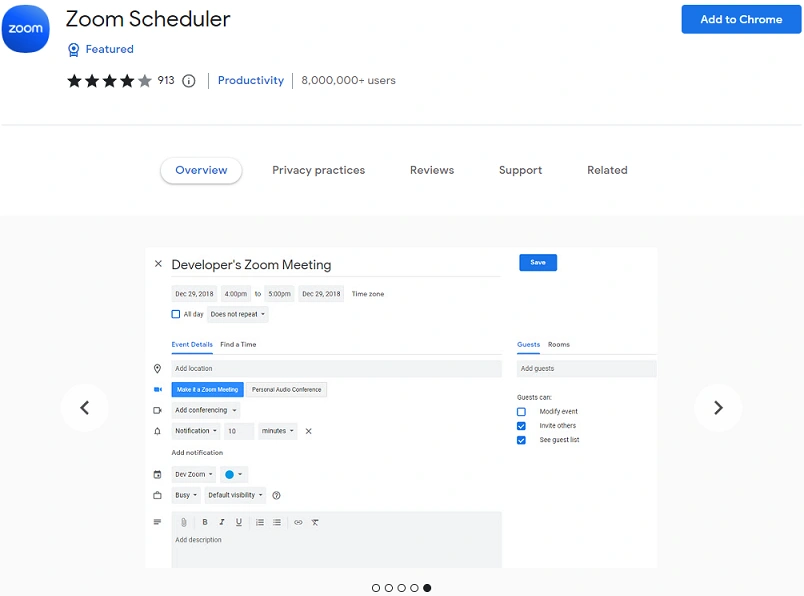 Features:
Send meeting invitations automatically
Use calendar services to schedule meetings
Fully compatible with Zoom extension

tl;dv
Using Zoom to record videos is a heavy burden on your computer. It will take up a lot of browser and CPU resources, which usually causes negative influences on your computer like slow performance. In this situation, you may need to find another tool to record Zoom meetings, tl;dv can help you solve this issue.
This Chrome extension allows you to record Zoom meetings automatically, and it's free to use. Since the recording progress of tl;dv is handled on the cloud, it frees the resources of your computer, so you can process other things while recording Zoom meetings.
What's more, tl;dv has integrated multiple functions to improve your recording quality. For example, you can add timestamps to highlight parts or make use of note-taking powered by AI technology.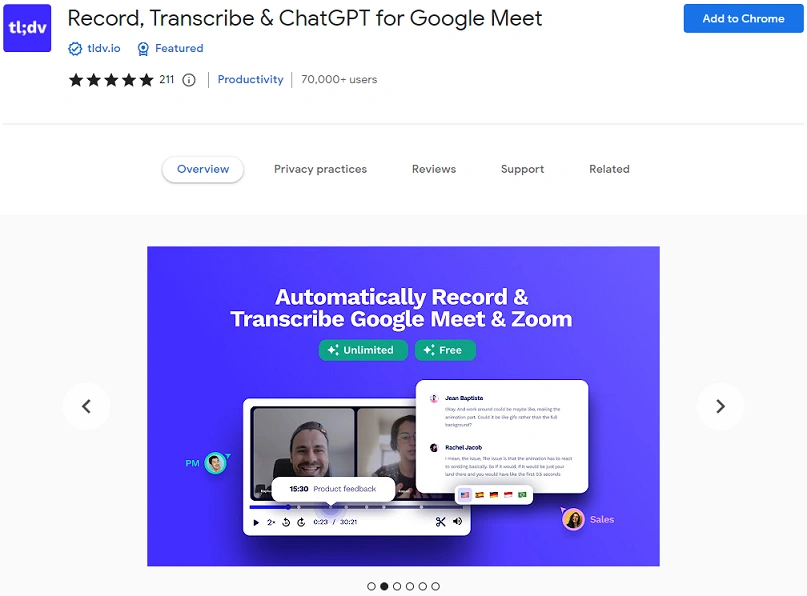 Features:
Share links to your recordings automatically
Easy for beginners to use
No time limit or watermark on recordings

Notta
Transcription of Zoom meeting is useful if you want to review the content or make a subtitle. Creating a transcription manually isn't an easy job, but this Chrome extension Notta can simplify the progress and save you both time and energy.
Notta is compatible with many platforms and websites, Zoom is also included. It can generate a Zoom meeting transcription in real-time quickly and supports transcribing multiple sources, you can transcribe up to 5 meetings at the same time. And thanks to the latest AI speech recognition engine, the transcription accuracy of Notta reaches a high level of 98% accurate.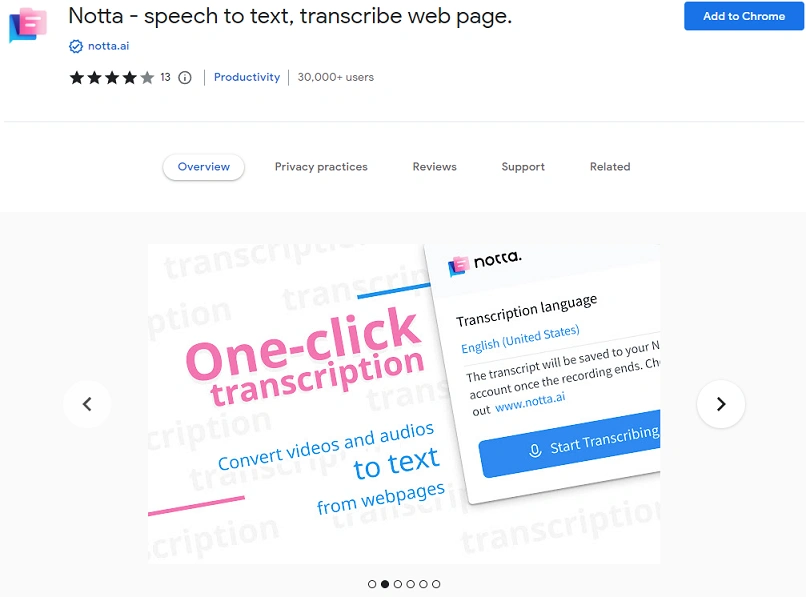 Features:
Easy editing and sharing
Can identify different speakers in the meeting
AI-powered data analysis and summarization

Zoom Utils
If you are a student who is looking to add Zoom extension to Chrome, don't miss Zoom Utils. It's a handy tool specially designed for online education, and you can use it to track, notify, and launch your Zoom classes.
Zoom Utils allows you to easily track all your Zoom classes by using the meeting ID. In that case, you won't need the meeting links anymore, an ID is all you need to join classes and receive notifications. And there's also an auto-join function that allows you to join a Zoom meeting automatically when it starts. If you find inputting the passcode is a hassle every time you have Zoom classes, Zoom Utils can even input the passcode for you.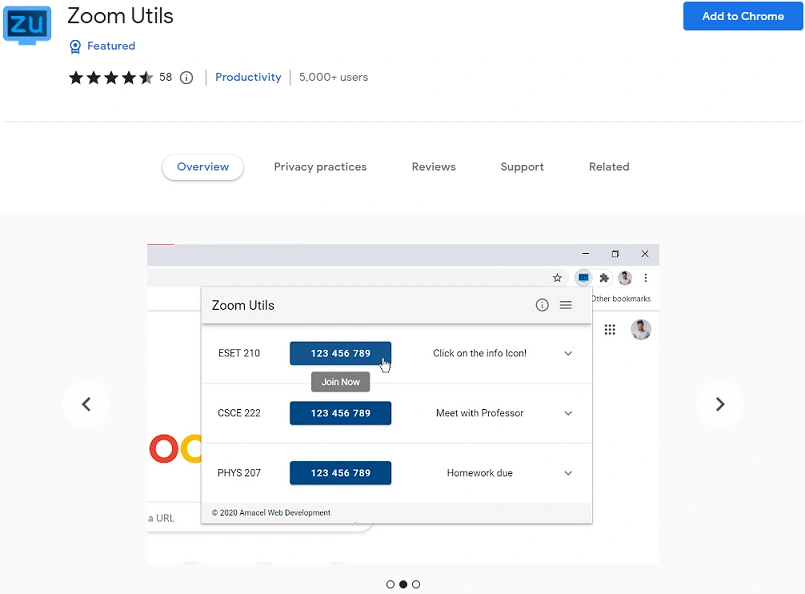 Features:
Customize Zoom meetings according to your preferences
Provide extra enhancement to Zoom meetings

Recording Playback Tool for Zoom
This Chrome Zoom extension makes it much easier to play back Zoom meetings. If you are too busy to watch every second of a meeting, you can use this tool to replay recordings later and review important parts of the meeting effortlessly.
There are two options for playback speed, you can set the speed from 0.5x speed to 4.0x speed at most. A speed setting that is higher than 1.0x is suitable when you need to get through a certain section quickly, and the 0.5x speed can help you better locate if there are any mistakes in the meeting content.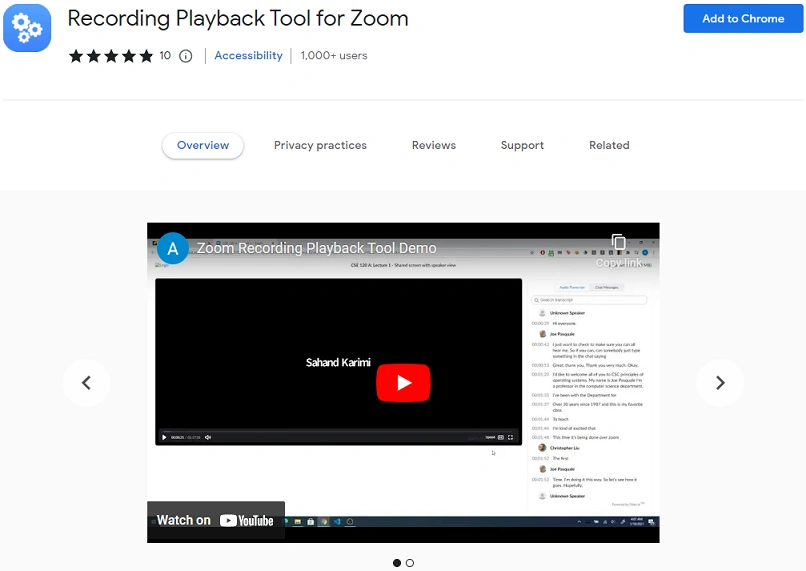 Features:
Supports keyboard shortcuts to control the speed
Perfectly integrated with Zoom
Simple and user-friendly interface

Vidyard
Vidyard is an online platform that provides video creation tools for online sales and marketing teams, and it also has a Chrome extension version.
The Vidyard Chrome extension is recording software that mainly focuses on sales purposes. It supports many sales engagement platforms such as SalesLoft and Marketo, and if you use Zoom to contact your customers, this extension can also be a great help.
You can use Vidyard to create awesome videos that can engage your customers during Zoom meetings. The online editor function can also help you make some quick changes to your video products and enhance their quality.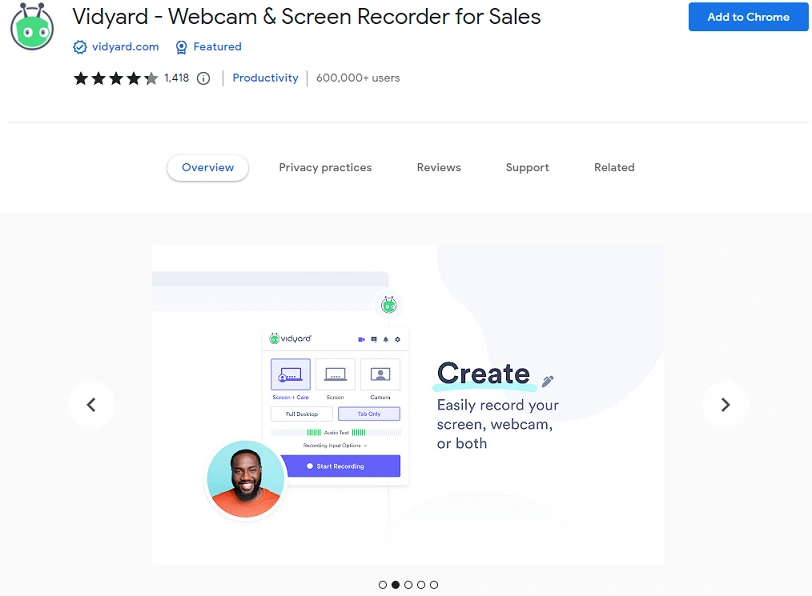 Features:
Host your videos on the reliable cloud platform
Create engaging sales videos for Zoom meetings

Want to know more about Chrome recording extensions like Vidyard? Check out the following article: Easy Screen Recording: Top 7 Chrome Extensions You Need to Try
Zoom Closer
As the name suggests, Zoom Closer is a simple Chrome extension that can help you close Zoom meetings automatically.
When you launch a Zoom meeting, this extension will close Zoom Post Attendee window that is created by Zoom meetings. And you can also use Chrome context script to close the tab, no permission is required for this operation.
Besides the auto close function, Zoom Closer also allows you to create visual coherence that can prevent you from distraction, and focus on the current Zoom meeting.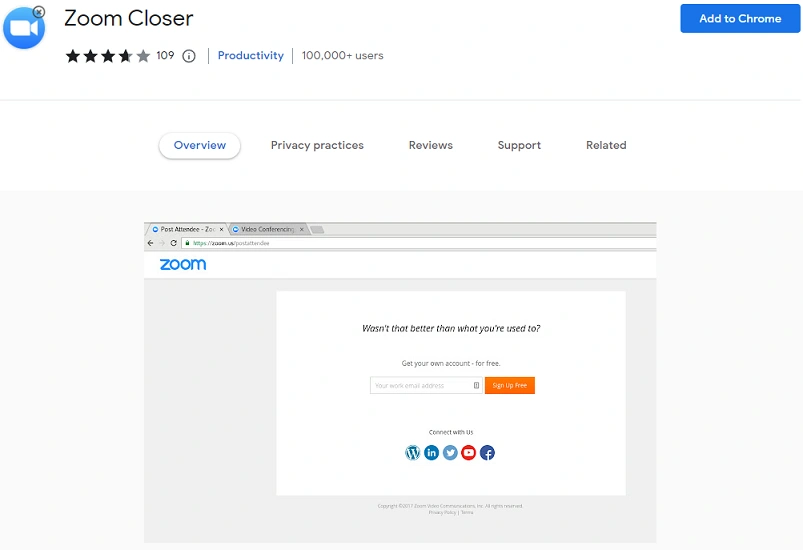 Features:
Close additional windows automatically
Set to close the window after a certain amount of time

ZED: Zoom Easy Downloader
Not every Zoom meeting is available to download since the host might not allow participants to do so. But with ZED, it's possible for you to download any Zoom meeting you want.
ZED is able to directly download Zoom meetings from the websites and save the meetings as local files. After that, you can review the meetings offline freely.
ZED will launch automatically when you are watching a Zoom video, then you only need to click the download option and the video will be saved in MP4 format on your computer soon. What's more, the videos made by ZED are small in size, so you don't have to worry about the disk space issue too much.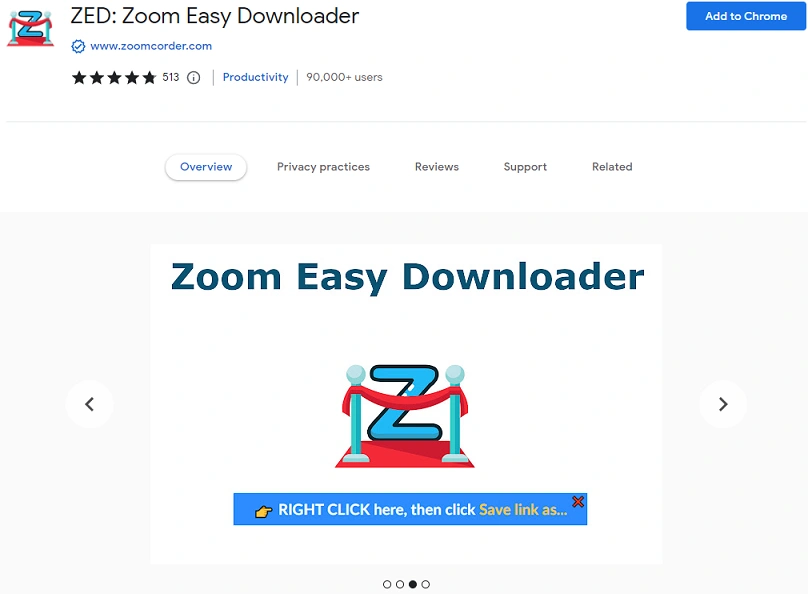 Features:
Easy to use
Download videos without permission

VideoMirror
VideoMirror is a simple Chrome extension that can horizontally flip the Zoom meeting to bring you another perspective. It's compatible with popular video and streaming platforms like YouTube and Twitch. Of course, Google Meet and Zoom are also supported.
After installing the extension on your browser, just click the icon of VideoMirror, and the playing video on the current webpage will be flipped, then you can click again to undo it.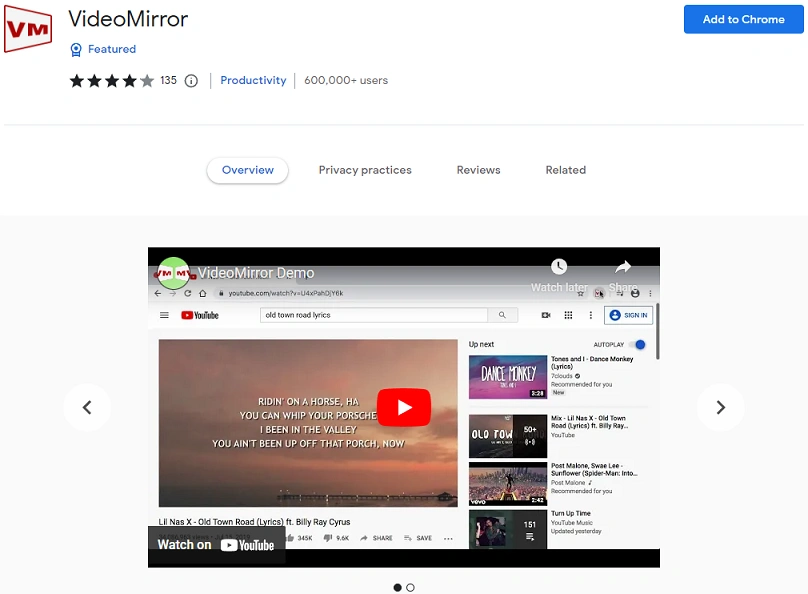 Features:
Flip all the videos on the webpage at the same time
Support full-screen mode on most sites

Special Recommendation: FineShare FineCam
Using Zoom extensions is indeed a convenient way to enhance your experience during online meetings. But extensions usually have their drawbacks due to various limitations. If you want the best improvement, it's a good choice to use desktop applications. FineShare FineCam is exactly a useful tool that can greatly improve your Zoom meeting experience better than extensions.
FineCam is an AI-powered virtual camera that allows you to record Zoom meetings as a participant. It supports high-quality video of resolution up to 4K, and you can use your phone as an external webcam when you need to record both the screen and the webcam.
What's more, FineCam allows you to use various things to replace your original background. You can choose to use an app window, a webpage, a YouTube video, or a slides show as your webcam background.
Currently, FineCam is free to use on Windows and macOS, download it now to see how this tool can improve your Zoom meetings.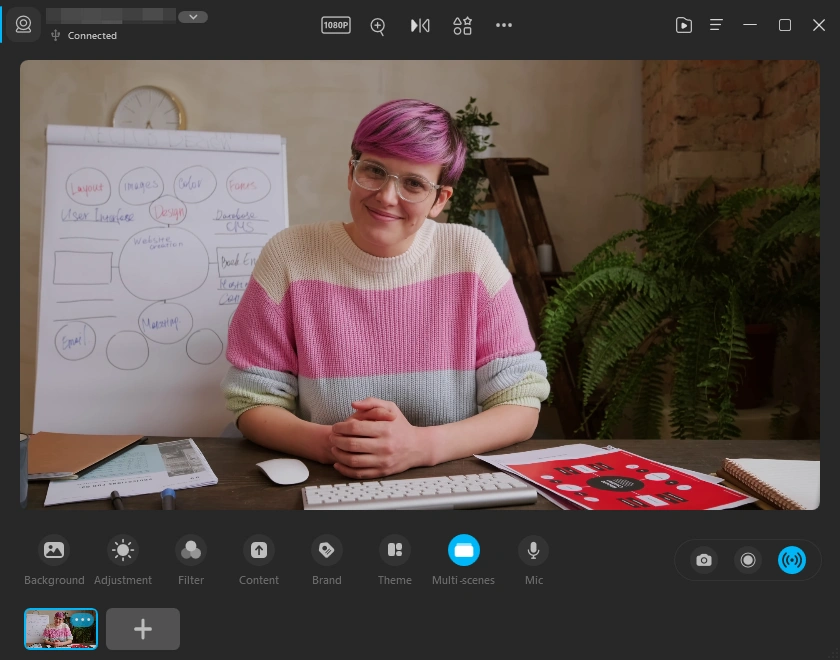 Conclusion
Zoom is convenient, and it could be even better with suitable extensions. We hope the listed tools can help you, and we wish you enjoy using Zoom.