Viewers are likely to remember most content that they see in the videos, and that makes videos deliver information faster and more efficiently than any other medium. In that case, online video platforms that usually be used for entertainment could be handy tools for sales, marketing, and communication too.
YouTube and Vimeo, the two most popular online video platforms on today's Internet have been compared a lot. If you want to know which one is the best platform where you can gain growth and success for an individual or a business, you better know their differences before making a decision.
And in this article, we will make a comparison between Vimeo vs YouTube, and show you the best screen recorder for making videos.
Key Differences Between Vimeo and YouTube
Community
This one is no doubt the biggest difference between Vimeo and YouTube. As the number one online video platform worldwide, YouTube has over 2 billion monthly users, and half of the netizens around the world are using YouTube. It allows anyone to upload videos and share them with the whole world for free.
Meanwhile, Vimeo has about 230 million monthly users plus 1.9 million paid subscribers. These aren't small numbers but still feel a little insignificant when compared with YouTube. If you want your videos to get as many viewers as possible, choosing YouTube is a better choice since it provides more potential exposure for your videos.
Do you want to be a YouTuber too? Check the following article to see what you should do: How to Become a YouTuber in 2023 (Essential Guide)
Cost
As mentioned above, uploading videos on YouTube doesn't cost money, even if you are uploading videos for your business. YouTube has its premium subscription to remove ads in the videos, but uploading videos doesn't require payment.
If you don't want to spend budgets on Vimeo, it provides a free trial or you can choose the free plan which is completely free to use. However, the free trial will expire in 30 days, and the free plan is feature-limited in many aspects, you even can't store videos of more than 500MB per week. In this part about cost, YouTube is obviously better than Vimeo.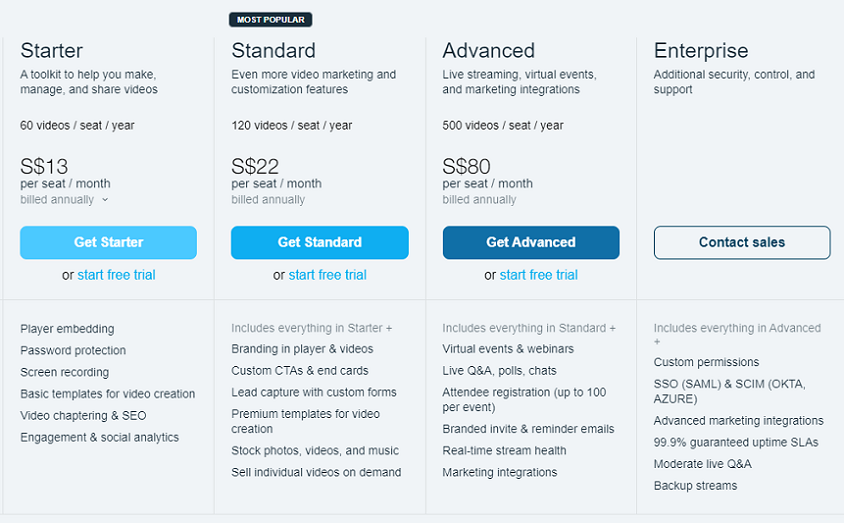 Analytics
When Vimeo vs YouTube for business purposes, metric analytics is an inevitable topic. Both video platforms offer a wide array of analytics for your videos. The metrics provided by them would be very helpful for you to understand the video and channel performance better, and decide the future plan.
All the analytics from basic statistics and other advanced options are totally free on YouTube, but you have to pay to access similar features on Vimeo. In summary, YouTube does better than Vimeo in providing analytics services.
Privacy Options
Privacy options are common for video platforms. Such options on YouTube are quite simple, YouTubers are given the option to set any video of yours to private or public, and the default setting is public.
In the meantime, Vimeo provides a lot of more specific privacy options. You can add password protection to videos, hide any video from the whole Vimeo community, or only allow viewers who are following your account to see the videos. When Vimeo vs YouTube for private videos, Vimeo is the better choice.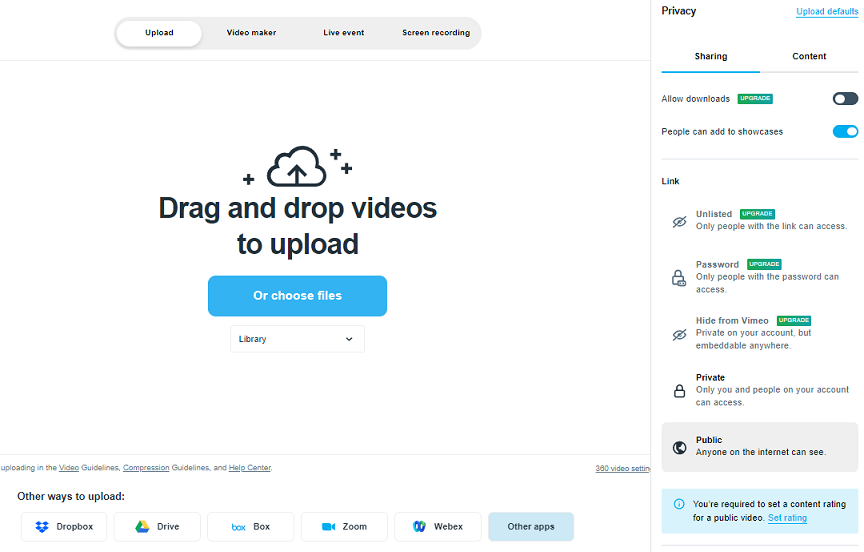 Video Quality
Due to various reasons, Videos on YouTube are usually of lower definition than their original quality. Sometimes you will find that a video is blurry and hard to watch on YouTube, but the same video is way clearer on another platform.
Situations are different on Vimeo, all the videos are kept without quality loss. And not only the definitions are better on Vimeo, but also the audio quality, it supports 320Kbps to ensure viewers have the best auditory experiences while watching videos. In one word, Vimeo is better if you wish the viewers can enjoy HD videos.
Live Streaming
Same to uploading videos, live streaming on YouTube is also completely free, you can start your streams at any time.
On the other hand, live streaming is a feature that requires you to subscribe to unlock. There are four types of Vimeo subscriptions, and you need to pay for Advanced level or Enterprise level subscriptions to use live stream. These two types cost higher, and they aren't suitable for individuals. There's no doubt that the free live stream feature makes YouTube win this round.
Technical Support
The technical support on video platforms can help you with most questions you may encounter when running a video channel. YouTube offers a huge collection of free help documentation and a Help Community where you can meet other YouTubers and share experiences with each other.
As for Vimeo, it offers several levels of technical support according to your subscription level, and it's highly personalized and more professional. Such great support could be very helpful if you have little video-related expertise. Despite it requires payment, Vimeo provides better technical support than YouTube.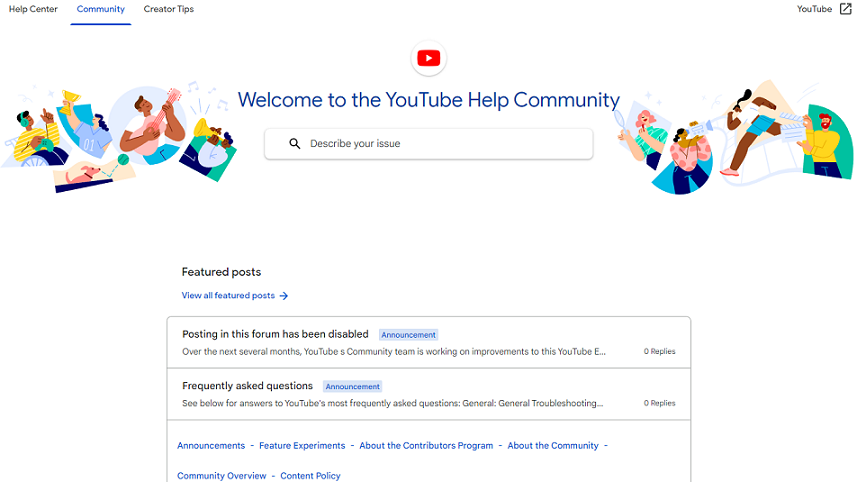 Tips: The Best Screen Recorder for Making Videos
To make good videos, you will need handy tools, and FineShare FineCam is a great choice for screen recording.
FineCam is an AI-powered virtual camera software that makes your video production faster and easier. With FineCam, you can turn your iPhone into an HD webcam, and stream your videos or webcam content to other platforms like YouTube, Zoom, and Discord.
As for the screen recording function, FineCam supports using various things as your webcam backgrounds, such as an app window, web page, or a local video file. Plus other functions like multi-scenes, video filters, and personal branding, you can make videos more conveniently and more efficiently.
FineCam is currently available on both Windows systems and MacOS, download now and have a try for free. Its 30-day refund guarantee also makes sure you won't have any loss if you aren't satisfied with the paid version.
If you are interested in such video recording software, check out this article for more information: 11 Best Video Recording Software in 2023 [Free & Paid]
Conclusion
Choosing the most suitable online video platform is very important if you wish to run your video channel well. We hope the listed key differences between Vimeo and YouTube can help you make the final decision.
Look Superb in All Videos
FineCam is an AI-powered virtual camera for Windows and Mac. It makes you look better in Zoom, Teams, YouTube, makes video production easier, and tunrs your phone into an HD webcam. Get it for free.