Since Chrome OS launched in 2009, there are more and more people using Chromebook. You people may want to change your voice while broadcasting or playing multiplayer video games on your Chromebook.
Voice changer plays a vital role for many Chrome OS users. Are there voice changers for Chromebook because many of them were designed for Windows and macOS? Read this post, here is everything you need to know about voice changers for Chromebook.
And if you want to know which one is the best voice changer for Windows. We got FineVoice for you. It's a real-time voice changer software with 30+ voice effects and 200+ sound effects.
To make your audio have the best quality, FineVoice offers a wonderful audio toolbox containing an audio extractor, audio file voice changer, text-to-speech, and speech-to-text tools. You can also use it as a multi-track voice recorder.
Can You Install Voice Changer on Chromebook?
Is there any voice changer software that works on my Chromebook? Can I use Voicemod on my Chromebook as using on my Windows PC and Mac?
Unfortunately, since Chrome OS is a Linux-based operating system, those excellent real-time voice changers like Voicemod and MorphVox are not supported on Chromebook.
Can I Use Voice Changer Extension for Chrome OS?
You already know the wonderful voice changer software cannot work on Chromebook. But if it is possible to use a Chrome voice changer extension?
You may find two Chrome extensions with familiar names.


The Android app Celebrity Voice Changer offers a Google Chrome extension, and Clownfish Voice Changer has also developed an extension that can be used for Chrome OS.
These 2 extensions used to work, but they seem not to work anymore, so you can try them but don't get your hopes up.
Although there is not a live voice changer for Chromebook, you can find some Chromebook voice changers. Read the next part to get 3 free voice changers for Chromebook.
3 Best Online Solutions for Chromebook Voice Changers
All these online voice changers below can be used on Google Chrome. Let's look closer at them.
#1. Voicechanger.io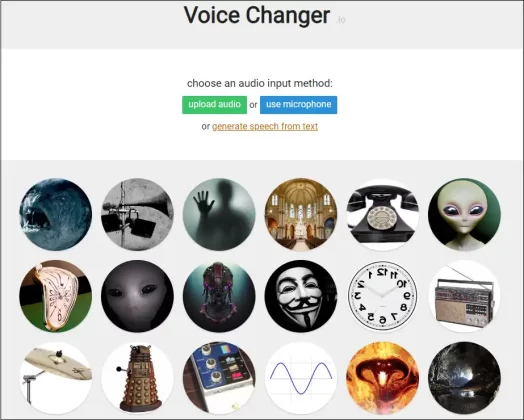 The first online voice changer for Chromebook we introduce is Voicechanger.io, as it is the site with the largest number of voice filters among all online voice changers. You can access Voicechanger.io on your Google Chrome.
Features:
Input audio by uploading a file or recording your microphone.
51 voice filters to change voice, including Chipmunk, Jackie Chan, Bane, etc.
Supports text-to-speech feature. And you can adjust the pitch and speed of the generated speech.
Supports custom voice-making. You can input audio and add effects from the 48 sound effects it provides.
The generated audio can be used for any purpose including commercially.
#2. Myvoicemod.com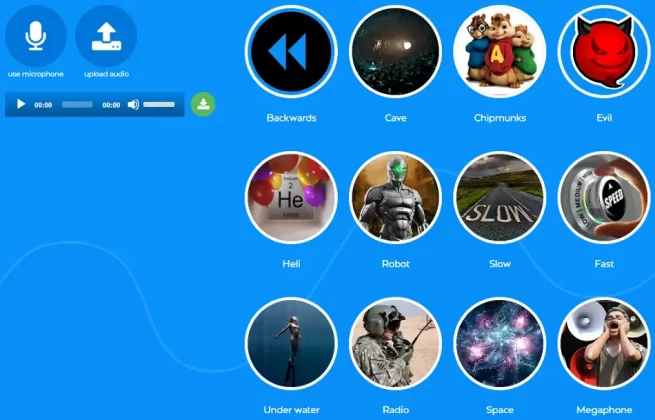 Myvoicemod.com is another free voice changer for Chromebook. It has a similar name to Voicemod, but they are not related.
Features:
You can record or upload an audio file to start voice change.
11 voice filters to change your audio.
There is a Backwords button to withdraw actions you made.
You can download the WAV file of the audio after finishing the voice change.
#3. Voice-changer.org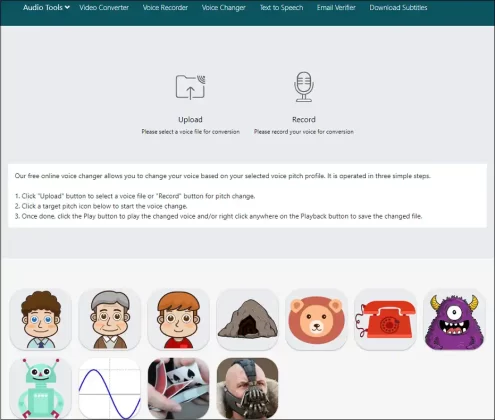 The last one we give you is Voice-changer.org. It has a clean interface, you can preview a voice filter's effect by clicking its icon.
Features:
11 voice filters for voice changing.
It supports all popular audio formats with a size of up to 10 GB.
The website doesn't compress the original file you uploaded, so there is no quality loss in your voice-changed version.
You can try other tools offered by the website, such as Voice Recorder and Text to Speech.
Conclusion
We hope this article will useful. Although you can't use a real-time voice changer for Chromebook, the voice changer we introduced in this post can still save you a lot of time when you make a funny video or an audiobook.
And if there is an Android voice changer app you are used to, as long as your Chromebook is compatible with Android, you can try to install the Android app on your Chromebook.