Not everyone is born with the talent or ability to sing beautifully. It's very unfortunate for those who love to sing but don't have a great voice. However, this doesn't mean that you won't be able to sing wonderfully.
This article will be helpful to you if you like to sing but have a bad voice.
We will share the 5 best voice changers for singing to alter your voice instantly. Are you ready? Let's get started!
Voice Changers for Singing on Computer
Here are two voice changers on computers to help you sing better.
1. FineShare FineVoice
FineShare FineVoice is a good singing voice changer for beginners. It's one of the best real-time voice changers where you can improve your singing. It's available for Windows systems. And FineVoice offers free and premium plans.
FineVoice has over 30 voice effects and more than 200 sound effects. You can change your voice to the cartoon or movie character's voice. With these sound effects from FineVoice, you can change your singing into different styles in real-time.
Also, you can combine other instruments with your singing. This voice changer for singing will improve your singing skills and make your voice more attractive.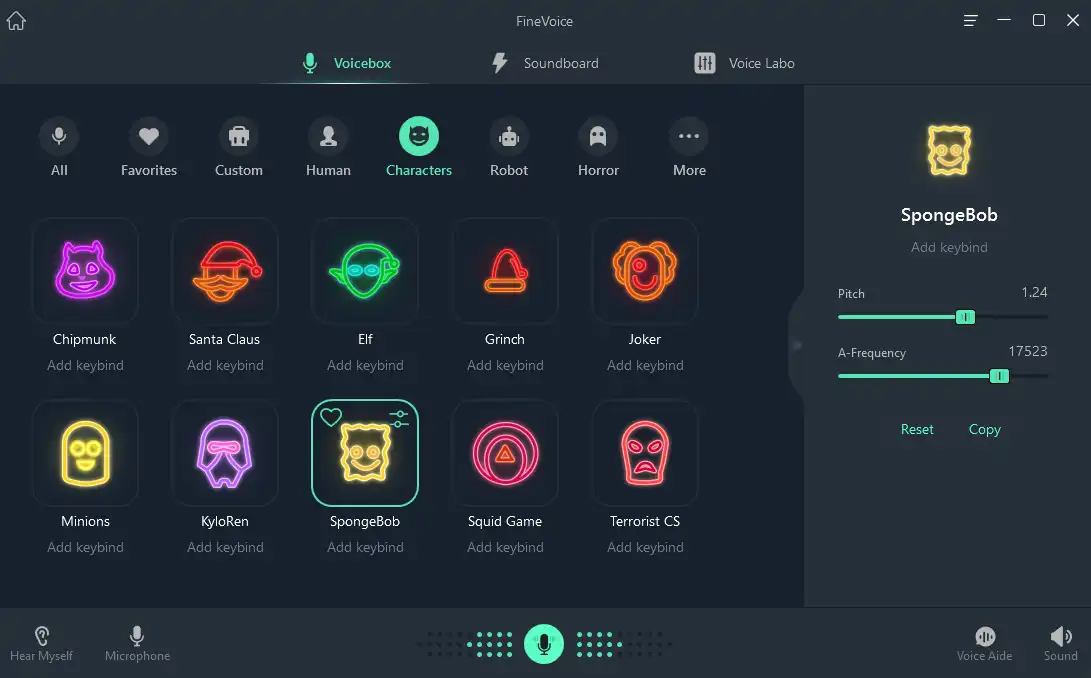 Besides that, FineVoice is also a high-quality voice recorder. You can record songs, podcasts, audiobooks, voiceovers, and more. And it will automatically save your recordings and you can publish them to different platforms.
Pros:
Suitable for beginners
Change your singing in real-time
Customize new voices
Audio file voice changer
High-quality voice recorder
Add a lot of sound effects
Cons:
Only support Windows systems
2. Voxal Voice Changer
With Voxal Voice Changer, you can change your singing voice to a robot, an alien, or a little girl, etc. If you want to add multiple voice effects to your singing, you can create an infinite number of unique voice effects. You can also apply voice effects to pre-recorded audio.
Voxal Voice Changer is an excellent music voice changer because it contains a large library of voice effects. It works with both Windows and MacOS operating systems. Voxal Voice Changer has low CPU usage. And it offers both free and paid versions.
Voxal Voice Changer can not only change your singing voice but also can change the environment you are in. You can play specific background noises, such as a train station, a forest, or a busy office. This feature is perfect for those who do their business remotely and need to participate in online meetings.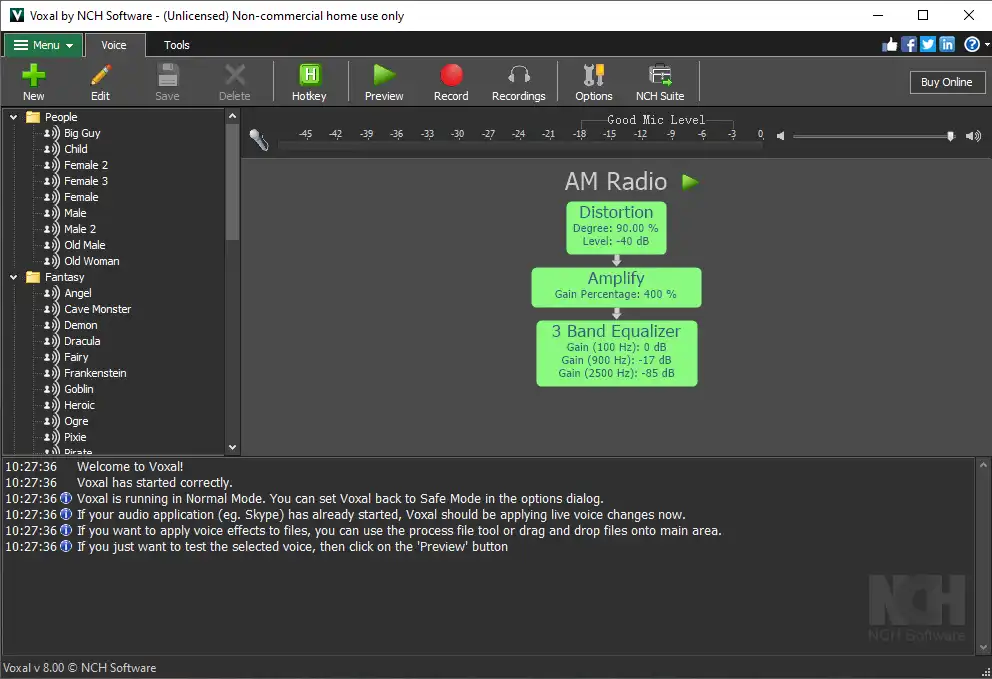 Pros:
Compatible with many audio applications
Change your voice in real-time
Large selection of voice effects
Create custom voice effects
Ability to change background noise
Cons:
The interface is often laggy
The free version has limited features
Complex user interface
If you want to look for Voxal Voice Changer alternatives, you can read this article: 5 Best Alternatives to Voxal Voice Changer Software in 2023.
Voice Changers for Singing on the Phone
If you want to make your singing more beautiful on your phone too, you can take a look at the following two music voice changers for iOS and Android respectively.
iOS: Voloco
Voloco is a voice changer to sing better on your iPhone. It's very popular among singers, rappers, musicians, and content creators. It can make your voice sound better and enables you to record and edit songs with basic equipment. With it, you can create a high-quality song. It supports iOS and has both free and paid versions.
Voloco offers six vocal presets, as well as tune, scale, and pitch correction intensity adjustments. It also has over 50 vocal effects, such as auto-tune and reverb. No matter how badly you sing, it can help you make pretty good music. You can sing, rap, reggae, or just make interesting recordings. Then you can save or share our creations in both video and audio formats.
You can export audio files in the WAV and AAC formats to your smartphone with Voloco. In addition, it includes a series of "Voloco Rhythms", which gives you free and quick access to a variety of rhythmic bases for singing. It may also serve as a mobile recording studio and audio editor.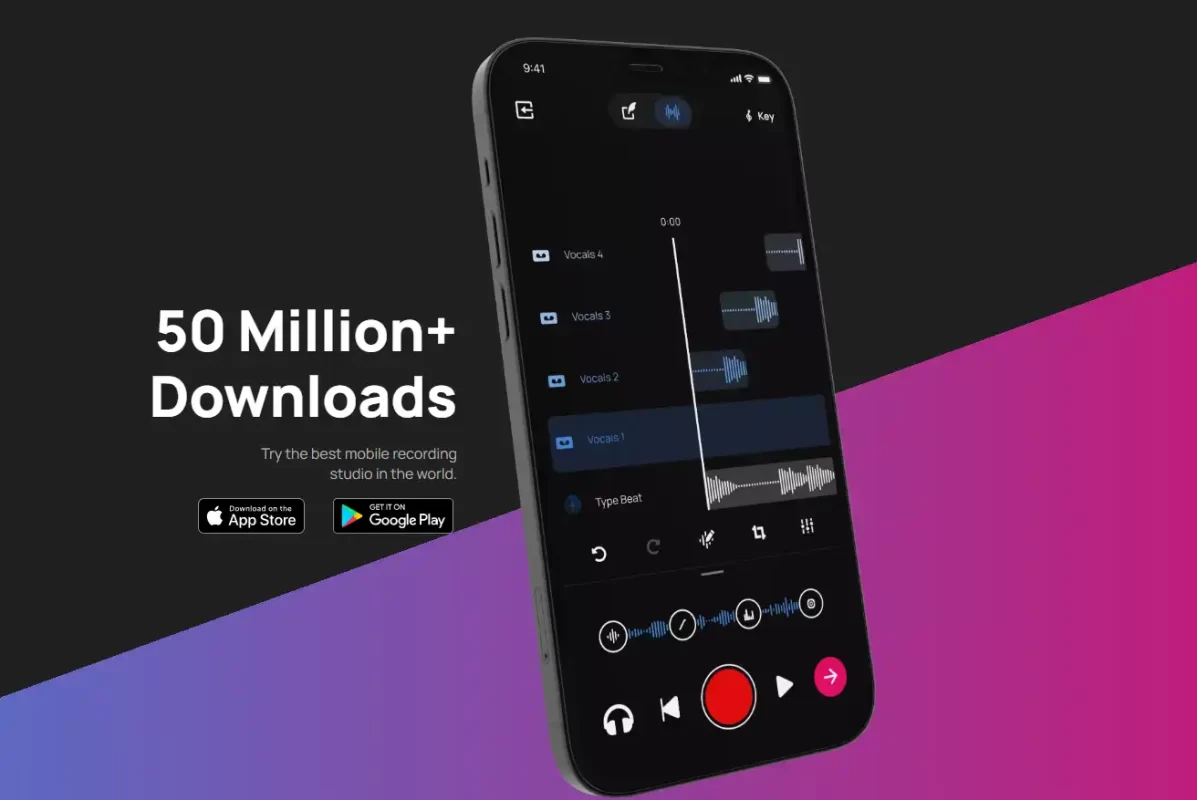 Pros:
Easy to learn
Professional sound effects
Provide harmony presets
Offer key lock and pitch correction amount
Cons:
Distortion and interference in recordings
Fewer features
Only support iOS
Android: Voice Changer Voice Recorder & Editor
Voice Changer Voice Recorder is a good choice if you want to enjoy singing karaoke with your friends. It's a voice changer to sing well. It supports Android 5.0 or higher and its interface is user-friendly so you can do everything you need to do after a quick study of a few minutes.
When you sing, you can add a range of vocal effects, including Karaoke, theater, reverb, concert, studio, and so on. You can also customize the parameters to produce the greatest voice.
Moreover, Voice Changer Voice Recorder can record and edit your voice and audio files. It also has a built-in editor that allows you to change the speed and pitch of your voice.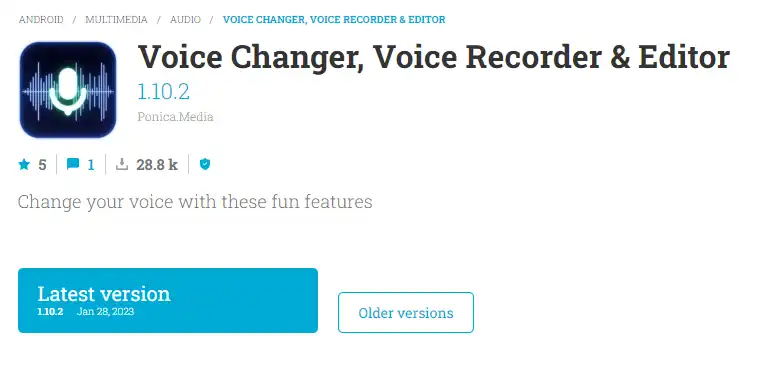 Pros:
Enjoy the fun with an audio editor
Play with a voice changer app like Parodist with friends.
Use it as a working tool
Record studio sound
Cons:
You can read this post to find out more free voice changers: 15 Best Free Voice Changers and Plugins for PC, Mac, Android, and iOS.
Online Voice Changer for Singing
Do you love singing? Do you want to sound like a pop star, a rock star, or a rap star? Then you need Online Voice Changers for Singing, a special feature of FineShare Online Voice Changer. It's free and easy to use.
With it, you can change your voice into different singing styles, such as pop, rock, rap, country, or jazz. You can also add some musical background sounds, such as guitar, piano, or drums. You can record and share your singing voice with anyone you want. It's a great way to have some fun and express yourself.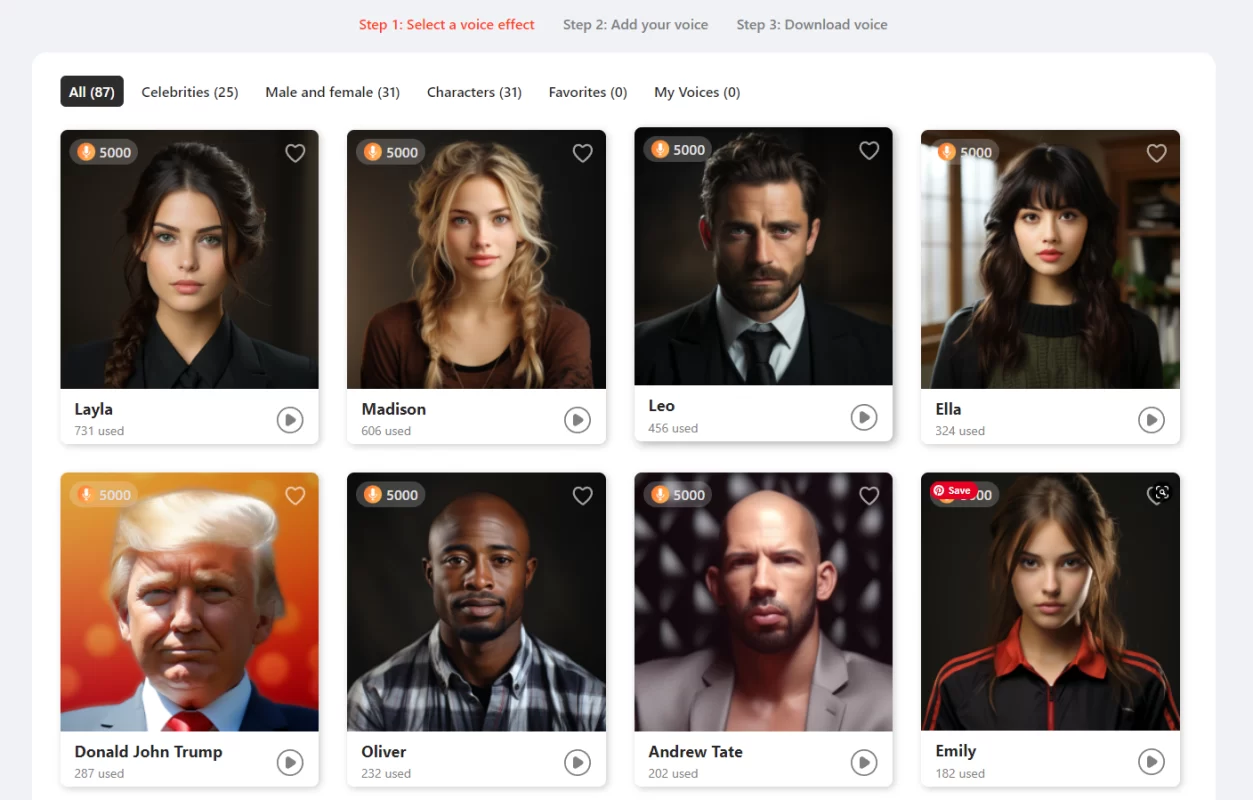 Pros:
Offer 87+ voice effects
Easily make your voice sound like a different gender or age
Quick, free, and simple to use
Erase the uploaded audio files from its servers within 4 hours
Cons:
It has fewer features than its desktop version, FineShare FineVoice
Conclusion
This article can help if you enjoy singing but don't have a beautiful voice. Because we have shared some great voice changers for singing, each software has pros and cons. You can pick the best voice changer for your own needs. Here we sincerely recommend FineVoice. Download and try it out!