With the help of Voxal Voice Changer, you may change your voice in real time. You can also quickly alter, adjust and disguise your voice. However, it's not flawless. Recently, some users have complained that the software is not compatible with all microphones. The software system has issues as well, and the interface crashes frequently.
These problems have led many people to look for alternatives to Voxal Voice Changer. This article lists the 5 best Voxal Voice Changer alternatives, each with its advantages and disadvantages. You can select the option that suits you best.
1. FineShare FineVoice
FineShare FineVoice is an all-in-one AI voice changer for Windows. It's among the greatest Voxal Voice Changer alternatives. You can use FineVoice for different purposes, such as gaming entertainment, video creation, and out-of-frame voice recording. Both a free and a premium plan are available.
FineVoice has more than 30 voice effects and over 200 sound effects. You can change your voice into cartoon characters, movie characters, or celebrities like SpongeBob SquarePants and Venom. With these sound effects from FineVoice, you can change your voice into different styles in real-time. Also, you can record these voices and upload them to different platforms.
FineVoice is also a great text-to-speech application. It offers a variety of realistic voices, so you can convert text into a deep voice like Morgan Freeman's or a cute voice like Mickey Mouse.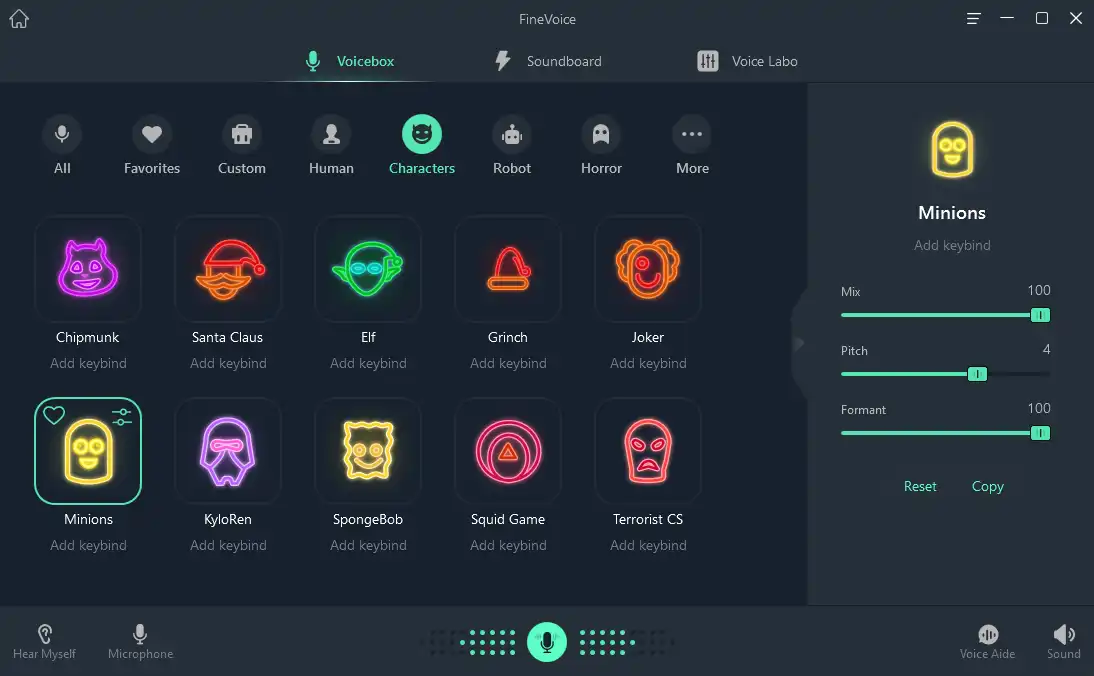 Pros:
Easy to operate
Change your voice in real time
Customize a new sound
Audio file voice changer
Audio recorder
Speech to Text / Text to Speech
Audio extractor
Cons:
2. AV Voice Changer
AV Voice Changer is a free software like Voxal Voice Changer. You can change your voice into various cartoon characters and celebrities so that you can enjoy the sounds of different objects and things.
The biggest feature of AV Voice Changer is compatible with all chat and game platforms, including Skype, GoogleTalk, Second Life, World of Warcraft, etc. And it supports Windows systems.
What makes AV Voice Changer different is that it can change the sound and enhance the voice and produce high-quality audio output. You can also send audio files to other software tools instantly. With AV Voice Changer you can imitate the voices of different stars and create unique imitation voices.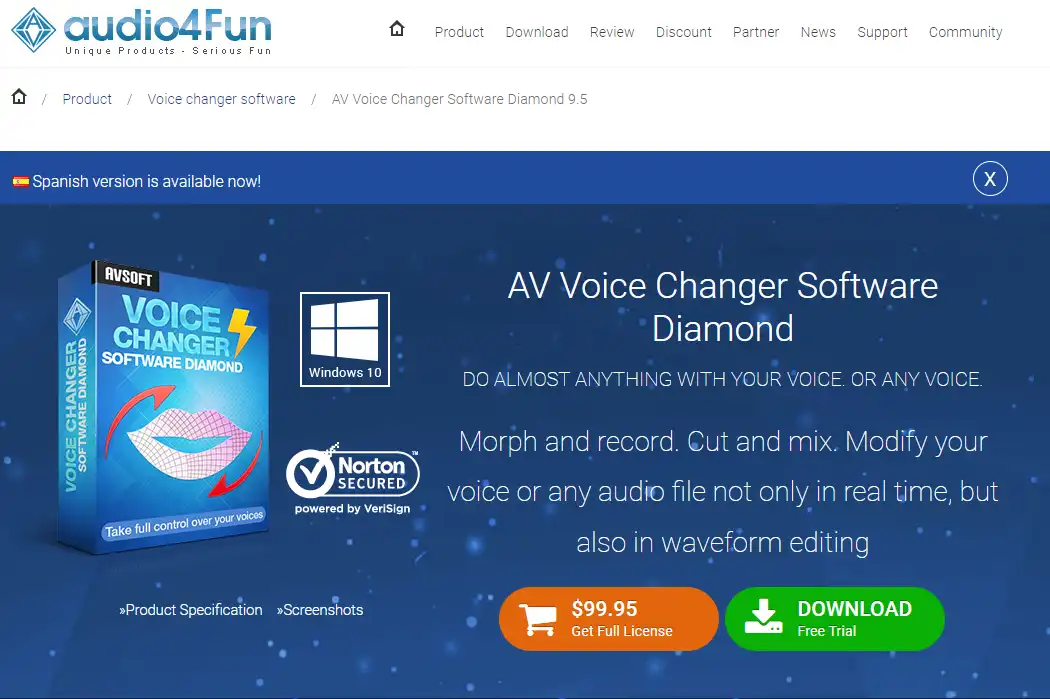 Pros:
Run fast and stable
Voice editor
Parody mixer
Voice recorder
Advanced audio capture
Cons:
Outdated interface
Steep learning curve
3. MorphVOX
Similar to Voxal Voice Changer, MorphVOX is a voice changer that combines sound effects and background sounds. You can change your voice in your favorite games or applications with MorphVOX. In addition to that, MorphVOX can help you change your voice during online chatting, web surfing, or other online activities. The most important thing is that it supports almost all voice platforms.
You can choose the voice effects in MorphVOX according to your preferences, such as changing the voice from male to female, evil laughter and robot warrior, etc. You can also add the recorded voices, or change existing voices to create new voice combinations.
MorphVOX has a free sound effects library, such as drums and fart sounds. You can add background noise while on a call to trick your friends. Your friends may think that you're in some noisy areas like a traffic jam or a shopping mall.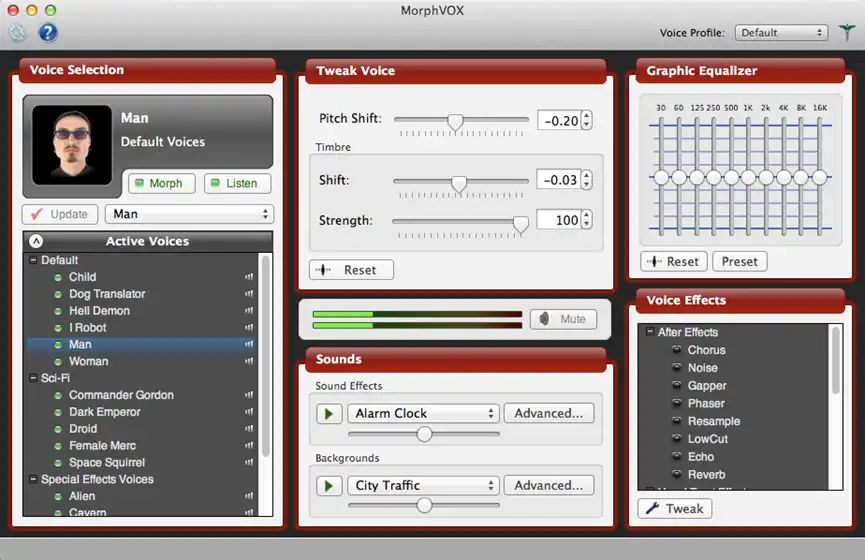 Pros:
Regular upgrades
Low CPU usage
Superb voice-changing algorithms
Provide sound effects library
Cons:
Paid to use various functions
Doesn't work with all games or applications
Need time to get familiar with features
4. Fake Voice
Fake Voice is another Voxal Voice Changer software alternative. It's a multi-platform voice converter that can change your original voice. Fake Voice is fully compatible with various chat and instant messaging applications.
You can adjust the pitch, resonance peaks, voice depth, and noise threshold.
Fake Voice can change the voice into a young, old, teenage, tough, harsh, or any other voice you like. You can even change the gender of the voice, or add an echo effect.
Whether you want to play jokes on your friends or improve the voice quality of your recordings, Fake Voice is a fantastic choice.

Pros:
Uses few system resources
Change your voice
Create high-quality audio
Dubbing for commercials, animations, games, and podcasts.
Cons:
Outdated application interface
Speaker has a strong accent when transcribing
Doesn't allow to record
5. Skype Voice Changer Pro
As an alternative to Voxal Voice Changer, try Skype Voice Changer Pro. It only supports Windows systems. There is a trial version, however, it's only available monthly.
Skype Voice Changer Pro allows you to change your original voice in real time. You can even speak with your computer-generated voice. It also can replay pre-recorded voices and even record amusing chats. With the pro version, you can adopt the voice from a TV show character, a chipmunk, a robot, or an alien.
This excellent Skype Voice Changer Pro voice converter can enrich the quality of your voice. It can also be used as a modulator to create some unusual sounds.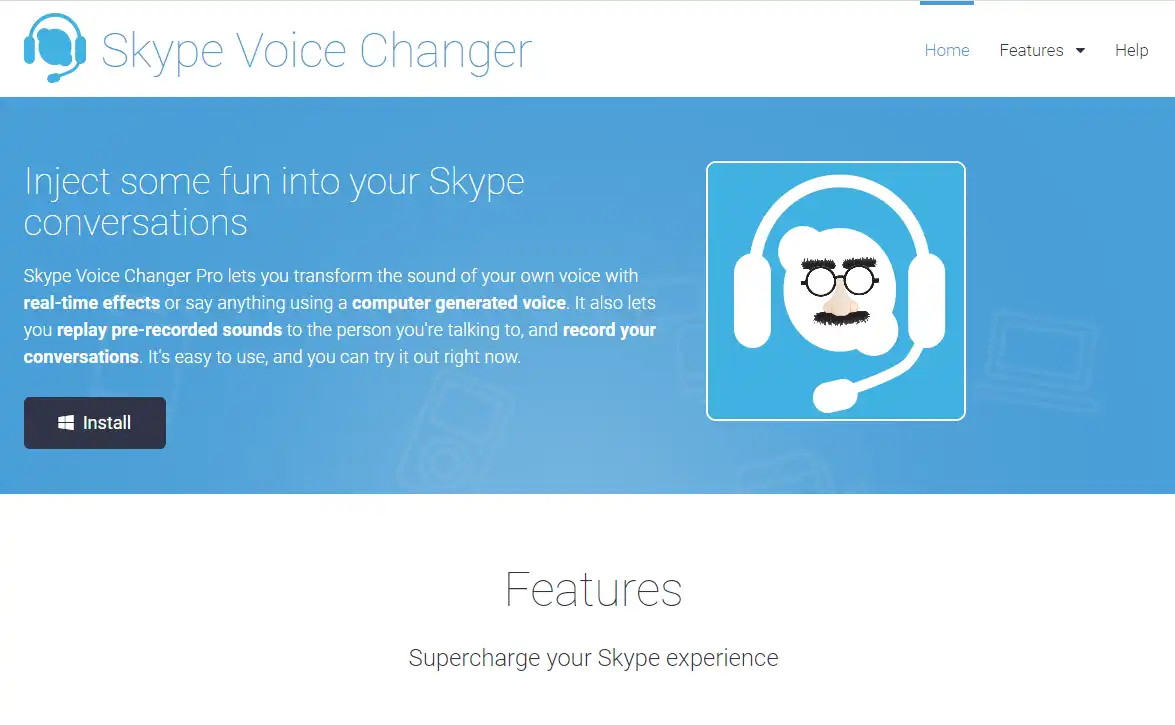 Pros:
Simple interface
Change your voice in real-time
Offer many voice filters
Change voice in recordings and audio files
Add effects in live chat
Cons:
No access to Steam games
No dmg file for this application
Conclusion
After reading this post, you have learned about the 5 best Voxal Voice Changer alternatives. We have made a comprehensive analysis of these 5 voice changers and exemplified their benefits and drawbacks. You can pick the voice changer that best suits your requirements.
If you want to know more free voice changers? Read this article: 15 Best Free Voice Changers and Plugins for PC, Mac, Android, and iOS