Microsoft Teams has been a popular online conference platform recently. People use it usually for business communication or chatting with friends and families remotely.
Sometimes, you may want to change your voice while using Teams for reasons like playing pranks on friends or lifting the meeting atmosphere. In that case, a voice changer is required. Here you will find the voice changer for Teams that suits you best among the 5 software we provided below.
FineVoice is an all-in-one AI-powered voice changer, it's one of the best free voice changers on the Windows system. Thanks to the AI speech processing algorithm, the real-time voice change function of FineVoice shows amazing results.
There is over 30 voice effect presets for you to choose from, such as Minions, Chipmunks, Spongebob, and Darth Vader. And the Voice Labo function allows you to create a unique voice effect by customizing every audio detail. With FineVoice, you can talk in any voice you want in the Teams.
Besides the real-time voice changer function, you can also find more than 200 sound effects in the Soundboard function that can add more fun to your voice-changing experience.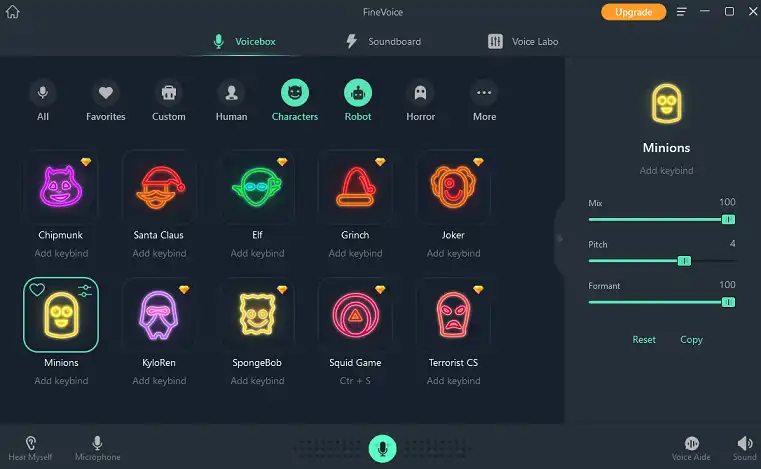 Features:
Change your voice into various styles smoothly
Numerous choices of voice effects and sound effects
User-friendly, easy for beginners to handle
Capture sounds from multiple apps or devices
Record high-quality audio from separate tracks
Supports speech-to-text and voice generator
#2. Voicemod
Voicemod is usually used in games or streams, and it's also a good choice of voice changer for Teams online meetings. This real-time voice changer allows you to change your voice and give others a surprise at any moment when having a chat in the Teams. It has a wild range of voice effects, like robot voices, alien voices, and even the voices of famous singers.
The basic functions are free to use and you can subscribe to get more features. And Voicemod provides 7 random paid voice effects for time-limited free use every week, you can try them before paying for them.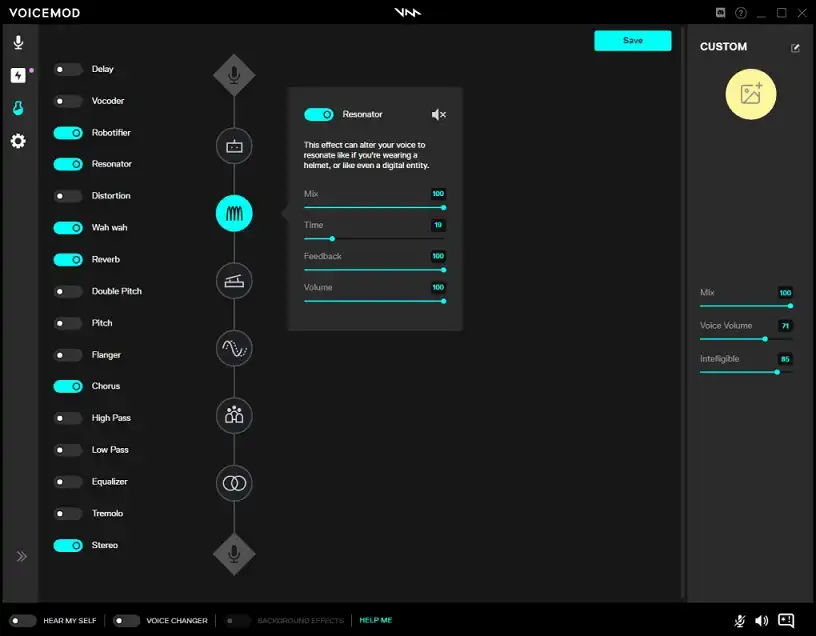 Features:
Easy to setup in a few minutes
Sound effect community where users can upload new soundboards
Low impact on applications
#3. Voxal Voice Changer
Voxal Voice Changer is another free voice changer for Microsoft Teams which is currently available on Windows and macOS. You can easily alter and disguise your voice and make yourself sound like a completely different person in the Teams conferences.
It's easy to integrate with different applications, whether you are playing games or chatting with friends online, Voxal Voice Changer could work in any situation without changing the application settings.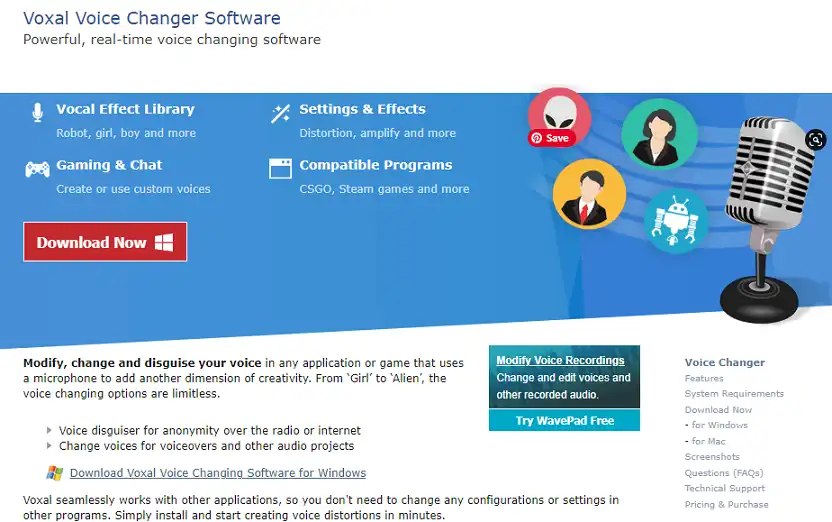 Features:
Simple interface
Supports old systems like Windows Vista and Windows XP
Doesn't interfere with other running applications
Output audio to the speaker to hear the voice effects live
#4. AV Voice Changer
AV Voice Changer provides the ability for you to completely modify your voice, whether you want to sound younger, older, higher, or deeper, this software can help you with that need. Except for Microsoft Teams, you can use AV Voice Changer on most of the VoIP programs too, such as Twitch, Discord, and Steam.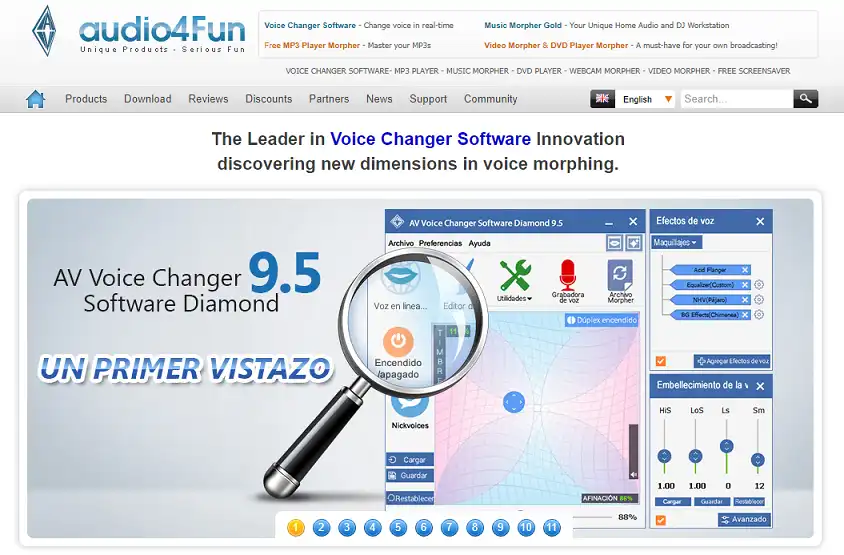 Features:
Create your parody with the Parody Mixer function
Set hotkeys to different voice effects and switch between them
Beautifying your voice by Voice Morpher function
#5. Clownfish Voice Changer
Clownfish might be one of the most famous voice changer software. It's installed on the system level so any application or device that uses your microphone will be affected by its function, including Microsoft Teams. This software is only available for Windows systems and supports old versions of Windows like Vista.
In Clownfish, there are 14 voice effects in total, not so many but most people can find what they need for changing voices here. And the most important thing is that Clownfish is entirely free to anyone, no payment is needed.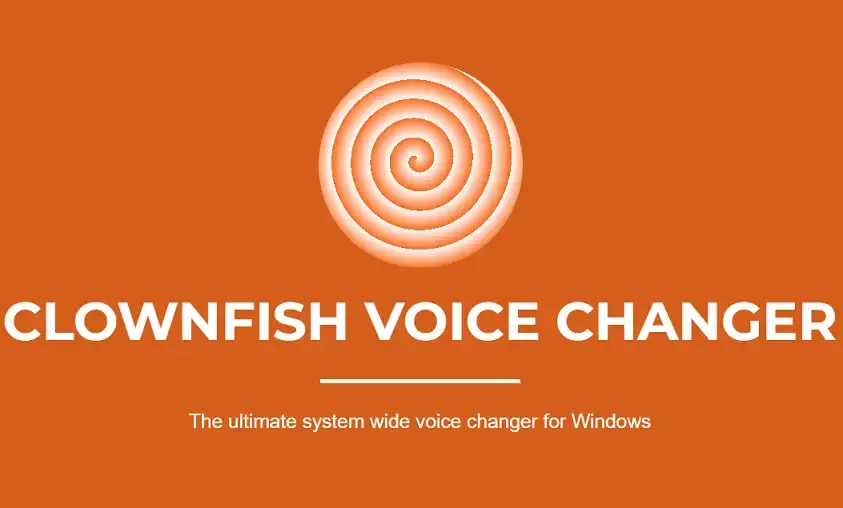 Features:
Provides VST (Virtual Studio Technology) plugin support
Can convert text into speech with the voice assistant function
Available for both 32-bit and 64-bit PC
Conclusion
These voice changers have their advantages and disadvantages, it's up to you to decide which one is the best voice changer for Teams. Hope the information we provided can help, and have fun changing voices in online conferences.