As a gamer, you can understand how important it is to communicate with your team members in the game. Even though the majority of multiplayer games now have built-in voice chat capabilities, these features are usually ineffective and don't include noise cancellation.
If you are looking for some great chat apps that allow you to talk with your teammates or with other players in your team, you can take a look at the following table exemplifying 5 of the best free voice chat apps for gamers that can solve your gaming communication barriers.
| | | | | |
| --- | --- | --- | --- | --- |
| Apps | Price | Platforms | End-to-end encryption | Audio recording |
| Discord | Free | Windows, macOS, Linux, Android, iOS, Web | Yes (Voice Calls) | Yes |
| TeamSpeak | Free | Windows, macOS, Linux, Android, iOS | Yes | Yes |
| Mumble | Free; $2.50 over server account | Windows, macOS, Linux, Android, iOS | Yes | Yes |
| SteamChat | Free | Windows, macOS, Linux | No | No |
| Blizzard Voice Chat | Free | Windows, macOS | No | Yes |
We will present these 5 best game voice chat apps in order, along with a summary of each one's advantages and disadvantages.
1. Discord
Discord is by far the most dependable and highly recommended free voice chat app for gamers. It has many gamer-friendly features, such as voice chat, video calls, and text-based group chats with other Discord members. You can create a server based on any topic you like and invite your friends to join.
Many CS: GO and Fortnite players enjoy using Discord while playing the game, and most of Beebom's gamers rely on Discord to communicate during their PUBG matches. And they often use voice changers for Discord to add extra fun during gameplay.
You can customize the volume level of each player in Discord and also create custom hotkeys. Also, you can use Discord as a video game chat tool. In this way, you can communicate with your teammates without any obstacles while you are playing the game.
You don't have to be concerned about anyone assaulting your server because Discord has built-in IP and DDoS protection. This makes it perfect for communicating with your friends while playing games.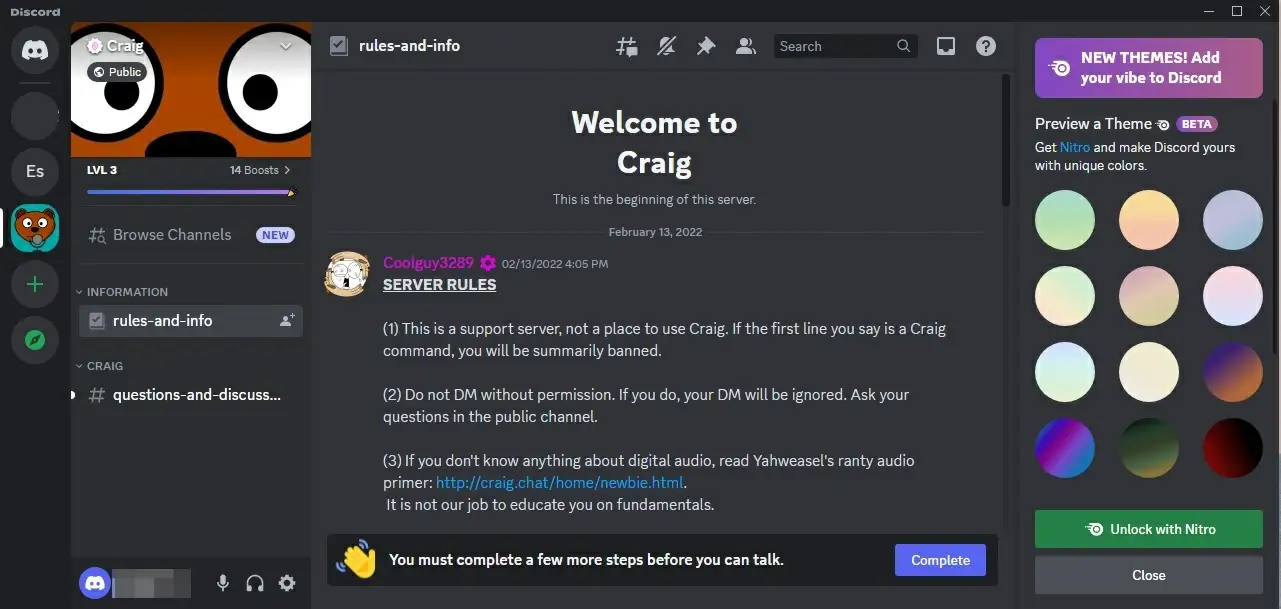 Additionally, it supports various voice converters that let you hide your voice during in-game conversations. You can also use Discord live-stream the game highlights with your followers. If you don't how to stream on Discord, you can read this article: How to Stream on Discord? Get This Easy Guide [Desktop & Mobile].
Pros:
Built-in DDoS protection
Support for personal volume adjustment for the player
Low resource consumption
Can be used across hundreds of different servers
Cons:
No self-hosted servers.
People in certain regions may encounter latency
High RAM usage
2. TeamSpeak
If you are looking for the best voice chat for gamers, seriously consider TeamSpeak. The platform focuses on providing its users with a range of permission options that you can use to manage multiple channels, other team members, and even your server. It's a wonderful option for gamers because of its straightforward user interface. This does not disturb the attention of the gamers but also allows for quick and easy long conversations.
The quick file transfer function in TeamSpeak is also quite useful. It's essential for coordinating communication and supports various sound packs and game overlays. Unfortunately, it supports no video chat, but it can provide high-quality audio. Thanks to AES encryption, TeamSpeak also meets the standards in terms of security.
Overall, TeamSpeak is an easy-to-use and manage VoIP platform to be popular with everyone from casual to professional gamers.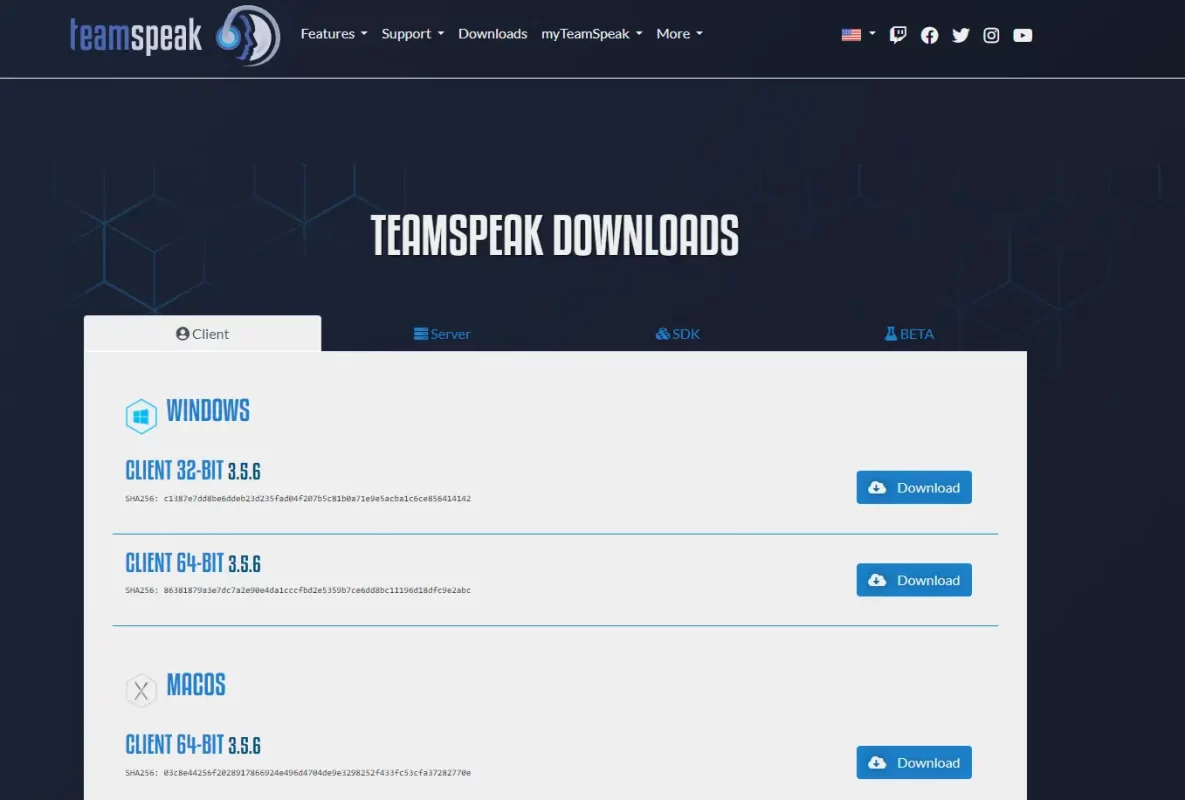 Pros:
Easy to use for new users
High-quality audio
Off-line LAN capability
Have a robust permission system
Use AES encryption software for security
Cons:
Only connect to one server
Doesn't provide a video chat service
3. Mumble
Mumble is another well-known voice chat game application in the gaming community. It's completely free and open source, so anyone can modify the platform at will. But its always-on encryption can ensure that your data is safe on the server.
Gamers can benefit much from Mumble. It can accommodate more than 100 voice participants at the same time and supports low-latency audio streaming. So you can face minimal latency when you need to work closely with your teammates.
Mumble also supports positional sound effects so that you can hear the enemy's location in a shooter game, such as Source Engine games. This may increase your gaming experience and makes the game feel more realistic and immersive.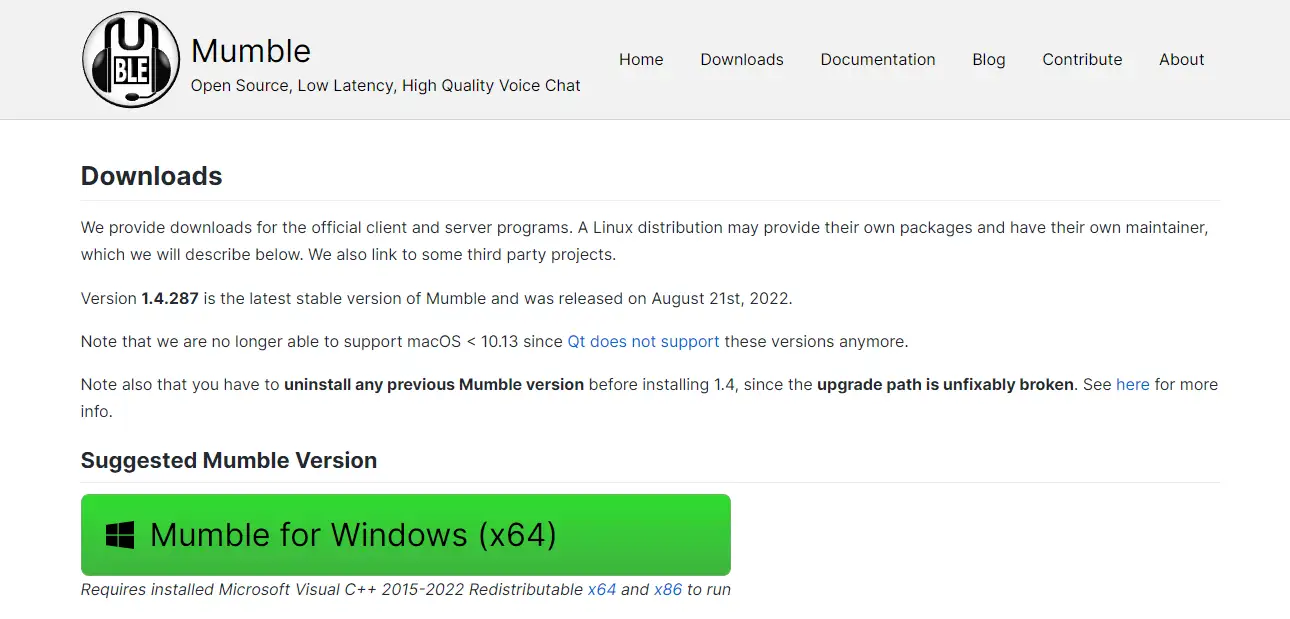 Pros:
Support the positional sound effects in games
Approve low-latency communication
Automatic voice normalization
Encryption support for data protection
Open source platform
Cons:
Steep learning curve
The audio quality is poor
Occur disconnection issues
4. Steam Chat
If you are seeking free voice chatting apps for gamers, please consider Steam. It's not only an online game store, but it can also be used as a text and voice chat platform for gamers. This is an excellent alternative because most PC gamers have already installed Steam and signed up for a Steam account.
Steam Chat is completely free. Many gamers who play PUBG on PC prefer to use the built-in chat feature. You can invite your friends to join the group chat via a shareable URL. Inside the group chat, chat administrators can set roles for members, allow or disallow inviting new members, manage group messages, and impose chat limitations.
Unlike Discord, Steam Chat's servers are accessible worldwide, which enables high-clarity conversation over long distances. In addition to integrated text and voice chat, you can send other media such as GIFs and audio clips by Steam Chat.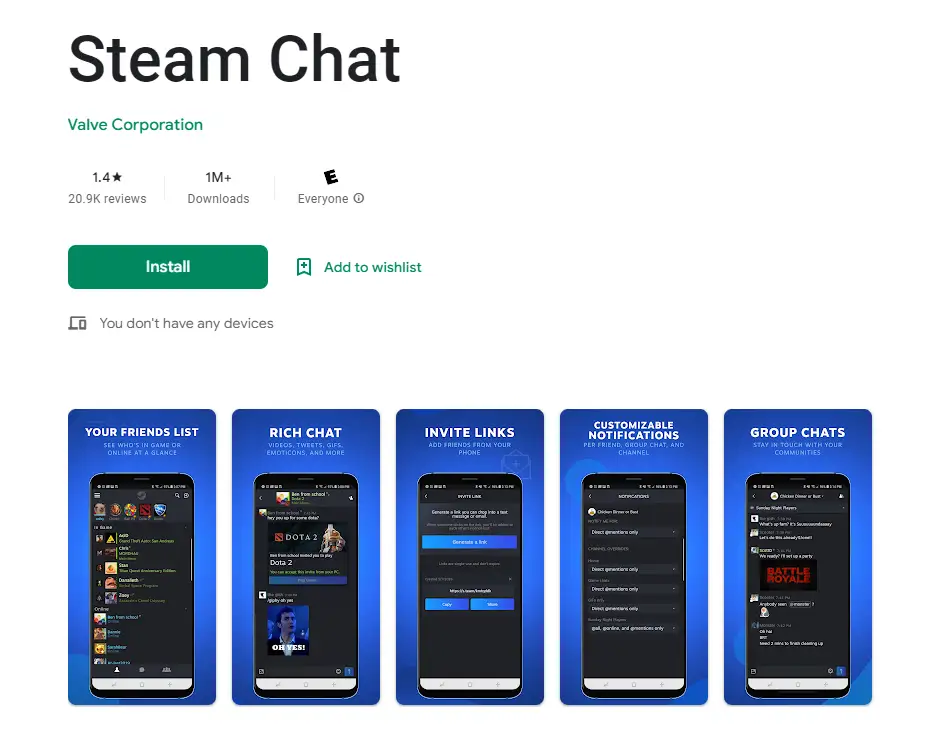 Pros:
Supports in-game group communication
Web client available
Multimedia chat
The server is easy to create and manage
Cons:
Rely on the entire Steam network
Limited chat options
5. Blizzard Voice Chat
Blizzard has developed games such as Diablo, StarCraft, Overwatch, and World of Warcraft. The Blizzard Voice Chat app may be the best choice for you if you are a fan of the above games mentioned. The platform is very easy to use and all you need to do is plug in the microphone and enable the transfer mode.
Blizzard Voice Chat is free, but it's only available on desktop applications. It has a very reliable and high-quality connection. You can create channels based on your favorite games, mute other channel members, change their volume levels, and do a lot more.
In Blizzard, you can add different voice chat effects. And you can join multiple voice channels, so it's easy to switch between different Blizzard games while in the same voice chat.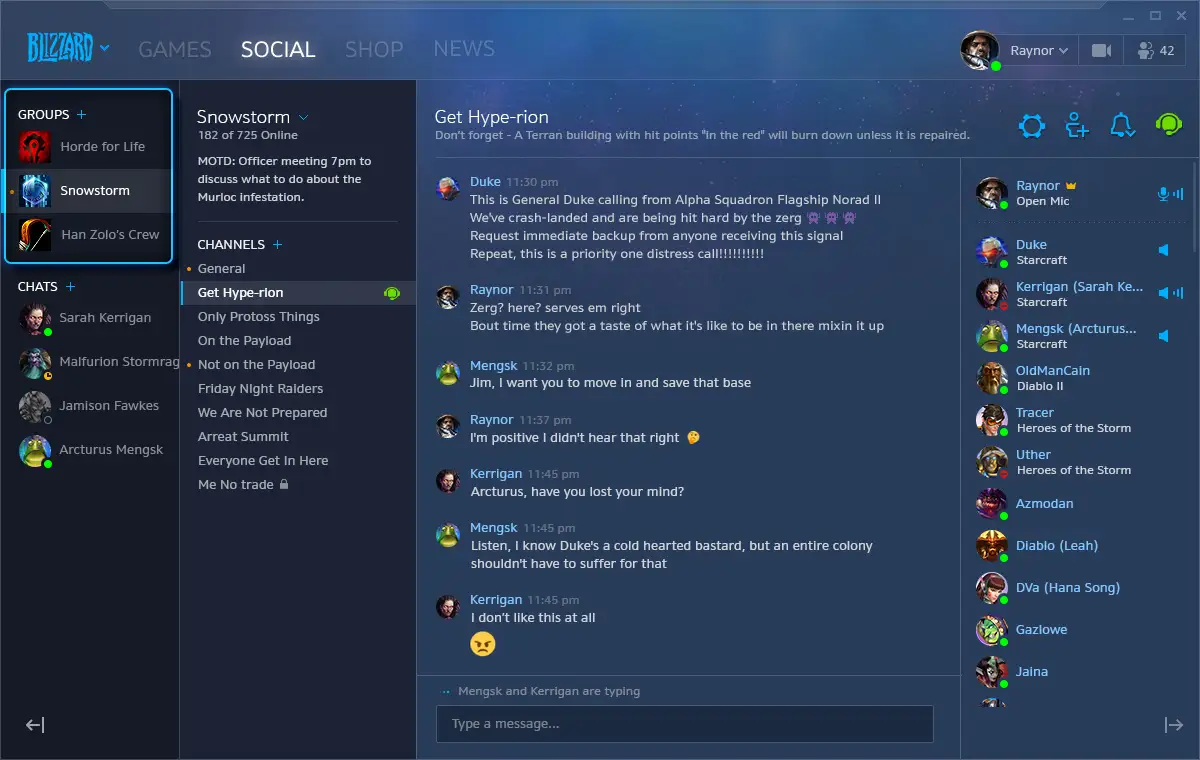 Pros:
Perfect voice chat service for Blizzard games
Provide audio and mute controls
Support joining multiple voice channels
Play different games in the same chat
Change your voice online using sound effects
Cons:
Mobile devices don't support voice chat
Only support the Blizzard games and Battle.net users
Tips: Change Your Voice During the Gameplay
Do you want to change your voice and hide your true identity while playing the game? Read this article: 15 Best Free Voice Changers and Plugins for PC, Mac, Android, and iOS.
What's more, we would like to recommend FineShare FineVoice, a free AI voice changer for all your Steam games or Blizzard games. With more than 30 voice effects and 200 sound effects, it can change your voice in real-time.
Download it for free and try out more of its features.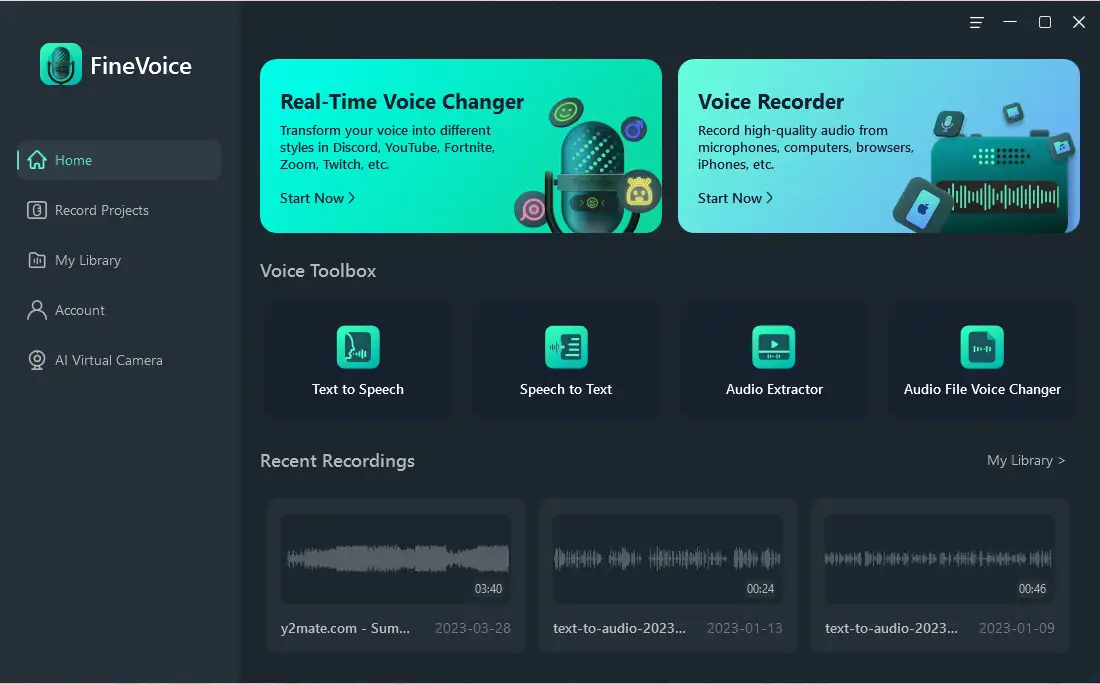 Conclusion
Having effective team communication is crucial to winning cooperative multiplayer games. This article lists the 5 best free voice chat apps for gamers. Based on your particular tastes and the features and tools you require, you can choose the best voice chat for gamers.
When you find the best voice chat app for your game, you will find it easier to communicate with your teammates and improve your cooperation during the game.