Welcome to the digital age, where there's an app for almost everything, including content creation.
As content creators, we all want to be more productive, efficient, and effective. Luckily, technology has made it easier than ever to achieve our goals with the help of productivity apps.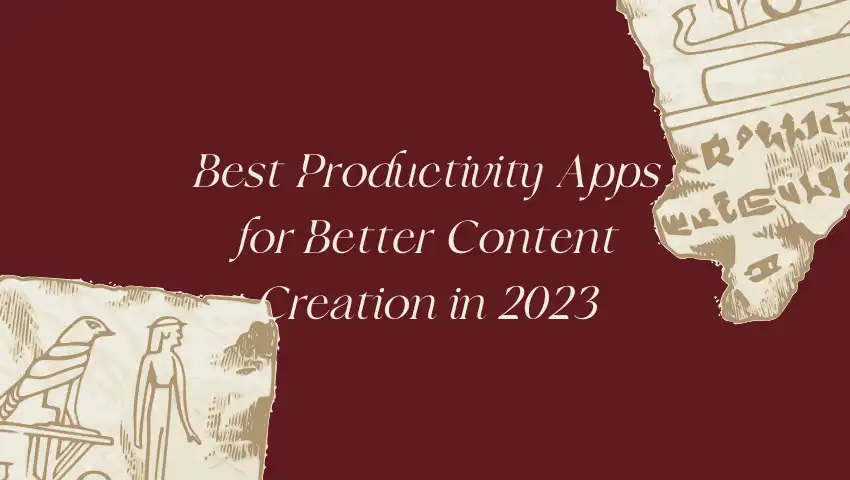 Do you search for productivity apps on browsers to look for the best ones? Don't worry. In this post, we'll introduce you to 11 of the best productivity apps that can help you create better content in 2023.
From AI-powered writing assistants to collaboration tools and more, we've got you covered. So, let's dive in and discover how these apps can take your content creation game to the next level.
#1. ChatGPT – AI-Language Model
You must already know ChatGPT. This AI language model by OpenAI offers an extensive range of services such as natural language processing, image and video recognition, content creation, and personalized responses.
Users can access ChatGPT through various channels, including web browsers, mobile devices, and voice assistants.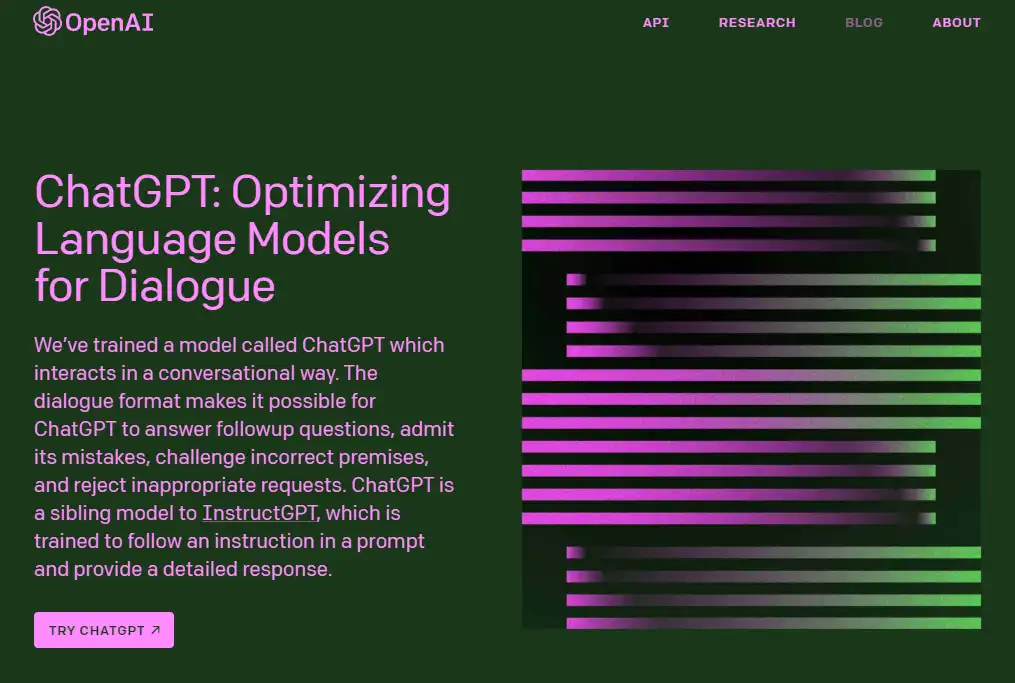 Features:
NLP for generating human-like responses
Multi-lingual support
Personalized responses based on context and previous interactions
Provides suggestions, tips, and recommendations
Available 24/7 with quick response times
Pros:
Handles a wide range of tasks, from trivia questions to writing assistance
Saves time and effort with quick and accurate responses
Can be used for personal and professional tasks
Learns from previous interactions and improves over time
Free to use and easily accessible online
Cons:
May not always provide accurate or relevant responses
Lacks emotional intelligence and empathy
May struggle with complex or nuanced tasks
Users should be cautious about sharing personal information or sensitive data
#2. Grammarly – AI-Powered Writing Assistants
Are you tired of typos, grammatical errors, and awkward phrasing in your writing? Look no further than Grammarly, an AI-powered writing assistant that can help you polish your content to perfection.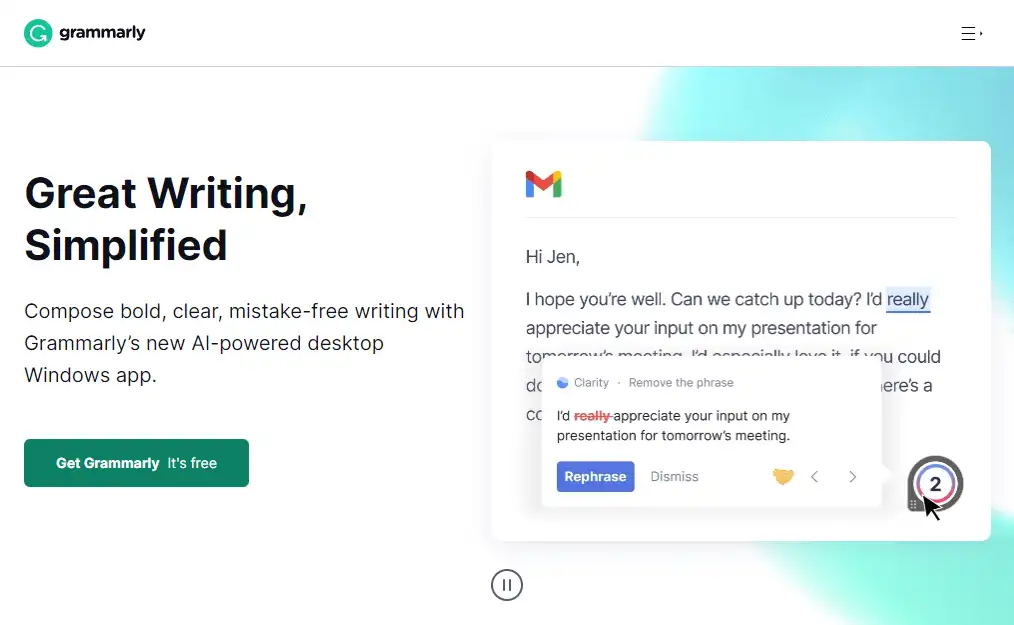 Features:
Offers grammar and punctuation checks
Provides style and tone suggestions
Includes plagiarism detection
Integrates with various apps and platforms
Pros:
Provides real-time feedback to improve writing
Supports multiple writing styles and genres
Helps catch and correct mistakes that might be missed
Offers suggestions to improve the clarity and impact of writing
Works on multiple devices and platforms, including mobile devices
Cons:
Free version has limited functionality
May not be effective for writers who are already proficient in English
Suggestions can be overly prescriptive at times
Limited customization options for advanced users
#3. Trello – Web-Based Project Management Tool
Trello is a popular collaboration tool that enables teams to organize, manage and prioritize tasks in a highly visual and intuitive way. It utilizes a flexible card-based system that allows users to create boards, lists, and cards to track their progress on a project.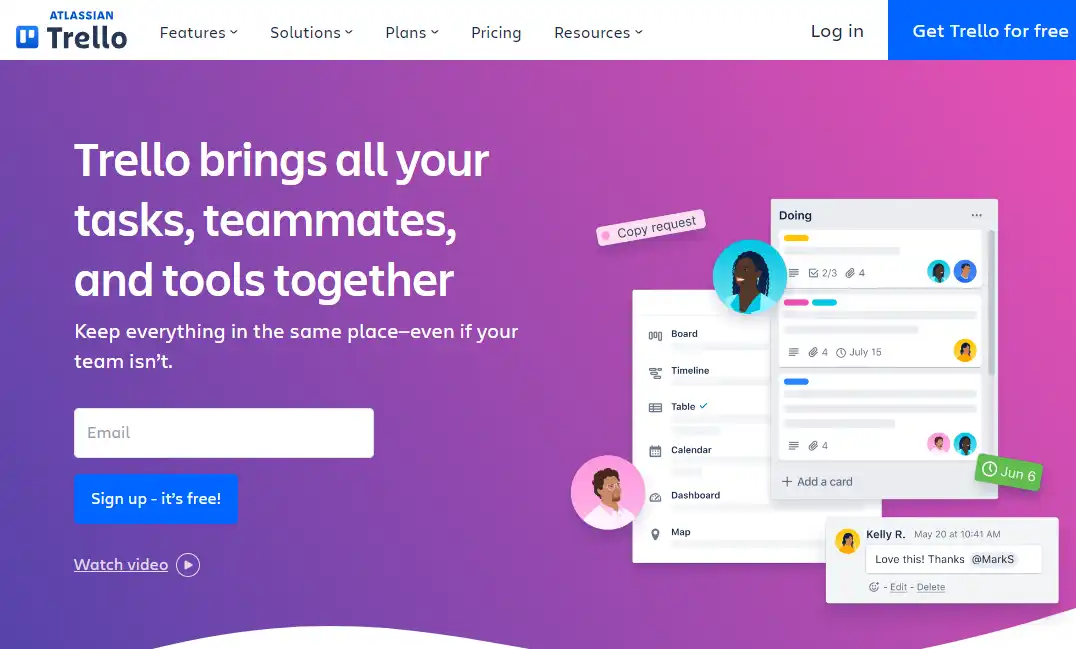 Features:
Flexible customizable boards, lists, and cards
Easy-to-use drag-and-drop functionality
Integrations with popular apps like Google Drive, and Dropbox
Activity feed for real-time updates
Due dates, labels, and checklists for task management
Mobile app for on-the-go access
Pros:
Highly customizable and adaptable
User-friendly interface
Great for remote teams
Integrates with many other productivity tools
Good for tracking progress and project management
Cons:
Steep learning curve for new users
Can be overwhelming for small projects
Free version lacks many advanced features
#4. FineVoice – TTS and STT Services
Text-to-speech (TTS) and speech-to-text (STT) technologies can also be used in video creation to enhance accessibility and reach a wider audience. Are you looking for an efficient way to convert your text to speech or speech to text? Look no further than FineVoice.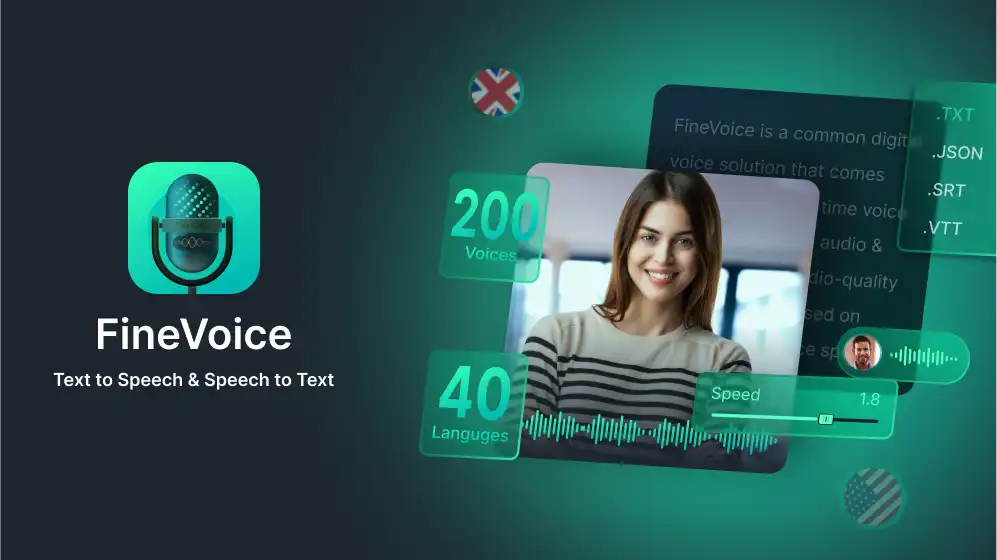 Features:
Voice generator with 220+ lifelike voices and 40+ languages
Uses deep learning technology to generate AI-powered voices
Be useful for proofreading, editing, and reviewing content
Generating voiceovers for those with visual impairments or reading difficulties
Generating transcripts of audio or video content
Repurpose audio or video content into other forms of content, such as blog posts or articles
Pros:
A variety of customizable settings
Intuitive interface
Natural-sounding voices
High conversion rate and transcriptional accuracy
Fast conversion speed
Cons:
Only English, German, and Spanish for audio transcription
Can be overwhelming for small projects
Limited characters for free users
#5. Writesonic – Natural Language Generation (NLG) Tool
Writesonic is an AI-powered writing tool that helps users generate high-quality content for a variety of purposes, including marketing, social media, and e-commerce.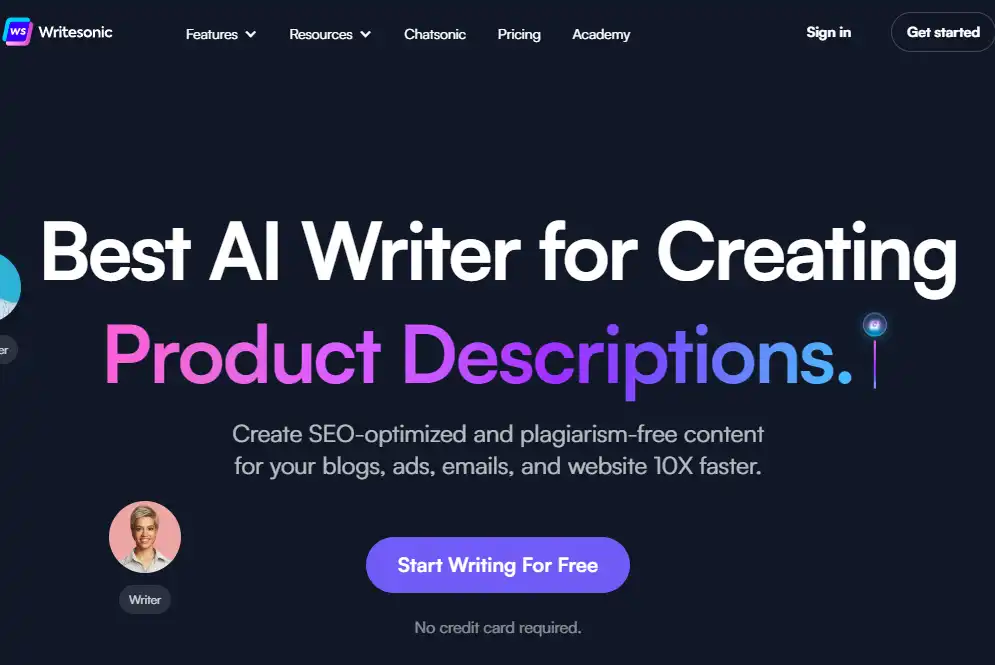 Features:
AI-powered content generation tool
Integrates with popular marketing and e-commerce platforms
Offers a user-friendly interface
Allows for customization of the generated content's tone, style, and length
Includes built-in plagiarism checker
Pros:
Saves time and effort with automated content creation
Generates high-quality content for various purposes
Offers customization options to meet the user's needs
Cons:
Limited free trial and relatively expensive subscription plans
Results may not always be completely accurate or suitable for intended purpose
AI-generated content may lack creativity and nuance of human-written content
#6. Canva – Content Creation Platform
Canva is a graphic design and visual content creation platform that offers a range of tools and features to help users create a variety of content, including social media posts, presentations, flyers, posters, and more.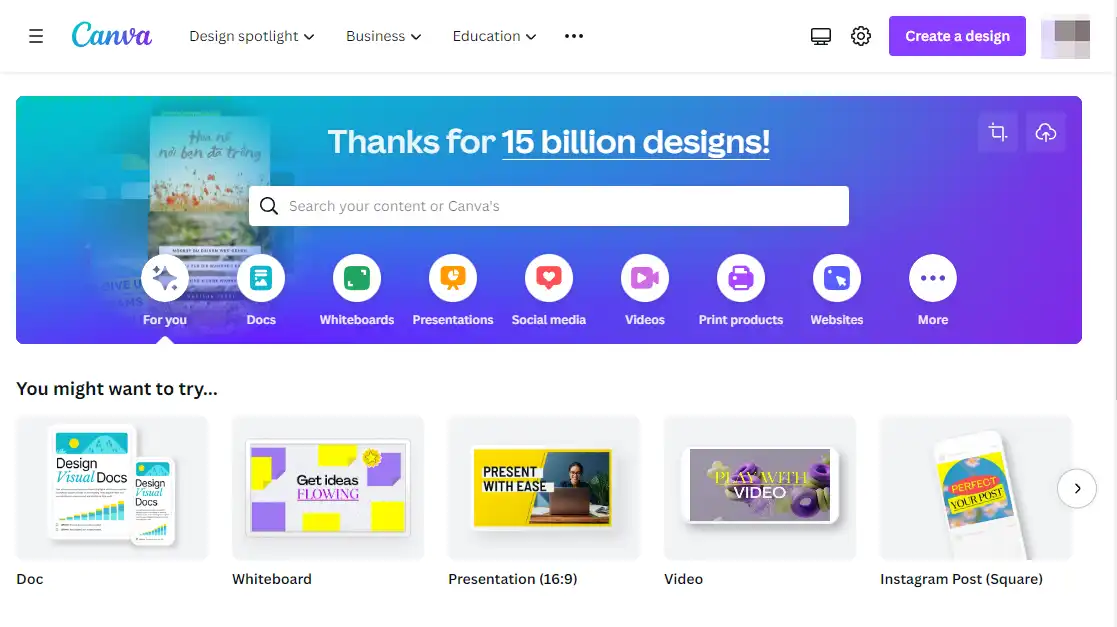 Features:
Templates for various content types
Library of graphics, photos, and fonts
Customizable design elements
Collaborative features for team projects
Supports local image upload
Mobile app for designing on-the-go
Integrates with Dropbox, Google Drive, Mailchimp, etc.
Pros:
User-friendly interface for all users
Wide variety of design elements and templates
Simple drag-and-drop system
Cost-effective compared to other software
Large user community for support and inspiration
Cons:
Limited ability to customize templates
Some advanced features only available on paid version
Limited font options in free version
Limited image editing tools
#7. Lumen5 – AI Video Maker
Lumen5 is a web-based video creation platform that uses AI to automate the video creation process. The platform is designed for marketers, social media managers, and content creators who want to quickly and easily create engaging videos for their online campaigns.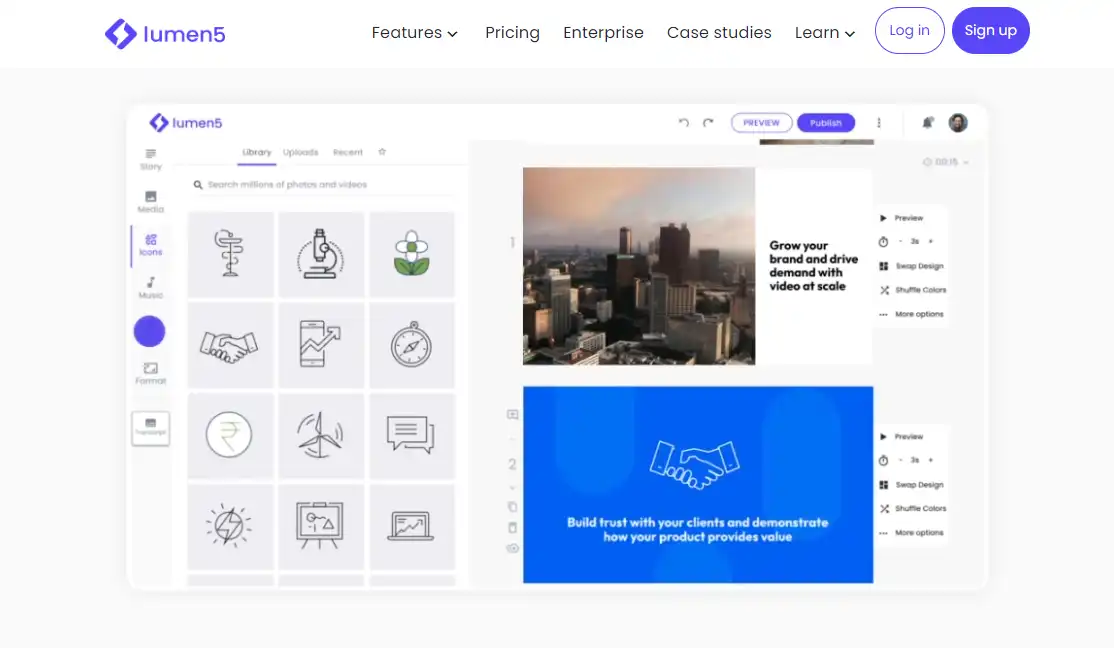 Features:
Automatic video creation based on text content
Customizable templates and styles
Built-in library of images, video clips, and music
Drag-and-drop video editing tools
AI-powered text-to-video synchronization
Integration with social media platforms
Pros:
Easy and fast video creation process
No video editing or design experience required
Cost-effective compared to hiring a professional video production company
AI-powered technology provides accurate and efficient video creation
Cons:
Limited customization options for professionals
Limited control over the video creation process
Output videos may not always be high quality, depending on the quality of the input content
#8. Copy.ai – AI-Powered Copywriter
Copy.ai is an artificial intelligence-powered writing assistant that uses natural language processing (NLP) to help writers generate content quickly and easily. The platform is designed to assist with a range of writing tasks, including creating blog posts, social media content, product descriptions, and more.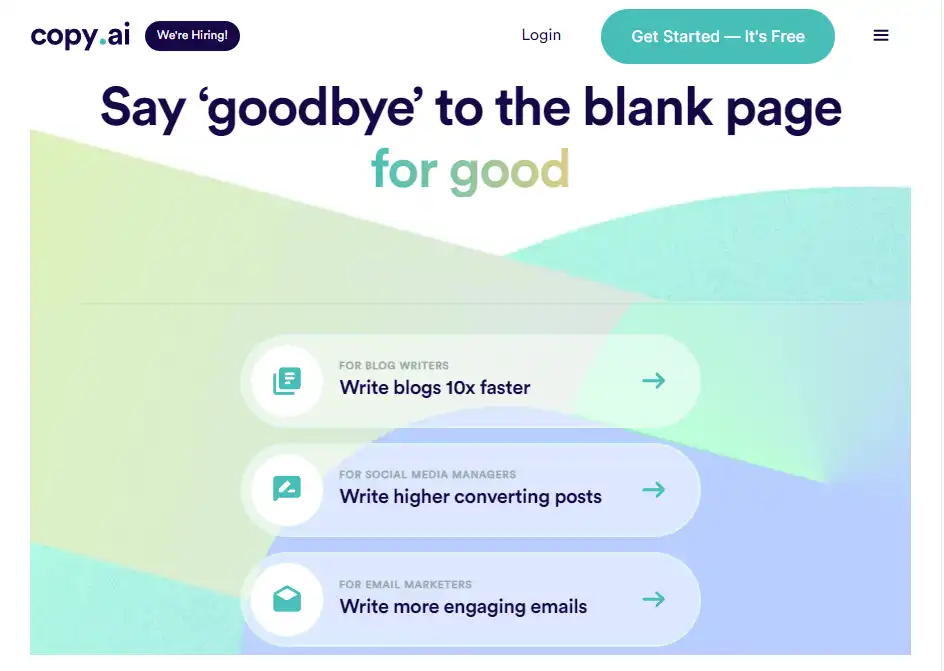 Features:
AI-powered writing tools such as an auto-complete, content rephraser, and topic research tool
Integration with popular tools like WordPress, Hubspot, and Zapier
Supports multiple languages
Provides customizable templates and formats
Ability to save and manage custom templates and documents
Pros:
Saves time and effort with automated content generation
User-friendly interface that is easy to navigate
Integrates with popular tools for easy content management
Cons:
May produce unoriginal or duplicate content
Some users may not trust AI-generated content
May require editing and revision to meet specific needs and standards
#9. Hootsuite – Social Media Management Platform
Hootsuite is a social media management platform that enables businesses and organizations to manage their social media presence across multiple platforms. Its extensive features and integrations make it a popular choice for social media management.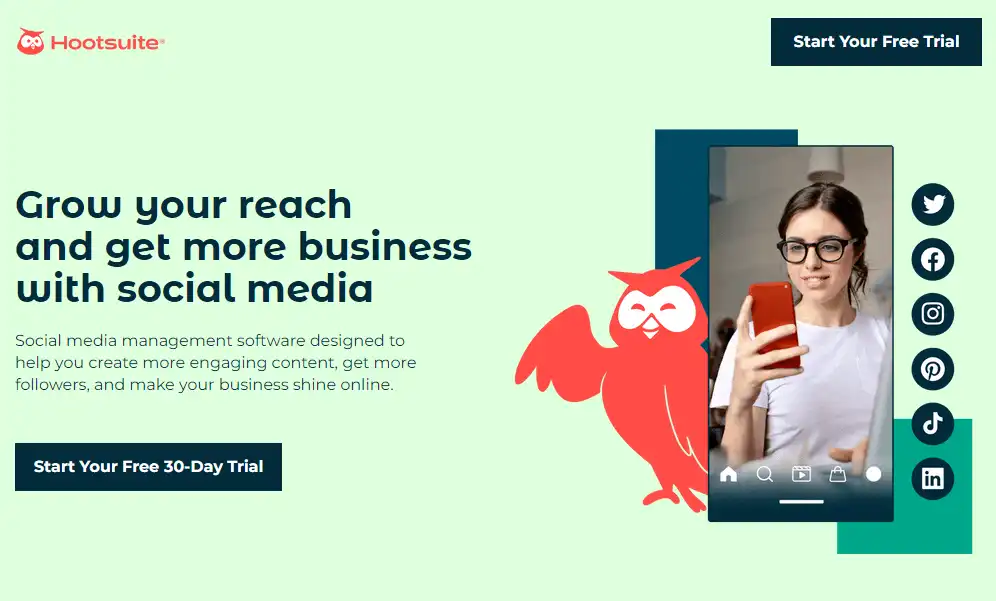 Features:
Manages and schedules social media posts across multiple platforms
Monitors brand mentions and engage with customers
Collaborates with team members and assign tasks
Tracks social media analytics and create reports
Integrates with other tools such as Google Analytics and Canva
Pros:
Streamlines social media management and saves time
Enables collaboration and delegation of tasks
Provides comprehensive analytics and reporting
Offers a free plan
Integrates with many other tools
Cons:
Steep learning curve for beginners
Limited features on the free plan
The user interface can be overwhelming for new users
#10. Frase– AI-Powered Content Optimization Tool
Frase is one of the best productivity apps that help content creators improve the quality of their work and drive more traffic to their websites.
With Frase, users can easily research and optimize content for both search engines and readers, allowing them to save time and effort while producing high-quality content.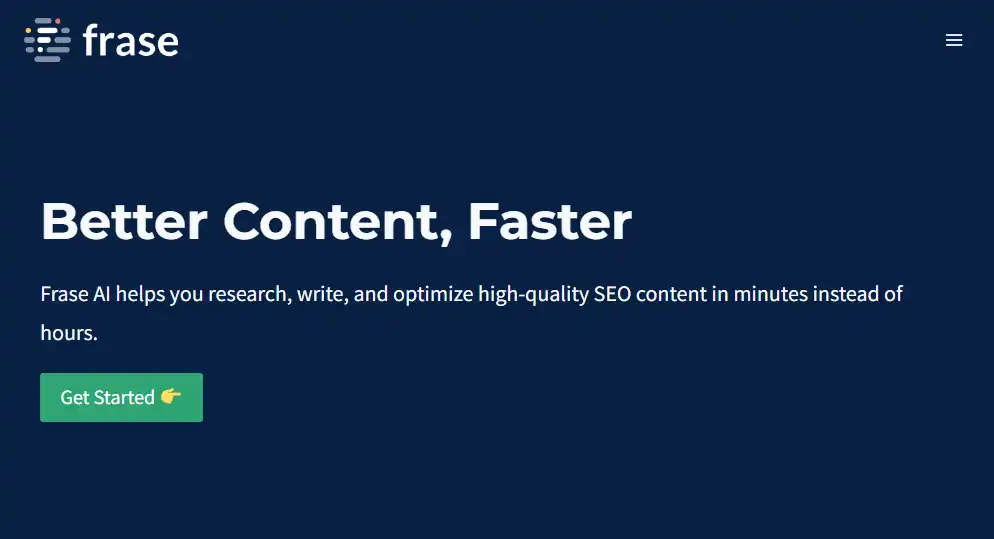 Features:
Create SEO-optimized content briefs quickly
Automatically generate optimized content with AI
Content editor with competitor analysis
Content opportunities dashboard with actionable insights
Pros:
Provides insights and suggestions for optimizing content
Generates summaries, outlines, and other content to help with ideation
Offers a content editor with built-in SEO tools and metrics
Supports customizable brief templates creation and saving
Cons:
Some features require upgrading to a more expensive plan
Slow to load or laggy at times
User interface is unfriendly for new users
#11. Google Analytics – AI-Powered Analytics Tool
Google Analytics is a type of productivity app to track and analyze your website traffic if you are a website or app owner.
It provides data on a website's performance, user behavior, and other important metrics to help website owners and marketers make informed decisions about their online presence.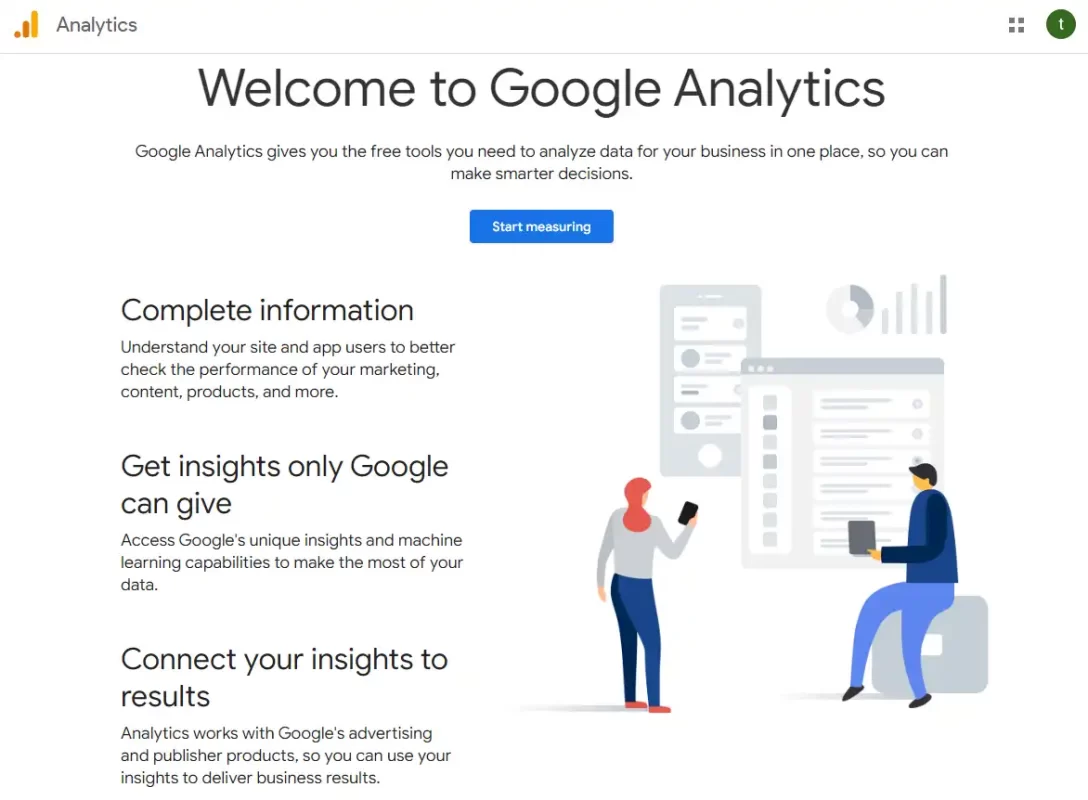 Features:
Website traffic analysis and reporting
Real-time reporting and tracking
Customizable reports, dashboard and reports
Multi-platform tracking (e.g., web, mobile, and IoT devices)
Integration with other Google products, such as Google Ads and Search Console
Pros:
Free to use for most businesses
Offers a wide range of data and insights for website performance
Helps businesses make data-driven decisions
User-friendly interface and customizable reports
Cons:
Can be overwhelming and complex for beginners
Requires technical knowledge to customize
Limited support for custom data analysis and visualization
May not offer enough data for complex analysis or large-scale projects
Conclusion
In conclusion, utilizing productivity apps can significantly enhance the content creation process for individuals and businesses alike.
The 11 best productivity apps discussed here offer features and tools that cater to various aspects of content creation, such as planning, writing, design, analytics, and collaboration.
With AI-powered assistance, users can streamline their workflows, increase efficiency, and improve the overall quality of their content. Whether you're a freelancer, content creator, or part of a team, these apps can help you achieve your goals and maximize your productivity.