Omegle (oh-meg-ull) is a free online chat site that allows users to randomly match with others for one-on-one chats without registering and in complete anonymity. Omegle offers the option to communicate using text, audio, or video. You can fill in your interests and the service will use it as a parameter to match you with people who have similar interests.
In this article, we'll learn how to enable Omegle webcam for video chat. If you want to use an anonymous voice to protect your privacy, read to get the 5 Best Real-Time Voice Changers for Omegle.
Part 1. How to Enable Camera on Omegle?
How to enable an inbuilt camera on Omegle?
Here are the steps to help you enable an inbuilt camera and microphone on Omegle.
Step 1. Visit Omegle (https://www.omegle.com) in your web browser.
Step 2. Find and click the Video button on the bottom to start the video chat.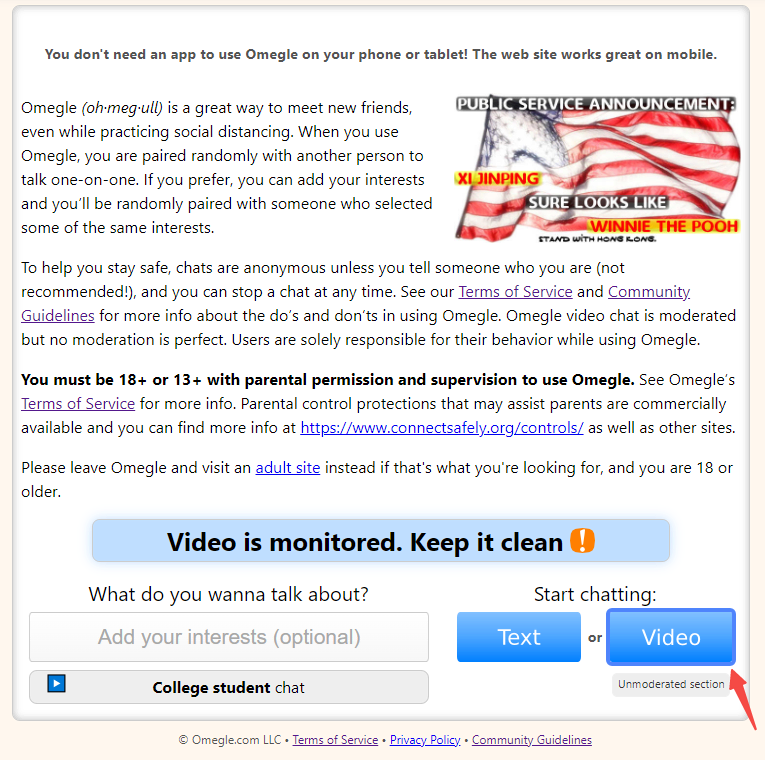 Step 3. Now, you need to accept the Terms of Service and Community Guidelines in a popup window. And click Confirm & continue.

Step 4. Then a popup window appears on the upper left. Click Allow to use your camera and microphone.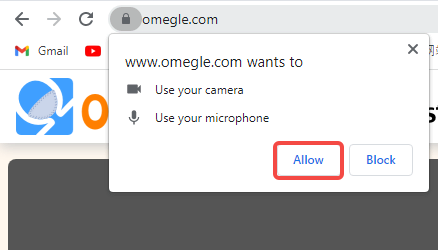 What if there is no webcam on your PC? How to make a video chat with others on Omegle?
You can simply buy a webcam. If you do not have enough budget, you can turn your iPhone into a webcam using FineCam
How to enable webcam on Omegle by using FineCam?
It can be used as a virtual camera on almost all popular video chat platforms including Omegle.
Step 1. Launch FineCam
Visit its official website to download, install & run FineCam on your PC or MacBook. Go to Google Play Store or App Store and find FineCam. Install FineCam on your iPhone or Android.
Step 2. Connect your iPhone to your computer via USB or Wi-Fi
Click the three dots on the bottom, find and click Select Phone Camera, and use phone as webcam.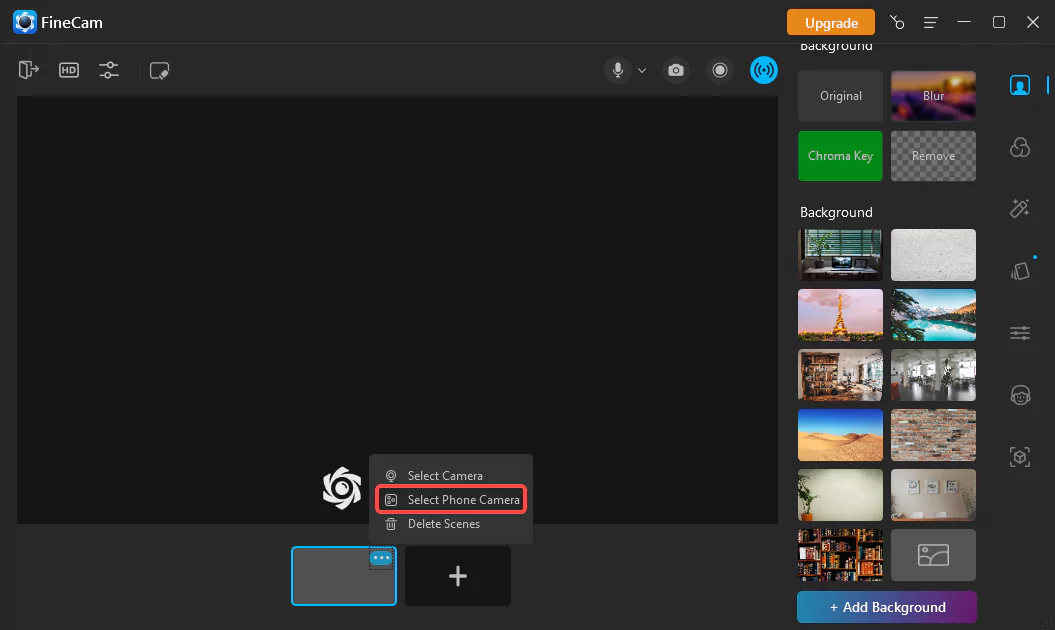 Step 3. Enable virtual camera
To turn the camera into a webcam source for Omegle, click the blue Virtual Camera icon at the top center of the interface.
Step 4. Select FineCam as Camera Source
Next, open the Omegle site on your computer. Go to the Video source settings of Omegle and select FineCam as the camera source.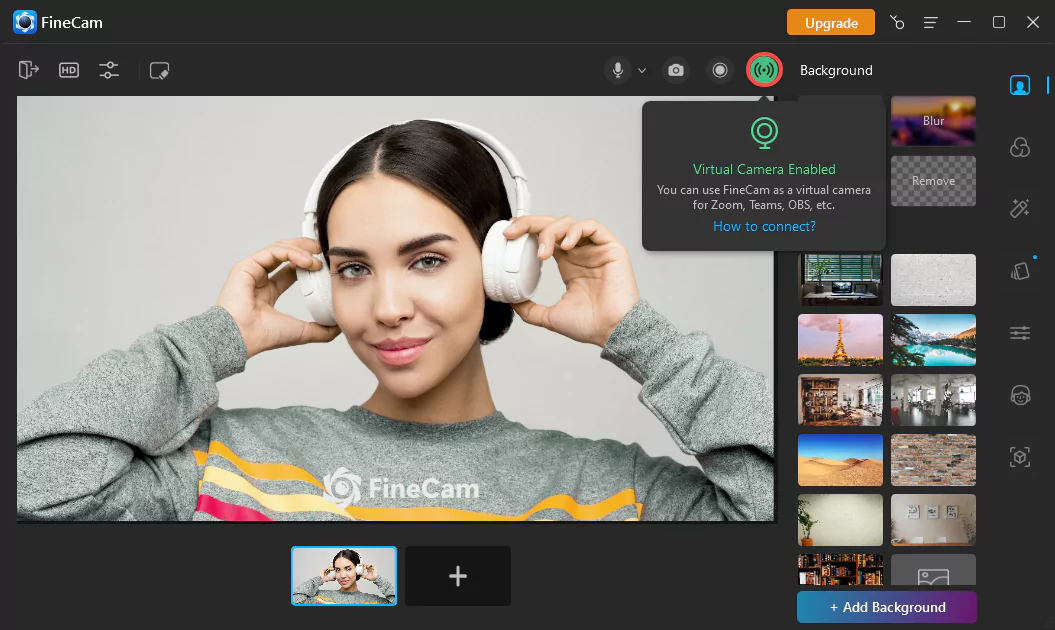 Part 2. FineCam Makes You Look Better on Omegle Video Chat.
Besides using iPhone as webcam, FineCam can make you look better on Omegle video chat.
With awesome features like AI enhancement, autofocus, advanced adjustment, and webcam effects, it brings a studio-like video experience to your audience.
Additionally, working with Unsplash, FineCam allows you to replace your messy background with millions of stunning video background scenes directly from Unsplash.
Part 3. FAQs About Omegle Camera Problems
What should you do if you started a video chat but somehow found the Omegle camera not working? You will probably encounter some camera-related problems when using the video chat feature, hope you could find something helpful below.
Browser related: the website for camera access is blocked.
If you wish to enable it to access them, you can do so via Chrome's Site Settings menu.
Visit Omegle.com
Hit the lock icon on the left of the address bar (in the upper left corner).
From the drop-down menu, click the option Site settings.
Choose Camera and Microphone in the drop-down menu.
Select Allow to grant access to your camera.
Connected camera is not what you need.
If you can't use the camera you want in Omegle, it's probably because you have multiple cameras connected to your computer. Changing Chrome's default camera will help you find the camera you need.
Open Chrome, and click on three dots (in the upper right corner). Click Settings from the popup menu.
Click Site settings under Privacy and Security.
Locate and click the Camera setting under Permissions.
From the menu, choose your preferred camera.
Pay attention, if there is just one option in the box, which means your computer has only one camera attached.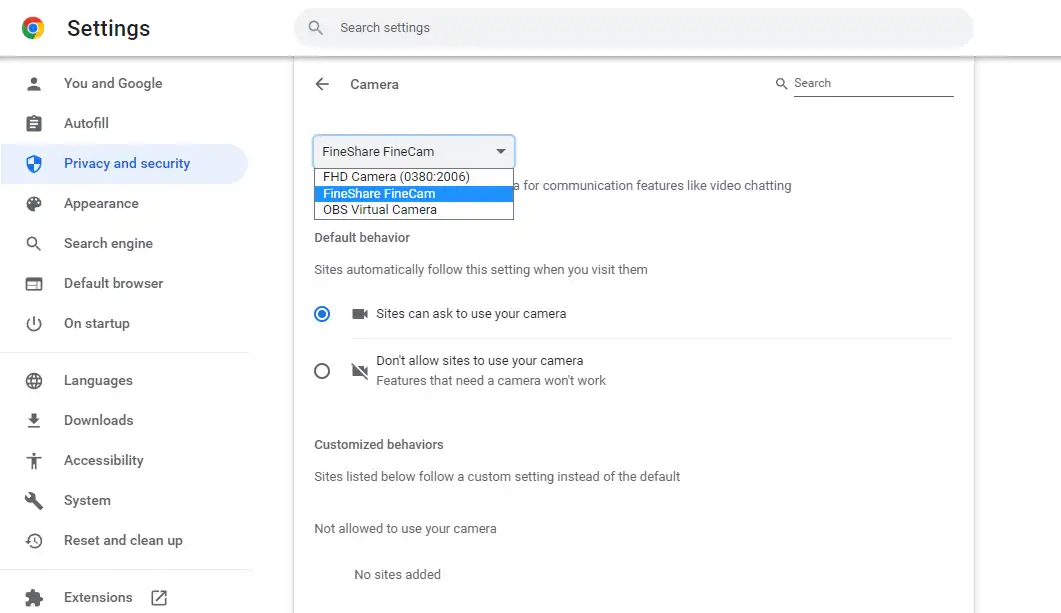 Error with camera: Requested device not found.
You need to have a working webcam/camera and microphone attached correctly to your Windows computer if you want to use Omegle video chat service.
Conclusion
I hope this blog post could help you understand how to enable camera on Omegle. And it also offers some solutions to camera problems when you are using Omegle.
Look Superb on Omegle
FineCam is an AI-powered virtual camera for Windows and Mac. It makes you look better in Zoom, Teams, YouTube, makes video production easier, and tunrs your phone into an HD webcam. Get it for free.