Do you want to make friends on Omegle? This anonymous text and video chat website makes it possible to have friends from all around the world.
And a voice changer for Omegle not only makes your voice funny but disguises your gender and protects your privacy as well.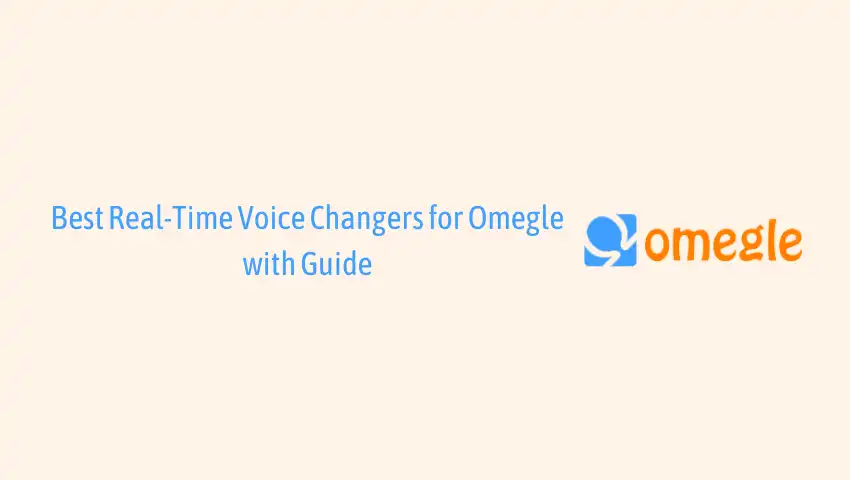 So, do you want to modify your voice when video chatting on Omegle? If yes, you are in the right place. Read this post to grab the 5 best voice changers for Omegle and how to use them on Omegle.
Part 1: What Is Omegle Voice Chat?
Omegle is a popular chat site. The site works great on PCs, MacBooks, and mobile phones thanks to support for all the major popular browsers on the market.
You don't need to download any application to match randomly with people from all over the world and chat anonymously one-on-one.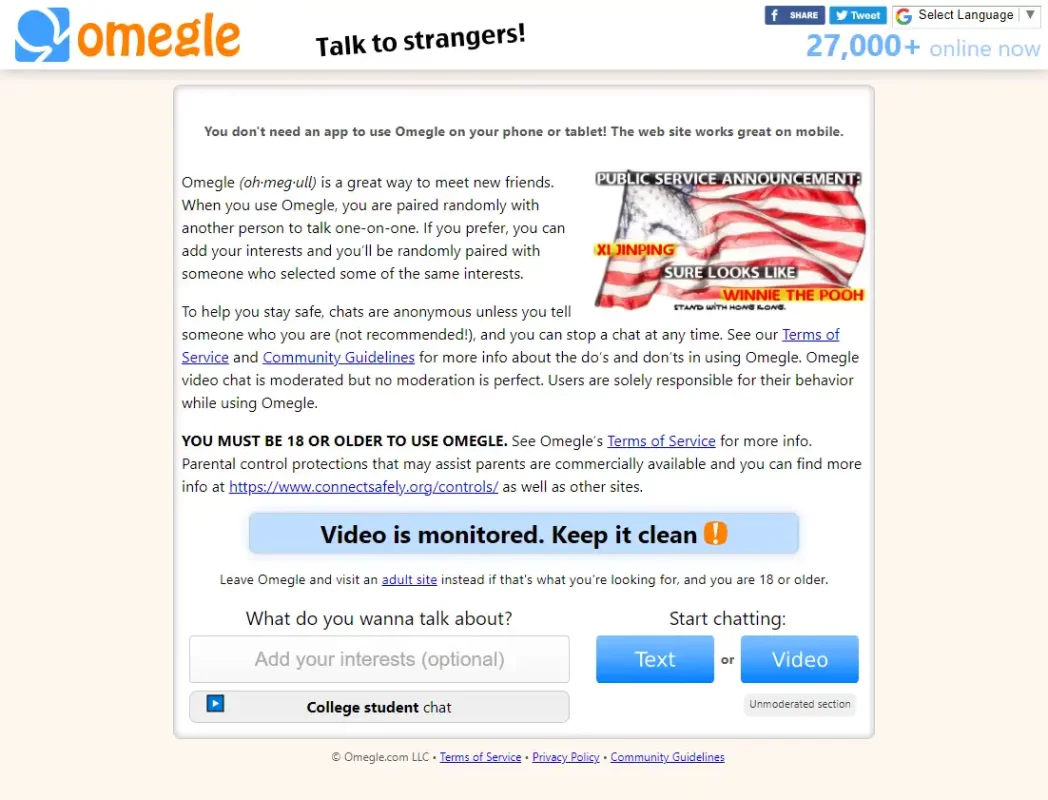 Check this guide if you don't know how to enable camera on Omegle and make a video chat on Omegle. Move on, we offer you the 5 best Omegle voice changers. Take away your favorite one to make your voice attractive and interesting.
Part 2: 2 Best Free Voice Changers for Omegle
First, we want to introduce the 2 best free voice changers for Omegle. And we will give you a detailed guide on how to use these voice changers on Omegle.
#1. FineShare FineVoice
If you are looking for a full-featured voice changer for Omegle, FineShare FineVoice is the best one. Play with the 30 voice effects such as SpongeBob and Transformers.
And you can find 200+ sound effects on girlfriend soundboard, game soundboard, and soundboards for Halloween, April Fools' Day, and other use.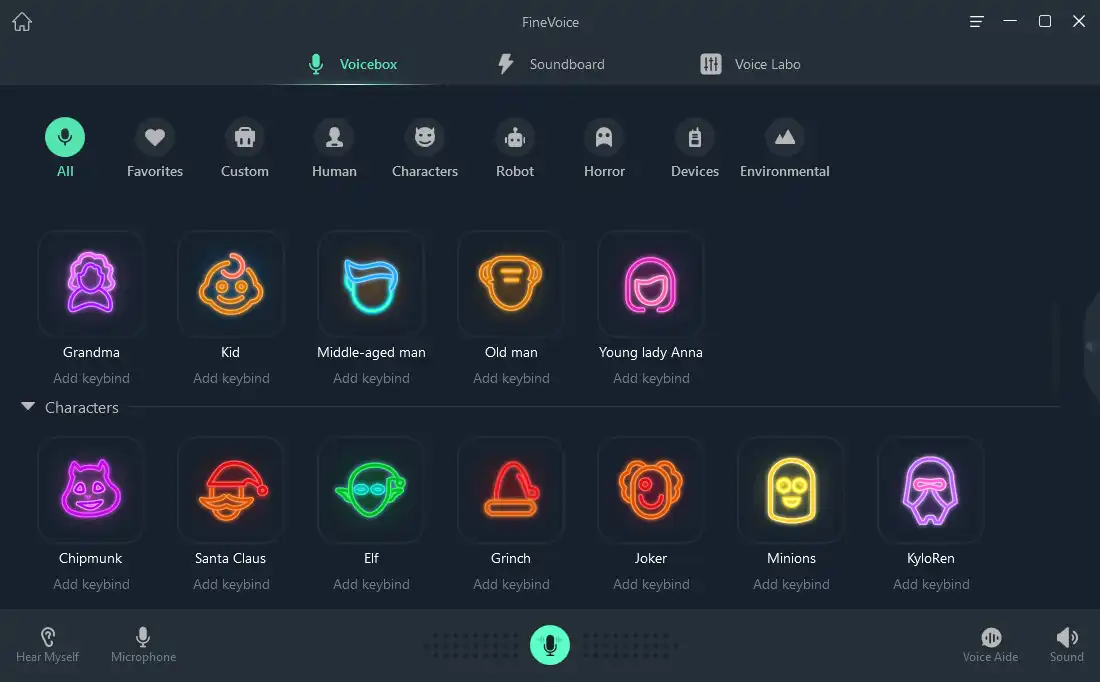 Supported OS: Windows 8.1/10/11 (64 bits)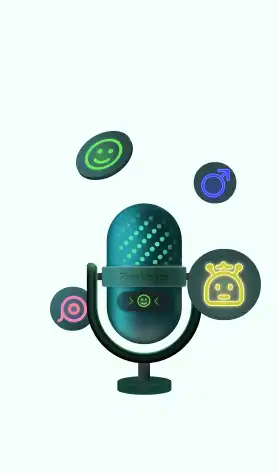 Why Choose FineVoice
A variety of voice effects and soundboards for games, chatting, live streaming and more.
Create your own custom voice with 28 audio effects including delay, reverb, equalizer, and Wah.
Audio file voice changing is supported.
Works with almost all apps like Discord, Zoom, Teams, Skype, OBS, FineCam, etc.
Offers other voice tools including text to speech, speech to text, audio extractor, and multi-track recorder.
Pros:
Intuitive user interface.
Easy to use without any effort.
Powerful voice toolbox.
Cons:
Only for Windows.
It's a new product.
How to use this voice changer for Omegle PC
Step 1: Click the button to download this free voice changer on your computer.
Step 2: Click Real-Time Voice Changer on the main interface.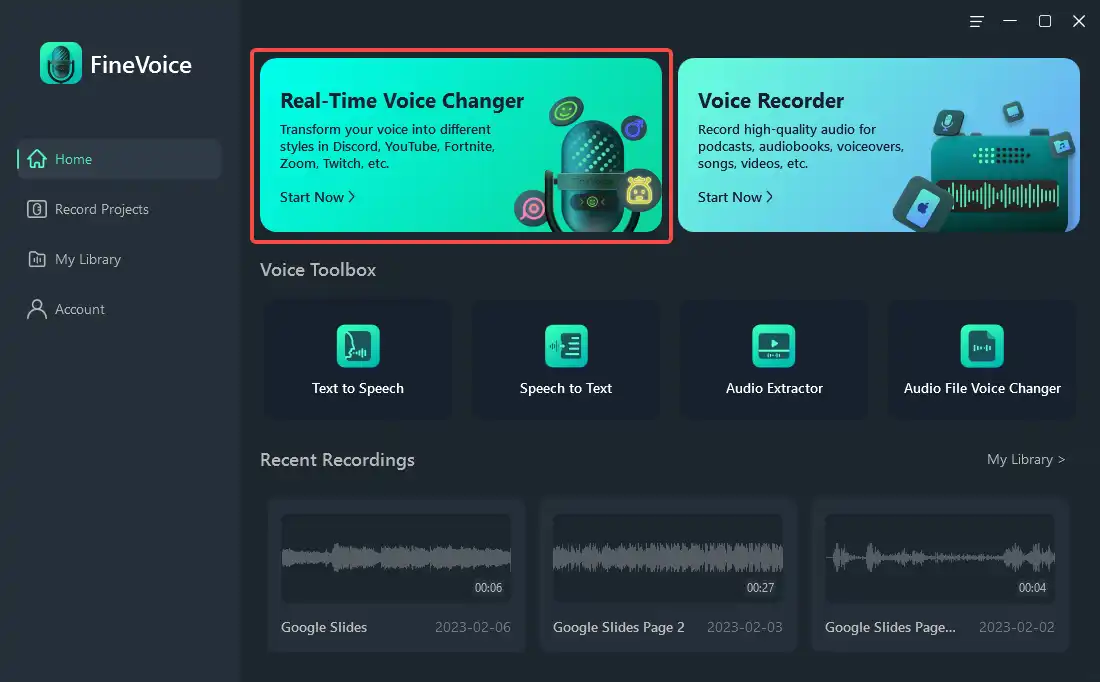 Step 3: Click the Voice Aide at the bottom right corner to configure your microphone and speaker devices. Do this to let FineVoice capture your microphone and transmit the voice back to the speaker.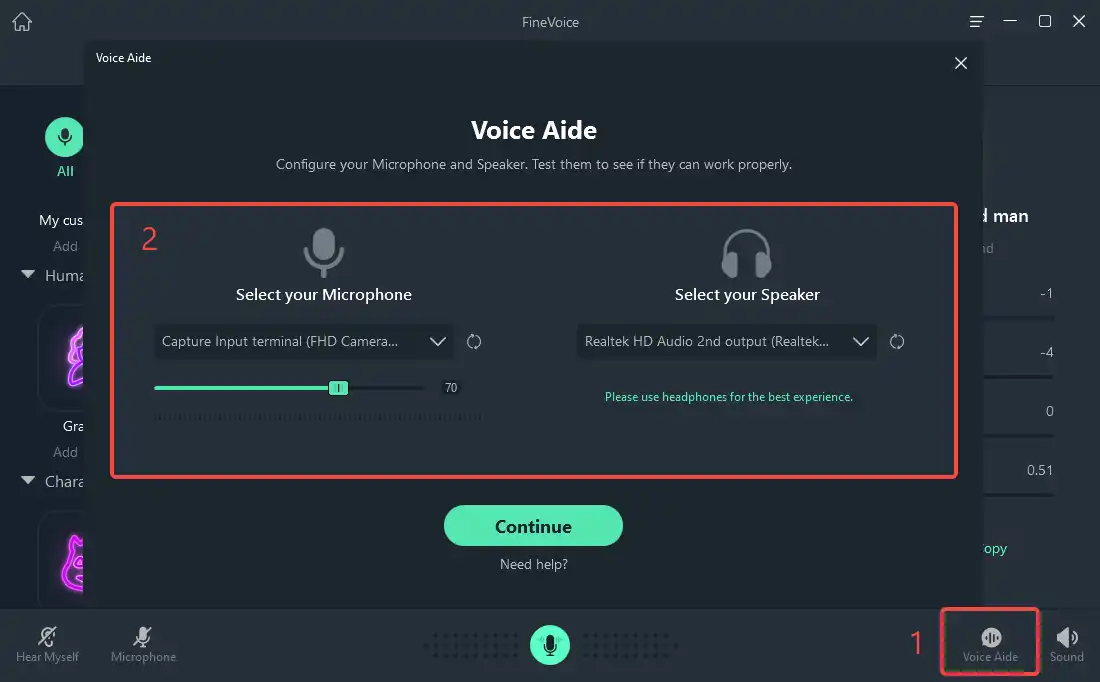 Step 4: Ensure that you have turned on Hear Myself and Microphone before trying any voice effects.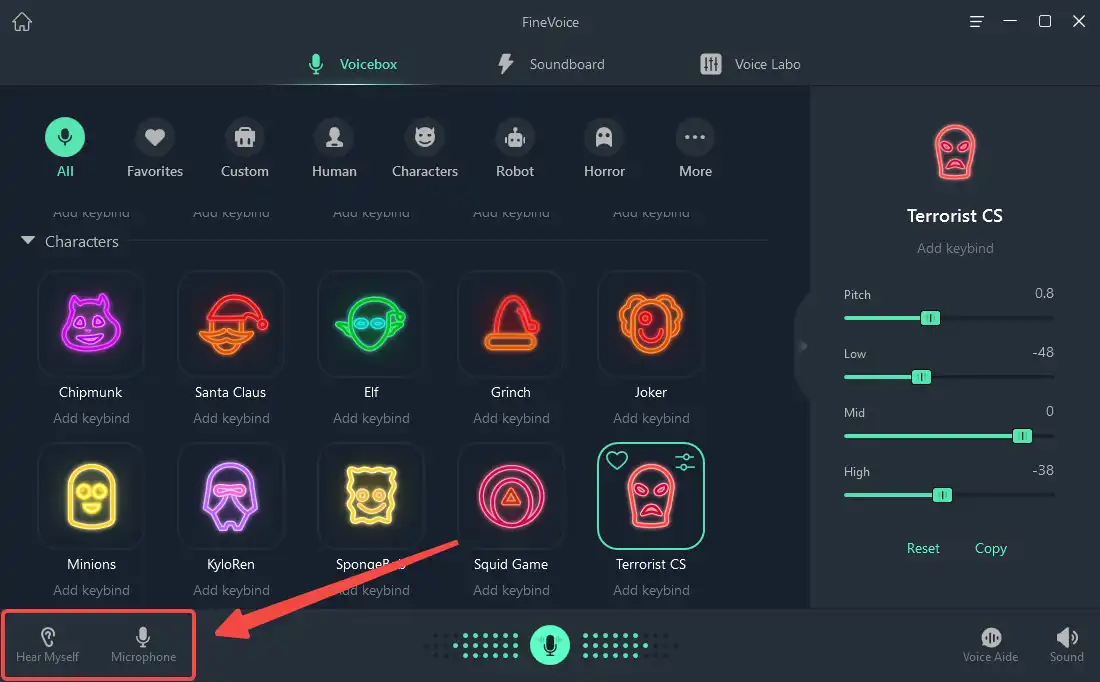 Step 5: Click the voice effects in the Voicebox. Try them and add key bindings to the ones you like for a quick switch on Omegle.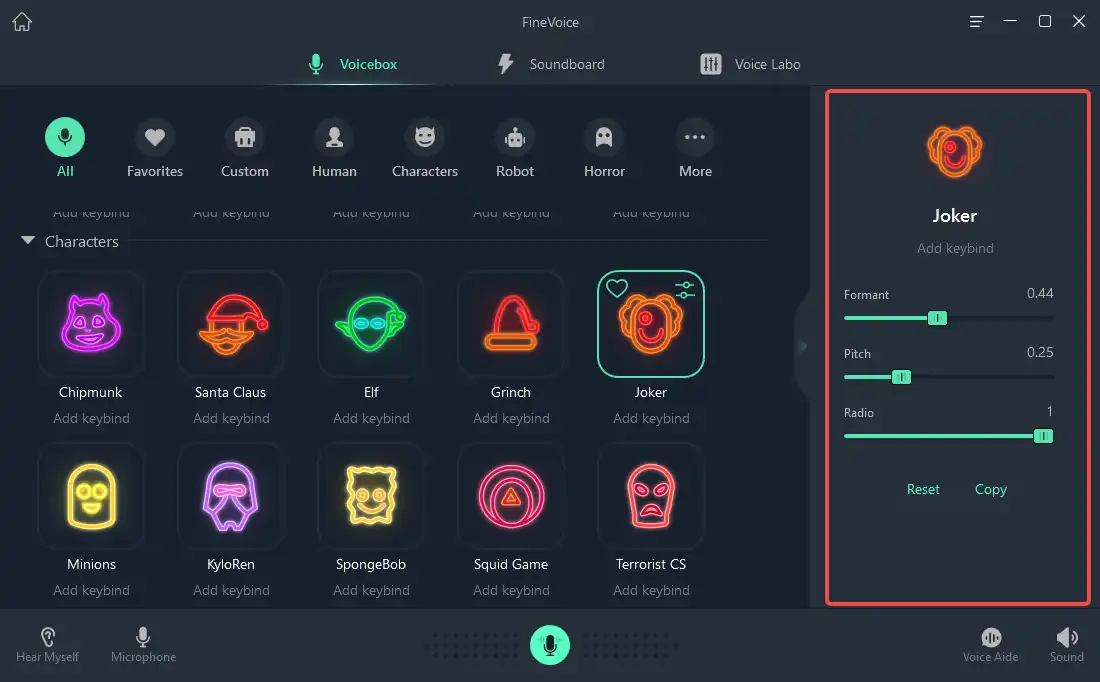 Step 6: Switch to the Soundboard tab and play with 200+ sound effects. Add keybinds to them for quick playback on Omegle as well. Custom category creation and audio file importing are supported.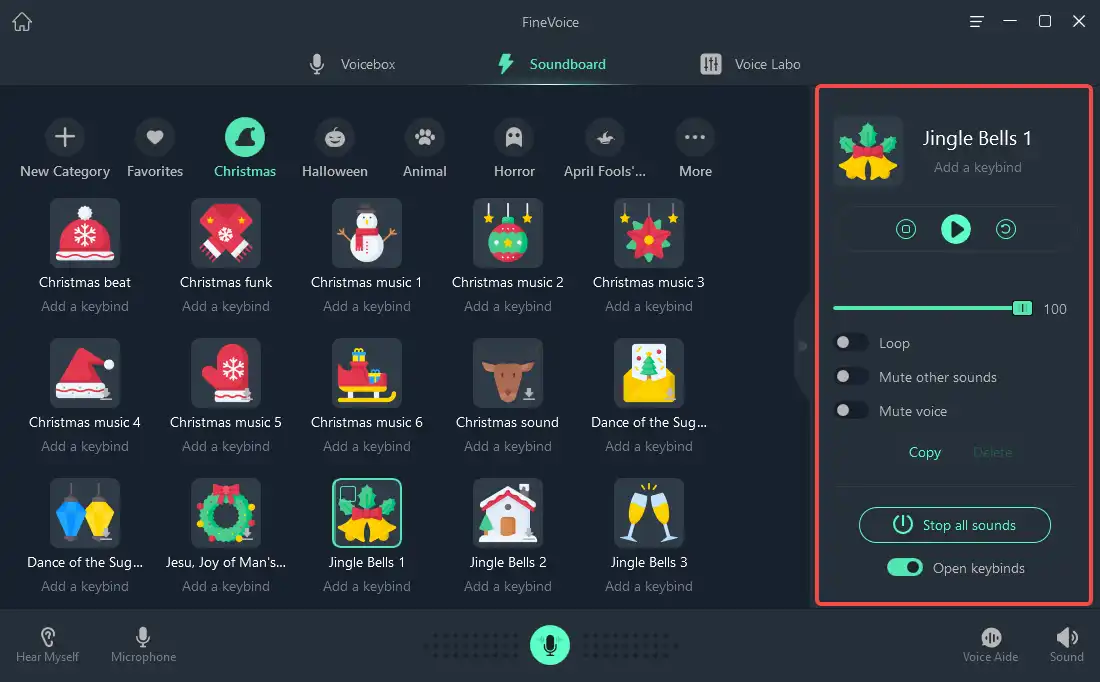 Step 7: You can also use the Voice Labo feature to create custom voice effects with 28 audio effects for voice chat on Omegle.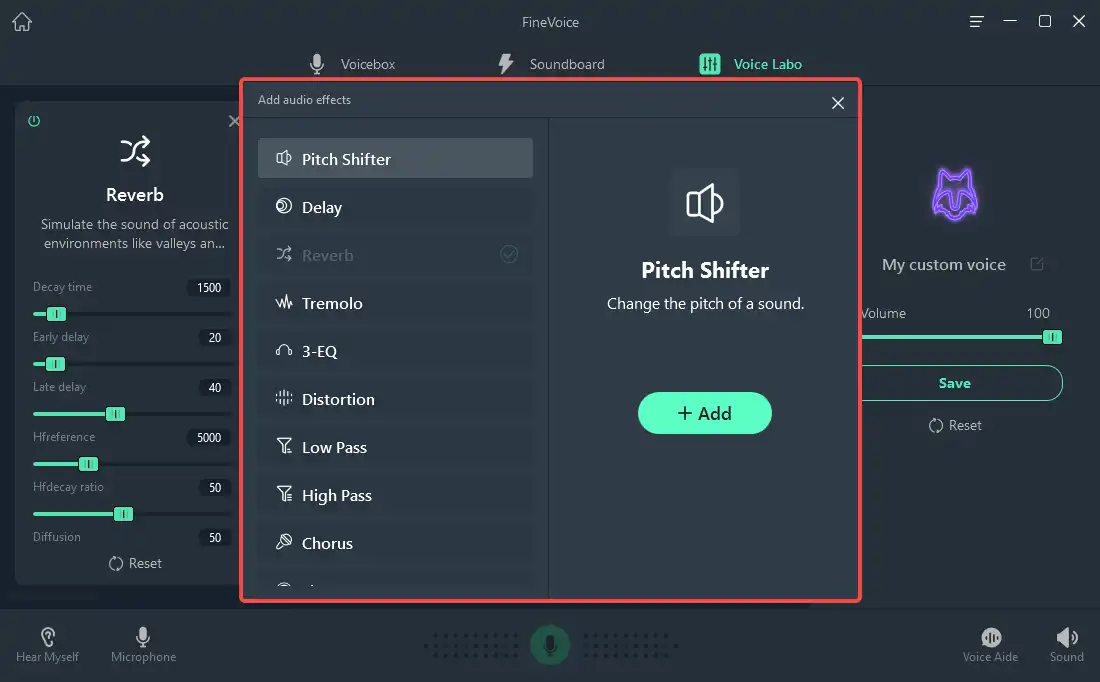 Step 8: Open the Sound settings to set the volume for the voice changer, soundboard, and output volume for other applications.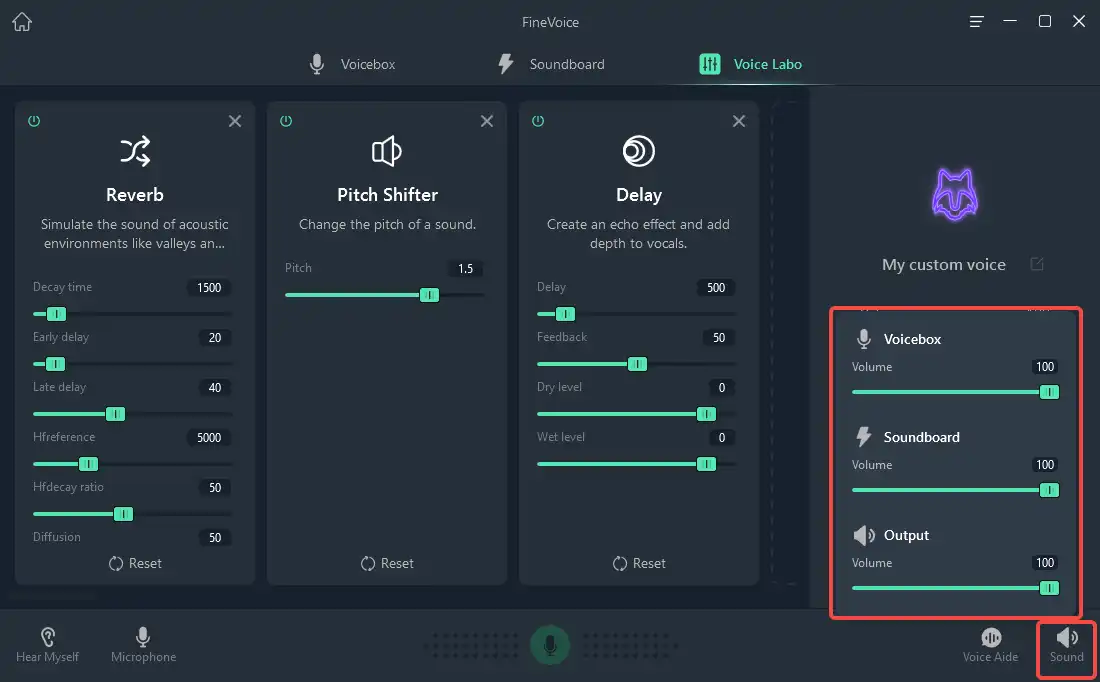 Step 9: Visit Omegle.com and click Video to start your video chat.
Step 10: Confirm the terms and Omegle will start to find a stranger for you. Click Allow button to give Omegle permission to use your camera and microphone.
Step 11: On your screen box, you can switch the microphone device. Select FineVoice Virtual Microphone from the list to let the stranger hear your disguised voice.
#2. Clownfish Voice Changer
Clownfish Voice Changer is well-known among gamers and streamers on Twitch and Discord. It is used by weblebrities like Tiko to change their voice in games such as Fortnite and Minecraft and brand their voice name.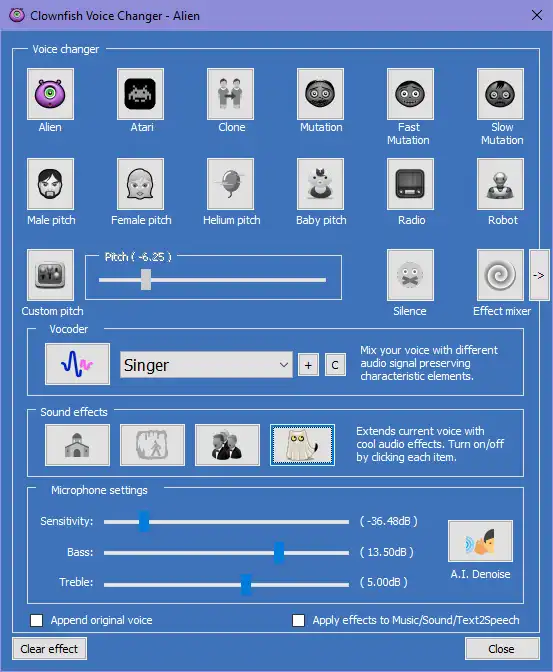 Supported OS: Windows Vista/7/8/8.1/10/11 (32 / 64 bits)
Features:
14 voice effects to modify your voice. (male to female, female to male, baby pitch, radio, robot, alien, Atari, clone, mutations, etc.)
You can use it to remove background noise from audio passing through the microphone.
It offers a voice assistant to convert text to speech with a British accent or other accents and languages.
You can use the music player and sound player to play songs and sound effects in games.
Pros:
It's a free voice changer.
It's a real-time voice changer for Fortnite, CS: GO, and other video games.
It's stable after you install the device properly.
Cons:
This software has a certain threshold of use.
It doesn't support macOS computers.
The extension is not working properly.
The Chrome extension made by the developers makes it a voice changer for Omegle Chromebook. But these days, it doesn't seem to work anymore.
So, we will introduce how to use this desktop program not the Chrome extension to change your voice for Omegle.
How to use this voice changer on Omegle
Step 1: Go to the official download site to download Clownfish Voice Changer based on your system. (https://clownfish-translator.com/voicechanger/download.html)
Step 2: Run the application after installation. And you can check the app icon in the taskbar when it is running.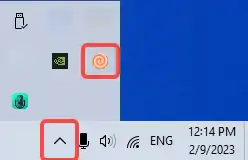 Step 3: Right-click on the icon and we will set Clownfish Voice Changer to get it to work. Select Setup from the main menu and click System Integration on the expanded menu.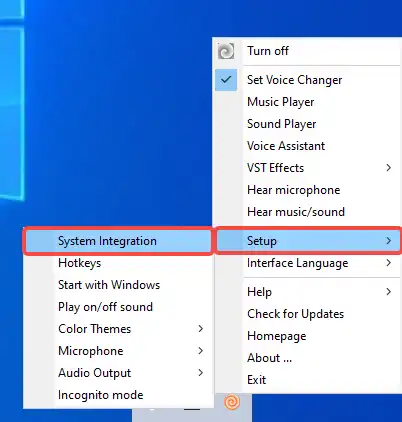 Step 4: Find the microphone you want to use for the Omegle video chat. And click the Install button to install Clownfish on the device.
After installation, every time you use this microphone with the voice changer running, it will modify your voice automatically.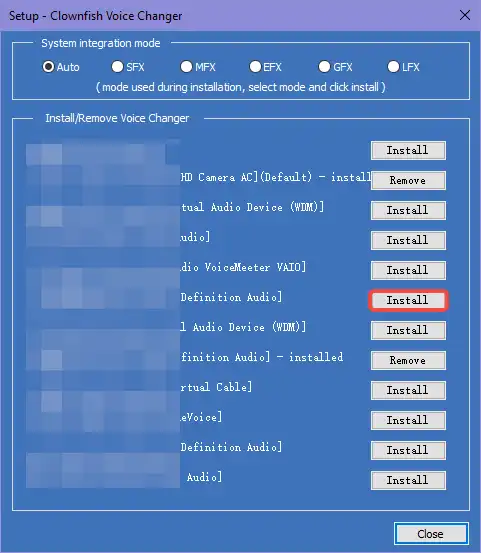 Step 5: You need to select a microphone and audio output device to let Clownfish Voice Changer capture your voice and hear your voice via it.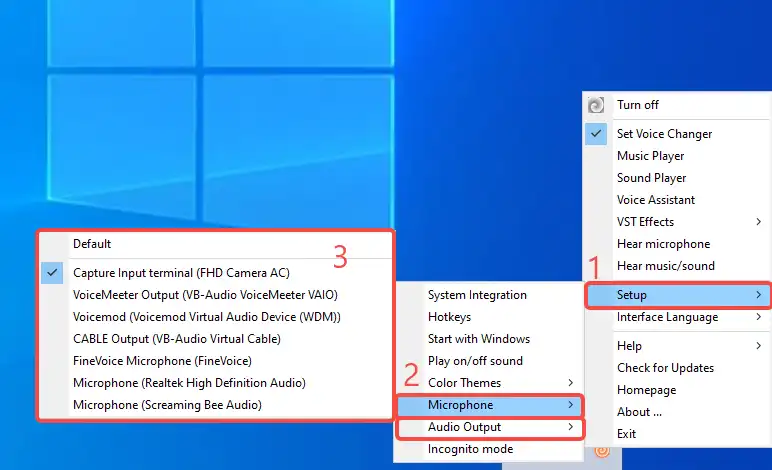 Step 6: On the main menu, turn on Hear microphone and Hear music/sound. And then click Set Voice Changer to open the voice changer window.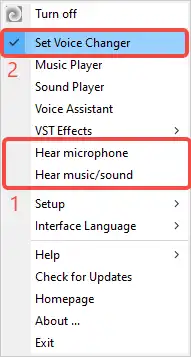 Step 7: Click the voice effects on the window to modify your voice. You can also add vocoder and sound effects to your voice.
Step 8: Go to Omegle. Click Video and confirm the term to start chatting with the changed voice.
Part 3: 3 Best Paid Voice Changers for Omegle
In the last part, we gave you the 2 best voice changers for Omegle. Unfortunately, they cannot support macOS. Is there no voice changer that supports the Apple system? Don't worry. In this paid real-time voice changer part, you can get what you want.
#1. Voxal Voice Changer
Voxal Voice Changer is the first paid product we want to introduce to you. It offers different licenses for different purposes. You can choose to use it for free or for a fee, depending on your needs.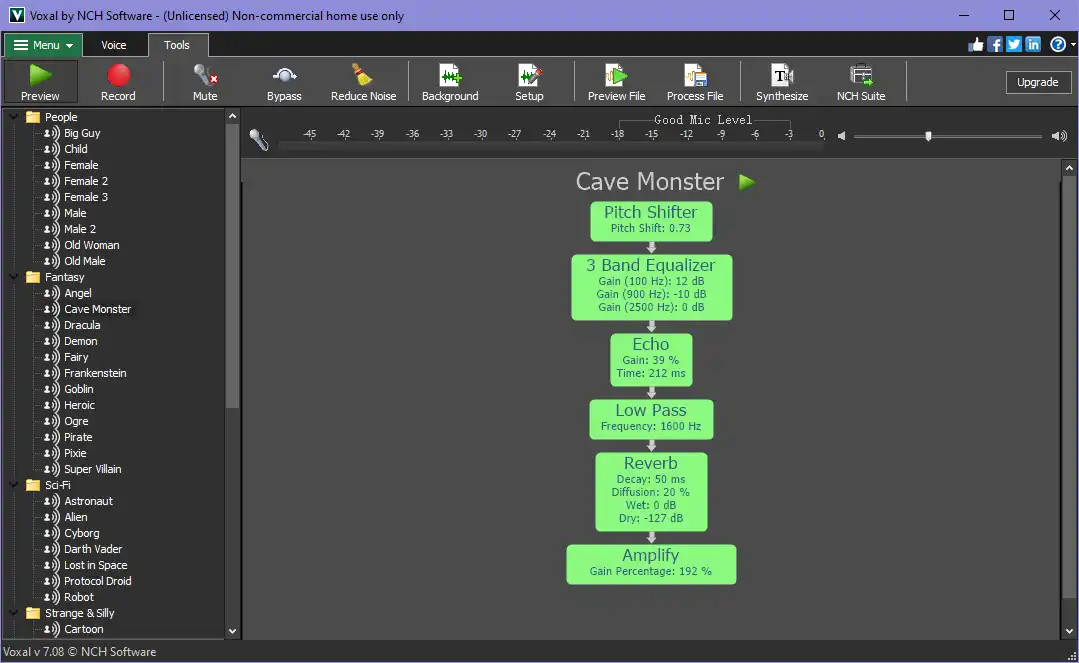 Supported OS: Windows 10, XP, Vista, 7, 8, 8.1 & 11 (64 bits); macOS 10.5 or above
Features:
Various human voice effects turn your voice into different voices of different ages and genders.
Other styles of sound effects, such as science fiction, fantasy, and strange & silly ones.
You can edit a voice with audio effects.
It is supported to create a custom voice in Voxal.
Pros:
You can use it free for home use only.
The preview feature lets you know what a voice sounds like.
The log window tells you how Voxal handles each step of your operation.
Cons:
You can only use one voice effect every time you run the free version.
It is a little difficult to use this software for newcomers.
Sometimes it cannot work properly.
#2. AV Voice Changer Diamond
Another real-time voice changer for Omegle is AV Voice Changer Diamond. This paid voice changer can be used to change your voice in real-time, record your modified voice or modify audio files.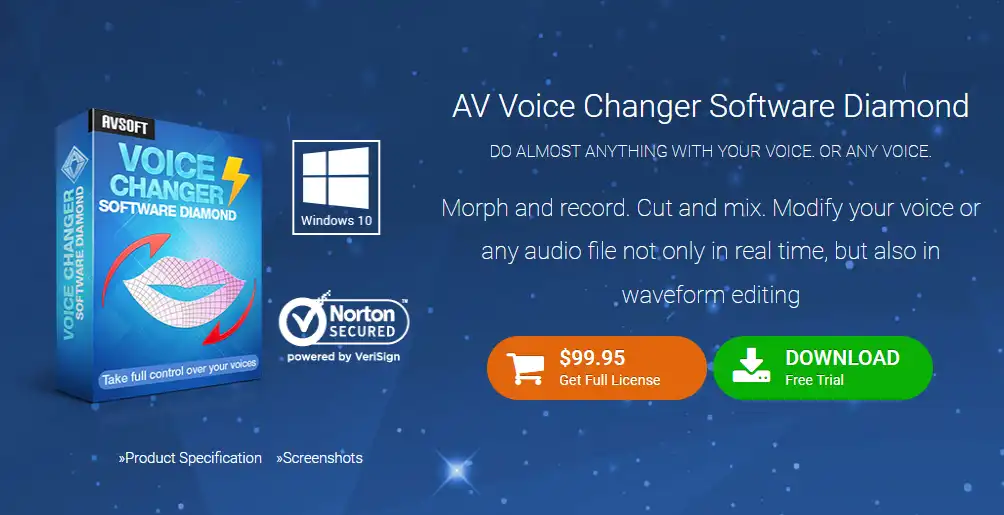 Supported OS: Windows Vista/7/8/8.1/10 (32 / 64 bits)
Features:
It offers human, character, and robot voices to modify your voice.
It can be used for Skype, Discord, Twitch, and Steam.
Voice recorder, voice editor, and file modification supported.
The voice analyzer can analyze your voice's harmony, brightness, pitch, and score.
Pros:
Support hotkeys for switching between voices and features.
Offers an equalizer panel to adjust how your voice sounds.
Cons:
No macOS version.
The license is expensive.
#3. MorphVOX Pro
MorphVOX Pro is a paid voice changer for Windows and macOS. It offers a 7-day free trial for you to try it out before buying or quitting.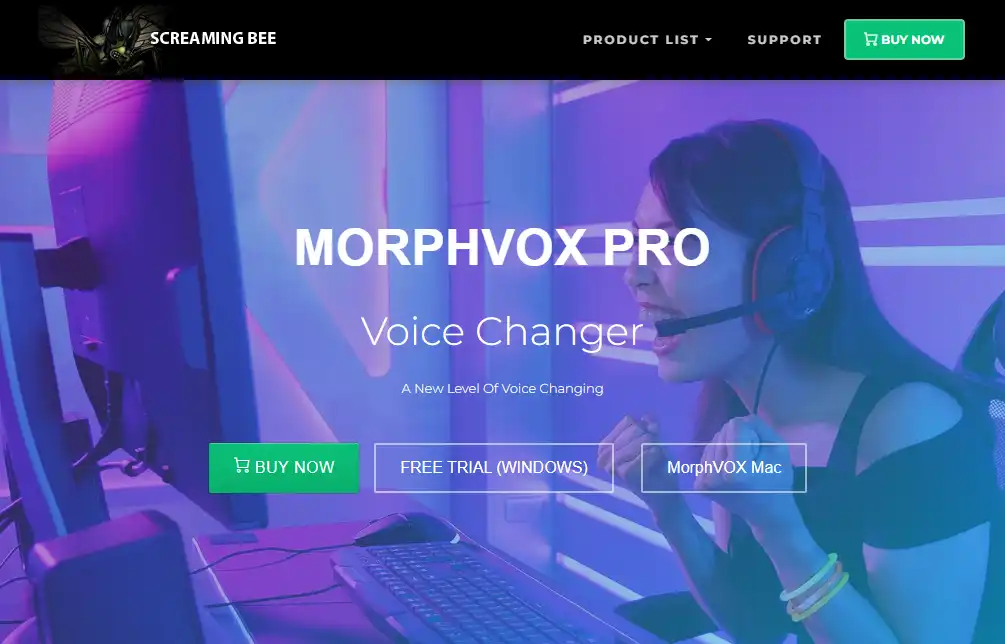 Supported OS: Windows Vista/7/8/10 and macOS
Features:
It modifies the pitch and tone of your voice.
Noise reduction supported.
It offers sound effects and background music.
You can use it to change the voice of audio files.
Pros:
It has a voice comparison analysis to help improve your voice.
Low CPU usage.
You can import your audio files to MorphVOX.
Cons:
The mac version is not as versatile as the Windows version.
Conclusion
There are many voice changers in the market. But not all of them are for live events and only a few of them can be used on Omegle. Take away your favorite one from the post.